05:25 AM EDT 03/19/2015
Republican National Convention
Credit:

Edward Linsmier/Getty; Harry E. Walker/MCT/Getty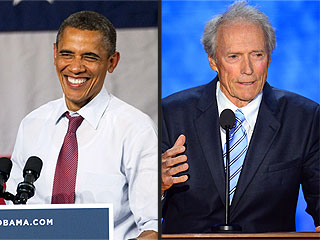 Originally posted 09/02/2012 03:25PM
While it's not being said that Clint Eastwood made President Obama's day, the chief executive does own up to being "a huge fan" of the actor-filmmaker – who last week delivered a long and much-discussed prime-time presentation on stage at the Republican National Convention that was critical of the current administration.

"He is a great actor, and an even better director," the President told USA Today in an interview aboard Air Force One. "I think the last few movies that he's made have been terrific."

The newspaper then asked point blank if Obama took offense at what Eastwood did – speaking to an empty chair that was meant to represent Obama's sitting there and responding to the screen legend's pointed questions.
Credit: J. Scott Applewhite/AP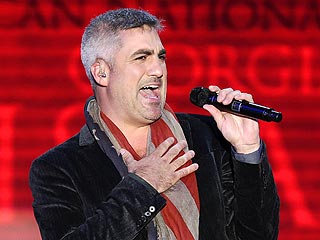 Originally posted 08/31/2012 02:05PM
Thursday night's performance at the Republican National Convention in Tampa was a first – and a tricky one – for American Idol singer Taylor Hicks.

He was opening for some very tough acts to follow: surprise guest speaker Clint Eastwood and presidential nominee Mitt Romney.

"I've worked many stages in my life, but never, ever have I had to weave in and out of a lectern," Hicks, 35, told PEOPLE while laughing and downing a draft beer at the bustling CNN Grill after the convention adjourned. "And the Teleprompter was definitely a stage hazard – having to dance with that thing."
Credit: Mark Wilson/Getty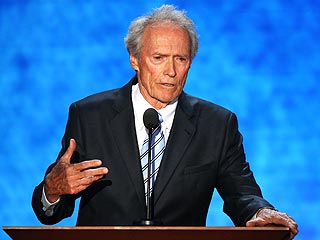 Originally posted 08/31/2012 09:00AM
Clint Eastwood made the day of several Republican National Convention-goers Thursday night, when the screen star and filmmaker – without benefit of a Teleprompter – took to the stage and held an imaginary conversation with an empty chair meant to represent President Barack Obama.

Eastwood, 82, tweaked the unseen Obama for campaign promises unfulfilled, such as the 2008 pledge to close Gitmo.

"So, Mr. President, how do you handle promises that you made … I'm not going to shut up, it's my turn," said the Oscar winner. "What do you want me to tell Romney? I can't tell him to do that. He can't do that to himself. You're getting as bad as Biden!"
Credit: Kris Tripplaar, Courtesy of The Atlantic/National Journal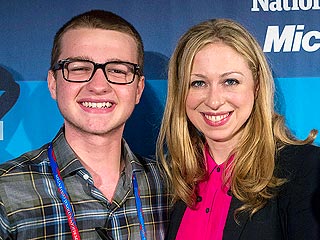 Originally posted 08/30/2012 12:00PM
Angus T. Jones has a tough choice to make this November when he votes in his first presidential election.

Luckily the 18-year-old star of Two and a Half Men, who says he's registered as an independent, has been getting some solid advice from Chelsea Clinton – and, no, she's not pushing one candidate over the other.

"Get an I Voted sticker," Clinton told Jones Wednesday after a National Journal/Microsoft/The Atlantic panel at the Republican National Convention in Tampa, Fla. "That's still a really exciting thing for me."

Replied the teen star: "Absolutely! They better give 'em out in L.A."
Credit: ABC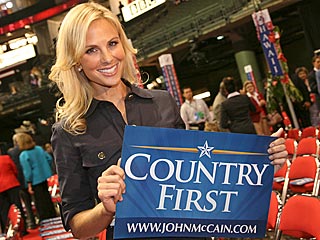 Republican National Convention
Originally posted 09/05/2008 02:00PM
The View co-host and well-known Republican enthusiast Elisabeth Hasselbeck spent the day wowing delegates at the Republican National Convention Thursday.

Hasselbeck, 31, served as the official emcee at a luncheon for Cindy McCain just hours before John McCain's big speech. Hasselbeck also showed off vintage-style "McCain '08" T-shirts she designed herself, and spent time on the floor of the convention taping a segment that will air on Monday, Sept. 8, on The View.
Credit: Ron Edmonds/AP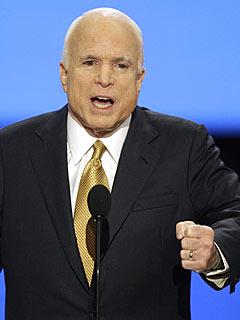 Republican National Convention
Originally posted 09/05/2008 08:00AM
Senator John McCain accepted his party's nomination at the Republican National Convention Thursday in St. Paul with a reach-out to Democrats and independents.

"Despite our differences, much more unites us than divides us," McCain, 72, said in a nod to his Democratic opponent, Barack Obama. "We are fellow Americans, an association that means more to me than any other."

Picking up his opponent's theme of change, the Arizona senator, promising to move beyond "partisan rancor," also vowed to remake Washington – by lowering taxes and stripping the fat from government spending, while mounting a strong national defense.
Credit: TANNEN MAURY/EPA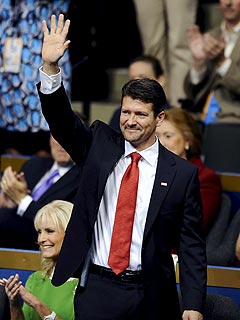 Republican National Convention
Originally posted 09/04/2008 06:20PM
At Tailgaters sports bar in Wasilla, Alaska, the crowd cheered when the six televisions showed Gov. Sarah Palin at the GOP Convention on Wednesday night – and beamed with pride when the cameras focused on her husband, Todd.

"That," said bar patron Martin Chapoton, "is our 'First Dude.' "

Alaskans embrace Todd Palin as one of their own: a tough, blue-collar outdoorsman who calloused his hands with two decades of hard work at the North Slope oil fields and the Bristol Bay commercial salmon fishery – and who has earned a reputation for steely nerves and endurance as a championship snowmobile racer.
Credit: Shawn Thew/EPA, inset: Paul Sancya/AP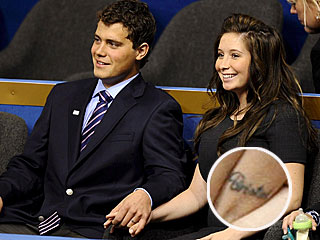 Republican National Convention
Originally posted 09/04/2008 03:15PM
As her mother, Sarah Palin, addressed her constituents at the Republican National Convention, 17-year-old Bristol Palin held hands in the family VIP box with her fiancé, Levi Johnston.

But Bristol's hand wasn't the only thing Johnson was displaying on his fingers. As TV cameras were able to reveal, the 18-year-old hockey player is also sporting a tattoo that reads "Bristol" – located exactly where a wedding ring would go.

The young couple's relationship has been embraced by their families, and Johnston joined the entire family onstage after Palin's primetime speech Wednesday.

But one person, who knows what it's like to be in the spotlight, has sympathy for all the attention on Bristol, who is five-months pregnant. "I just feel for her because even just two weeks ago, she was completely anonymous," John McCain's daughter Meghan McCain, 23, told PEOPLE Wednesday. "She's a very sweet girl and [Johnston] is very nice. My heart goes out to them."
– Stephen M. Silverman
Credit: Ron Edmonds/AP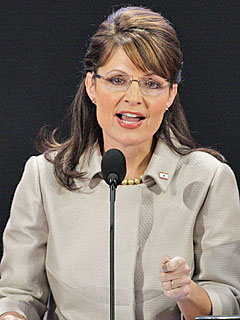 Republican National Convention
Originally posted 09/03/2008 11:30PM
GOP vice presidential nominee Sarah Palin let her hair down Wednesday, wowing the Republican National Convention with a spunky punch at critics of her experience – and a coupon-clipping approach to government waste.

Palin, the two-year governor of Alaska, boasted that she cleaned house when she took over the governor's mansion. "That luxury jet was over the top. I put it on eBay," she said. "And I thought we could muddle through without the governor's personal chef – although I've got to admit that sometimes my kids sure miss her."

The crowd of die-hard Republicans went wild for Palin, 44. The entire Michigan delegation donned hockey jerseys in solidarity with the self-described "Hockey Mom." Departing from her text, Palin gave those raucous fans a shout-out. "I gotta love the hockey moms. You know what they say about the difference between a hockey mom and a pit bull? Lipstick."
Credit: INF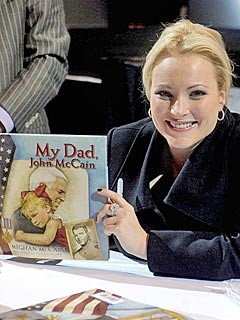 Republican National Convention
Originally posted 09/03/2008 09:45AM
Has John McCain's daughter, Meghan, already put dibs on a White House bedroom?

That was the question put to the 23-year-old by a cub reporter from Nickelodeon Tuesday, as the would-be First Daughter unveiled My Dad, John McCain, her illustrated children's book about her father's life story.

"No," McCain replied to the bedroom query. "But Jenna Bush did show me her room in the White House and it's beautiful." She added with a laugh, "But they're smaller than you might think!"
Advertisement
The most buzzed about stars this minute!
Treat Yourself! 4 Preview Issues
Got a News Tip?
Send it to our People.com editors!