06:52 AM EDT 04/13/2013
Sexual Abuse
Credit:

UPI/Landov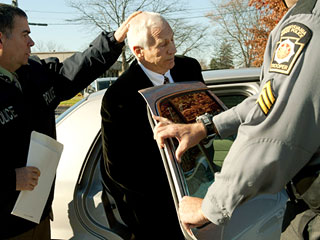 Originally posted 12/13/2011 03:30PM
Former Penn State assistant coach Jerry Sandusky opted to waive his right to a preliminary hearing on Tuesday – but that hasn't prevented some of his alleged victims from speaking out.

"I can't put into words how unbearable this has been on my life, both physically and mentally," a young man identified as Victim Number Four said in a statement released by his attorney, Ben Andreozzi.

The weeks since news first broke of Sandusky's alleged child sexual abuses have been "the most difficult time of my life" said the young man, who says he still intends to testify against his former coach.

Sandusky, 67, is charged with molesting 10 boys over a 16-year-period. In the case of Victim Number Four, the former coach is charged with forcing the boy to perform sex acts on him during the mid-1990s.
Originally posted 11/16/2011 12:40PM
One of former Penn State football coach Jerry Sandusky's alleged victims broke down in tears after hearing him speak on Tuesday.
Sandusky, the central figure in the Penn State
child sex abuse scandal
, told NBC's Bob Costas in a
televised phone interview Monday
that he "horsed around" with youngsters. A boy identified as Victim 1 reacted emotionally upon hearing the claim,
his mother
told
ABC's Good Morning America
Wednesday.
Why the reaction? "He said, 'Because I'm afraid. I'm afraid he'll go free,' " recounted the mother, whose identity is being withheld. Assuring her son, "There's other witnesses, probably more victims out there to come forward yet," the mother urged others with information about the case to come forward and speak.
While several legal experts have subsequently suggested that Sandusky's interview with Costas, in which he acknowledged that he "touched [kids'] legs without intent of sexual contact," could potentially have further damaged his case, the alleged victim's mother told ABC: "It sickened me that he would be on TV trying to downplay his charges. And I think it made him look more guilty."
She also expressed anger that Sandusky termed the activity between himself and her son simple horseplay.
Credit: UPI/Landov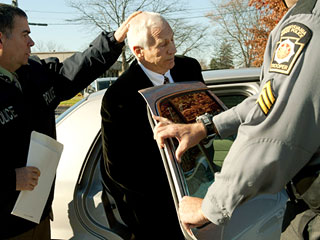 Update
Posted 11/15/2011 07:45AM
Originally posted 11/14/2011 09:45PM
Jerry Sandusky, the former football coach at the center of the Penn State child sex abuse scandal, acknowledges that he touched children but denies he committed any crimes.

"I have horsed around with kids," Sandusky, 67, said in an interview that aired Monday on Rock Center with Brian Williams. "I have showered after workouts. I have hugged them and I have touched their legs without intent of sexual contact."

Asked by Bob Costas if he is guilty of the charges contained in a 40-count indictment, Sandusky says, "I am innocent of those charges."

"Are you a pedophile?" Costas asked. "No," replied Sandusky, who went on to state: "I could say that I have done some of those things. I have horsed around with kids. I have showered after workouts. I have hugged them."
Credit: Gene J. Puskar/AP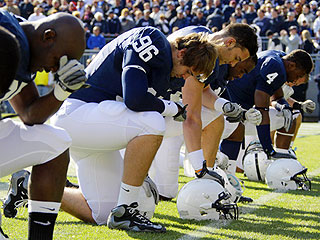 Update
Posted 11/12/2011 04:20PM
Originally posted 11/12/2011 03:25PM
Shortly before Penn State's first football game since a sex scandal rocked the university, some fans cried, swayed and hugged during a moment of silence for the alleged victims of sexual abuse.

The atmosphere was emotionally charged as players in State College, Pa., knelt for the prayer held mid-field before kickoff.

Saturday afternoon's game, against Nebraska, was the first since Penn State's head coach, Joe Paterno, was fired after a child-sex abuse scandal came to light involving former assistant coach Jerry Sandusky.
Credit: AP (3)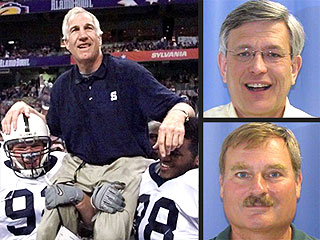 Originally posted 11/11/2011 09:45AM
The mother of one of the boys who was allegedly sexually abused by former Penn State coach Jerry Sandusky says she voiced concerns to her son's school after noticing him becoming increasingly uncomfortable around Sandusky, and later asked her son why he didn't report the abuse or try to stop it.

"He was like, 'Well, I didn't know what to do,' " she told ABC's Good Morning America. "'You just can't tell Jerry no.' "

The boy, referred to as "Victim 1" in court papers, met Sandusky in 2005, when he was 11, through the charity the coach founded for at-risk boys. According to court papers, the boy often stayed at Sandusky's home, where he was allegedly repeatedly sexually abused.

His mother says her son even started misbehaving so that he would be grounded and not allowed to go over to the coach's house.
Originally posted 03/05/2010 10:20AM
This week, Kelly and Brent King received the worst news any parent could hear: Their beautiful daughter Chelsea, 17,
was found
murdered, five days after she was
last seen
jogging in a San Diego, Calif., park.
"Within five minutes of me finding her car," said her father Brent King, appearing with wife Kelly on Friday's
Today show
, "I had this dread roll over me ... a dread of, 'Where's my daughter?' It's the most empty feeling you could have."
Their grief is compounded by the realization that the tragedy might have been averted if only justice had been served. Registered sex offender John Albert Gardner III, 30, has entered a not-guilty plea for the murder of Chelsea King and the attempted rape of another woman. He is the subject of a plea deal that freed him five years into a six-year sentence for the physical assault of a 13-year-old neighbor.
Credit: Nick Ut/AP; El Dorado County Sheriffs Office/Reuters/AP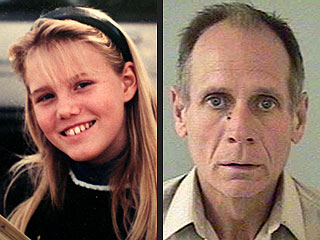 Originally posted 02/25/2010 03:30PM
Phillip Garrido isn't a master manipulator who sends coded messages to victim Jaycee Dugard, as prosecutors contend – he's mentally ill, Garrido's own lawyer says in a new court document.

El Dorado County Deputy Public Defender Susan Gellman filed the motion on Wednesday, after the prosecution asked the court not to allow Garrido to communicate with his wife, co-defendant Nancy Garrido, in jail, and to block the defense from being able to communicate with Dugard or to know where she and her daughters are hiding.

A judge is due to rule on the motions Friday in a pretrial hearing for the Garridos, who are charged with abducting Jaycee more than 18 years ago (when she was 11) and keeping her as Garrido's sex slave.
Credit: Nick Ut/AP; El Dorado County Sheriffs Office/Reuters/AP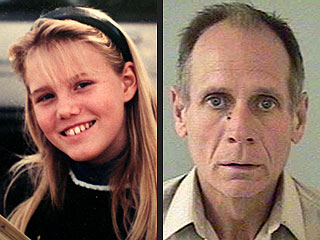 Originally posted 02/24/2010 10:30AM
Jaycee Dugard believes the man charged with abducting her when she was 11 has been sending her coded messages, including a warning that she's not following instructions he laid out in case he were caught, according to new court documents.

Pretrial defense motions to be heard Friday in California's El Dorado Superior Court portray defendants Phillip and Nancy Garrido, Jaycee, 29, and the two young daughters Phillip Garrido fathered with Jaycee during the 18 years she lived in his Antioch, Calif., backyard as a family torn apart by the Garridos' arrests six months ago, and ask the judge to allow the Garridos to see each other in jail and for Jaycee's address.

Opposition motions by the district attorney and the county sheriff say Jaycee doesn't want the Garridos to know where she and her girls are hiding, and portray Phillip Garrido as a "master manipulator" who appears to be sending Jaycee "coded messages" through the media and would do worse if he could meet with his wife before trial.
Credit: Reno Police Department/AP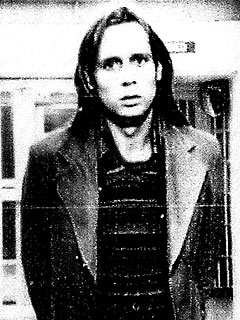 Originally posted 09/09/2009 10:00AM
As if revelations about accused kidnapper and rapist Phillip Garrido were not unsettling enough, a customer of Garrido's home-based printing business in Antioch, Calif., has now told reporters that the increasingly religious man recorded and handed out self-recorded albums of love songs to young girls.

"The way she walks, yeah, subtle, sexy. What can I do? I fall victim too. A little child, yeah, look what you do," one song goes.

Garrido told the customer he'd written the songs while serving time in prison in 1976 for a previous kidnapping and rape.
Credit: CNN; Pat Dollins/Mountain Democrat/ZUMA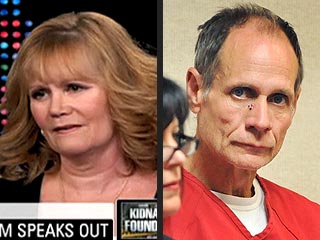 Originally posted 09/01/2009 09:30AM
Katherine Callaway Hall was 38 years old and working at a roulette table in a Lake Tahoe, Calif., casino in 1988 when a thin man ordered a cocktail, remarked how he hadn't had a drink in 11 years, then cashed out his chips without ever placing a bet.

"Hope to see you again real soon, Katie," the man said as he left.

That man was Phillip Garrido, now 58, the man who had kidnapped and repeatedly raped Hall 12 years earlier – and who would allegedly abduct 11-year-old Jaycee Dugard three years later. Now Hall believes the seed for the idea of taking a child as a sex slave came from her own eight-hour ordeal at his hands.
Advertisement
The most buzzed about stars this minute!
Treat Yourself! 4 Preview Issues
Got a News Tip?
Send it to our People.com editors!