02:46 PM EDT 12/22/2014
Unusual Pets
Originally posted 02/14/2014 09:00AM
Full moons just got a little fluffier with a
new breed
of cat called the Lykois, also known as "the Werecat."
These cuties are the result of a natural
genetic mutation
in domestic shorthair cats that restricts fur growth. The result is a feline missing hair around the eyes, nose and ears, giving the animal a werewolf-ish appearance.
Breeders have dubbed the kitties Lykois, which is Greek for wolf. But don't worry, this breed
isn't known for its bite
. According to
Opposing Views
, werecats have very dog-like personalities.
Credit: Laurentiu Garofeanu/Barcroft Media /Landov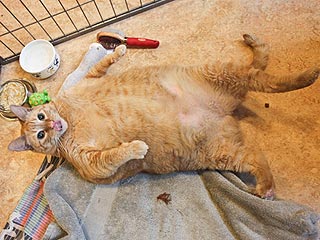 Update
Posted 01/07/2014 09:45AM
Originally posted 01/06/2014 09:00AM
The start of a New Year often means one familiar resolution: to get in shape. This year, PEOPLE is honoring five individuals who managed to lose half of their weight, but they're not the only ones worthy of some applause – or should we say ap-paws.

Over the past year, these three overweight animals also decided to get back on track (with a little help from their human friends) and shed their excess weight. Much like with their owners, obesity in pets can lead to a variety of health issues and complications, some of which were at fault for for the death of 33-lb. cat Sponge Bob in August 2012. Check out how this trio turned things around:
Originally posted 11/13/2013 01:35PM
They don't have Chris Hemsworth's golden locks or Tom Hiddleston's smooth moves, but this Thor and Loki combo are still quite the package deal. The turtle duo, named after the popular comic book characters, are inseparable – literally.
Credit: Courtesy CARTA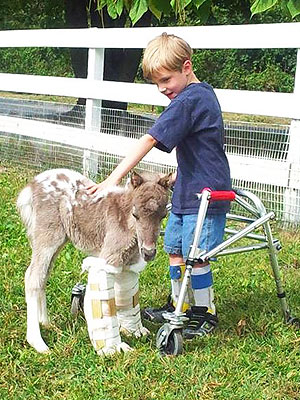 Update
Posted 10/07/2013 07:30PM
Originally posted 10/07/2013 01:15PM
Nothing brings two individuals together like common ground – and that's exactly what happened in the case of miniature horse Judd and Tyler Cribbs.

Judd was born at the Capital Area Therapeutic Riding Association in Grantville, Pa., two months ago with a condition that prevents him from supporting his own weight without splints. The association offers horseback riding as therapy to patients with disabilities, but in the case of Judd, the organization was faced with an opportunity to do the opposite.

"It's our turn to give therapy back," CATRA's Ben Nolt told local station WHTM, adding, "There are horses who have had this in the past and recovered normally. We're sort of a wait and see."
Credit: Courtesy Jessiepon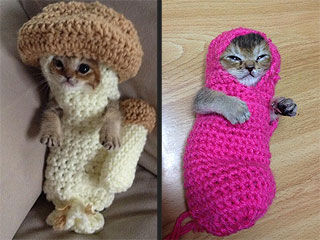 Originally posted 07/13/2013 02:30PM
Who says couture can't be fashionable and practical?

A rescue kitten named Wasabi-chan is proving that statement true after photos of the itty-bitty furball went viral showing her dressed as a mushroom and in other adorable crocheted ensembles.

But the stylish kitty's purr-recious sartorial selection stemmed from necessity more than vanity. Wasabi-chan was attacked by a crow on June 2, reports Mashable, and suffered a fractured upper jaw and split tongue. She required a catheter to feed, but kept wiggling the tube out of her mouth. Thus, her owner, who goes by the Twitter handle @jessiepon, crafted a series of costumes to keep Wasabi-chan still during feedings.
Credit: San Antonio Zoo/AP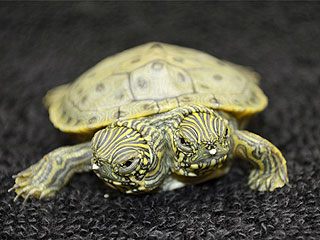 Update
Posted 06/27/2013 05:30PM
Originally posted 06/27/2013 12:15PM
Like sitcom sisters Laverne and Shirley, Thelma and Louise are back in action.

The San Antonio Zoo welcomed a two-headed turtle on June 18 and named her after the dynamic duo in a cheeky nod to the 1991 Oscar-winning movie of the same name.

Despite the mutation, the Texas cooter seems to have a good head (or two!) on her shoulders. She swims and walks normally, zoo spokeswoman Debbie Rios-Vanskike tells the Associated Press, and zoo experts don't predict any health issues for the turtle.
Credit: Serengeti Park/Splash News Online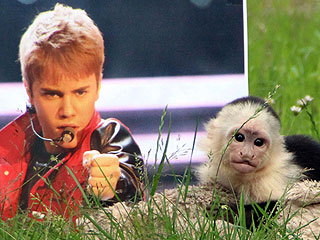 Originally posted 06/27/2013 03:00PM
No Bieber? No problem!

Justin's capuchin monkey, Mally, has found a new home after spending the past few months in quarantine at a Munich, Germany, animal shelter.

In May, he was transferred to the Serengeti Park in Hodenhagen. Now, he's living with his new family – six other capuchin monkeys – in a new area dubbed "Mally-bu," zoo spokeswoman Juliane Gunkel tells CNN. "He is very clever and he's the right age."
Credit: Courtesy of World's Ugliest Dog Contest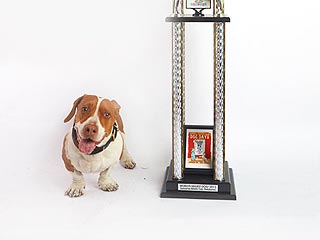 Originally posted 06/22/2013 09:55AM
Toss him the ugly stick!

A beagle/basset/boxer mix named Walle ran off with the top prize at Friday's 25th annual World's Ugliest Dog Contest, the marquee event at the Sonoma-Marin Fair in Petaluma, Calif.

The 4-year-old dog's unusually large head, hump back, and duck-like waddle – courtesy of extremely short legs – all helped him nab the coveted title, which includes $1,500 and a trophy.
Update
Posted 06/19/2013 04:45PM
Originally posted 06/19/2013 02:00PM
Sure, your dog knows how to fetch on command – but, ahem, this snake can open doors.

That's right: No hands, no problem (well, we'll let you decide on the latter).

Vimeo user Jenner, who lived with a 16-ft. albino Burmese python, posted a now-viral video of her wriggly roommate reaching for the knob and pushing past the door with an unsettling thud. (Watch below, if you dare.)

"Bored of being in a dark room, she flips on the light, opens the door and bails," the description of the clip, uploaded three years ago, reads. "This particular episode takes place at 1 a.m. This is why we keep doors locked with her around. We don't need her harassing the neighbors."

A voice in the video's background says, "Good job," implying this snake might have been trained to sneak up on you.
Credit: Courtesy Hamilton the Hipster Cat; Weegee/ICP/Getty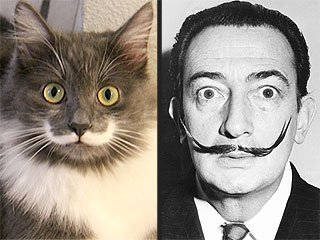 Originally posted 06/15/2013 11:35AM
No need to adjust your eyes, human – yes, this cat has a mustache.

Hamilton, the Internet-famous feline of California comic Jay Stowe, possesses a face full of gray hair, save for a small area around his mouth that is white and uncannily resembles the iconic handlebar mustache of artist Salvador Dalí.

Sometimes, Hamilton likes to play up his facial hair with a top hat and a monocle. Other times, he just wants to settle in for a cat nap. But either way, the furball's eye-catching accessory is always his best feature.
Advertisement
The most buzzed about stars this minute!
Treat Yourself! 4 Preview Issues
Got a News Tip?
Send it to our People.com editors!