09:22 AM EDT 05/15/2013
Wacky Animal Stories
Credit:

Winfried Wisniewski/Getty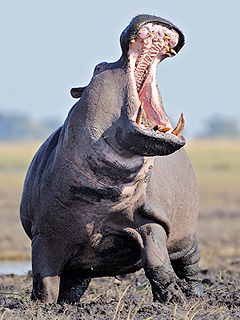 Originally posted 05/09/2013 07:00AM
It was supposed to be just another excursion down the Zambezi River for travel guide Paul Templer. He'd been in the business for years, taking in the same scenery trip after trip – until he got a view he'd never forget.

Seventeen years ago, at 27, Templer was leading a group of clients and three apprentice guides down the river near Zimbabwe's Victoria Falls in kayaks when a male hippo he had encountered before attacked them.

"The solid whack I felt behind me took me by surprise," Templer wrote recently in The Guardian newspaper as part of an essay that has since captivated the Internet. "I turned just in time to see [apprentice] Evans, who had been flung out of his boat, flying through the air. His boat, with his two clients still in it, had been lifted half out of the water on the back of the huge bull hippo."
Originally posted 05/02/2013 04:25PM
And you thought celebrities had the craziest hair!

At Angela Kumpe's grooming studio in Arkansas, pet owners with a flair for the dramatic can give their dogs almost any look imaginable – looks so wild, they got their own TV show. The new Animal Planet special Clipped!, airing Friday, May 3 at 10 p.m. ET, follows Kumpe and her staff as they work to turn a loyal customer's pup, Buggy, into a bumblebee.

"I can transform dogs into almost anything," Kumpe says. "You name it, I can do it."
Credit: Animal Plantet/Discovery
Originally posted 04/26/2013 11:35AM
In what almost seems like a scene out of Fatal Attraction, former heavyweight champion Mike Tyson recounted how an ex-girlfriend boiled and ate one his pet pigeons.

Speaking Thursday on the WFAN's Boomer & Carton show, Tyson, who lives near Las Vegas and has raised pigeons since before his boxing career, said he was aghast by what went down.

"I was dating this young lady and she said, 'I don't know why you're flying those damn birds, you should be eating them,' " Tyson, 46, told the hosts. "She happened to grab one – and she cooked one and proceeded to eat it. And I just couldn't do it."
Update
Posted 04/23/2013 01:15PM
Originally posted 04/23/2013 12:30PM
It's a plot twist straight out of The Hangover!

While taking a bathroom break during a performance of the Isis Shrine Circus in Salina, Kan., on Saturday, a woman discovered a tiger in the bathroom.

The big cat had escaped briefly after its turn in the ring. (Watch below.) Staff members blocked off the concourses at the Bicentennial Center, but the tiger wandered into the bathroom, where one of the doors was blockaded.
Originally posted 03/18/2013 05:00PM
Perhaps he just wanted to celebrate St. Patrick's Day?

Hendrix, a 6-year-old English springer spaniel, was scheduled to depart Newark, N.J., late last week week for Phoenix, Ariz., but a United Airlines mix-up found him traveling to Ireland instead when he was placed on the wrong flight.

"I felt like somebody punched me in the stomach. I mean, that's my dog. That's like my child," said owner Edith Albach, who only received word of the mistake 10 minutes before Hendrix's flight was expected to land in Phoenix. The dog was on his way to meet Albach's daughter, Meredith Grant.
Credit: REX USA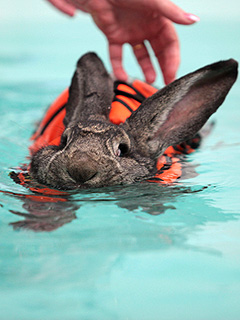 Originally posted 03/06/2013 01:30PM
Swim with the fishes? Not quite.

In Hampshire, England, a 4-year-old continental giant rabbit named Heidi has taken to hydrotherapy to ease her arthritic pain, which she suffers from in her hips and knees. The treatment is more commonly prescribed for horses and dogs, but Heidi's veterinarian believes the rabbit could benefit from the twice-weekly sessions, as well.

With a lifejacket fitted to her for buoyancy and her ears pinned back, the brown-haired furbaby makes her way around a heated pool for seven minutes at a time.
Credit: Jone Miskowicz/Getty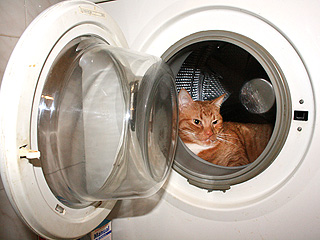 Originally posted 02/07/2013 04:15PM
Paging Destiny's Child! Natasha, a Siberian Forest cat from Oakland, Calif., is a survivor alright.

The sixth-month-old feline spent 35 minutes trapped inside a washing machine cycle but managed to make it out alive.

Having emerged with a severe case of hypothermia, Natasha was brought to an animal hospital by her owner, Daryl Humdy. Her reason for admission led her to receive the "Most Unusual Claim Award" by the company Veterinary Pet Insurance.
Originally posted 02/06/2013 03:20PM
What do Charlie Chaplin, Brooke Shields and Leonard Nimoy all have in common? Those unmistakable brows.

Now, a cat named Sam is joining the ranks.

The feline – who has over 20,000 Instagram followers – is wowing the world with his peculiar set of bushy black brows. In the more than 50 photos posted on the sharing site, Sam's raised eyebrows are the main attraction, making him seem surprised in some shots and worried in others.

According to a biography on samhaseyebrows.com, the 2-year-old kitty was abandoned in a cat carrier in front of his owner's house in March 2012.
Credit: Mayra Ruiz/Ruiz McPherson Communications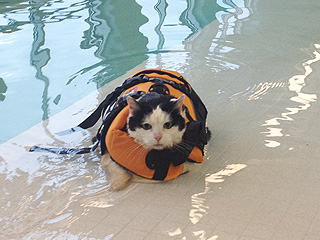 Originally posted 01/30/2013 03:30PM
Holly the cat is large – and in charge of the indoor pool at Dulles, Virginia's Olde Towne Pet Resort!

The 13-year-old feline – who weighs a hefty 18 lbs. – takes regular swims in the pool in an effort to shed the 6 or 7 pounds of extra weight she's been carrying for far too long.

"The cat actually sits around all day watching Maury Povich shows at home," the resort's publicist, Mayra Ruiz-Mcpherson, tells PEOPLE. "The goal is just to get her moving. Swimming in the pool is the only activity she does."
Credit: Daniel Ochoa de Olza/AP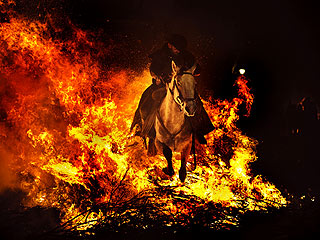 Originally posted 01/17/2013 06:30PM
TThere's something you don't see every day.
Advertisement
The most buzzed about stars this minute!
Treat Yourself! 4 Preview Issues
Got a News Tip?
Send it to our People.com editors!