12:02 PM EDT 05/13/2015
Wacky Animal Stories
Credit:

Getty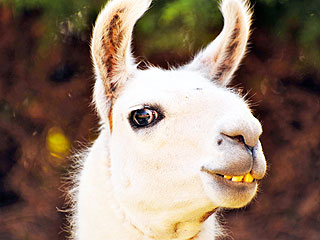 Update
Posted 02/27/2015 07:50PM
Originally posted 02/27/2015 05:50PM
No one knew just how much drama a pair of llamas (or a really ugly dress) could cause until Thursday afternoon.

Two llamas on the lam avoided capture by the Maricopa County sheriff's deputies in Sun City, Arizona, and commanded the Twitterverse, with hashtags like #LlamasOnTheLoose and #LlamaDrama trending for hours. (The llamas were eventually captured and are safe, according to reports).

The word on the streets of Phoenix and beyond is that nobody was more appalled, confused, and excited to have llamas in the limelight than llamas themselves. In fact, just a few weeks ago, Vogue predicted their emergence as this year's "It Animal."
Update
Posted 02/11/2015 08:35AM
Originally posted 02/10/2015 04:00PM
Things were not peachy at Peaches's old home.
According to
Mashable
, the Moluccan cockatoo has being airing her previous owner's dirty laundry. Before moving in with Elaine Sigmon and her husband, Peaches lived with a different married couple.
The pair ended up getting divorced, and it sounds like the bird had a front-row seat to the marital spats leading up to the split.
Credit: Doug Jones/Getty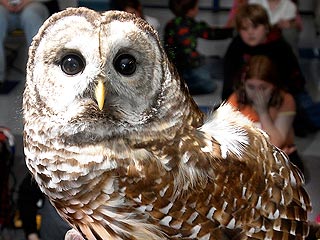 Originally posted 02/07/2015 09:00AM
"Hoo" is responsible for the spate of hat-stealing attacks in one Oregon forest?

It seems hikers and nature lovers in Salem's Bush's Pasture Park may have more than Bigfoot sightings to keep them on alert.

An aggressive owl is reportedly attacking joggers and making off with their hats, The Guardian reports, noting four separate attacks over the past month.
Credit: Courtesy Diana Moyer/Facebook; Justin Sullivan/Getty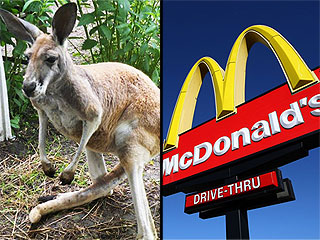 Originally posted 02/05/2015 02:45PM
McDonald's may say they are "lovin' it," but this slogan does not extend to kangaroos.

On Friday, Diana and Larry Moyer brought one of their five pet kangaroos to a McDonald's in Beaver Dam, Wisconsin, prompting a customer to call the police, reports WISN.

"He's just a little guy, but you can touch him and pet him," Larry says of Jimmy the kangaroo.

The couple often brings the smaller marsupial with them on errands to keep Diana, who is battling cancer, company. Jimmy isn't a licensed service animal, but the kangaroo is a therapy pet.
Update
Posted 01/11/2015 03:55PM
Originally posted 01/09/2015 02:55PM
Clearly, Sierra has expensive taste.

The hungry black Lab swallowed owner Stephanie Lamb's wedding rings – valued at $23,000 – and a Tulsa, Oklahoma, veterinarian had to perform surgery to retrieve them.

"I saw my dogs near the coffee table and remembered I'd left my wedding rings sitting on the table," Lamb told Tulsa's FOX 23 news. "I knew it was Sierra because she's just a little bit of a troublemaker."
Credit: Getty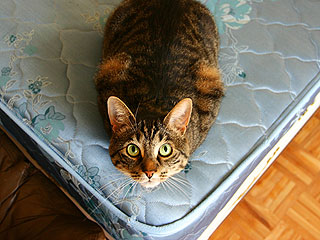 Update
Posted 12/27/2014 10:20AM
Originally posted 12/24/2014 12:00PM
When an Oregon man sold his girlfriend's mattress set for $100 because she was moving in with him, little did he realize her cat was hiding inside.

While his girlfriend was at work, Roy Dufek helped strap the mattress and box spring to the top of the buyer's car. When he went back inside his girlfriend's suburban Portland home, Camo the cat was nowhere to be found.

Dufek said it was impossible for the cat to slip outside undetected because there are three sets of doors in the apartment complex.
Update
Posted 12/24/2014 07:15AM
Originally posted 12/23/2014 12:30PM
By our calculations, Stormy the cat has exactly eight lives left.
Credit: Kim Taylor/Getty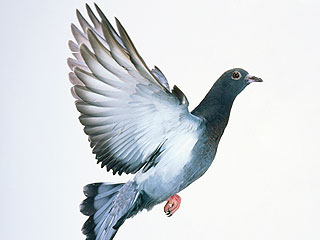 Originally posted 12/23/2014 12:45PM
Police in Germany are looking for a missing pigeon, and the finder could earn a $12,250 reward.

Duesseldorf police said Tuesday that the 6-year-old male homing pigeon, named AS 969, was stolen at some point on Saturday night from a locked aviary in the city's suburbs.

They say the light gray bird is valued by its owner at 150,000 euros ($184,000) and police suspect the thief or thieves were bird "connoisseurs" as AS 969 was the most valuable in an aviary full of other homing pigeons.

The owner has offered a 10,000-euro reward for the bird's recovery.
Originally posted 12/10/2014 06:50AM
If we had to guess what our dogs dream about, we'd say either
Ryan Gosling
or opening up our refrigerators and consuming everything inside.
The latter is most certainly true for Allie, a 12-year-old yellow Labrador retriever who was busted by her family for raiding the kitchen when they're not home.
San Luis Obispo, California, radio personality Adam Montiel said he noticed his dog was getting into the fridge and freezer. "We couldn't figure out how she was doing it, so I hooked up a GoPro to find out," he writes
on YouTube
.
Update
Posted 12/07/2014 05:30PM
Originally posted 12/05/2014 04:40PM
What happens when your mom is an animal lover? You'll probably be one too, and little baby Alia is getting started early.
The little girl's best friend isn't a teddy bear or a blanket, it's a sloth! Alia's mother, Julia Heckathorn, brought the 4-month-old animal home two days after Alia was born, and the baby and sloth have been inseparable ever since.
Advertisement
The most buzzed about stars this minute!
Treat Yourself! 4 Preview Issues
Got a News Tip?
Send it to our People.com editors!