03:49 PM EDT 01/21/2015
Wacky Animal Stories
Credit:

Marathon Veterinary Hospital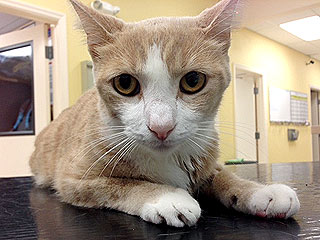 Originally posted 10/07/2014 04:45PM
Buttercup the kitty is here to prove cats and dogs can get along, inside and out.

This orange tabby from the Florida Keys recently received a life-saving blood transfusion from a canine, KeysNet.com reports. The rare procedure is known as a xenotransfusion.
Update
Posted 10/03/2014 05:30PM
Originally posted 10/03/2014 02:00PM
Acer is a miniature horse with big dreams – of being a dog.

The 3-year-old is 22-in. tall and happily roams around owner Maureen O'Sullivan's house and miniature horse farm in Essex, England, according to the U.K.'s Mirror.

"I think he's one in a million, this little horse," said O'Sullivan. "I've never seen anything like him."
Credit: Vincent Giordano/Trinacria Photography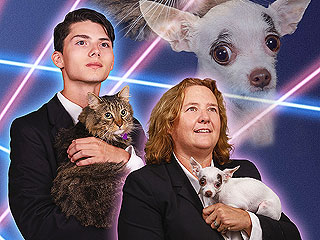 Originally posted 10/02/2014 09:40AM
A New York boy and his cat, a principal and her dog – and lasers.

They all came together in teenager Draven Rodriguez's senior portrait, which ended up with him holding his cat, Mr. Bigglesworth, and Schenectady High School principal Diane Wilkinson holding her Chihuahua, Vivienne.

The 16-year-old had originally wanted his senior yearbook portrait to show him holding his cat, with lasers in the background. He posted the photo on the Internet, and it went viral.
Update
Posted 09/19/2014 07:25PM
Originally posted 09/19/2014 01:15PM
It isn't easy being green.

Just ask this cat, who has undergone a complete transformation into a mystical green dragon in Russia.

Ekaterina Aidimirova is also the owner of a dog who has been fashioned into a bumblebee by the same groomer, Daria Gotz. She tells LiveLeak.com she decided to change her pup's look because she was dog-tired of the pet's regular fur.
Update
Posted 09/18/2014 08:30AM
Originally posted 09/17/2014 01:00PM
It's just a-maze-ing!

Over the course of 15 years, Greg Krueger has built nearly 100 yards of feline fun at the St. James, Minnesota, home he shares with his four cats – and it puts every cat tower and tree we've seen to shame.

There are tunnels, stairs, cat- and bird-shaped lookouts, comfy beds and more in Krueger's purr-fect pad, which CBS 4 Minnesota is calling a "feline amusement park."
Credit: DoveLewis Emergency Animal Hospital/AP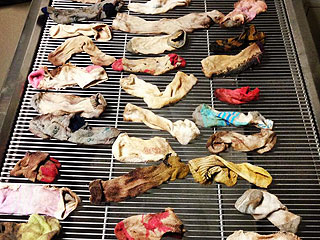 Originally posted 09/05/2014 09:45AM
The 3-year-old Great Dane was miserable and retching when his owners rushed him to a northwest Portland emergency animal hospital.

It was something he ate!

X-rays showed a stomach full of "a large quantity of foreign material." Nearly two hours of surgery later, Dr. Ashley Magee had the answer – the dog had consumed 44 socks. Luckily, Dr. Magee managed to remove 43½ of the offenders.
Credit: STR/AFP/Getty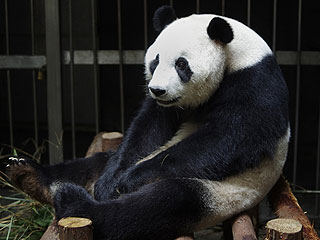 Update
Posted 08/28/2014 12:15PM
Originally posted 08/27/2014 01:15PM
It's a plot plucked from a soap-opera script.

Displeased with her day-to-day life, Ai Hin concocts a plan to fake a pregnancy in a desperate plea for more attention – and treats! (Bwahahahaha.)

On Tuesday, experts at China's Chengdu Research Base of Giant Panda Breeding revealed that they caught on to Ai Hin the panda's scheme – dun, dun, dun! – and canceled a live broadcast they were planning of the cub's birth, which would have been the world's first.
Credit: Courtesy Ballarat Wildlife Park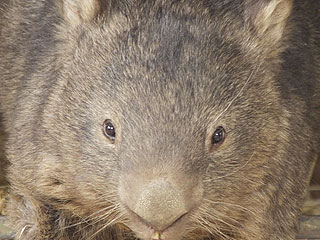 Originally posted 08/27/2014 04:10PM
We have Steve Carell's next comedy vehicle all squared away.

Meet Patrick, the world's oldest living wombat, a virgin, who celebrates his 29th birthday this month.

Chatter about the chaste wombat, who lives at Australia's Ballarat Wildlife Park, ramped up this week when Australia.com's Facebook page posted a message in honor of Patrick's birthday on Sunday.

"Happy Birthday Patrick the Wombat! This 29-year-old is the world's oldest living wombat. Given that Patrick has never had children, or any partners in general, probably makes him the oldest living wombat virgin as well! Congrats mate!"
Update
Posted 08/23/2014 05:00PM
Originally posted 08/22/2014 03:15PM
Sean almost didn't make it.
After the koala was hit by a car in Melbourne, Australia, a wildlife professional and a team of firefighters performed CPR and heart massage that saved the little animal's life.
According to
The Herald Sun
, rescuer Michelle Thomas had never done CPR on a koala before, only a dog.
Originally posted 08/19/2014 07:10PM
There are lots of things to be sad about these days (example: We're not having Ryan Gosling's baby) but Pixie the cat isn't bothered by any of them.

This 2-year-old feline, who resides in the U.K., has the eyes of a girl who just spent hours crying over a broken heart. But she's really as happy as a mid-nap cat – meaning her looks are purely for the benefit of others, like us.

"She's happy most of the time," the Persian cat's owner, Sophie Batt, says in an interview with the U.K. Daily Mail. "She's always playing or eating."
Advertisement
The most buzzed about stars this minute!
Treat Yourself! 4 Preview Issues
Got a News Tip?
Send it to our People.com editors!