07:22 PM EDT 12/18/2014
Wacky Animal Stories
Update
Posted 09/18/2014 08:30AM
Originally posted 09/17/2014 01:00PM
It's just a-maze-ing!

Over the course of 15 years, Greg Krueger has built nearly 100 yards of feline fun at the St. James, Minnesota, home he shares with his four cats – and it puts every cat tower and tree we've seen to shame.

There are tunnels, stairs, cat- and bird-shaped lookouts, comfy beds and more in Krueger's purr-fect pad, which CBS 4 Minnesota is calling a "feline amusement park."
Credit: DoveLewis Emergency Animal Hospital/AP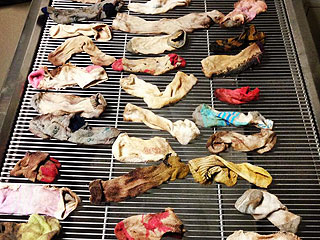 Originally posted 09/05/2014 09:45AM
The 3-year-old Great Dane was miserable and retching when his owners rushed him to a northwest Portland emergency animal hospital.

It was something he ate!

X-rays showed a stomach full of "a large quantity of foreign material." Nearly two hours of surgery later, Dr. Ashley Magee had the answer – the dog had consumed 44 socks. Luckily, Dr. Magee managed to remove 43½ of the offenders.
Credit: STR/AFP/Getty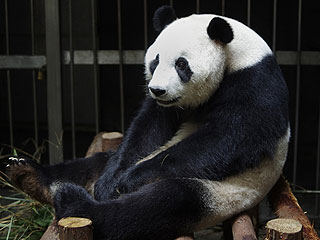 Update
Posted 08/28/2014 12:15PM
Originally posted 08/27/2014 01:15PM
It's a plot plucked from a soap-opera script.

Displeased with her day-to-day life, Ai Hin concocts a plan to fake a pregnancy in a desperate plea for more attention – and treats! (Bwahahahaha.)

On Tuesday, experts at China's Chengdu Research Base of Giant Panda Breeding revealed that they caught on to Ai Hin the panda's scheme – dun, dun, dun! – and canceled a live broadcast they were planning of the cub's birth, which would have been the world's first.
Credit: Courtesy Ballarat Wildlife Park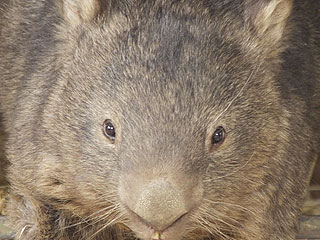 Originally posted 08/27/2014 04:10PM
We have Steve Carell's next comedy vehicle all squared away.

Meet Patrick, the world's oldest living wombat, a virgin, who celebrates his 29th birthday this month.

Chatter about the chaste wombat, who lives at Australia's Ballarat Wildlife Park, ramped up this week when Australia.com's Facebook page posted a message in honor of Patrick's birthday on Sunday.

"Happy Birthday Patrick the Wombat! This 29-year-old is the world's oldest living wombat. Given that Patrick has never had children, or any partners in general, probably makes him the oldest living wombat virgin as well! Congrats mate!"
Update
Posted 08/23/2014 05:00PM
Originally posted 08/22/2014 03:15PM
Sean almost didn't make it.
After the koala was hit by a car in Melbourne, Australia, a wildlife professional and a team of firefighters performed CPR and heart massage that saved the little animal's life.
According to
The Herald Sun
, rescuer Michelle Thomas had never done CPR on a koala before, only a dog.
Originally posted 08/19/2014 07:10PM
There are lots of things to be sad about these days (example: We're not having Ryan Gosling's baby) but Pixie the cat isn't bothered by any of them.

This 2-year-old feline, who resides in the U.K., has the eyes of a girl who just spent hours crying over a broken heart. But she's really as happy as a mid-nap cat – meaning her looks are purely for the benefit of others, like us.

"She's happy most of the time," the Persian cat's owner, Sophie Batt, says in an interview with the U.K. Daily Mail. "She's always playing or eating."
Originally posted 08/06/2014 02:15PM
A 220-pound black bear who managed to climb out of a South Texas zoo exhibit took a dip in a pond with some harbor seals before staffers tranquilized him.

No one was hurt in the incident Monday at the Gladys Porter Zoo in Brownsville. Zoo spokeswoman Cynthia Galvan said Tuesday that the male bear, named Oscar, is staying in his sleeping quarters, out of public view, until repairs are made to cracks in the concrete wall of his bear grotto.
Credit: Courtesy My Petting Zoo/Facebook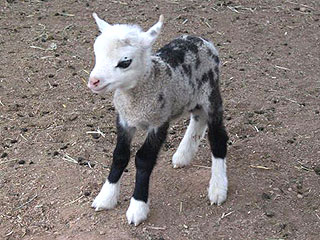 Originally posted 08/02/2014 07:15AM
What do you get when you cross a sheep and a goat? (This isn't a trick question.)

Meet Butterfly, the "geep." She's the offspring of a female sheep named Momma and a male pygmy goat named Michael, and she was born at MyPettingZoo.com's facility in Arizona.

"We were not even aware that [Momma] was pregnant because we don't have a male [sheep]," Priscilla Motola, owner of the petting zoo, told Azcentral.com of the surprise arrival, which is believed to have happened on Sunday.
Credit: Getty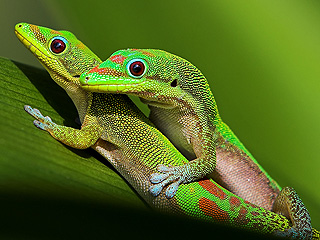 Originally posted 07/25/2014 04:00PM
They say in space, no one can hear you scream, but that's not the case if you're one of five geckos having sex on a rogue Russian satellite.

The geckos were sent to space on July 19, as part of a mission to test the effects of low gravity on plant and animal life, particularly the geckos' sexual behavior.

Unfortunately, the Russian space agency lost control of the Photon-M4 satellite shortly after it made its way into orbit. As the Moscow-based news agency Interfax reported Thursday, mission control suspects a problem in the satellite's engine caused it to stop responding to commands from Earth.


Update
Posted 06/30/2014 06:40PM
Originally posted 06/30/2014 05:40PM
Diamonds are a dog's best friend, too.

It took six years, but Lois Matykowski's missing diamond wedding ring finally reappeared when her 10-year-old Rottweiler mix, Tucker, swallowed a popsicle stick this month, according to ABC News.

The Wisconsin pooch – known affectionately to his family as the "food burglar" – wolfed down a popsicle and its stick, which prompted Matykowski to call her veterinarian.
Advertisement
The most buzzed about stars this minute!
Treat Yourself! 4 Preview Issues
Got a News Tip?
Send it to our People.com editors!