03:33 PM EDT 04/15/2013
The Hunger Games
Credit:

Vince Bucci/PictureGroup (2); by Kevork Djansezian/Getty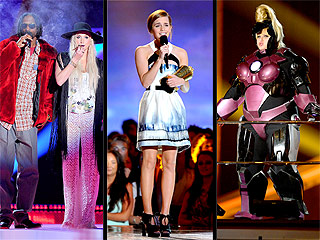 Update
Posted 04/15/2013 10:35AM
Originally posted 04/14/2013 11:55PM
With Rebel Wilson at the helm, the 2013 MTV Movie Awards delivered laughs, inspiring acceptance speeches and a highly anticipated trailer.

From Emma Watson's touching words to getting a glimpse of the latest Hunger Games film, here were our favorite moments of the night:
Credit: Lionsgate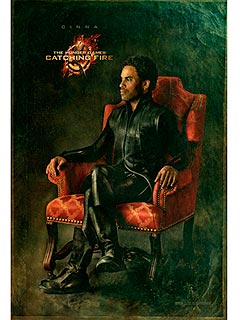 Originally posted 03/05/2013 06:00PM
If it weren't for the simple swipe of his signature gold eyeliner, you'd almost never know that Cinna hails from the garish Capitol of Panem.

But then again, as fans of The Hunger Games know, Cinna (played by Lenny Kravitz in the film adaptation of Suzanne Collins's hit trilogy) is anything but a stereotypical Capitol citizen.

Assigned to assist Katniss (Jennifer Lawrence) and Peeta (Josh Hutcherson) as they tour the districts in Catching Fire, his assistance is needed more than ever.
Credit: REX USA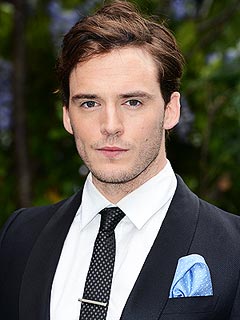 Originally posted 08/23/2012 09:40AM
The Hunger Games has found its Finnick Odair.

Sam Claflin, one of Hollywood's up-and-coming stars, has landed the coveted role in Catching Fire, the second Hunger Games movie, which begins shooting this fall for a late 2013 release.

Like Odair, Claflin, 26 – last seen in Snow White and the Huntsman – is a prodigy, seemingly skilled at anything and everything he tries.
Credit: Courtesy Visitnc.com. Inset: Lionsgate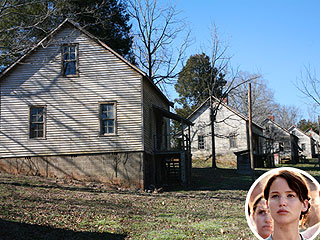 Originally posted 04/03/2012 08:35AM
Though the location of the Hunger Games set was kept secret for six months during filming, fans of the franchise who want to experience life in Panem for themselves now have the opportunity to do just that.

The blockbuster film has provided a boon to the tourism industry in North Carolina, where it was shot, according to Friday's Today show. Fans are flocking to locations such as the Henry River Mill Village, an abandoned mill town outside Charlotte, which is home to the set pieces that were used as Katniss's house and Peeta's bakery.
Originally posted 03/20/2012 06:00AM




Katniss Everdeen's (
Jennifer Lawrence
's) life was difficult enough before she was forced to try to kill 23 other children on national television.
Fatherless and starving in District 12, the mining center of dystopian future world Panem, she takes her little sister Prim's (Willow Shields's) place as a tribute, fighting to the death in an elaborate spectacle broadcast as a reality show.
To add poison to the sting, Katniss is expected to kill her own teammate, Peeta (
The Kids Are All Right
's charming Josh Hutcherson), a sweet boy who has a crush on her.
Originally posted 12/15/2011 01:00PM
Hungry for a little online scavenger hunt? Sink your teeth into this one.

The Hunger Games, a science-fiction movie opening March 23, has broken its new poster into 100 pieces and scattered them on sites around the Internet – including #51 right here at PEOPLE.com!

Can you find them all and solve the puzzle? Here are some pointers:
Credit: Murray Close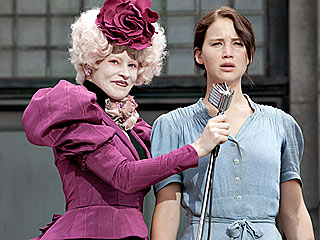 Originally posted 11/16/2011 10:00AM
It's the pink hair that did it.

For Elizabeth Banks, playing Effie Trinket in the upcoming screen version of The Hunger Games first clicked into place thanks to the character's signature cotton-candy coif.

"I would be in the hair and makeup trailer and I was Elizabeth, and then the wig went on and very suddenly I was Effie," says Banks, 37. "Every day I would have that aha moment, like, 'We did it! We found Effie!' "

In the best-selling The Hunger Games trilogy by Suzanne Collins, Effie serves as a publicity agent of sorts for the Games, a cruel arena battle that pits youths, called "tributes," against each other in a televised fight to the death. The movie opens March 23.
Originally posted 11/14/2011 10:30AM
For fans looking to whet their
Hunger Games
appetite, the odds are ever in your favor – as the Suzanne Collins trilogy teases.
"It's 24 of us," Jennifer Lawrence, playing fierce and feisty
heroine Katniss Everdeen
, says in the movie's trailer, which debuted Monday on
Good Morning America
. "One comes out."
The peek at the film adaptation of the best-selling series, which follows Everdeen's post-apocalyptic journey through the ultimate televised game of life-or-death, offers a glimpse into the dark and dreary world of District 12.
Credit: INF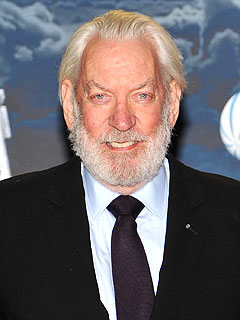 Originally posted 05/31/2011 03:30PM
The Hunger Games has elected its leader: Veteran actor Donald Sutherland has been cast as sinister President Snow in the film adaptation of in the dystopian trilogy, according to The Hollywood Reporter.

Sutherland's character is described as "cruel and ruthless in his intimidation and control tactics – especially toward Jennifer Lawrence's Katniss Everdeen.
Credit: Gregg DeGuire/PictureGroup; Debbie VanStory/iPhotoLive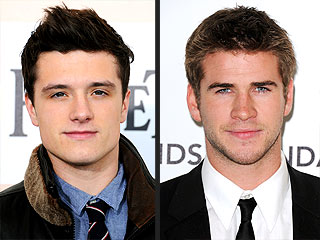 Originally posted 04/04/2011 02:55PM
The PEOPLE have spoken! And although they voted for Hunter Parrish, 23, to take on the role of Peeta in the big-screen adaptation of Suzanne Collins's wildly successful sci-fi story The Hunger Games, that part will be going to the just-as-hotly tipped Josh Hutcherson (The Kids Are All Right).

Hutcherson's lovesick baker-boy will compete for the affections of Katniss (to be portrayed by Jennifer Lawrence, 20) with her strapping hunting partner Gale, to be played by 21-year-old Liam Hemsworth, a.k.a. Miley Cyrus's on-again, off-again beau).
Advertisement
The most buzzed about stars this minute!
Treat Yourself! 4 Preview Issues
Got a News Tip?
Send it to our People.com editors!