04:49 AM EDT 07/10/2016
Halloween
Originally posted 10/19/2015 06:20PM
It's may be cliché to say a given movie's setting is a character in of itself, but nonetheless it's often true when talking about the creepy locations of scary movies. This past week, the film Crimson Peak opened in theaters. The titular mansion – Allerdale Hall, colloquially known as Crimson Peak – seems designed to creep you out, even when there's nothing explicitly scary happening.
Credit: New Line Cinema/Everett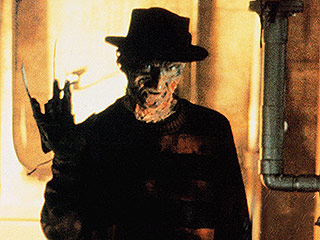 Originally posted 10/19/2015 10:30AM
You can tell a lot about a person based on his or her favorite scary movie – after all, it is the most important question that Ghostface asks in Scream.
Credit: Kevin Van Miltenburg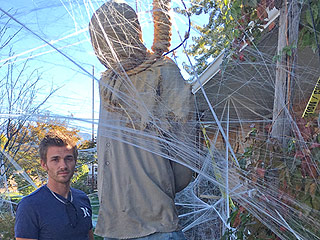 Originally posted 10/15/2015 12:30PM
Every October for the past six years, an animated hangman wearing a noose and a gunny sack has been on display in Kevin Van Miltenburg's front yard. But the NAACP thinks that Van Miltenburg's tradition should be put to an end.
Originally posted 10/13/2015 04:50PM
If someone asked you to name a Christmas carol, you'd probably have no trouble naming a dozen of them. If someone asked you to name a Halloween song, however, you might not be quite as quick to think up a complete playlist. You see, while Halloween can compete with Christmas well enough in the decoration and candy departments, there just aren't that many traditional songs associated with Halloween.
Filed Under:
Blue Oyster Cult
,
Echo & the Bunnymen
,
Metallica
,
Oingo Boingo
,
TV On the Radio
,
A Nightmare on Elm Street
,
Halloween
,
Beetlejuice
,
Donnie Darko
,
Scream
,
The Rocky Horror Picture Show
,
The Silence of the Lambs
,
Tim Burton's the Nightmare Before Christmas
,
Thriller
,
Music News
,
Danny Elfman
,
Donovan
,
Dusty Springfield
,
Harry Belafonte
,
Michael Jackson
,
Tim Curry
,
Will Ferrell
,
Will Smith
,
Winona Ryder
Credit: Moviestore/Re/REX Shutterstock; New Line Cinema/Getty; Dimension Films/Everett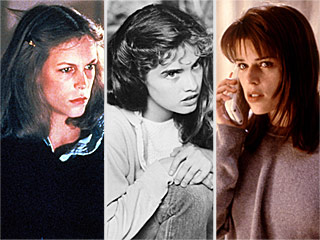 Originally posted 10/12/2015 05:20PM
The slasher-comedy The Final Girls opened in theaters Friday, and that very title begs horror fans to wonder who among the cast will be the actual last girl standing: American Horror Story vet Taissa Farmiga or Malin Ackerman, the actress playing the character in the film's movie-within-a-movie.
Filed Under:
A Nightmare on Elm Street
,
Friday the 13th
,
Halloween
,
Scream
,
Suspiria
,
The Texas Chainsaw Massacre (Movie - 1974)
,
Movie News
,
Adrienne King
,
Heather Langenkamp
,
Jamie Lee Curtis
,
Janet Leigh
,
Jennifer Love Hewitt
,
Jessica Harper
,
Marilyn Burns
,
Neve Campbell
,
Patricia Arquette
,
Sarah Michelle Gellar
,
Sigourney Weaver
,
Vera Miles
Credit: Charles V. Tines/Detroit News/AP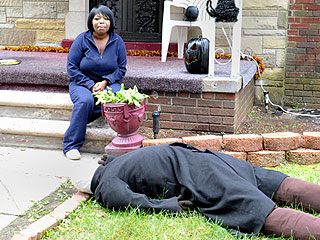 Originally posted 10/12/2015 11:05AM
LaRethia Haddon's husband's birthday falls on Halloween, so she really gets into the spooky spirit. For the past 25 years, she's been indulging in an annual tradition that's still riling up residents in her Detroit township.
Credit: New Line Cinema/Courtesy Everett Collection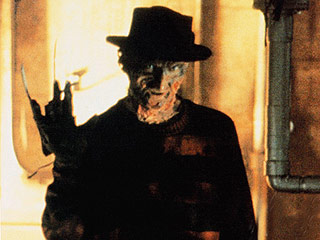 Originally posted 10/08/2015 11:00AM
Halloween is approaching, and the only logical way of preparing (other than stocking up on candy) is by binge-watching horror movies until you're rendered unable to speak or sleep because of the accumulated nightmare fuel of dozens of fright-auteurs coursing through your brain. (Well, that and the pumpkin spice lattes.)
Credit: Charley Gallay/Getty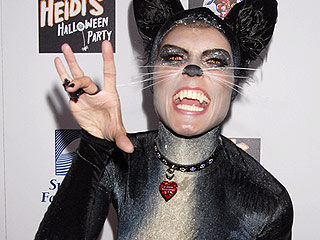 Originally posted 10/07/2015 05:45PM
It's October, which means it's officially time to start agonizing about your Halloween costume.
Originally posted 08/21/2015 10:30AM
A horror-obsessed girlfriend turns the corner to find her boyfriend dressed as Michael Meyers – down on one knee
Credit: Marsha LaMarca/Weinstein Company/Everett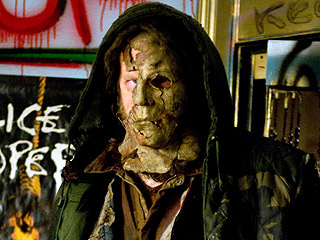 Originally posted 06/16/2015 09:35AM
The residents of Haddonfield, Illinois, cannot get a break.
Advertisement
The most buzzed about stars this minute!
Treat Yourself! 4 Preview Issues
Got a News Tip?
Send it to our People.com editors!