03:16 PM EDT 05/21/2015
Here Comes Honey Boo Boo
Update
Posted 03/27/2014 12:10PM
Originally posted 03/27/2014 10:30AM

Mama June is ready to face her fear of mayonnaise – sort of.

In a clip from Here Comes Honey Boo Boo the 33-year-old decides to see a hypnotherapist about her lifelong phobia, but she doesn't seem to understand what the treatment entails.

"Hypnosis works supposedly by somebody getting into your mind and getting you relaxed or whatever," she says, before warning, "I mean, if this hypnotist brings out a shrunken head, I mean, if she tries to put, like, some, like, spell on me, I'm outta here."

Once inside the office she explains her problem with mayonnaise.
Originally posted 03/13/2014 08:30AM
Kim Kardashian lives large, but she's got nothing on Mama June.

On Thursday's Halloween special for Here Comes Honey Boo Boo, the Thompson family dress up as reality TV's most famous clan, and as Mama June (posing as Kanye West's fiancée) told PEOPLE back in October, "Everyone seems to compare our family to them. Now we're just the redneck version."

But that's not where the comparisons end. Mama June sees Kim as a kindred spirit.

"Me and Kim are similar, uh, because we have kids out of wedlock," she says in the episode airing on TLC Thursday. "We both got big asses, but Kim ain't got s--- on this, baby. This is the bigger version, bigger and better."
Update
Posted 01/15/2014 08:30PM
Originally posted 01/15/2014 12:50PM
Here Comes Honey Boo Boo ... and here comes Mama June's sex talk!

The new season of TLC's hit show premieres Thursday with back-to-back episodes, including one titled "The Birds and The Bees."

"A girl meets this boy, they fall in love ... and the boys try to get in girls' fruit loops," Mama June, whose real name is June Shannon, tells daughters Lauryn (Pumpkin), Anna (Chickadee) and Jessica (Chubbs).

Cereal, it is not. "A fruit loop is your biscuit, a woman's vaginal area ... your privatal area," she explains as part of an awkward talk that sends her running to the bathroom with a case of the nerves.
Credit: Chris Fraticelli/TLC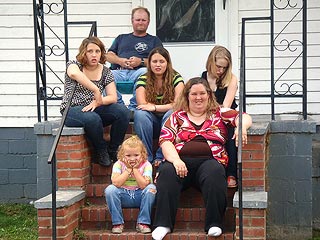 Originally posted 01/07/2014 05:30PM
Honey Boo Boo and members of her family are on the mend, after suffering injuries from a car accident on Monday night.

The young reality star (whose real name is Alana Thompson), along with her Mama June, and fellow Here Comes Honey Boo Boo family members Pumpkin, Jessica and Sugar Bear were all in the family's 2012 Suburban when the incident occurred.

"It happened so quick," Mama June told PEOPLE on Tuesday. "Before I could say watch out – boom – he had already hit us."

The family was taken to the hospital by ambulance after a 19-year-old boy allegedly driving a vehicle without his lights on crashed into them while speeding.
Credit: Discovery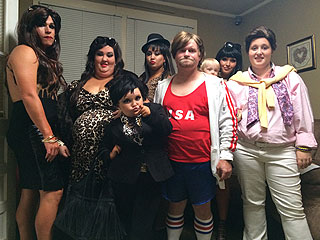 Originally posted 10/31/2013 06:00PM
Who would have thought that this would work so well?

Alana "Honey Boo Boo" Thompson and her family dressed up as Kim Kardashian and her clan for Halloween, and it is awesome.

While 8-year-old Honey Boo Boo dressed up as the family's matriarch, Kris Jenner, Mama June stole the spotlight in her Kim costume.
Originally posted 09/17/2013 06:00AM
See if you know the Girls Brooklynite from Georgia's Southern belle
Originally posted 09/10/2013 10:15AM
What a bride has to do to look "beautimous" on her big day!
In a sneak peek at the
Here Comes Honey Boo Boo
finale, Mama June is getting ready for
her commitment ceremony with Sugar Bear
, and enlisting the help of her daughter, Lauryn "Pumpkin" Shannon.
"Mama still hasn't shaved her neck hairs for the commitment ceremony," Pumpkin says. "And I think I'm gonna help her with that so we can check it off the list."
Credit: TLC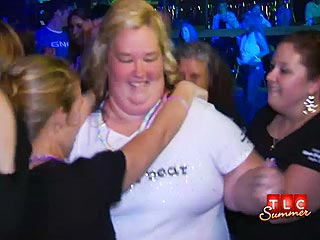 Update
Posted 08/27/2013 07:00PM
Originally posted 08/27/2013 03:30PM
Mama June is ready to do some "bachelorettin'."

In a sneak peek from TLC's Here Comes Honey Boo Boo, matriarch June Shannon, 33, and her girlfriends head to Wild Bill's in Atlanta for a night of drinking, dancing, flirting and all-around partying to celebrate her commitment ceremony.

Sporting a wedding veil, a "Mrs. Sugar Bear" T-shirt and at times a candy necklace and a pink, feather boa, the reality star throws back shots and shows off some serious dance moves.
Credit: Gene Young/Splash News Online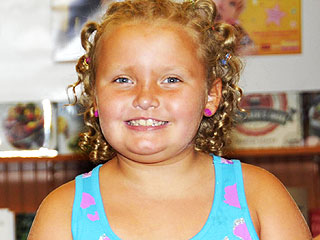 Originally posted 07/16/2013 02:00PM
Dear Honey Boo Boo Child:

When Here Comes Honey Boo Boo debuted on TLC last summer, I thought the sky was falling and that civilization was ending. The show seemed to expose viewers to a new low in what passes for American life on TV – I never got over that local swimming hole with the warning sign about flesh-eating bacteria – and at the same time I thought it exploited you, your Mama June and your siblings.

I thought it was especially condescending, and insulting, for the show's producers to supply subtitles translating your dialogue, even though your family's Southern accents are admittedly jowl-shakingly thick.

But here we are a year later, with season 2 starting Wednesday, and I redneckognize (as you'd say) that you meant and did no harm. All the Boo-hating was a big to-boo about nothing. For instance ...
Credit: Courtesy Alana Thompson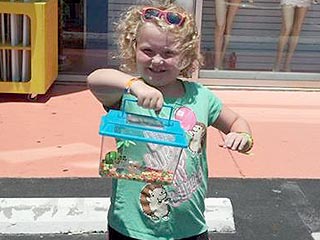 Update
Posted 07/03/2013 02:30PM
Originally posted 07/03/2013 12:45PM
It's not pink, nor is it Glitzy, but it'll have to do.

The 7½-year-old star of TLC's Here Comes Honey Boo Boo added a new member to her eclectic petting zoo on Tuesday: a hermit crab named Hermie.

Hailing from Panama City Beach, Fla., the crawly crustacean is barely perceptible in the pageant queen's Facebook photo, but honestly, we think it's probably just hiding from the inevitable limelight it's soon to receive.
Advertisement
The most buzzed about stars this minute!
Treat Yourself! 4 Preview Issues
Got a News Tip?
Send it to our People.com editors!