07:10 AM EDT 03/19/2015
Slumdog Millionaire
Credit:

Gautam Singh/AP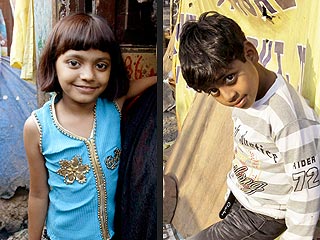 Originally posted 11/06/2009 01:45PM
Following recent reports that the Jai Ho Trust – established by Slumdog Millionaire director Danny Boyle for two of the movie's child actors, Azharuddin Ismail and Rubina Ali – was the subject of controversy when the kids' families reportedly wanted more money, Boyle tells PEOPLE that the real issue centers on the young stars spending more time in school.

"We were in Mumbai last week and we were very clear that the attendance of the kids at school was not good enough," the Oscar-winning director said at the BAFTA/LA Brittania Awards, where he received John Schlesinger Britannia Award for Artistic Excellence in Directing. "They've had a lot of distractions."

During his visit Boyle says he insisted that "unless school attendance improves, then everything else is jeopardized, because that was the whole starting point of the way the film could benefit the kids."

Boyle said the whole point of the child stars' trust is to "set them up so that they wouldn't feel like prisoners within their economic cycle which wasn't very helpful to them, that they would have a bit of an ability to step out and make some decisions about their own life and to back it with a bit of cash and a nice education and a place to live, things like that."
– Scott Huver
Credit: Gautam Singh/AP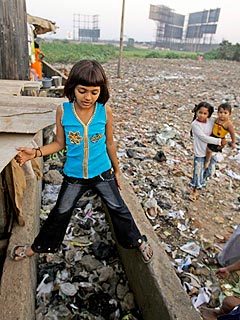 Originally posted 06/05/2009 01:10PM
She may be only 9, but Slumdog Milionaire star Rubina Ali is ready to tell her life story.

Having played the young Latika in director Danny Boyle's Oscar winning movie, Ali has met Hollywood stars like Nicole Kidman and been involved in controversies seemingly since the film rocketed her and its other youngsters into notoriety.

July 16 will find her book, Slumdog Dreaming, simulatenously released in the U.S. and U.K. Publisher Transworld, says, besides recounting Oscar night, Ali will tell her story of "playing marbles with her friends beside the sewers of Garib Nagar in Mumbai, to dancing along to the Bollywood films she and her family watch on their old television set.

"Rubina brings alive a world of wastelands and rat-infested shanty dwellings, and shows us her home, a wooden shack with a tarpaulin roof, where she grew up with her beloved father and siblings," says the statement.
– Simon Perry
Credit: EPA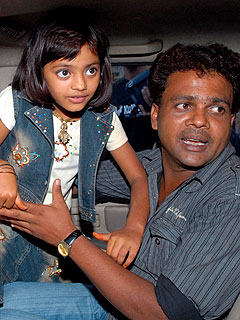 Originally posted 04/22/2009 09:45AM
No evidence suggests Rafiq Qureshi tried to sell his young daughter, Sumdog Millionaire actress Rubina Ali, police in Mumbai announced Wednesday.

"So far there is no evidence of any offense, hence there is no registration of complaint and no arrest," Nisar Tamboli, a senior police officer, informed Reuters.

Qureshi, 36, told PEOPLE that a British newspaper story that he was prepared to place his 9-year-old up for adoption for $300,000 was a "lie made up by foreign journalists playing games with me."
Credit: EPA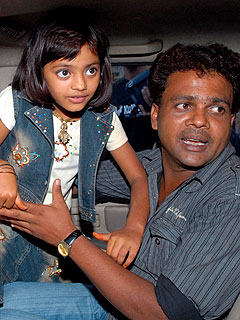 Update
Posted 04/20/2009 02:30PM
Originally posted 04/20/2009 10:40AM
The father of Slumdog Millionaire child star Rubina Ali has denied a report in Britain's News of the World that he was prepared to place his 9-year-old daughter up for adoption for $300,000 as a "lie made up by foreign journalists playing games with me," he tells PEOPLE.

The newspaper reported that Rafiq Qureshi, 36, demanded money after it had sent reporters posing as wealthy people from Dubai who said they wished to adopt a child.

Qureshi's brother Moiuddin, who was present at the late-night meeting at a luxury Mumbai hotel, is reported to have insisted on an even higher figure for the transaction – the original offer was said to be about $75,000 – because of Rubina's fame. By Monday, Reuters was reporting that Mumbai police were investigating the entire incident.
Credit: Arko Datta/Reuters/Landov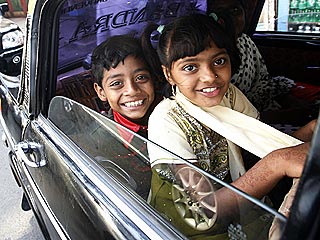 Originally posted 02/25/2009 08:35AM
They've been to the Oscars, they've been to Disneyland, and now the two main child actors from the Oscar-laden Slumdog Millionaire are heading to brand new homes.

Indian government authorities are providing new residences in Mumbai for Rubina Ali and Azhar Ismail, who portrayed the younger versions of the movie's central characters, Latika and Jamal, Reuters reports.

"These two children have brought laurels to the country, and we have been told that they live in slums, which cannot even be classified as housing," said Gautam Chatterjee, head of the state-run Maharashtra Housing and Area Development Authority.
Credit: Paul Hiffmeyer/Disneyland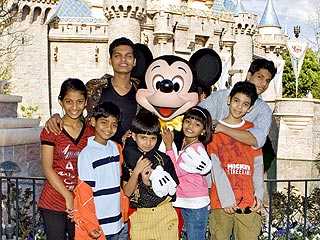 Originally posted 02/24/2009 01:00PM
Hey, kids from Slumdog Millionaire: you traveled all the way from India to Los Angeles and celebrated on stage at the Oscars as your film won Best Picture ... what are you going to do next? Go to Disneyland, of course!

The day after the Oscars, the young cast from the film – above, counter-clockwise from Mickey: Madhur Mittal (older Salim), Tanvi Ganesh Lonkar (middle Latika), Azhar Mohammed Ismail (young Salim), Ayush Mahesh Khedekar (young Jamal), Rubina Ali (young Latika), Tanay Hemant Chheda (middle Jamal) and Ashutosh Lobo Gajiwala (middle Salim) – visited Disneyland for a little face time with Mickey Mouse. They also took a ride on – what else? – It's a Small World (photo after the jump!).
Credit: Casey Rodgers/WireImage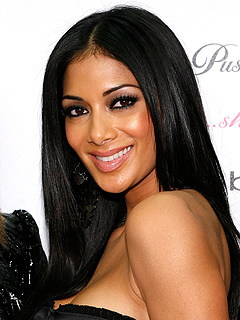 Originally posted 02/23/2009 06:10PM
"Jai Ho" meets meow.

The Pussycat Dolls are releasing their take on the Oscar-winning song from Slumdog Millionaire. Super-producer Ron Fair (who's worked with Fergie and Christina Aguilera) produced the lead vocals by Dolls frontwoman Nicole Scherzinger, whose voice blends with that of composer A.R. Rahman.

For a sample of the song click here


Next up for the Pussycat Dolls: an opening slot on Britney Spears's Circus tour kicking on March 3 in New Orleans.
– Jessica Herndon
Credit: Robyn Beck/AFP/Getty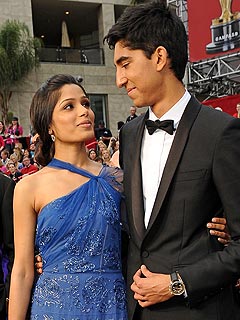 Originally posted 02/22/2009 07:25PM
Their movie may be up for 10 Oscars, but the big question surrounding Slumdog Millionaire stars Dev Patel and Freida Pinto is, "Are you dating?"

Not each other, not even anyone else, they both insisted on the red carpet leading into the Kodak Theatre Sunday night.

Speaking to E! pre-show host Ryan Seacrest, Patel, 18, and Pinto, 24, displayed pained expressions at the very question about the rumors that they are an item.
Credit: Splash News Online; Photoshot/Everett Collection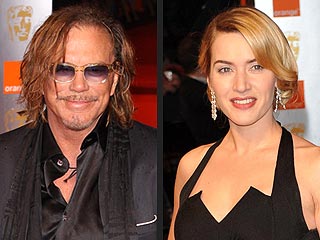 Originally posted 02/19/2009 03:20PM
Second to the Super Bowl, betting on the Oscars is a gambler's favorite pastime, according to Doc's Sports Service, an online handicapper.

While Las Vegas doesn't post odds on the Oscars, due to Nevada Gaming Commission rules, offline betting services do, according to Doc's.

As for those favored to end up holding Hollywood's most cherished golden boy on Sunday night – ABC broadcasts the Oscars from the Kodak Theater starting at 8 p.m. – the good doctor recommends putting your money on the following:
Credit: Chris Pizzello/AP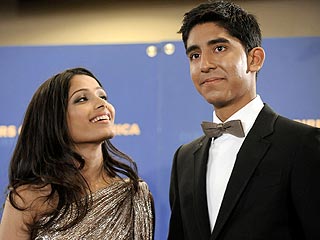 Originally posted 02/16/2009 03:00PM
London native Dev Patel, 18, and Mumbai-born model Freida Pinto, 24, have captured hearts the world over for their portrayal of Jamal and Latika, sweethearts whose love flourishes in the slums of India in Slumdog Millionaire.

As the two prepare for their date with Oscar on Feb. 22 (the film is nominated for 10 Academy Awards), here's some inside scoop on the young stars of the movie sensation.
Advertisement
The most buzzed about stars this minute!
Treat Yourself! 4 Preview Issues
Got a News Tip?
Send it to our People.com editors!