11:39 AM EDT 07/06/2015
Kate Plus Eight
Credit:

Peter Kramer/NBC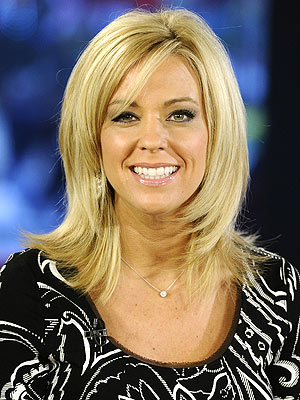 Originally posted 08/16/2011 04:30PM
Now that Kate Gosselin's TLC reality show, Kate Plus 8, has been canceled, she may be looking toward her next career move. In addition to being a reality star, Kate is a registered nurse and a best-selling author – not to mention a super mom. So, what should she do next? Here are some ideas:

Kate serves up healthy meals for her eight children and prefers organic, so why not become a natural foods chef? She can certainly handle cooking for picky customers – and lots of them.

She and her ex-husband Jon Gosselin weren't afraid to squabble in front of the cameras while filming Jon & Kate Plus 8. Maybe it's time to put that experience to good use and have straight-shooter Kate sit down with bickering couples as their marriage counselor.
Originally posted 08/15/2011 07:55PM
Her show has just
been cancelled
and her
marriage crumbled
in 2009, but
Kate Gosselin
doesn't seem to have regrets about her tumultuous past few years.
"I know that I'm glad to be divorced and on my own," she says, addressing ex-husband Jon Gosselin, 34, in a clip from an episode of
Kate + 8
, which airs Monday night on TLC; the show's final episode will air Sept. 12.
"I wouldn't change my marriage because I have eight awesome kids that I would not change," Kate, 36, says on Monday night's episode. "But people change and they're not who you thought they were and if they're not for you, move on. And I have."
Credit: Humberto Carreno/Startraks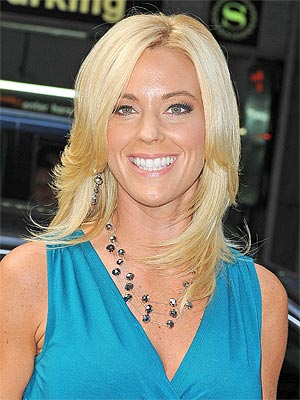 Originally posted 08/15/2011 03:00PM
Kate Gosselin's days as a reality star are done for now.

TLC – the network that gave viewers a firsthand glimpse of Kate's tumultuous and highly publicized split from ex-husband Jon Gosselin while they continued to raise their eight children – will no longer follow the 36-year-old and her brood with cameras.

"TLC has decided not to renew another season of Kate Plus 8," a network rep told PEOPLE in a statement. "By the end of this season Kate Plus 8 will have hit the 150 episode mark (including Jon & Kate Plus 8); an exceptional milestone. TLC hopes to check in with Kate and the family periodically with specials in the future."
– Dahvi Shira
Credit: Diane Cohen/Fame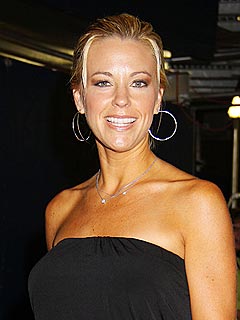 Originally posted 06/06/2011 12:55PM
Jon and Kate Gosselin had the end of their marriage play out in the tabloids and on their reality show, Jon and Kate Plus 8, but the single mom says tensions have finally calmed between the exes.

"It's just naturally gotten more peaceful, which is good," Kate, 36, told PEOPLE on Friday. "He's working now, which is great. He has somewhere else to put his attention, which is good."

Although Kate considers her parenting skills "very different" from Jon's, she believes whatever he's doing is working.
Originally posted 03/31/2011 03:15PM
Who says elephants love peanuts? In an exclusive first look at a new episode of
Kate Plus 8
,
Kate Gosselin
and her kids prove that the animals have a thing for bananas.
"Australia Adventure," which airs Monday (10 p.m. ET) on TLC, follows the Gosselins as they travel to Australia – a 21-hour trip with eight kids! – to ring in 2011. The adventures that await them include
camping
, a boat ride out to sea to swim with sharks, meeting with Australian aborigines to learn about dancing, didgeridoos and boomerangs and a trip to the Australia Zoo in Brisbane to feed the elephants.
Originally posted 12/13/2010 11:25AM
So much for camping!
On Sunday's episode of
Sarah Palin's Alaska
, the former Republican vice presidential candidate invited fellow reality star
Kate Gosselin
into her home and out into the Alaskan wilderness for an overnight camping trip with their kids.
Though the women hit it off at first, bonding over paparazzi woes, Gosselin, who arrived with her eight children in tow, became uncomfortable pretty quickly. Palin did her best to prepare – and frighten – her guest during a bear safety course, which included a segment on shooting guns at a firing range.
"I can't say I'm a gun advocate," Gosselin said, "but ... if I had to use a gun to save my kids, absolutely [I would]." And she did, firing off a shot for target practice.
When it came time for camping, it was the rain, rather than the bears, that worried the women. Though Palin was determined to have a good time, Gosselin admitted she didn't understand the appeal of being in the great outdoors where it's wet and cold.
Credit: Picture Perfect/REX; Tony DiMaio/Startraks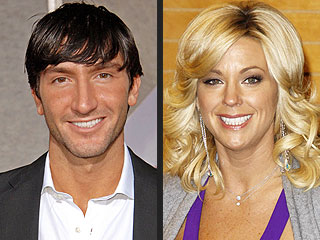 Originally posted 06/14/2010 01:00AM
It's only been three weeks since Olympic gold medalist Evan Lysacek placed second behind winner Nicole Scherzinger on Dancing with the Stars, but the skater says he's still dancing in his dreams.

"I dream that I have to go out and dance but I forgot to learn the routine," Lysacek told PEOPLE at his 24 Hour Fitness and Coke Workout Sweepstakes event in New York recently. "I've had that dream two or three times ... The music starts and I'm like, 'Oh no! We didn't have time to learn it.' Then I would wake up and realize it was a dream."

Despite the occasional nightmare, Lysacek, 25, looks back fondly on his DWTS experience, calling it "remarkable." He's cherishing the memories as much as the new friends he made on the show. "I've kept in really close touch with the entire cast," he says. "The I met were the best thing I took from being on the show. We all walked away with a new family."

And that includes Kate Gosselin, with whom he says he's in constant communication. "Kate is in New York right now. We've been texting each other back and forth and we're trying to get together," he says. "We are very close. She is the sweetest woman in the world. We were instantly friends and everyone really loved her on the show. We missed her so much when she left. She's hilarious and she's always joking around. I don't think she ever said a serious sentence."
Credit: Melanie Dunea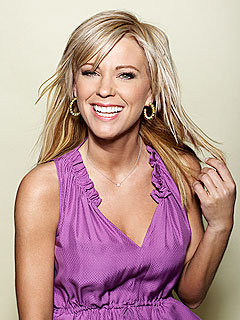 Originally posted 06/04/2010 01:00AM
Want to hear
Kate Gosselin
scream in terror?
Well, she does just that when she and her eight kids face an alligator in the Florida Everglades. Gosselin took her children to the Sunshine State to celebrate the sextuplets sixth birthday. The
surprise trip
was documented for TLC's two-hour special,
Kate Plus 8
, which marks the return of the Gosselin brood to TV since
Jon & Kate Plus 8
went
off the air
last year.
What else is in store for Kate and the kids on Sunday's show? More close encounters with creatures – they'll feed sting rays and exotic birds and swim with dolphins – as well as some tasty treats. They'll participate in an orange juice squeezing contest and eat birthday cake, of course!
Kate Plus 8
airs Sunday (9 p.m. EST) on TLC.
Credit: Brian Flannery/Flynet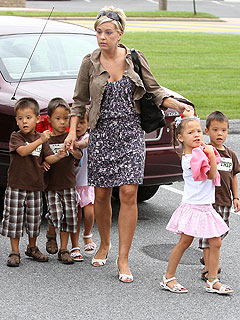 Originally posted 05/28/2010 01:00AM
She's back!
After a
stint on Dancing with the Stars
,
Kate Gosselin
is
returning to TLC
in a
series of specials
set to air this summer.
Kate Plus 8
follows the reality star's life at home with her kids – and PEOPLE.com has a sneak preview of the first episode, which airs June 6 (9 p.m. EST).
In the episode, Gosselin plans a trip to celebrate the 6th birthday of her sextuplets. Their destination? Orlando, Fla., where Gosselin takes them to Discovery Cove, a park where guests can swim with fish and hang out on beaches alongside tropical birds and animals.
Of course, though, there's drama.
Credit: INF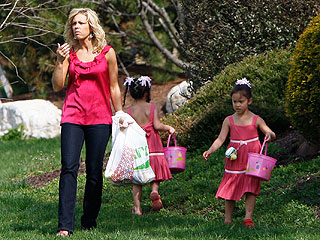 Originally posted 04/08/2010 12:00AM
Advertisement
The most buzzed about stars this minute!
Treat Yourself! 4 Preview Issues
Got a News Tip?
Send it to our People.com editors!