07:23 AM EDT 07/10/2016
Lost
Originally posted 06/04/2016 10:25AM
Actors' roles are eternal. Their characters? Not so much. And
Daniel Dae Kim
learned that lesson the hard way.
Kim's six-year run on ABC's hit series
Lost
was cut short when his character, Jin, died unexpectedly in season 6. And Jin's untimely demise was most unexpected for Kim's son, the 47-year-old
Hawaii Five-0
star reveals.
Kim, who is
currently headlining Broadway's The King and I
, told PEOPLE in this week's issue about the late-night phone call he received when his life, and death, on screen hit a little too close to home.
Credit: Eric McCandless/ABC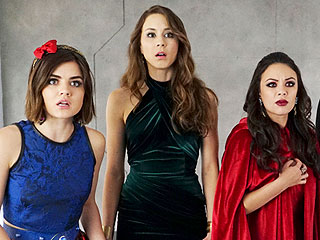 Originally posted 08/14/2015 01:25PM
Earlier this week, Pretty Little Liars finally solved the show's biggest mystery: Who is "A"?
Credit: Mario Perez/ABC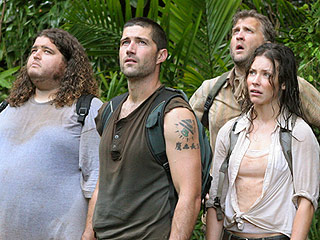 Update
Posted 04/08/2015 12:10PM
Originally posted 04/08/2015 11:40AM
It's been 11 long years since Lost premiered on ABC and started driving its fans crazy with six seasons of speculation.

Now, five years after the show's controversial finale, shake off your unresolved feelings about that sideways 'verse and celebrate Lost Day!
Credit: Norman Shapiro/CBS/Landov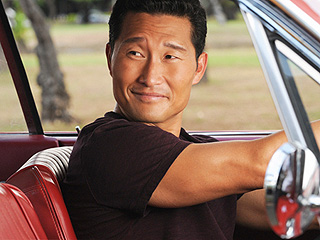 Originally posted 02/27/2015 05:10PM
With his directorial debut set to air Friday on Hawaii Five-0, former Lost actor Daniel Dae Kim is helping to create a media landscape that's a little bit more diverse.

In an exclusive chat with PEOPLE, the actor, 46, opened up about his first time directing ("It was a real eye-opening experience"), the importance of diversity in Hollywood and whether he still gets accosted by Lost fans demanding answers.
Credit: Wireimage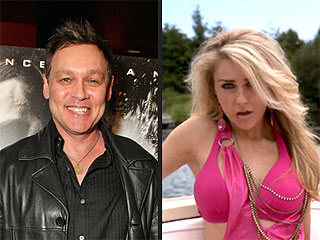 Update
Posted 06/21/2011 02:00PM
Originally posted 06/21/2011 10:50AM
They say age ain't nothin' but a number, and Lost actor Doug Anthony Hutchison clearly takes that credo to heart.

The 51-year-old actor – who most recently played DHARMA leader Horace Godspeed on Lost, has revealed that he married 16-year-old aspiring country singer Courtney Alexis Stodden in Las Vegas in May.

Hutchison, who was also praised for his role as a prison guard in The Green Mile, posted his happy announcement on his personal website.
Credit: Mario Perez/ABC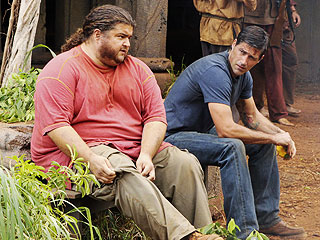 Originally posted 01/06/2011 12:05PM
Be careful what you wish for!

That's the message that Jorge Garcia, who played unlucky lotto winner Hugo "Hurley" Reyes on Lost, has for the more than 9,000 Mega Millions winners who cashed in by using the mysterious numbers from ABC's hit show.

"The numbers are bad," he writes in a post on his blog headlined, "When Will People Learn?"

The post continues with the words "Enjoy your" and an image of a $100 bill and a $50 bill with the word "cursed" stamped over them.
Credit: Mario Perez/ABC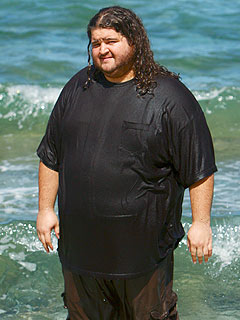 Originally posted 01/05/2011 11:25AM
In an eerie echo of the numbers that haunted Lost character Hugo "Hurley" Reyes, four of the six numbers drawn in the $355 million Mega Millions lottery Tuesday night matched those of the likable islander, who believed his luck was cursed.

In the show, Hurley – played by Jorge Garcia – won $114 million in a lottery with the numbers 4, 8, 15, 16, 23 and 42.

Tuesday's Mega Millions numbers were 4, 8, 15, 25, 47 and 42, with 42 being the Mega Ball number. Anyone who played those four of Hurley's numbers won about $150.
Credit: Mario Perez/ABC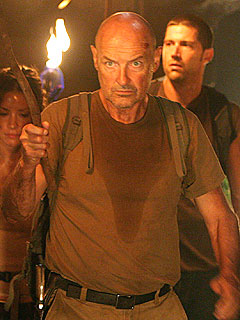 Originally posted 02/03/2010 12:00AM
The cloud of secrecy surrounding two pivotal Lost mysteries was lifted with one breathtaking reveal in Tuesday's highly anticipated premiere: John Locke is the smoke monster!

Since last May's finale … … which disclosed that Locke had, in fact, died at the hands of Ben -- fans had theorized about the entity that had taken over his body. But few might have expected the answer to be the thick plume of black smoke that has captivated and mystified them since Lost's 2004 debut.

"People would ask us all the time, 'What's the monster?'" says executive producer Damon Lindelof. "It was fun to finally be able to say, 'You've been asking the wrong question. You should've been asking who.'"

Continues Lindelof, "The audience's hope that Locke wasn't really dead clouded their ability to see him for who he really was."

Not to mention Terry O'Quinn's. "I was like, 'I'm Smokey? Well, now that's freaky,'" says the actor, who learned of the twist when he read the premiere script. "I thought, 'There goes a bunch of possibilities -- and here comes a whole bunch of new ones!"
Credit: ABC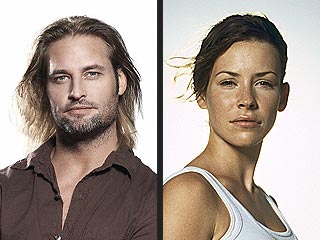 Originally posted 02/02/2010 12:00AM


As the brain trust behind Lost, which returns for its sixth and final season on ABC Feb. 2, executive producers Damon Lindelof and Carlton Cuse work overtime to keep the show's secrets secret. (It doesn't always work: Some leaks -- like the first hour of the premiere that hit the web Monday -- spoil it for everyone and thus we aren't linking to it here!) Lindelof and Cuse have already promised to shed light on the Smoke Monster, the Numbers and the Man in Black this season, so PEOPLE sat down with the guys for answers to several other burning questions. -- Shawna Malcom

What would you say the fans are asking right now that is a complete waste of their time?Carlton Cuse: "Are we going to answer all the tiny, little, minute questions?" The focus should be, "How are the character stories going to resolve? What is the destiny of these that were brought to this place?" Damon Lindelof: We're going to answer the mysteries that have relevance to the characters that were on Oceanic 815. If it doesn't have relevance to them, then we're pretty much going to let it lie there and let theorize about it. What's relevant to the characters on Oceanic 815 and what isn't? That's what season six is all about.
Credit: Bob D'Amico/ABC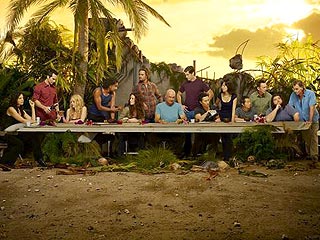 Originally posted 01/29/2010 12:00AM
Details on the sixth and final season of ABC's Lost -- which premieres (finally!) on Feb. 2 -- have been harder to come by than a smooth landing on Oceanic Airlines. Did Juliet succeed in detonating the hydrogen bomb -- and blasting the show's beloved characters to an island-free existence? If Locke is dead, who's taken over his body? Can Sayid survive his nasty gunshot wound? Will we ever fully understand what's really going on with this show?

PEOPLE found answers to those pressing questions -- plus 4, 8, 15, 16, 23 or 42 more -- during a visit to the drama's top-secret set in Oahu, Hawaii. --Shawna Malcom


Advertisement
The most buzzed about stars this minute!
Treat Yourself! 4 Preview Issues
Got a News Tip?
Send it to our People.com editors!