05:46 PM EDT 04/10/2015
Lost
Credit:

Mario Perez/ABC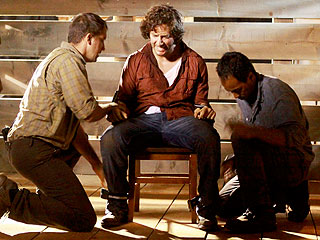 Originally posted 04/08/2010 12:00AM
Call him what you will -- The Package, electromagnetic superhero or, simply, Desmond -- but Lost's dashing romantic, played by Henry Ian Cusick, seems to be the key to unlocking some of the drama's greatest mysteries. In Tuesday's episode, he could glimpse images from his Island life while occupying the Sideways world, proving that there's a vital connection between the two, one that will drive the series home to its final episode on May 23. PEOPLE checked in with Cusick on whether Desmond and true love Penny deserve a happily ever after, how he (accidentally!) gave co-star Michael Emerson a black eye, and why he hopes there's life beyond Lost. -- Shawna Malcom
Credit: Mario Lopez/ABC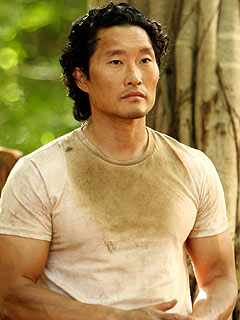 Originally posted 03/31/2010 12:00AM
After last week's meaty mythological feast, Lost producers gave fans a bit more to chew on Tuesday, with an episode revolving around Jin (Daniel Dae Kim) and Sun (real-life newlywed Yunjin Kim). PEOPLE checked in with Dae Kim for his thoughts on what went down -- and managed to pry a little series-finale scoop out of him in the process.

The Big Twists: The on-island Kwons -- ripped apart at the end of season 4 -- still didn't get that much-deserved reunion. But with Locke Monster and Jack both promising to bring the marrieds back together -- and only six episodes left until the series finale -- Dae Kim urges fans to be patient just a little while longer. "Fans of Jin and Sun won't be disappointed," he promises.

Among the Sideways surprises: Jin and Sun aren't married! But they're definitely in a much healthier relationship than they were in the Flashbacks. This Jin likes when his woman undoes all the buttons on her sweater. This Sun is itching to run away with, instead of from, her love. And, considering she's pregnant, it would seem that this couple isn't struggling with the fertility issues that once plagued them in the other timeline. But, sadly, some things remain the same. Sun's dad? Still a jerk. The $25,000 that jammed Jin up at airport customs was intended as payment to Keamy -- yep, that guy again! -- in exchange for offing Jin.
Credit: Adam Larkey/ABC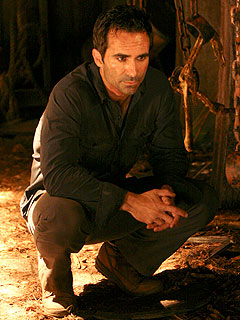 Originally posted 03/24/2010 12:00AM
"Once you get sucked into something as unconventional as this," says Nestor Carbonell of Lost, "it's tough to go back to reality."

Amen! What self-respecting fan couldn't help but get swept up in Tuesday's epic Carbonell showcase, a heady mix of mythology, faith and enduring love? Oh, and those Big Answers viewers have long been clamoring for? There was no shortage of 'em. Consider the following:

What is the island? In a nutshell, it's what keeps the worst sort of wickedness from seeping out into the world. As powerful island figure Jacob so poetically explained to Carbonell's Richard Alpert: "Think of this wine as what you keep calling hell. There's many other names for it, too -- malevolence, evil, darkness. And here it is swirling around in the bottle, unable to get out because if it did, it would spread. The cork is this island, and it's the only thing keeping the darkness where it belongs." Who knew all it took to get the enigmatic Jacob to finally open up was a little alcohol?
Credit: Adam Larkey/ABC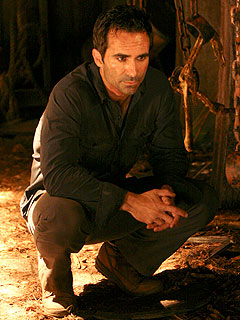 Originally posted 03/23/2010 12:00AM
Since his first Lost appearance in season 3, the time-traveling ageless wonder Richard Alpert has been a source of much intrigue and heated fan debate. Before Tuesday's highly anticipated episode, in which the origins of the island's most mysterious character are finally revealed, here are five things you should know about actor Nestor Carbonell, who brings the enigmatic one to life.

1. He has a long history with Matthew Fox. Like one of Lost's characters, Carbonell's path has often intersected with that of the actor who plays Jack. "Matt and I went to the same boarding school," says Carbonell, 42, referring to Deerfield Academy in Massachusetts. "He was a year ahead of me but I certainly knew who he was." In 2006, the two met up again when both were hired for the movie Smokin' Aces. "I ended up killing him in that film," remembers Carbonell with a laugh.

2. His wife is a Lostie. He took the Lost gig in part because of a promise to his wife. "She's a true fan," says the Harvard-educated Carbonell of actress Shannon Kenny. "Even before I auditioned, she said, 'If you get it, we're all going to Hawaii.'" Now that the actor has been bumped up from recurring status to series regular, he's rented a house on Oahu with Kenny and their two sons, ages 7 and 4, and is eager for the entire family to master one of the island's favorite pastimes. "We're gonna take surfing lessons," he says, "because it would be criminal to leave Hawaii not having given it a real shot." One item that's surprisingly not on his wife's checklist, though, is bugging Carbonell for spoilers. "The scripts are at our house, but she doesn't read them," he says. "She really likes to experience it in the moment" on TV.
Credit: Mario Perez/ABC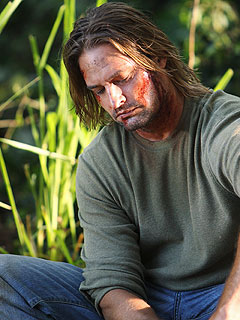 Originally posted 03/17/2010 12:00AM


MIA from the Lost canvas for several weeks, Sawyer re-emerged with a vengeance Tuesday in an episode full of clever cons. Add that to the list of "pros" for season six.

The Big Twist: Sideways Sawyer initially appeared to be the same ol' con man with the same ol' proclivity for pretty marks. But -- surprise! -- he's actually an L.A. cop whose partner is none other than Miles Straume, his deputy in '70s-era Dharmaville. LaFleur+Straum = Buddy Cop Spin-off?

While Det. James Ford wasn't hurting for lusty hook-ups, it seems, deep down, he's really just a lonely guy who hasn't yet found that someone special to crack open a beer and watch Little House on the Prairie with. (Seriously, what kind of wacky world is this Sideways place where Josh Holloway can't find love?) But like his island counterpart, this Sawyer holds con man Anthony Cooper responsible for his parents' deaths and, while he may now be on the other side of the law, he still plans to kill when he finally tracks him down.
Credit: Mario Perez/ABC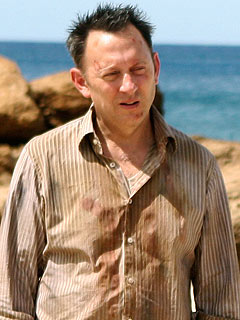 Originally posted 03/10/2010 12:00AM
Lost's latest episode was full of developments designed to keep viewers buzzing and scratching their heads. Charles Widmore finally found a way back to the island -- on a sub! Nikki and Paulo got a shout-out! Richard Alpert doesn't age -- not because, as Hurley suggested, he's a time traveler or a Terminator cyborg -- but because Jacob gave him "a gift." Presumably the same gift that prevents him from taking his own life, which is why Lost's disillusioned Dorian Gray asked Jack to do the deed for him with a little Black-Rock dynamite. Too bad Jack's also a Jacob-touch recipient, and therefore, equally worthless with a lit fuse.

Fans will have to wait until later this month for a clearer picture of the mysterious Alpert. Last night's installment, "Dr. Linus," was a portrait of another Other, Ben Linus, played by Emmy-winner Michael Emerson. Outed as Jacob's killer by Miles, the once-powerful islander was reduced to digging his own grave by "bodyguard" Ilana. (Though the brutal beatdown PEOPLE saw her give Ben during a set visit was noticeably M.I.A. from the episode. Hmm.) In the Sideways, a power-hungry Ben attempted to blackmail the school principal into giving up his job, though ultimately, he opted instead to give Alex -- the on-island daughter whose life he'd sacrificed -- a shot at a bright Yale future.

PEOPLE checked in with Emerson for his take on the episode, as well as clues to what's still in store before the series ends (a Ben death?!). CAUTION: spoilers ahead! --Shawna Malcom

So there are limits to what Ben will do to get what he wants, at least in the Sideways?Yes, Ben was presented with a parallel choice -- a smaller one, but an echo of a bad choice he made in the island world -- and he made a different call, a softer call that we're happy about.
Credit: Mario Perez/ABC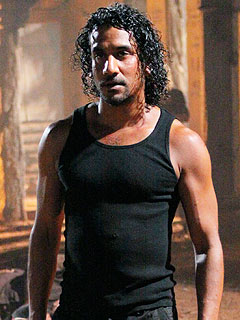 Originally posted 03/03/2010 12:00AM
Shortly before Tuesday's Lost, executive producer Carlton Cuse Tweeted, "What happens when the sun goes down?" Perhaps the more appropriate question would've been, "What doesn't?" "Sundown" was both a meditative portrait of Sayid's heart of darkness and a rip-roaring thrill ride -- especially those pulse-pounding, Smokey final minutes -- and surely ranks as one of season 6's best yet, don't you think? A special tip of the hat must go to Naveen Andrews, who managed to turn in an alternately heartbreaking and chilling lead performance (and take care of business in some major fight scenes), even though he was battling a hardcore case of the flu.

The Big Twists: In the Sideways, Sayid reunited with true love Nadia -- but she was married to his sketchy brother Omar. Why wasn't he playing Dad to her two kids instead of uncle? "The last 12 years I've been trying to wash my hands of all the horrible things I've done," said the former Iraqi torturer. "I can't be with you because I don't deserve you."
Credit: Mario Perez/ABC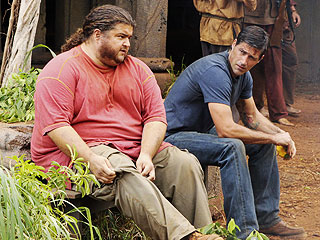 Originally posted 02/24/2010 12:00AM
Tuesday's Lost found Christian Shephard's children -- Jack (Matthew Fox) and Claire (Emilie de Ravin) -- on wildly divergent paths, with one seemingly headed for redemption and the other toward ruin. PEOPLE checked in with Fox and de Ravin -- as well as Jorge Garcia, whose Hurley led Jack on a mission to the island's heretofore-unseen lighthouse -- for illumination on Tuesday's episode and (SPOILER ALERT!) what it means for their characters' futures.

JACK: The big news in the flash sideways: Jack's a dad! And his teen son, David, is a piano prodigy. (No word yet on who Mom is; she was conveniently "out of town" in this episode.) Jack didn't seem to be the most attentive father, what with seeing David once a month and not knowing his favorite baseball team. (Papa Shephard said he hooked up the cable so his son could watch the Red Sox, but David's clearly sporting a Dodgers cap in those photo-booth pix.) Even so, Jack seems set on not making the same mistakes his boozy and demanding dad did: He snuck in to watch his son's audition for the Williams Conservatory -- where he crossed paths with wise Temple dude Dogen -- and had a lovely heart-to-heart afterwards with his son. In this timeline, it appears Jack -- like Kate and Locke -- is not crippled by the issues that once defined him.
Credit: Bob D'Amico ABC(2)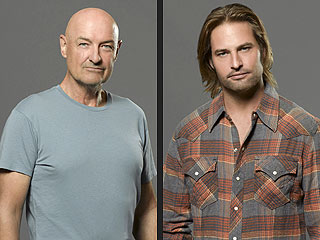 Originally posted 02/17/2010 12:00AM
And you thought "the numbers" would never add up to anything significant.

The riddle of the recurring digits 4, 8, 15, 16, 23, 42 … … the source of much fan fascination and debate since they popped up on Hurley's winning lottery ticket in season 1 … … was solved Tuesday when Locke Monster (Terry O'Quinn) informed Sawyer (Josh Holloway) that the numbers are why Lost's characters are on the island: Certain members of Oceanic 815 are on a numbered list of "candidates" to take over Jacob's role as the island's "protector." If the mysterious authority figure wore shoes, those would seem to be some big ones to fill.
Credit: Mario Perez/ABC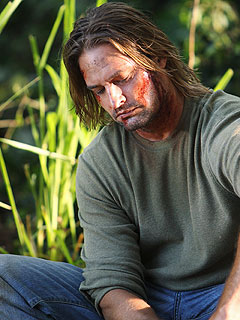 Originally posted 02/16/2010 12:00AM
Before landing Lost, Josh Holloway was a struggling actor who was thisclose to saying goodbye to Hollywood and hello to a career in real estate. Six years later, the 40-year-old Georgia native with the killer dimples is a bonafide TV star and fan favorite, thanks to his nuanced portrayal of Sawyer, the con man currently heartbroken over the death of almost-fiancée Juliet. Holloway recently sat down with PEOPLE in his trailer on the show's Hawaii set to talk about what lies ahead for his character -- No more Kate? A partnership with the island's dark force? -- as well as his post-Lost career plans and the joys of first-time fatherhood. Caution: spoilers ahead! --Shawna Malcom

How's poor Sawyer holding up when we see him again in Tuesday's episode?He's still racked with grief and full of guilt for allowing Juliet's death to happen.

But Juliet's the one who let go of Sawyer's grip and detonated the bomb!That doesn't erase the shame and guilt of not being able to hold on. At the core, it's a man's responsibility to protect, no matter what. Going forward, Sawyer's all anger. He hooks up with Locke because he just doesn't care to live anymore. He's already dead inside.
Advertisement
The most buzzed about stars this minute!
Treat Yourself! 4 Preview Issues
Got a News Tip?
Send it to our People.com editors!