11:27 AM EDT 05/22/2015
So You Think You Can Dance
Credit:

Mike Yarish/FOX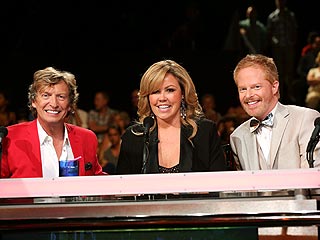 Originally posted 08/30/2012 10:00AM
Tears were streaming during So You Think You Can Dance Wednesday – even before two more dancers were sent home.

The night turned emotional early on, when, with his Swiss parents in the audience for the first time, ballet dancer Cheyon Wespi-Tschopp took to the stage for his solo. "You have to remember these dancers are kids who have dreamed of doing this their whole life," guest judge Jesse Tyler Ferguson told PEOPLE after Wednesday's show. "They grew up far away from L.A. and then are transplanted here. I think it is overwhelming for them."
Credit: FOX (2)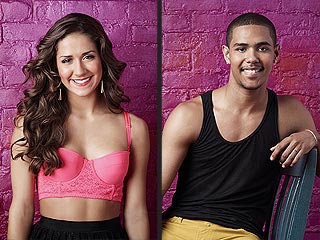 Originally posted 08/23/2012 03:15PM
All-stars raised the So You Think You Can Dance finalists to a new level Wednesday, but two contestants still went home after a night of stellar performances.

"The all-stars could have taken all of the thunder and stolen all the light, but that wasn't the case," judge Mary Murphy told PEOPLE after the show. "We had a lot to celebrate tonight in the fact that [the contestants] held their own."

But the celebrating came to an end when host Cat Deely announced the bottom two boys and bottom two girls: Witney Carson, 18, Audrey Case, 18, George Lawrence II, 19, and Cheyon Wespi-Tschopp, 23.

"It was a really tough call," Murphy said about having to choose which boy and girl to send home. And for the first time in season 9 the decision was not unanimous between the judges.
Credit: Jesse Grant/WireImage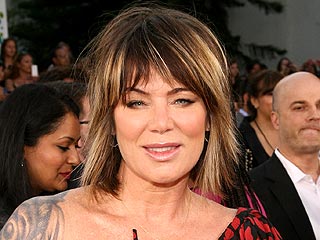 Originally posted 08/16/2012 09:15AM
After a two-week hiatus during the London Olympics, the top 14 contestants on So You Think You Can Dance returned Wednesday – and four were sent home.

The episode featured some of the best routines choreographed by three-time Emmy winner Mia Michaels. "I was very honored. It was cool as an artist to be celebrated like that," Michaels told PEOPLE after the show. "It's the most amazing feeling ever. It is actually better than any gold Emmy statue."

But while some dancers soared with their recreations of past numbers, others couldn't recreate the magic of the original performances from seasons past.

"It was a slaughterhouse to be honest with you," Michaels said about the judges' critiques and comparisons. "Tonight just wasn't it and I was disappointed. But the dancers did the best they could."
Credit: Adam Rose/FOX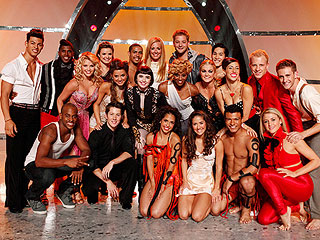 Originally posted 07/26/2012 07:30PM
After another night of fantastic dancing, the top 16 became the top 14 on So You Think You Can Dance, as another boy and girl were sent home Wednesday night.

"It's a terrible situation," judge Nigel Lythgoe said after the bottom-six dancers were revealed to be Amber Jackson, Lindsay Arnold, Eliana Girard, George Lawrence II, Brandon Mitchell and Dareian Kujawa.

Lythgoe told Lawrence that he "looked a little tired" after his Nappytabs hip-hop number, but he was eventually saved.
Credit: Adam Rose/FOX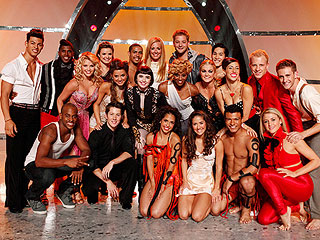 Originally posted 07/19/2012 08:35AM
The entire top 20 took to the stage to perform Wednesday on So You Think You Can Dance, but only 16 made it through season 9's first elimination.

"You must be dreading it," host Cat Deeley said to the judges at the beginning of Wednesday's live show.

The judges were tasked with sending home two men and two women of the six dancers voted into the bottom by viewers.

But first, all 20 contestant took to the stage to perform this week's routines, which ended with a rousing Bollywood number by Whitney Carson, 18, and Chehon Wespi-Tschopp, 23.
Credit: Adam Rose/FOX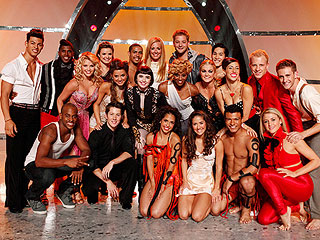 Originally posted 07/12/2012 08:00AM
Fresh off the show's 200th episode, So You Think You Can Dance's season 9 had its first live show on Wednesday.

After a workplace-set group number by the top 20, judge Mary Murphy handed out a ticket on the "hot tamale train" to ballroom dancer Witney Carson, 18. But her ballet-dancer partner Chehon Wespi-Tschopp, 23, did not fare as well.

"When we pulled ballroom I wanted to die a little bit. I'm so new to this and I felt awkward," Wespi-Tschopp told PEOPLE of working with their choreographer, Dancing with the Stars pro Louis Van Amstel, who called him a "pretty boy with work to do" in rehearsal.

Receiving more positive feedback were jazz dancer Tiffany Maher, and contemporary dancer George Lawrence II, both 19, who left Murphy "breathless" after their Sonya Tayek contemporary routine.
Originally posted 06/27/2012 03:20PM
So You Think You Can Dance
is turning 200-episodes-old!
Fox's hit dance competition, which requires hip-hoppers to tackle the tango and ballroom dancers to try Bollywood, is celebrating with a special episode, airing Wednesday (8 p.m. ET).
The judges will announce this season's top 20 finalists (10 men and 10 women), "who will perform their own specialties, free of any judgment, so that America can get to know more about them and their talents," according to a press release.
But that's not all! The show has also put together this video tribute, showing 200 dancers in 200 seconds. It's a fun way to spend the next three minutes and 20 seconds!
Credit: James Dimmock/FOX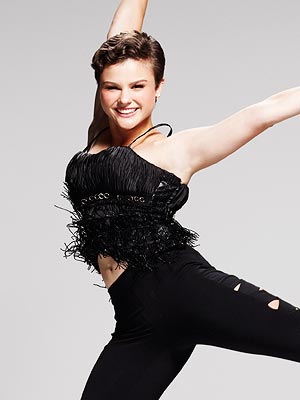 Originally posted 08/12/2011 08:45AM
Fresh off being named America's Favorite Dancer on Thursday night, So You Think You Can Dance season 8 winner Melanie Moore was still recovering from the shock of her victory that to many viewers had been a forgone conclusion since the beginning of the season.

"I was ready to take second [place] very graciously. In my head I really thought Sasha was going to win," Moore told reporters of her fellow finalist moments after the winner was announced. "Just being up there and being named one of the final two I was like, 'Wait, is this really happening?' I just started crying."

She also cried over her family's flying in to be with her for the finale.
Credit: Adam Rose/FOX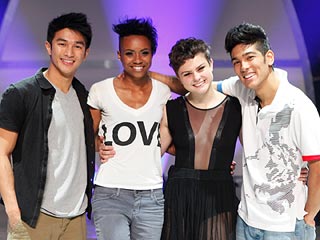 Originally posted 08/11/2011 10:00PM
Despite strong performances by all four finalists, head judge Nigel Lythgoe predicted that the winner of So You Think You Can Dance on Thursday night would be one of the two remaining women: Sasha Mallory or Melanie Moore.

Was he right? Or did the victory go to one of the men, Marko Germar or Tadd Gadduang? Read on to find out.
Credit: Adam Rose/FOX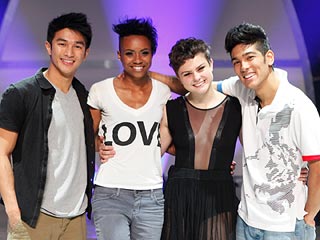 Originally posted 08/11/2011 03:10PM
Coming in to Wednesday's So You Think You Can Dance performance finale, the judges believed it was a race between Sasha and Melanie, but after the first few routines it was clear that it was anyone's game to win.

"You were a little uncomfortable with the style," judge Nigel Lythgoe told Melanie and Marko after their disco routine.  "I hope I'm going to see better from you in later routines."

"On paper it looked like it was going to be good," Lythgoe told reporters of the super couple reuniting for the first time in weeks. "But did it translate? Not to me."

A little later Sasha and Tadd also received feedback that their routine was "uncomfortable."
Advertisement
The most buzzed about stars this minute!
Treat Yourself! 4 Preview Issues
Got a News Tip?
Send it to our People.com editors!