08:06 AM EDT 03/19/2015
Survivor: Palau
Credit:

Robert Voets/CBS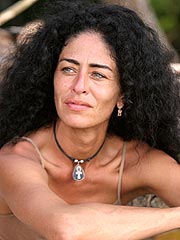 Originally posted 04/26/2005 06:00AM
When Janu Tornell decided to lay down her torch, it was a decision that added yet another twist to Survivor: Palau. But the emaciated Las Vegas showgirl – who spent the night alone on another part of the island after being the first to give up during an immunity challenge – was just too physically exhausted to keep up the pace of the game. Janu, 39, recently talked to PEOPLE about staying true to her principles, her friendship with Coby and why Survivor convinced her to leave her dancing days behind her.
Credit: Robert Voets/CBS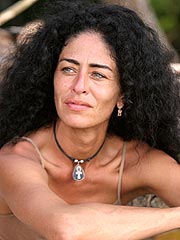 Originally posted 04/22/2005 09:00AM
EXITED: There was a stunning tribal sacrifice on Thursday night's edition of CBS's Survivor: Palau, with 39-year-old Las Vegas showgirl Janu Tornell putting down her torch just before the vote – claiming she had already gotten all she could have out of the island experience. Another factor was that Janu sensed that her tribe was going to vote out Stephenie LaGrossa, 25-year-old pharmaceutical sales rep from Philadelphia – who also had been the last standing Ulong member before joining the Koror fold. Janu admitted that Stephenie deserved to stay on. After the surprise announcement, Janu explained, "No one will ever be able to take away this most unforgettable experience. No one."
Credit: Monty Brinton/CBS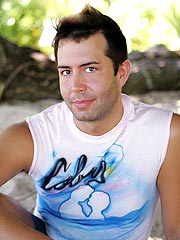 Originally posted 04/20/2005 05:00PM
It was just for the sweet taste of a couple of donuts, but Texas hairstylist Coby Archa's decision to give up his immunity on the last Survivor: Palau wound up costing him a shot at the $1 million prize. In a 7-2 vote, he became the 10th Survivor to be kicked off the island this season, and the first member of the nine-person jury who will choose the show's big winner. Coby, 32, recently talked to PEOPLE about his sweet tooth, being "bitchy" and saying no to Hollywood.
Credit: Monty Brinton/CBS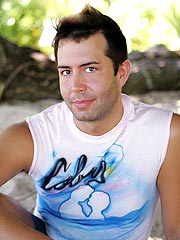 Originally posted 04/15/2005 08:30AM
Survivor: Palau streamlined on Thursday night's episode, with Stephenie LaGrossa, the 25-year-old pharmaceutical sales agent from Philadelphia and sole member of the Ulong tribe, joining Koror – which voted off Coby Archa, the 32-year-old hairstylist from Athens, Texas, in a decisive 7-2 vote.
Credit: Monty Brinton/CBS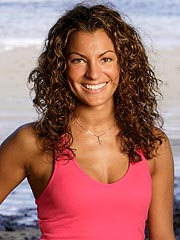 Originally posted 04/14/2005 08:35AM
REMAINED: After losing all eight immunity challenges, the once- 20-person-strong Ulong tribe of Survivor: Palau is down to one lone member, Stephenie LaGrossa, the first one-person tribe in the show's history. To be determined on Thursday night's episode of the highly rated CBS reality show: Whether LaGrossa, a 25-year-old pharmaceutical sales representative, will leap to the rival Koror tribe. Show producers aren't saying, while show host Jeff Probst, only commenting on LaGrossa's popularity, tells The New York Times: "She's relatable, she has a strong point of view and, most importantly, she will not quit."
Credit: Monty Brinton/CBS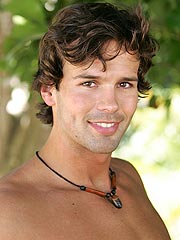 Originally posted 04/08/2005 08:00AM
LOST: After losing yet another immunity challenge on Thursday's Survivor Palau, Stephenie LaGrossa and Bobby Jon Drinkard (the two remaining members of Ulong) paddled to tribal council to compete to be the last Ulong standing. She won, which sent the 27-year-old waiter from Alabama packing. Assessing his opponent, Bobby Jon said: "She's honestly probably the top player in the game." Having suffered his final loss, Bobby Jon wished Stephenie good luck as he became the ninth castaway to leave.
Credit: CBS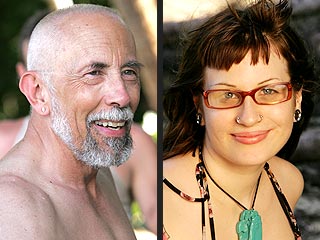 Originally posted 03/18/2005 09:00AM
Not one but two castaways, one from each tribe, were sent to sea on Thursday night's episode of CBS's Survivor: Palau: Willard Smith, 57, a lawyer from Bellevue, Wash., and Angie Jakusz, 24, a bartender from New Orleans.
Credit: Monty Brinton/CBS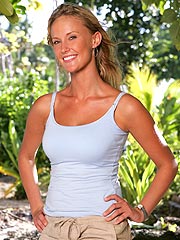 Originally posted 03/11/2005 08:00AM
BOOTED: After losing their fourth Immunity Challenge in a row, the Ulong tribe of CBS's Survivor: Palau voted on Thursday's episode to lose Kimberly Mullen, 25, a grad student from Huber Heights, Ohio. "I guess tonight was my night to go. I hope the girls really stick up for themselves, because lord knows the guys have proven that they're nothing special on this tribe," Kim said when her torch was snuffed. To her credit, she seemed to see it coming, citing her own perceived lack of work ethic by the others in her tribe. Then there was her bad idea to launch a gender war between her fellow players. That, more than anything, was responsible for the unanimous vote to get rid of her.
Credit: Monty Brinton/CBS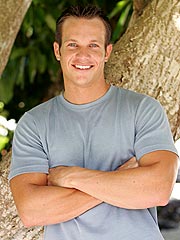 Originally posted 03/04/2005 08:50AM
OUSTED: Ulong lost Jeff Wilson, the 21-year-old personal trainer from Ventura, Calif., on Thursday night's episode of Survivor: Palau. Jeff asked to be removed from the contest once he injured his ankle, which he decided would not heal in time to help the game. Once eliminated, Jeff, still loyal to his tribe, declared: "Ulong, it's time to take Koror to the cleaners!" Oddly, it was Kim who thought she was going to get the boot by the tribal council. "I'm feeling vulnerable," she said. "I mean, there's no telling of what might happen. I definitely think there's a chance that Jeff's going to be here tomorrow." Wrong.
Credit: MONTY BRINTON/CBS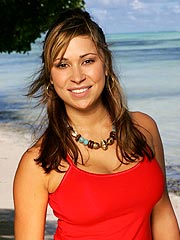 Originally posted 02/25/2005 08:00AM
Despite coming on strong in the Reward Challenge, Ulong, the young tribe on Survivor: Palau, still managed to lose the Immunity Challenge to their older Koror counterparts and send student Ashlee Ashby home.
Advertisement
The most buzzed about stars this minute!
Treat Yourself! 4 Preview Issues
Got a News Tip?
Send it to our People.com editors!