04:19 PM EDT 12/22/2014
The Vampire Diaries
Credit:

Bob Mahoney/The CW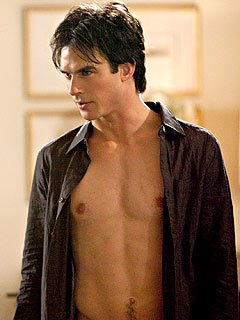 Originally posted 12/14/2010 02:40PM
How did Ian Somerhalder spend his birthday?

"I was naked with a beautiful girl all day," the star of The Vampire Diaries, who turned 32 on Dec. 8, tells PEOPLE. "I had a shower scene that led into another scene were I was kind of half-naked and wet."

Though Somerhalder does confirm he was on the set of his hit CW show, he wouldn't say whether his character, the scumbag vampire Damon, finally scored with Elena, who is played by Nina Dobrev and definitely qualifies as a beautiful girl.

"Damon has a long way to go," he says of conquering Elena. "He tried to kill her brother."
Credit: Bob Mahoney/The CW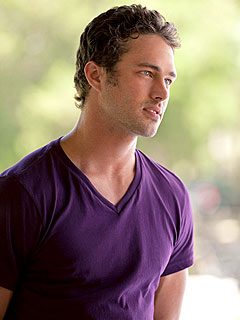 Originally posted 10/21/2010 02:10PM
Is there a new bad guy in Mystic Falls?

On the latest episode of The Vampire Diaries, fans learned that seemingly good guy Mason actually returned to his hometown at the request of evil Katherine – his girlfriend! – to track down the Lockwood family's secret. But Mason's no bad villain, says actor Taylor Kinney, just a man in love.

"I don't think he's a bad person," Kinney, 29, tells PEOPLE. "[Mason] is motivated by a love for a girl, and it makes you do bad things, [but] I don't think that Mason thinks he's a bad person."

Mason's arrival in Mystic Falls also marked a new chapter on the show – the introduction of werewolves.

"I just jump at the chance to play a werewolf," Kinney said, even though the role required shooting a nearly-nude scene that marked Mason's shape-shifting reveal.
Credit: Bob Mahoney/The CW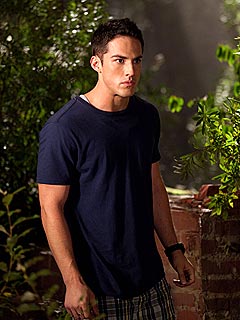 Originally posted 09/24/2010 01:00PM
It was a night of revelations on Thursday's episode of The Vampire Diaries, when Elena learned Katherine's true origins and Tyler discovered Uncle Mason's secret.

Curious to see if the Lockwoods could be werewolves, Elena set off with Alaric and Damon on a trip to Duke University to consult birth mom Isobel's supernatural research. The trio met her assistant Vanessa, who told them werewolves are now rare, thanks to vampires who fear their deadly bites and hunt them down.

After Elena phoned Stefan to warn him about the possible new threat, the threesome set off for Mystic Falls – but not before Damon revealed one last surprise. To get back in Elena's good graces, he produced a book he had swiped from Isobel's office containing information about Katherine, who turned out to be European and went by the last name Petrova.
Credit: Quantrell Colbert/The CW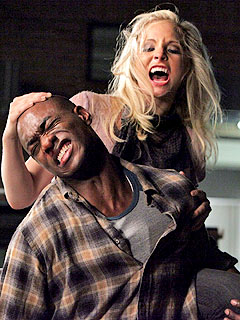 Originally posted 09/17/2010 04:00PM
Joining the ranks of Mystic Falls's many vampires on Thursday's episode of The Vampire Diaries was Caroline, who after being strangled by Katherine with Damon's blood in her system, awoke in her hospital bed with a craving – for blood. Initially unsure of what was happening, Caroline couldn't fight off the desire to drink a blood bag and soon realized she could no longer step into sunlight. Waiting until nightfall, she hypnotized a nurse into discharging her, but not before extending her newly formed fangs.

Heading to the town's carnival, Caroline first found Damon, and after revealing she had been turned, passed on Katherine's message. A shocked Damon gathered Stefan and Elena to discuss how to handle the latest vampire on the loose, while Caroline next found boyfriend Matt and attempted to spend a romantic evening with him. But as he held her close and she heard his heart beating, the new vamp was overcome with a desire to feed and immediately ran off.
Credit: Art Streiber/The CW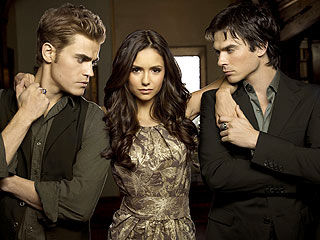 Originally posted 09/10/2010 05:00AM
Picking up right where season 1 left off, The Vampire Diaries returned with a vengeance Thursday as Katherine (Nina Dobrev) managed to immediately insert herself between a barely united Stefan (Paul Wesley) and Damon (Ian Somerhalder).

After realizing he had kissed Katherine and not Elena, Damon felt the sting of Elena's rejection when she told him she wasn't surprised he would make a move on her, but was surprised he thought she'd ever reciprocate. Feeling hurt, Damon fell into old habits, resisting the urge to kill Katherine the next time they met and instead, passionately throwing himself at her. But their reunion proved short-lived when Damon asked her to finally pick just one Salvatore brother, and Katherine chose Stefan, saying she never loved Damon and it was Stefan she came back for.

Never one to give up without a fight, a drunken Damon later surprised Elena in her bedroom and attempted to convince her that there was something between them, even managing to plant a kiss. But echoing Katherine's sentiments from earlier that night, Elena also chose Stefan, saying he would always be the one for her.
Originally posted 08/19/2010 01:00AM
There's a new vampire in town – or make that an old one.
Credit: Quantrell Colbert/The CW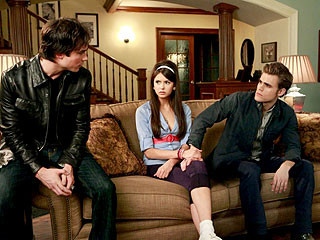 Originally posted 01/29/2010 12:00AM
Thursday's episode of The Vampire Diaries raised the stakes for all of the inhabitants of Mystic Falls -- vampires and mortals alike!
Credit: Marvin Scott Jarrett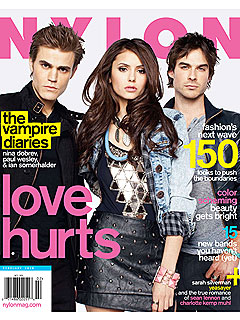 Originally posted 01/21/2010 12:00AM
In an early episode of the CW's hit drama, bad boy vampire Damon Salvatore (played by Ian Somerhalder) flipped through a book in the Twilight series and dismissed it, saying, "This book, by the way, has it all wrong." Scoffing at the idea of a vampire that "sparkles," he also added, "I live in the real world where vampires burn in the sun."
Credit: Andrew Eccles/The CW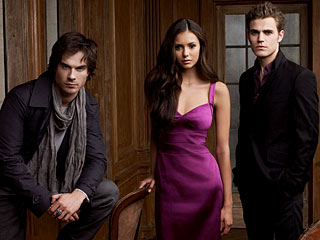 Originally posted 12/14/2009 12:00AM
While the show is on winter hiatus, The CW is resurrecting The Vampire Diaries' first ten episodes with a week-long marathon, airing two episodes each night, starting Monday (8 p.m. EST).

Based on the 1991 book series by L.J. Smith, the show centers on feuding vampire brothers Stefan and Damon Salvatore as they vie for the love of mortal beauty Elena Gilbert. Developed for the small screen by Dawson's Creek and Scream scribe Kevin Williamson, the drama has proved to be one of fall's breakout hits, making this week's marathon the perfect time to get caught up before the show's January return.

Unsure about taking on another supernatural saga? Here are three reasons to sink your teeth into The Vampire Diaries:
Advertisement
The most buzzed about stars this minute!
Treat Yourself! 4 Preview Issues
Got a News Tip?
Send it to our People.com editors!