07:36 AM EDT 07/10/2016
Alex McCord
Credit:

Joe Pugliese/Bravo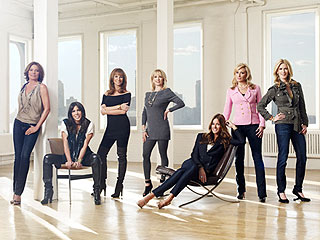 The Real Housewives of New York City
Originally posted 07/26/2011 11:40AM
The women of The Real Housewives of New York City met up to discuss their fourth season of the hit reality show recently – and the fireworks aired Monday night. Here are the most dramatic moments:

1. Sonja's Meltdown: When host Andy Cohen asked Sonja Morgan about her tough year, which included filing for bankruptcy, she broke down in tears. "The $7 million, that wasn't what really killed me," she said of money she was ordered to pay in a lawsuit against her. "What was very upsetting to me was that my marriage fell apart ... I didn't care about the trial. I didn't care about the money. I was focused on the past, my husband and what we had together."

2. Jill Insults Alex: When Andy asked Jill Zarin about criticizing Alex McCord and Ramona Singer for wearing white to a wedding, Alex fired back, saying, "It's a lot ruder to call someone a 'f–– bitch' at the wedding than it is to wear cream."

"By the way, " Jill said in response, "you are an effing bitch."
The Real Housewives of New York City
Originally posted 07/20/2011 02:45PM
Put seven Housewives in a room, ask a heated question about etiquette and you'll get 37 different opinions – plus raised voices, pointed fingers and general exasperation.
With
The Real Housewives of New York City
wrapping up a lively season this Thursday, the ladies – Jill, Kelly, Alex, Sonja, Ramona, LuAnn and Cindy – reunited to rehash all their personal drama in a two-part reunion special, and PEOPLE.com has an exclusive first look at the action.
With
blondes and brunettes
separated on different couches, the ladies begin to address Cindy's possible etiquette breach – taking a business phone call during a breakfast at Sonja's home. As Cindy explains herself – even rising from the couch for extra emphasis – Kelly defends her castmate, telling Sonja, "She's a working woman with two kids. ... If I came to your house and I had a call, I would take it. Sorry."
The Real Housewives of New York City
Originally posted 04/21/2011 02:45PM
A
Real Housewives
star has released a new song but it might not be the Housewife you'd expect. In fact, it's not a Housewife at all.
Alex McCord's husband Simon van Kempen's "I Am Real" hit the Web and
iTunes
Thursday, and it's a dance track that he says he's been working on for seven weeks and he says he's "very proud" of the result.
The song, which he recorded without the use of Autotune, has a message that Simon says is summed up in these lyrics: "I am real / I ain't gonna change / I am real / I am who I am / And that's the deal / I say what I feel / Love me or hate me / I don't give a damn / And that's my appeal."
The Real Housewives of New York City
Originally posted 04/15/2011 02:00PM
There's a new feud in town: On Thursday's episode of
The Real Housewives of New York City
, Alex McCord and Sonja Morgan launched a new dispute – and it all started at a march for a good cause.
"MEN called, which is the Marriage Equality of New York, and asked me to be the grand marshal. And they said, 'Well, we'll have several speakers, but we want you to kick it off because you're so light and funny,' " Sonja said. "You're such a gay icon.' "
As the women gathered at Sonja's townhouse to get ready for the march, trouble started to brew as Alex (member of the event's host committee) and Sonja (grand marshal) compared their respective official duties.
"So is it Sonja's day or is it Alex's day?" Kelly Bensimon asked.
Credit: Joe Pugliese/Bravo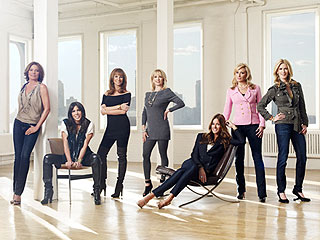 The Real Housewives of New York City
Update
Posted 04/08/2011 06:00AM
Originally posted 04/07/2011 06:00PM
The Real Housewives of New York City are no strangers to drama, catfights and taking sides, but this season the ladies have taken their differences one step further – division by hair color.

"It's just the natural divide, it's like [the San] Andreas fault," LuAnn de Lesseps, referring to California's earthquake boundary, told PEOPLE recently at Bravo's upfront presentation. "You just can't guess when it's going to split."

The Countess is joined by Jill Zarin and new housewife Cindy Barshop to make up "Team Brunette," while Alex McCord, Ramona Singer and Sonja Morgan are members of "Team Blond" – but Kelly Bensimon says her ombre highlights (dark at the roots, light at the tips) kept her firmly neutral.
Credit: Jerritt Clark/WireImage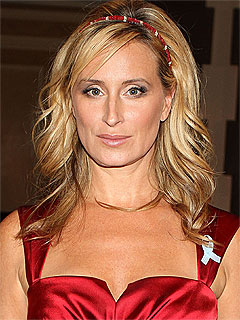 The Real Housewives of New York City
Originally posted 11/22/2010 01:30PM
Sonja Morgan may be going through some financial hardships after filing for bankruptcy recently, but the Real Housewives of New York City star has the support (and silence) of her costars.

"She'll be fine," Ramona Singer told PEOPLE at GLAAD's OutAuction in New York. "She's a great girl."

As for her other castmates, well, they're being supportive by staying mum.

"The first person to speak about [the bankruptcy] has to be Sonja," Alex McCord said. "We love her and adore her and … we're going to support her by being silent.

Morgan, whose bankruptcy filing listed $19.8 million in debt, still seems to be staying positive, saying at the time, "My current monthly income including support is about $26,000 per month. And I expect this income to improve as new opportunities materialize."
Originally posted 10/22/2010 03:55PM
After watching the second hour of the Real Housewives of DC reunion, I have to agree with Mary – this season was hijacked. The antics of the Salahis and their absolute refusal to take responsibility for any of their actions, was amazing.

Now that we've all seen the sit-down, now that there has been an opportunity for Tareq and Michaele to open up and try to redeem themselves, can we please pull the plug on them? When faced with direct statements from the Redskins, the Congressional Black Caucus, the White House, etc., this couple stated that everyone lied. You know, one person could lie. Perhaps even multiple people connected to one event could all stick to a made-up story. But when every single story you hear about a couple is dismissed as a lie or a smear, you stop believing them. I know I stopped a good while ago.
Originally posted 10/15/2010 10:35AM
Was anyone else surprised to hear the political affiliations of the Housewives? I wondered how Andy would break up the seating chart, but it seems he did it by political party.

If anyone – anywhere – in any universe thought that Michaele was a suffering wife under the spell of her husband, those thoughts should be laid to rest now. Wow.

My jaw was on the floor over Michaele's solemn pronouncement that Cat should have love in her heart and then perhaps her husband would come back. What a stupid, insipid, completely ridiculous thing to say to a person! It's incredibly presumptive to assume, firstly, that Cat would want Charles back and, secondly, that Cat's lack of love in her heart somehow drove her husband away.

Michaele revealed herself to be pretty misogynistic there, in my opinion. Or perhaps just incredibly anti-Cat.
Originally posted 10/08/2010 09:40AM
Watching tonight's finale of the DC Housewives, and continuing into Watch What Happens Live with the Salahis as Andy's first guests, I found myself trying to understand why Tareq and Michaele felt vindicated by the episode.

Tareq referred to a smoking gun, but I didn't see one.

What I did see is something we dealt with once or twice a little further north of the Beltway: To deflect actual accusations, Tareq refuted something he wasn't accused of. He proudly stated that they did not climb a fence and did not give a false name at the state dinner.

Admittedly I'm not too familiar with the minutiae of the case but I do know how to operate Google, and after a search I'm not aware that anyone accused them of giving a false name. Nor am I aware that they were accused of scaling a fence to get past a checkpoint.
Originally posted 10/01/2010 09:35AM
Well, if you don't want someone at your fashion show, giving photos to security is a good move. It's an even better move if the security guards on duty actually see the photos – but either way, the Burkina Faso event went off without a hitch,

And without the Salahis.

The only thing that was a bit off to me was Cat's incredulity at the models' seriousness, which made me think she'd never seen a show before. No matter what city you're in, the models always look mad – almost as mad as Erika.

Some of these ladies have to remember that when you're being filmed watching something, try not to pull faces, as it never looks good.
Advertisement
The most buzzed about stars this minute!
Treat Yourself! 4 Preview Issues
Got a News Tip?
Send it to our People.com editors!