02:38 PM EDT 06/29/2015
Amanda Knox
Credit:

X17online, INF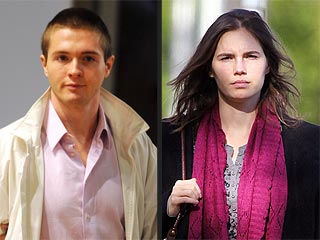 Originally posted 09/22/2012 10:15AM
It was the ghosts that troubled Raffaele Sollecito the most. During the four dark years he was locked away in an Italian prison cell for a murder that made headlines around the world, he claims to have been haunted by the ghost of his then-girlfriend Amanda Knox.

"I dated Amanda for nine days, then I spent four years living with her ghost, with that monster created by the media," he tells PEOPLE. "It became a living nightmare."

One year after an Italian court freed Sollecito, 28, and Knox from prison after being wrongfully convicted of the 2007 murder of Knox's British housemate, he's struggling to adjust to freedom.

"My life as I knew it is gone, disappeared," says Sollecito, whose new memoir Honor Bound, is exclusively excerpted in this week's issue of PEOPLE. "It's taking time to get used to normal life again."
Credit: X17online, INF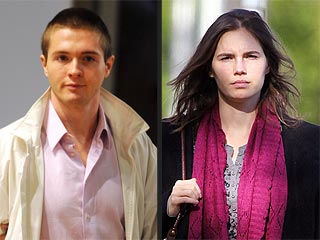 Originally posted 09/12/2012 01:45PM
Amanda Knox's former boyfriend, Raffaele Sollecito, insists in a memoir that he's innocent of murder but acknowledges his memory was impaired by the marijuana that they both smoked and that they later acted in a way that invited police suspicion.

Knox and Sollecito were both released from prison in 2011 after an Italian appeals court overturned their murder convictions in the savage 2007 slaying of Knox's exchange student roommate.

Authorities alleged Meredith Kercher, 21, was killed in Knox's Perugia apartment in a sadistic sex game gone awry. The case featuring the attractive American Knox – she called herself "Foxy Knoxy" on MySpace – became a scandalous sensation in Europe.
Credit: Maxim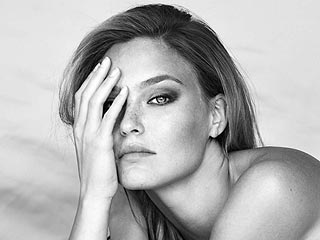 Update
Posted 05/21/2012 10:00PM
Originally posted 05/21/2012 04:55PM
Bar Refaeli is hot – really hot!

The supermodel (and Leonardo DiCaprio's ex-girlfriend) tops Maxim's Hot 100 list this year – and it's not hard to see why.

Refaeli tells the magazine in its issue, on stands May 29, that she was "shocked that among all these beautiful ladies, I'm number one." Meanwhile, Maxim's editors say the Israeli beauty "puts the 'promise' in the Promised Land."

Capping off the top 10, which was voted on by readers for the first time ever: Olivia Munn; Mila Kunis; Katy Perry; Olivia Wilde; Jennifer Lawrence; Emma Stone; Megan Fox; Malin Akerman; and Adrianna Palicki.
Credit: Pier Paolo Cito/AP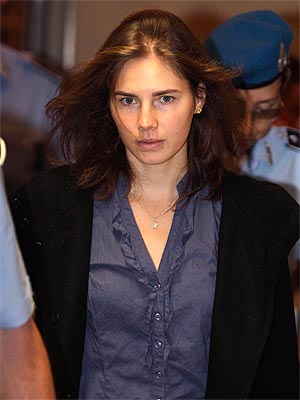 Originally posted 02/17/2012 09:15AM
The international drama that unfolded on TV and in newspapers is now about to be told from the inside, in a highly subjective – and lucrative – account.

Amanda Knox, the American college student who spent four years in an Italian jail – until last October, when she was cleared of murdering her roommate – has sold her book to HarperCollins publishers for what is said to be nearly $4 million.

"It is a story that everyone else seems to have told except for the person at the center of it all," Jonathan Burnham, the publisher of HarperCollins (which is part of the Rupert Murdoch empire), said in an e-mail to The New York Times.
Credit: Pier Paolo Cito/AP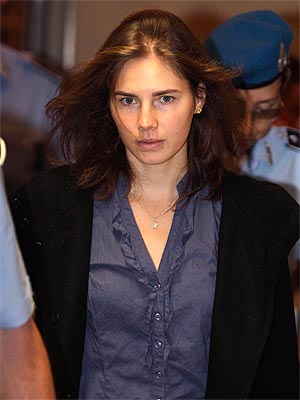 Originally posted 01/25/2012 03:55PM
It's been nearly four months since Amanda Knox returned to the United States after spending four years in an Italian jail, but now she may be going back to the country.

Why would she return to a place where she was jailed for so long? She may testify on behalf of her parents, who face up to three years in prison for charges of slander.

One of Knox's lawyers said she "loves Italy" and would consider returning even as a tourist, but may be impelled to do so sooner for legal reasons, reports ABC News.

Knox's parents, Curt Knox and Edda Mellas, who are divorced, are charged with slandering the Perugia police based on statements they made in an interview with London's Sunday Times in 2009. In the interview, they repeated Amanda's claims that she had been physically abused and verbally threatened by police during an interrogation, according to ABC.
Credit: Oli Scarff/Getty; Giorgio Benvenuti/Reuters/Landov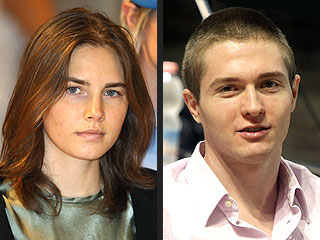 Originally posted 11/07/2011 03:30PM
A month after their murder convictions were overturned and they were both released from prison, Amanda Knox's ex-boyfriend and co-defendant, Raffaele Sollecito, says the traumatic case destroyed their relationship.

"It's all over between us," an emotional Sollecito, 27, said during an interview on Italian television, according to Britain's Daily Mail. "I still have a great affection towards her but nothing else."

According to Sollecito, their budding romance in Perugia came to an abrupt end when they were accused and later convicted of murdering Knox's roommate, Meredith Kercher, in 2007.
Credit: GSI/ Splash News Online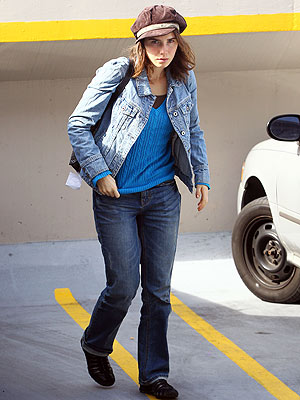 Originally posted 10/14/2011 01:20PM
Amanda Knox's priorities upon being freed from an Italian jail were simple: to touch the grass for the first time in four years, to enjoy a Chinese food takeaway dinner.

Her first public outings have been equally low-key, and observers say she looked at ease back out in society.

Knox spent her first weekend of freedom shopping and taking a day trip with friends and family, according to Britain's Daily Mail.
Credit: Elaine Thompson/AP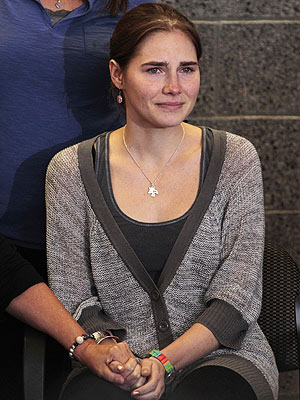 Originally posted 10/08/2011 12:00PM
She was released from prison only to land in the hot spotlight of the media, but Amanda Knox is finding ways to feel free.

"Amanda did manage even to go out one evening 'undercover,'" her father Curt Knox tells PEOPLE. "Soon, she was recognized by the managers of the establishment who told her not to worry that they wouldn't tell anyone, and to just get on and enjoy her evening."

Other nights are spent quietly at home, Knox says of his daughter, 24, who was tried and convicted of the 2007 murder of her roommate Meredith Kercher in Perugia, Italy, before being released from prison Oct. 3 after a successful appeal.
Credit: Oli Scarff/Getty; Giorgio Benvenuti/Reuters/Landov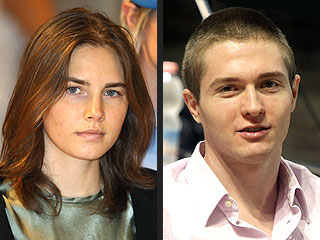 Update
Posted 10/06/2011 08:00AM
Originally posted 10/07/2011 12:15PM
She was welcomed home with open arms by friends and family earlier this week in Seattle.

But now, Amanda Knox, whose 2009 murder conviction was overturned in a Perugia, Italy, courtroom on Monday, may be awaiting another special someone.

Amanda's father, Curt Knox, say she's expecting to see her former boyfriend, Raffaele Sollecito, 27, who was also released following the overturn of charges related to the 2007 murder of Amanda's roommate, Meredith Kercher.

"I think Raffaele at some point in time will probably visit Seattle," Curt Knox tells the U.K.'s Daily Telegraph. "It will be very nice for them to actually see each other again."
Credit: Elaine Thompson/AP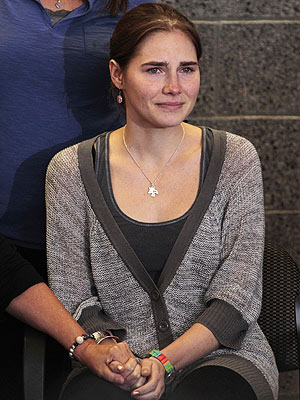 Originally posted 10/05/2011 07:15PM
Although released from an Italian prison and back home with her family, Amanda Knox's ordeal is far from over, her father says.

The 24-year-old American woman may return to the University of Washington, where she was a student at the time she arrested for the brutal murder of her roommate in 2007, but that remains uncertain as she enters an uncertain future, Curt Knox tells the Associated Press.

"What's the trauma ... and when will it show up, if it even shows up?" he said Tuesday outside his West Seattle home. "She's a very strong girl, but it's been a tough time for her."
Advertisement
The most buzzed about stars this minute!
Treat Yourself! 4 Preview Issues
Got a News Tip?
Send it to our People.com editors!