02:51 PM EDT 03/30/2015
Arnold Schwarzenegger
Credit:

Emiley Schweich/Everett Collection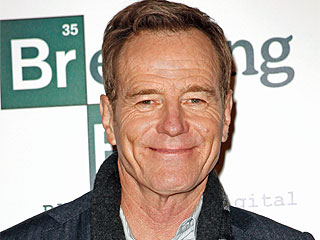 Update
Posted 12/23/2013 04:00PM
Originally posted 12/18/2013 02:00PM
The season of giving is in full swing and celebrities are getting in on the feel-good action.

Ever dream of picking up the phone and hearing Bryan Cranston on the other end? The University of California and Noise Marketing created Promise for Education to make outlandish wishes like this a reality. Promise for Education is a charity website dedicated to raising scholarship money by crowdsourcing people's vows to do something daring – like skydive or start a business – after reaching their set fundraising goal.

Over a thousand do-gooders have posted to the site, including some big celebrities with equally impressive promises. See what these famous folks offered up to help Promise for Education raise over $1.3 million in scholarship money this year. You won't find any Grinches here.
Originally posted 10/18/2013 03:15PM
Imagine Eddard Stark as the put-upon manager of a failing medieval-themed amusement park.

That's the premise behind the latest video from the gang at Bad Lip Reading (who've offered up such gems in the past as the fish-slapping Edward in a dubbed-over version of Twilight). They've taken their questionable lip-reading skills to Westeros, for a video that takes top honors as the best clip of the week. Plus: Conan O'Brien shames shagadelic news anchors and more of the most important random things online!
Credit: Dave Allocca/Startraks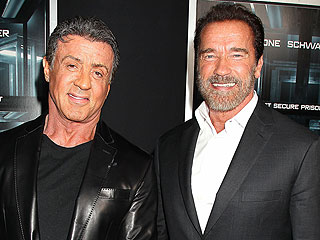 Originally posted 10/18/2013 02:30PM
They were hanging out at Comic-Con over the summer, they're working on The Expendables 3 and, just this week, Sylvester Stallone and Arnold Schwarzenegger were pictured having a back-slapping good time at lunch in New York City as they prepared to promote their latest flick, Escape Plan.

But the two action stars weren't always so chummy.

In 1982, Sylvester Stallone's Rocky III was in movie theaters – and so was his rival action hero Arnold Schwarzenegger's Conan the Barbarian. By 1984, a muscle-bound Schwarzenegger was the Terminator, while an equally brawny Stallone was basking in the box-office success of his Rambo franchise – and neither star wanted to concede the crown of world's manliest man.
Credit: FilmMagic (2)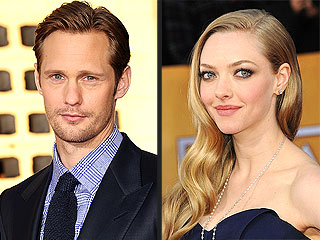 Originally posted 09/10/2013 05:35PM
Talk about an odd couple!

During Monday's episode of The Talk, Sharon Osbourne revealed when she was 25 she briefly dated Tonight Show host Jay Leno. "The fling was more fling for me," she said, "and not fling enough for him."

While the pairing is definitely one we'd never predict, especially considering both stars are now in long-term marriages, it's not the first celebrity romantic revelation to rock our world. Check out who else has had us scratching our heads:
Credit: KAMINSKI/Splash News Online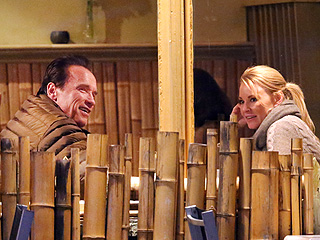 Originally posted 02/28/2013 10:25AM
Arnold Schwarzenegger has been spotted with a new lady friend in recent days – someone who shares his dedication to staying in shape.

The former world-champion bodybuilder has been on several dates with Heather Milligan, a 38-year-old Southern California physical therapist who works with a number of NFL athletes, New York's Daily News reports.

The Hollywood legend and former California governor, 65, dined with Milligan last Friday at Babalu in Santa Monica, and they were spotted driving around Brentwood the next day.
Credit: MMV/ddp/JPI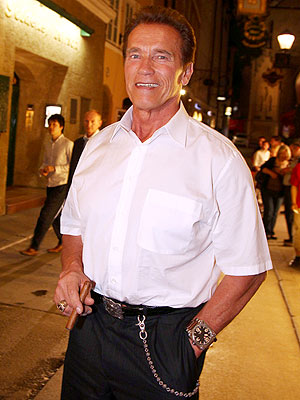 Originally posted 10/01/2012 07:55AM
Arnold Schwarzenegger says it took seven or eight years before he found out that he had fathered a child with his housekeeper.

It wasn't until the boy "started looking like me, that's when I kind of got it. I put things together," the action star and former California governor, 65, told 60 Minutes on Sunday.

Though Mildred Baena continued working in the family household and Schwarzenegger quietly began to provide financial support to her and their son Joseph, Schwarzenegger deliberately delayed revealing his secret to his wife Maria Shriver and their four children.

"It was very difficult, strange, bizarre," said Schwarzenegger. "I just said to myself, 'Okay, I'm going to put this away.' "
Credit: Marc Piasecki/FilmMagic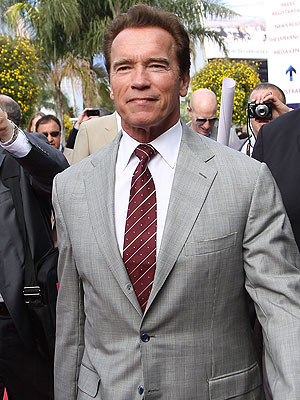 Originally posted 09/30/2012 01:20PM
Arnold Schwarzenegger says his affair with his family's housekeeper wasn't the first time he cheated on Maria Shriver.

The action star and former California governor admits in his new autobiography to a "hot affair" with actress Brigitte Nielsen while they filmed Red Sonja in 1985 when he and Shriver were living together, Time magazine reports.

Schwarzenegger, now 65, never thought the relationship with Nielsen was serious and that the fling only convinced him to marry Shriver, he writes in Total Recall: My Unbelievably True Life Story, according to Time.
Credit: MMV/ddp/JPI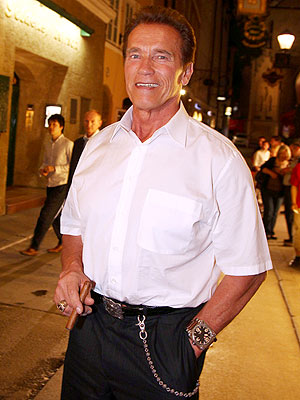 Originally posted 09/28/2012 02:20PM
Opening up for the first time since his marriage collapsed with the revelation that he fathered a child with a housekeeper, Arnold Schwarzenegger acknowledges how badly he hurt wife Maria Shriver and their family.

Promoting his upcoming book on Sunday night's 60 Minutes on CBS, the action star was asked by correspondent Lesley Sthal, "Was this just the most unbelievable act of betrayal to Maria?"

"I think it was the stupidest thing I've done in the whole relationship," Schwarzenegger, 65, replies. "It was terrible. I inflicted tremendous pain on Maria and unbelievable pain on the kids."
Credit: Marc Piasecki/FilmMagic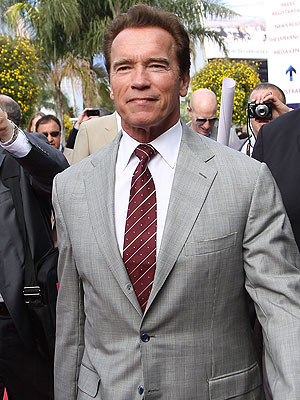 Originally posted 09/24/2012 11:35AM
More than a year after Arnold Schwarzenegger revealed he fathered a child after an extramarital affair with his family's housekeeper, the Expendables actor is telling his side of the story.

In the Schwarzenegger's new autobiography, Total Recall: My Unbelievably True Life Story, he recounts the moment he admitted to then-wife Maria Shriver his relationship with Mildred Baena, the Daily News reports.

On Jan. 4, 2011, the day after Schwarzenegger, 65, left California's governor office, Schwarzenegger confessed in a therapy session.
Credit: Frank Masi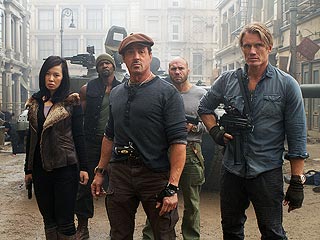 Originally posted 08/16/2012 01:00PM




Unlike its predecessor,
The Expendables 2
gave me what I wanted almost immediately: impressive explosions, a frying pan used as a deadly weapon and an airborne motorcycle crashing into a helicopter.
In a sequel that doesn't take itself too seriously, Barney Ross (Sylvester Stallone) and his band of muscle-bound misfits are ordered by the mysterious Mr. Church (Bruce Willis) to break into an explosive-rigged safe, which should be a cakewalk. However, after a member of the group is killed by the villainous – wait for it – Vilain (delightfully played by a preening Jean-Claude Van Damme), the gang sets out for revenge, joined for the first time by a butt-kicking female (Chinese actress Yu Nan).
Advertisement
The most buzzed about stars this minute!
Treat Yourself! 4 Preview Issues
Got a News Tip?
Send it to our People.com editors!