03:39 PM EDT 12/17/2014
Benji Madden
Credit:

Flynet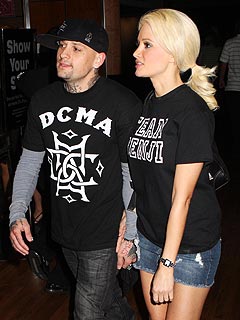 Originally posted 04/05/2010 02:00PM
She once called him her "adventure buddy"" but will Holly Madison soon be calling Benji Madden her boyfriend?

"It's heating up between them," a source tells PEOPLE about the former Girls Next Door star and the Good Charlotte guitarist, who were first spotted together at a L.A. coffee shop in December.

The duo kicked off the holiday weekend together in Las Vegas, where Madden, 31, won a celebrity boxing match at the Hard Rock Hotel Saturday night. Madison, 30, and some pals showed their support by wearing a "Team Benji" shirts.


After the fight, the two headed over to club Wasted Space, where they avoided photographers and sat hand-in-hand in a VIP room for two hours. At one point in the night, Madden took to the club's stage and performed with Taintstick, a hard rock band he joined on the side last year, before leaving with club with Madison.
The night before, they dropped by the Palms' N9NE Steakhouse with
Joel Madden
after Madison performed in her burlesque revue,
Peepshow
, and continued their night at the Playboy club.
Credit: James Atoa/Everett Collection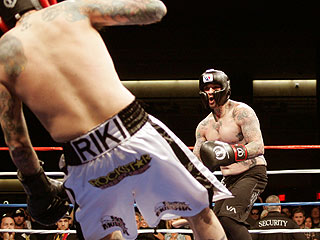 Originally posted 04/04/2010 01:30PM
If music doesn't work out for Benji Madden, he may want to look into boxing.



The Good Charlotte guitarist fought former MTV host Riki Rachtman in a celebrity bout on Saturday night in Las Vegas. In only one minute and 40 seconds, the referee stopped the fight after Madden knocked Rachtman down three times.



After his victory, Madden, who was escorted to the ring by his brother Joel Madden, climbed the ropes of the ring to celebrate.



"Benji Madden just kicked my ass," Rachtman after the match. "I got wasted by the guy in Good Charlotte."


Credit: Paul Redmond/FilmMagic; Denise Truscello/WireImage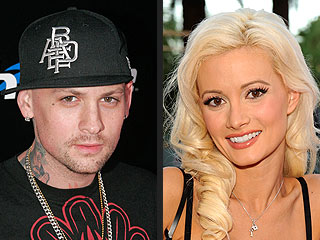 Originally posted 12/13/2009 08:55AM
While some reports are calling Benji Madden Holly Madison's "boyfriend," the former Girls Next Door star is labeling him her "adventure buddy."

"I don't want to talk about him, except that I like him," Madison told PEOPLE when asked about reports linking her to the Good Charlotte guitarist.

The possible coupling comes after the duo were spotted in Los Angeles at a coffee shop. The two have also flirted over Twitter, with Madden even hyping Madison's E! show with Tweets.
Credit: Matt Sayles/AP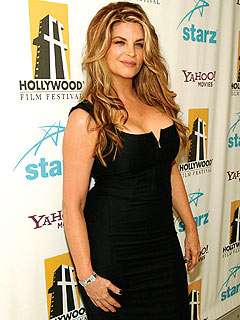 Originally posted 05/30/2009 11:15AM
Twitter etiquette comes easier to some celebrities than others.

Earlier this week, Al Roker made headlines when he posted pictures on his Twitter page taken with his cellphone while he was doing jury duty at Manhattan Supreme Court. Fail! The Today show weatherman ended up apologizing to court officials for breaking the rules.

And he's not the first star to raise eyebrows over a tweet. Let us recount our favorite examples of celebrity TMI (too much information) on Twitter.

Kinda Cute
• Taylor Swift (@taylorswift13): The car just arrived to take us to the airport. Taped to the seat in front of me is a sign: "Taylor, don't forget your retainer. Dad"..Nice.
• Omarosa from The Apprentice (@omarosa): correction: the dog is walking me* I can barely keeps up * i hope he poops soon or I am going to be late

What's the Word ... Uninhibited?
• Lisa Rinna (@lisarinna): now that the hubby is tweeting 24/7 as i am will we need to start having twittersex? is there such a thing?
• Kirstie Alley (@kirstiealley): Although no one has asked I like this new name for a vagina..A POLLY WOG..yes I tried that term out today and got good feed back..YOU?
Credit: Michael Tran/FilmMagic, Jordan Strauss/WireImage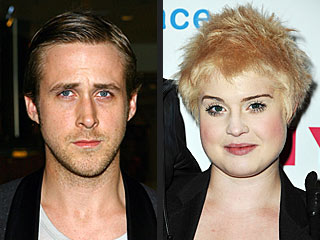 Originally posted 05/27/2009 02:25PM
Watch out Samantha Ronson, there are new celebrity deejays in town!

While some already make their living in rock bands, now many more musicians and actors are stepping behind the turntables (or iPods), and moonlighting as deejays at the hottest clubs and parties. Here's everything you need to know about some of the most notable:


Ryan Gosling
Signature Sound:
Favorites from the '50s, '60s, '80s, indie rock and old-fashioned rock 'n' roll – anything from the Andrew Sisters to Bruce Springsteen to Edwin Collins. Gosling occasionally takes requests but he really just plays his favorites.
The Venue:
Bardot Hollywood. He has a regular slot there Thursday nights.
Special Guests:
Liv Tyler
,
Kate Hudson
and Mick Jagger have caught Gosling's set.
Time to (Break)Dance:
He draws a crowd – and hooks them! Gosling has been known to rile up clubgoers by positioning a spotlight on the dance floor. He also mingles, and people even breakdance to his music – including his deejay partner and best bud Zach Shields.
Credit: Paul Redmond/FilmMagic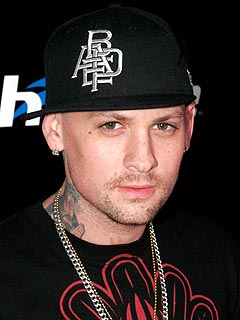 Originally posted 03/02/2009 11:15AM
They are twins who "share everything," but Benji and Joel Madden have very different lives right now – and Benji couldn't be happier.

Two weeks after Joel and Nicole Richie announced that they're expecting baby No. 2, the "single" twin tells PEOPLE he's ready to be an uncle again, just not a dad.

Besides, he's had a while to get used to the idea – he knew about the pregnancy long before it was announced publicly. "You have to wait before you can tell people," he admits at the World Poker Tour Celebrity Invitational in California. "I found out a little bit earlier. We're twin brothers so we share everything."

Madden, who calls the pregnancy "exciting," hopes his brother has a big family. "They're the best parents I've ever seen," he says.
Credit: Bruce Gifford/FilmMagic; Jean Baptiste Lacroix/WireImage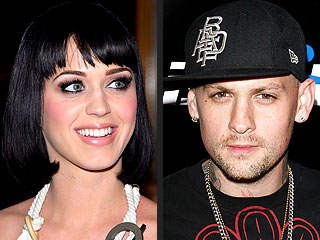 Originally posted 02/15/2009 02:00PM
Earlier in the night she may have called it "the horror that is Valentine's Day," but Katy Perry appears to have been struck by cupid's arrow – which also seems to have hit Paris Hilton's ex, Benji Madden.

Following her Valentine's show at Hard Rock Hotel's Wasted Space, Perry, 24, and Madden, 29, headed to Lavo – where the two conspicuously cuddled throughout the night, later prompting one observer to sense "some chemistry there."

Madden, in town to deejay, even danced for Perry during several songs – and at those rare times when their hands weren't on each other's legs.
– Mark Gray
Credit: Vickers/Hargrave/Splash News Online; Paul Redmond/FilmMagic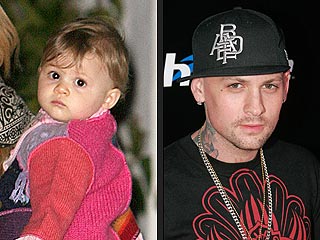 Originally posted 01/05/2009 07:00AM
Harlow Winter Kate Madden won't be a year old until Jan. 11, but her uncle, Benji Madden, already has a warning for potential suitors.

"I'm going to be keeping a close eye on her," Madden, 29, tells PEOPLE of the daughter of twin brother Joel Madden and his girlfriend Nicole Richie, 27. "I'll leave the shotgun right by the door."

Says Madden, who rang in the new year in Las Vegas at Hard Rock Hotel's Body English, "We're lucky being twins, because Joel can be the good guy and I'll be the bad guy."
Credit: Paul Redmond/FilmMagic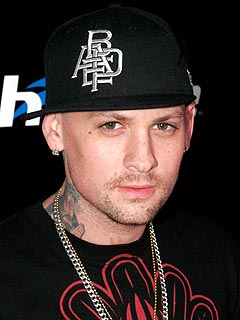 Originally posted 12/31/2008 12:45PM
When it comes to rumors, Benji Madden says the best medicine is a sense of humor. He would know, too, since the last year of his life has been profiled and scrutinized in the media largely based on a high-profile romance with Paris Hilton.

"You just kind of have to laugh about all the things that are said," he told PEOPLE. "People will call me all the time and be like 'Hey, I heard this or that.' "

To clear up the latest rumor, no, he isn't dating Britney Spears. "That one was news to me. My friend called me and asked if I was dating Britney because he read it somewhere and I was like, what?"
Credit: Diana Zalucky/AP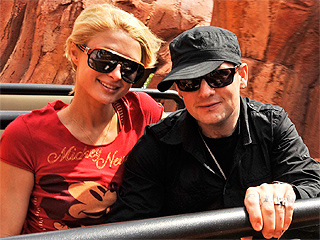 Originally posted 11/21/2008 12:45PM
Paris Hilton and Benji Madden may have broken up, but they're still close friends, she said Friday.

"You know, I love him. He's such an amazing man and he's my best friend and he's been so great to me and so loyal," Hilton said Friday on Ryan Seacrest's KIIS F.M. radio show. "He's an incredible person. We'll always be very close. We'll see what happens in the future. I'm still in love with him."

Asked what happened, Hilton cited busy work schedules and lots of travel as the reason behind their split.

"We're both working so much," she told Seacrest. "There are all these reports saying that I dumped Benji. That's not true. This was a decision we made together as two adults."
Advertisement
The most buzzed about stars this minute!
Treat Yourself! 4 Preview Issues
Got a News Tip?
Send it to our People.com editors!