08:02 PM EDT 07/27/2015
Brooke Hogan
Credit:

John Parra/Wireimage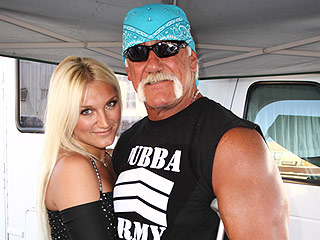 Originally posted 07/24/2015 03:45PM
In the wake of a recently released audio transcript of Hulk Hogan making racist remarks about his daughter's romantic relationships, Brooke Hogan has taken to Facebook to defend her father.
Credit: Courtesy Brooke Hogan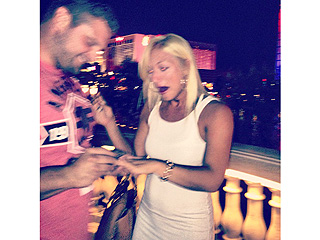 Originally posted 07/01/2013 10:00AM
With so many wedding chapels nearby it's a miracle Brooke Hogan didn't race from engagement to married in Vegas this weekend!

She was even already wearing white for the big moment.

Ecstatic shots on her instagram feed capture the moment when Dallas Cowboys offensive lineman Phil Costa proposed on bended knee with the Paris hotel's Eiffel Tower in the background and then slipped the ring on his 25-year-old bride-to-be.
Credit: John Parra/WireImage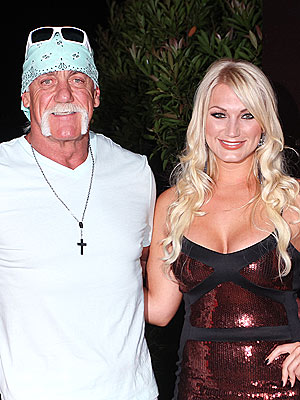 Originally posted 08/14/2011 09:25AM
Brooke Hogan has one thing to say to people who criticize her for her decision to unveil an arty nude photo in front of her father recently: leave me alone!

"Im SO sick of people saying me and my dad are in some perverted relationship," she Tweeted on Saturday morning, days after revealing the photo in Miami. "Go home and do your own thing! Stop picking on me!"

For his part, Hulk Hogan didn't scold his daughter for posing completely nude for PETA. In fact, he embraced the concept – sort of.

When Brooke, 23, brought her dad along to the unveiling of the photo at Miami's Cafeina Lounge on Thursday, Papa Hogan was actually photographed with the shot, a source tells PEOPLE.
Credit: John Parra/WireImage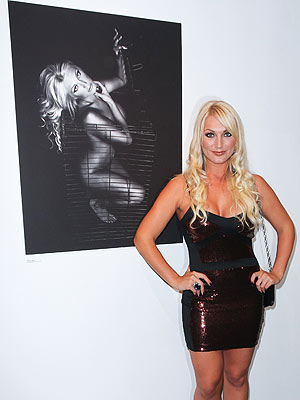 Originally posted 08/13/2011 10:45AM
Talk about an awkward birthday surprise!

To celebrate dad Hulk Hogan turning 58, Brooke Hogan brought him along as her date to the unveiling of a nude photo exhibit at Miami's Cafeina Lounge on Thursday. In the black-and-white portrait taken by Jordan Michael Zuniga, the 23-year-old poses completely nude while entrapped in a cage, a nod to the cruelty faced by animals.

"I've always had a love for animals, and I've seen abuse firsthand. It ignited my passion for saving them even more," the star, who has a Pomeranian, told the Miami New Times. "The worst part is that they are voiceless in our world."
Credit: Steve Granitz/WireImage; Dan Steinberg/AP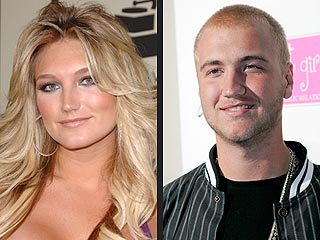 Originally posted 07/29/2008 03:20PM
Jail has changed Nick Hogan for the worse, sister Brooke says.

"They had broken his spirit," Brooke Hogan, 20, tells PEOPLE. "When they put him in solitary, he was on the outs. I was worried about him, and his safety, and his well-being."

But now that Nick's out of a 28-day stint in solitary where he was rapidly losing weight, and in the general population with more privileges, he's turning back into the little brother she knew.

"We get to visit him three times a week like everybody else, but it sucks," she says. "I can't just walk over to his room and give him a hug, or talk to him, or confide in him. ... At least he's not locked in hell, basically. And his personality is slowly coming back. I bring that out of him."
Credit: Steve Granitz/WireImage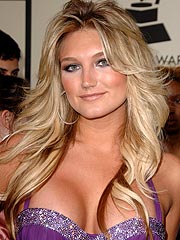 Originally posted 07/24/2008 01:30PM
Brooke Hogan issued an apology for making what she now calls false allegations that her father Hulk abused her mother.

"I did it under significant pressure from my mother," Hogan, 20, tells PEOPLE in an exclusive statement. "It was only after I learned all the facts that I realized I made a big mistake in signing it."

Hogan released the statement after a tabloid reported that she had signed a legal affidavit accusing her father, whose real name is Terry Bollea, of verbally and physically abusing wife Linda during their marriage.

Linda, 48, filed for divorce last November, and her attorney told PEOPLE it was going to be "war."

Her attorney was not available for comment. A rep for Hulk Hogan declined to comment.
Credit: Steve Granitz/WireImage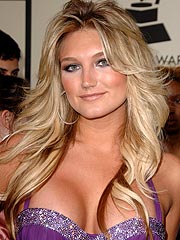 Originally posted 07/10/2008 03:10PM
As the nasty divorce between Hulk Hogan and his estranged wife Linda slogs on in the courts, their daughter Brooke sees a silver lining.

"I don't think our family is falling apart or getting destroyed," the 20-year-old told Access Hollywood. "I just think it's rearranging itself in the way God meant it to be – because it wasn't working how it was."

As for her 48-year-old mother publicly dating a 19-year-old (one of Brooke's former classmates), the aspiring singer admitted that it's "kind of disappointing."

"She was always my hero when I was growing up," Brooke said. "I feel like I have to be the mother now."
Credit: New News Inc/Splash News Online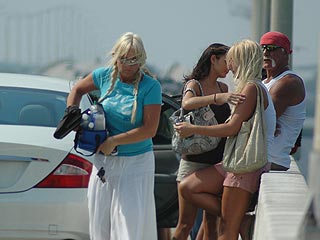 Originally posted 05/26/2008 02:00PM
The Hogan family was involved in another car accident Sunday, when Hulk Hogan's daughter Brooke's car was hit and pushed into a concrete wall by a man witnesses said was speeding.

No injuries were reported to either Brooke Bollea, 20, her female passenger, or to the 19-year-old man in the car that hit Bollea's on the Bayside Bridge in Clearwater, Fla., according to a release from the Florida Highway Patrol. No charges have been filed in the accident.
Credit: Steve Granitz/WireImage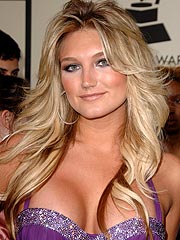 Originally posted 05/13/2008 04:45PM
Brooke Hogan is lashing out about "lies [that] were told" at her brother Nick Bollea's trial last week.

In a MySpace post, which she soon pulled, Hogan criticized the public perception of her brother. "Before you judge anybody, make sure you really know them," she writes. "I promise you if you were to meet my brother he would give you the shirt off his back."

Bollea, 17, is serving an eight-month jail sentence after pleading no contest to charges of felony reckless driving following an Aug. 26, 2007 car crash that left his best friend, John Graziano, critically injured.

In her angry MySpace post – where she lists her mood as "pissed off" – Hogan challenges testimony in the trial, writing, "A LOT of lies were told in that trial. Believe me. And it wasn't from us," but stops short of making any other specific claims.

Hogan soon removed her post, and put up another one in its place. In her latest blog entry, she simply writes, "I have the truth on my side. And the truth will set everyone straight sooner or later. PEACE."

Hogan's rep was not available for comment.

Read the full-text of Hogan's post after the jump:
Advertisement
The most buzzed about stars this minute!
Treat Yourself! 4 Preview Issues
Got a News Tip?
Send it to our People.com editors!