08:05 AM EDT 07/10/2016
Chelsea Kane
Originally posted 05/24/2016 03:20PM
Mark Ballas
could get a pretty special 30th birthday present!
The
Dancing with the Stars
pro and partner
Paige VanZant
are among the three couples who could take home season 22's coveted Mirrorball trophy when the results of
Monday's performance finale
are announced on Tuesday night.
Whether tonight proves a third-time charm for Ballas (who took home the trophy in seasons 6 and 8) remains to be seen – but the pro's track record shows that he has plenty to celebrate regardless.
Below, in honor of his 30th birthday, we run down the highlights of Ballas' "Perfect 30" performances.
Originally posted 05/24/2011 04:15PM


According to Dancing with the Stars judge Len Goodman, the competition is still "anyone's to win."

But ahead of Monday's finale – when the winner of the coveted mirror-ball trophy will be revealed – the three remaining couples were just happy to have made it so far.

Backstage after Monday night's show, NFL player Hines Ward praised his partner, Kym Johnson. "To be here in the final is just amazing, because Kym took a player who's never danced before and got us to the finals," he told PEOPLE. "I owe it all to Kym ... Whoever wins it is going to be deserved. I don't think there's any animosity towards anybody."
Credit: Adam Taylor/ABC (3)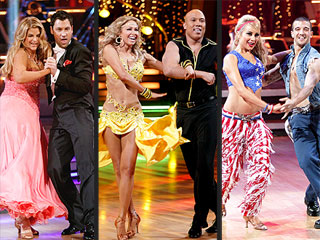 Originally posted 05/23/2011 09:55PM
Dancing with the Stars is coming down to the wire with the first round of final performances, and Carrie Ann Inaba summed it up best with three words: "Hot, hot, hot."

Chelse Kane, Kirstie Alley and Hines Ward and their pro partners each did two routines Monday night before their final one on Tuesday night to determine a champion. Find out how they fared in the stretch.
Credit: Bob D'Amico/ABC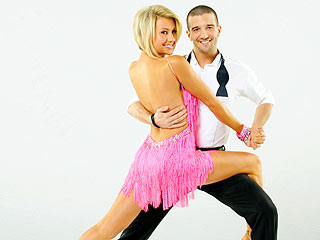 Originally posted 05/23/2011 11:20AM
The end is near and I'm not talking about Saturday's supposed rapture.

Granted, I'm writing this blog three hours before the clock ticks over to May 21, so I'm really keeping my fingers crossed that the world doesn't explode just two days before the big Dancing with the Stars finale. Wouldn't that be my luck?

However, if the Earth dose come, I can say I went out with a bang. I can say that I danced on national television and had 15,000 rhinestones on my body over a 10-week period. I can say that I had six-pack abs and that I got to shake hands with Stevie Nicks and watch her sing "Landslide" just a few feet away from me. I can say that I kicked butt with the Karate Kid, had a pillow fight with Kirstie Alley and a shot of Patron with Hines Ward. I would leave the world with a check mark on my bucket list next to "make an appearance on The Tonight Show." I've already died and gone to Heaven several times this week alone.

But regardless of whether the planet continues to spin, for me, the end is near.
Originally posted 05/23/2011 11:15AM
Hines Ward, Chelsea Kane and
Kirstie Alley
square off Monday night on the
Dancing with the Stars
finale. And Brooke Burke says any one of them could nab the Mirrorball trophy.
Burke, a co-host of ABC's hit show, handicaps the finale for PEOPLE.com, and says that each performer has unique strengths.
Ward, paired with Kim Johnson, is "infectious, he's lovable, he's emotionally connected, he's got rhythm, he's fun to watch," says Burke. In addition, he's got a big fan base that should help him out.
Credit: Courtesy Chelsea Kane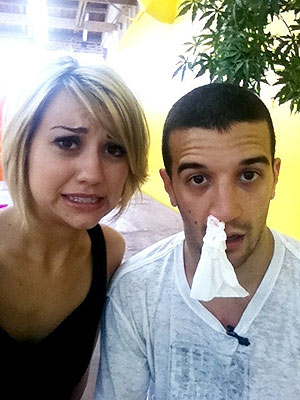 Originally posted 05/16/2011 04:00PM
"Dun, dada dun, dada dun, dun. Dun, dada dun, dada dun, dun. Pressure, pushing down on me …" David Bowie's famous tune has been on repeat in my head this week.

After the elation of two 10s glistening up at me from the judges' paddles and surviving another week (thanks to the overwhelming efforts of Team Kanenballers), I woke up on Wednesday with renewed energy, ready to charge into the battle of the semi-finals.

I decided to have four large pizzas sent to the studio to celebrate, which unfortunately sent Mark Ballas and me into a massive food coma. And this week, Mark needs to create not one, but three dances to wow our viewing audience. Though we still put in our allotted hours, my partner and I left that night without even a segment of a routine under our belts.
Credit: Courtesy Chelsea Kane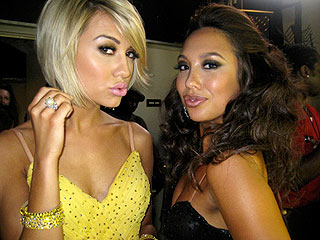 Originally posted 05/09/2011 05:30PM
The word "instant" usually sounds promising. Instant messenger, instant replay, instant rice. However, instant dance? Doesn't have the same ring to it.

This week we have the infamous instant dance, where we learn choreography, but won't know the song we'll be sweating to until minutes before we perform live on Monday. In a way, the instant dance sounds like an oxymoron considering it feels like we learn every dance almost instantly. As I write, Team Kanenball is two days into learning two very unrelated routines.

Dance Uno: The Slow Waltz. A refined and romantic dance to a stunning song.

Dance Dos, the instant Salsa, which sounds delicious, but doesn't come with a margarita.
Credit: Adam Taylor/ABC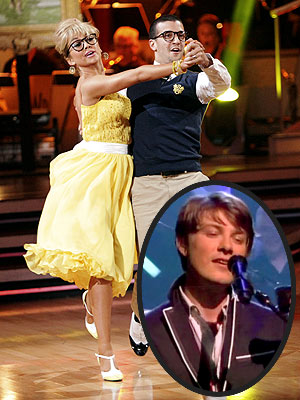 Originally posted 05/02/2011 01:35PM
This is Week 7 and the topic is PAIN.

It started when my partner, Mark, severely twisted his ankle in dress rehearsal and we weren't sure whether we were going to be able to do a live performance of our Quickstep. Although I wasn't the one with the throbbing foot, I was very concerned about his injury and Team Kanenball's future, so I had an additional knot in my stomach.

Then there was the agony of being surrounded by boy bands.
Credit: Courtesy Chelsea Kane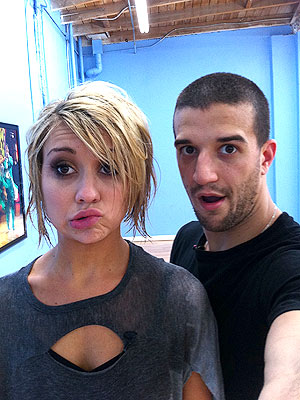 Originally posted 04/25/2011 12:00PM
It's a "Guilty Pleasures" week on Dancing with the Stars! Which is ironic, being that just a few months ago, Dancing with the Stars was my guilty pleasure. The only other TV show I have left in that category is Toddlers & Tiaras, which I have no intentions of competing in. However, I did dress up as one of the young pageant girls for Halloween.

Anyway, outside of Ben and Jerry's Karamel Sutra and Roscoe's Chicken 'N Waffles, most of my guilty pleasures are music related. 'N Sync, Aqua, Hanson and Backstreet Boys dominate my iPod's most played list, so you can only imagine the pure elation I experienced upon hearing that two of those bands would be performing at our results show this week. I immediately found myself flashing back to the fifth grade, listening to those songs via Walkman on my Now 2 CD while riding my Go-Ped and playing tag.

Not that those days are truly gone, seeing as Mark and I got into a full blown water fight on Wednesday. Sink sprayers and broken tailbones included. It seems as though our "rebellious" ballroom nature follows us everywhere. I can assure you production wasn't too stoked that we turned our studio hallways into a slip and slide.
Credit: Courtesy Chelsea Kane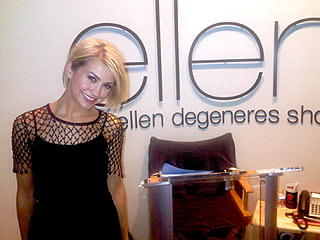 Originally posted 04/18/2011 02:20PM
Monday will be "American Night" on Dancing with the Stars and nothing screams "USA" like the samba, a dance that originated in Brazil. However, my patriotic performance pants make up for the foreign footwork, especially since they are being held up by a belt with a big bald eagle soaring just under my belly button. Uncle Sam would be proud.

What comes to your mind when you think of America? I think of hot dogs. Two of which I consumed while watching the Lakers lose to the Oklahoma City Thunder at the buzzer last Sunday. I think of apple pie, Mount Rushmore and the Super Bowl. I think of rock and roll and Route 66. Which is fitting, since it's the theme that Mark has chosen for our shakedown. Mark will be dressed as a macho mechanic who I seek out to help me with a flat. However, in the real world, I've changed six tires by myself. Oh yeah, the perks of being an only child to a dad who wanted to make sure I was independent.
Advertisement
The most buzzed about stars this minute!
Treat Yourself! 4 Preview Issues
Got a News Tip?
Send it to our People.com editors!