08:47 PM EDT 04/29/2013
Conan O'Brien
Update
Posted 04/27/2013 09:00PM
Originally posted 04/27/2013 11:40PM
It's a Hollywood-Washington mash-up that always teeters on becoming a smash-up.
Conan O'Brien brought the late-night comedic chops as host of the White House Correspondents Dinner on Saturday night in Washington D.C.
But it was President Obama who got in the best zingers – much to the delight of the famous faces in the crowd.
"I just witnessed our President deliver the funniest speech I have ever heard,"
Tweeted
Katy Perry
.
Credit: WireImage; Startraks; WireImage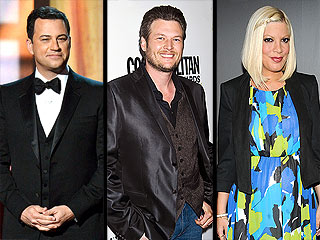 Originally posted 04/21/2013 05:35PM
Introducing Reverend Jimmy Kimmel!

The funny man took on a very different role when he performed the vow renewals between Matt Damon and his wife, Luciana, in St. Lucia, revealing a skill many were unaware the late night host had.

But Kimmel is far from the first celebrity to perform a wedding.
Update
Posted 08/03/2012 01:30PM
Originally posted 08/03/2012 10:25AM
For some fans of the Twilight franchise – also known as Twi-Hards – news that Kristen Stewart cheated on Robert Pattinson felt like their own personal heartbreak.

Also offering his tears: Will Ferrell.

"What they had was so special," the comedian, 45, deadpanned to Conan O'Brien on Thursday night's Conan. (Watch the video below.) "You don't even know what they had. They were in love, and she just threw it all away."

His tongue-in-cheek concerns continued: "I just don't know if there was anything I could have done to prevent it. And I don't know what it means to the Twilight franchise. I just don't know."
Originally posted 06/05/2012 01:25PM
It's what they call a natural caretaking instinct.
Originally posted 02/22/2012 03:00PM
Calling Chuck Testa!

While promoting her new movie Gone Tuesday on Conan, Amanda Seyfried revealed she has the start of what she hopes will be an extensive taxidermy collection.

In addition to a miniature horse, she said, "I have a chick who I just got – her name's Linda. Well, she's not alive, but her name would've been Linda. I have an owl named Beatrix. I have a few butterflies. That's about it for now."
Originally posted 12/23/2011 08:00AM
Conan O'Brien might win the Boss of the Year award after surprising one of his staff members with the best Secret Santa gift she could ask for – a visit from
Jon Hamm
.
A
hilarious video
, posted on O'Brien's website, shows the talk show host selecting talent coordinator Ashley Olivia as his Secret Santa after deciding to participate in his show's annual holiday gift exchange for the first time.
O'Brien discovered Olivia's crush on Hamm as he rooted around her desk looking for possible last-minute gift ideas. It was there that he saw a picture of the
Mad Men
star taped to her cubicle.
Credit: Paul Morigi/WireImage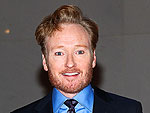 Originally posted 11/02/2011 05:55AM
Conan O'Brien celebrated his return to New York over dinner with his crew at Isabella's on New York's Upper West Side. The comedian, who's filming a week's worth of his late-night show, Conan, at the Beacon Theater, joined the festivities on the later side, though he did enjoy a relaxed dinner complete with cocktails and wine. When it was over, O'Brien picked up the tab – then snapped pictured with his servers, who were dressed in Halloween costumes. – Lesley Messer
Originally posted 08/17/2011 10:20AM
Who knew Lil Wayne was
Anne Hathaway
's muse?
The
One Day
leading lady, 28, perturbed by all the
paparazzi attention
she's receiving, especially about her
upcoming role as Catwoman
in
the all-star
The Dark Knight Rises
, wrote a special rap song to get back at the shutterbugs – a little number she performed at Conan O'Brien's request Tuesday night on
Conan
.
"With all the stuff that's been going on with
Batman
, The paparazzi attention's been a little intense, so I actually wrote a rap song about it," Hathaway told the TBS host.
Credit: Wireimage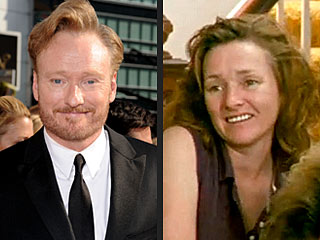 Originally posted 12/20/2010 11:45AM
In The Fighter, Mark Wahlberg and Christian Bale claim the most screen time, but there's no denying their slew of sisters' scene-stealing abilities.

What you might not have realized is that one of the Eklund women has a famous brother in real life, too. Kate O'Brien, sister to late night TV host Conan O'Brien, plays Phyllis "Beaver" Eklund in her acting debut.

"I work at a school and someone said, 'They're casting [The Fighter], you should go down, you look Irish Catholic,' " Kate O'Brien told PEOPLE. "I'm one of six, so it wasn't that hard for me to look like I might have more siblings [in the movie]."

• Reporting by ANNE DRISCOLL
Credit: Meghan Sinclair/TBS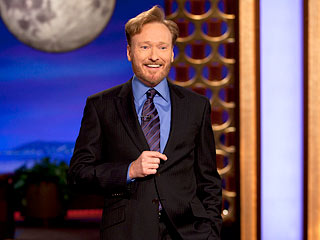 Originally posted 11/09/2010 09:45AM
After all the buildup, Conan O'Brien's return to television on TBS Monday night was a modest, lowkey and slightly awkward affair – Seth Rogen, the first celebrity guest on what is now called Conan, was promoting The Green Hornet, a movie that doesn't even open until January. Both he and O'Brien seemed aware that they had committed an unstated, inexplicable breach of talk-show protocol. It was as if Rogen had been expected to bring coffee cake and instead showed up with a plate of uncooked ribs.

But O'Brien is still dealing with the fallout of the past year's talk-show battle with NBC and his former home, The Tonight Show. Moving to TBS at 11 p.m. ET, he's a bit like one of those Shakespearean princes who get bounced from their kingdom and have to reestablish their court on an island or in a forest or on a cul de sac. His charm, intelligence and humor will probably win out. Here are three encouraging signs that Conanian silliness will live on:
Advertisement
The most buzzed about stars this minute!
Treat Yourself! 4 Preview Issues
Got a News Tip?
Send it to our People.com editors!