08:48 PM EDT 08/30/2015
Daniel Craig
Credit:

Laurie Sparham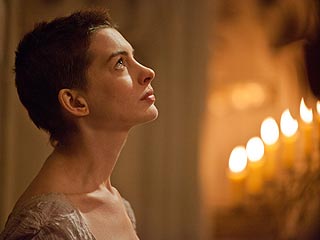 Update
Posted 12/21/2012 03:00PM
Originally posted 12/08/2012 02:15PM
The hectic holidays are almost upon us, which means it's the perfect time of year to head to the movies – provided you don't get stuck with the cinematic equivalent of a fruitcake.

So arm yourself with this handy watch this/skip that weekend movie guide before your Aunt Mildred suggests a Red Dawn/Killing Them Softly double feature. (Seriously, don't even entertain that idea.)

Watch This: Les Misérables
Something about a grand, old-fashioned musical turns me into a swooning, giddy thing. Weeks later, I'm still humming "Master of the House," even though I don't know all the words. But the emotions are what really linger – Hugh Jackman's stirring performance as Jean Valjean, the ex-con who becomes a hero, is only outdone by Anne Hathaway's brief but soulful turn as Fantine, the young mother who sells her body to feed her child. Sure, it's maudlin and manipulative, but let's be honest, musical theater nerds, isn't that what we're paying for?
Credit: AP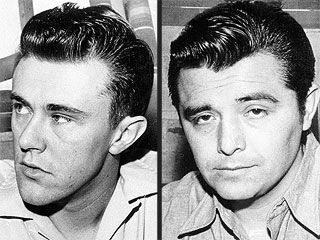 Originally posted 12/19/2012 12:50PM
The bodies of two men put to death for the 1959 murders made famous in Truman Capote's 1966 bestseller In Cold Blood – and subsequent film depictions – were exhumed Tuesday as detectives probe an unsolved 1959 quadruple homicide in Florida.

Investigators hope to see if DNA from Richard Hickock and Perry Smith, who were both hanged in 1965 for the grisly killing of the Herb and Bonnie Clutter family of Holcomb, Kan., matches any evidence in the equally brutal murder of the Cliff and Christine Walker family in Osprey, Fla.

"Maybe it will bring closure to the Walker family, and even after 53 years that would be a good thing," Kyle Smith, deputy director of the Kansas Bureau of Investigation, tells Reuters.

To the Associated Press, he added, "Obviously, where these perpetrators are dead, it's not going to result in any prosecution." Still, he conceded, "There's a lot of historical interest, as well."
Credit: Terry O'Neill/Getty; Columbia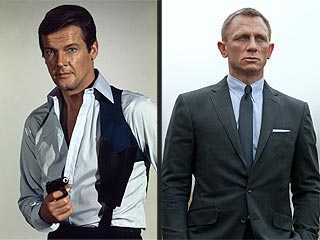 Originally posted 11/10/2012 02:00PM
Neither shaken, nor stirred. Just perennially cool.

While he'll no doubt be best remembered for the seven James Bond films he made from 1973 to 1985, Sir Roger Moore – he was knighted in 2003, for his humanitarian work on behalf of UNICEF – also wears many other labels proudly.

He was a young MGM star (opposite the then-equally young Elizabeth Taylor), a TV star and producer (The Saint), an author twice over (a 2008 autobiography, My Word Is My Bond, and the brand-new Bond on Bond: Reflections on 50 Years of James Bond Movies), and a word-class raconteur.

It was in those last two capacities that the London-born Sir Roger, a hale and hearty 85, spent time with PEOPLE in New York this week. Among the many opinions he shared were those on a certain movie franchise.
Credit: Columbia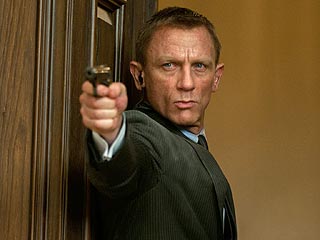 Originally posted 11/08/2012 08:00PM




How do you make a
50-year-old film franchise
new again? By letting it feel its age.
With wry geriatric jokes, a plot that strikes 007 right where he lives and even some throwback gadgets,
Skyfall
gives James Bond a
delightfully retro reboot
. It also establishes
Daniel Craig
, who plays Bond, as the only man who can rival Sean Connery as lord of the spies.
Turns out, the first step in reviving Bond is to kill him. Under orders to shoot a foreign operative carrying a list of Britain's undercover agents, Bond's fellow spy Eve (Naomie Harris) accidentally hits 007.
Credit: Warner Bros.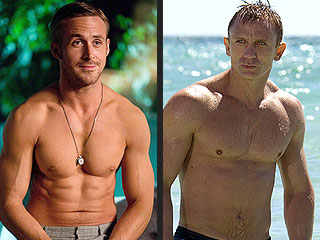 Originally posted 10/17/2012 10:00AM
A few weeks ago, my wife and I watched Crazy Stupid Love (I know, I know, we're a little late to the party). In one scene, Ryan Gosling seduces Emma Stone by taking his shirt off.

I turned to my wife to see her reaction. She was beet red and had her jaw wide open. When I asked if she enjoyed the movie, she uttered, "Ryan Gosling really was … fit looking."

(I worked out twice as hard the subsequent day, by the way.)

The fact is, Ryan got in amazing shape for the film. He has become part of a long list of leading men who have exercised and dieted to make their on-screen performance more impactful.
Credit: Courtesy Maxim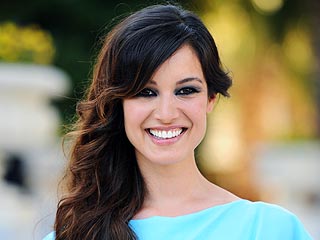 Originally posted 10/08/2012 01:30PM
As the new Bond girl, Bérénice Marlohe couldn't feel luckier – except for one thing.

"Well, I missed Daniel Craig naked, unfortunately," she tells November's issue of Maxim about conflicting shooting schedules on the latest 007 caper, Skyfall, opening Nov. 9.

While she didn't get to see the handsome hunk who plays James Bond in the buff, the sultry French actress, 33, does reveal about the movie: "It's a terrific script. And I think they've never had such a great cast, like Ralph Fiennes, Daniel Craig, Javier Bardem, Judi Dench ... and Bérénice Marlohe."
Credit: Mike Marsland/WireImage; Greg Williams/Eon Productions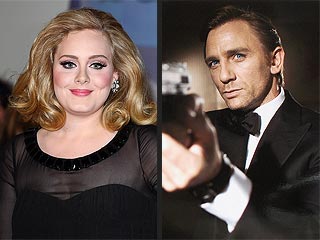 Originally posted 10/05/2012 11:15AM
It's official: Britain's most iconic young singer has recorded the new theme song for the country's most iconic movie series.

And not surprisingly, Adele's take on James Bond doesn't sound half bad at all.

Below is her track for the upcoming Bond movie Skyfall, and Adele has opened up about the excitement of recording it.
Credit: Stacy McReynolds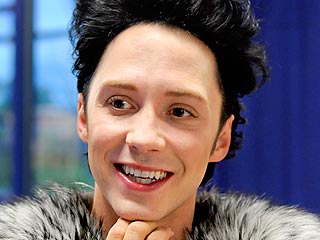 Originally posted 07/31/2012 10:35AM
Johnny Weir is fabulous. The figure skater, who placed sixth in the 2010 Winter Olympics, has been skating professionally since he was 12 and is no stranger to fierce competition – and fantastic costumes! With winning routines set to hits by Lady Gaga, the sparkle-loving athlete also recently married and now will blog for PEOPLE.com with the same fun energy he brings to the ice.

The Olympic Games in London have not disappointed thus far. The Opening Ceremonies were glamorous, the swimming drama has been outrageous and the gymnastics is forcing me to do my "stick it" pose every time I get out of my car.
Credit: Mike Segar/Reuters/Landov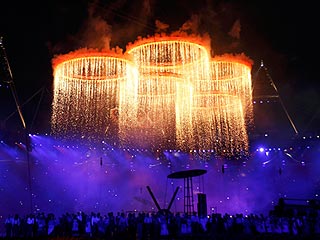 Originally posted 07/28/2012 09:35AM
My impression was that movie director Danny Boyle's opening ceremony for the Olympics would be an epic yet compact interpretative history of Great Britain. I misunderstood.

It began – horribly if appropriately – with Kenneth Branagh reciting Shakespeare with enough hammy gusto to bring down the Old Globe. But as the evening went along the event evolved into a weirdly psychedelic pop-culture fantasy, referencing everything from J.K. Rowling to Queen – I mean the band.

Perhaps this is because British history effectively came to an end with World War II, and there was nothing else for Boyle to say. Well, you might argue, what about Margaret Thatcher? Oh, you must mean that old woman who was played so well by Meryl Streep.

But more likely the show, titled "Isles of Wonder," really was Boyle's vision. In his movies he loves to jam together styles and images and effects, and so he did here.

This was Trainspotting minus heroin.
Credit: Abaca; Filmmagic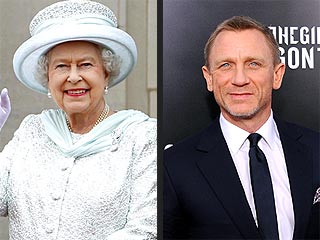 Originally posted 07/27/2012 08:10PM
Saying "Good evening Mr. Bond," Queen Elizabeth had a star turn in the opening ceremony as Britain put on a show to dazzle the world and kick off the London Olympics on Friday.
Advertisement
The most buzzed about stars this minute!
Treat Yourself! 4 Preview Issues
Got a News Tip?
Send it to our People.com editors!