12:05 PM EDT 03/19/2015
Eliot Spitzer
Credit:

Brendan McDermid/REUTERS/Landov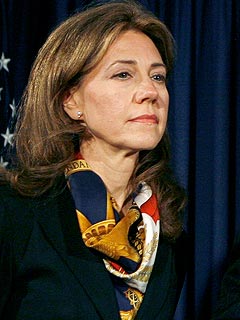 Originally posted 03/17/2008 02:50PM
As she remains out of the public eye following her husband Eliot Spitzer's sex scandal, friends believe that wife Silda Spitzer is a woman who takes the phrase "for better or worse" seriously.

"Maybe she wanted to kick the guy out of the house but she's in the public eye and a person who takes responsibility," David Patrick Columbia, a friend of Silda's and editor of NewYorkSocialDiary.com tells PEOPLE. "I think she's a woman who was there because that's the vow: 'For better or for worse.' She's a woman who lives those words."
Originally posted 03/16/2008 04:30PM
Before she was known as "Kristen", the woman at the center of the prostitution scandal that forced New York Governor Eliot Spitzer's resignation, 22-year-old Ashley Alexandra Dupré was simply Ashley Youmans, a small town girl from the New Jersey shore who yearned for her father and struggled with her family's split.

After her parents, William Youmans and Carolyn Capalbo, broke up, Ashley "used to cry about that and say how much she missed him," childhood friend Erica Kane tells PEOPLE. Adding to the heartache was her older brother Kyle, 26, who was incarcerated after a 2000 drug arrest, according to the Asbury Park Press. (More recently, on Monday, Kyle pleaded guilty to heroin charges and is expected to be sentenced to probation on April 14, according the newspaper.)

But after her mother married oral surgeon Michael DiPietro, Ashley, who was in elementary school at the time, would say even more so "how much she missed her dad. She always used to talk about that," says Kane.
Originally posted 03/14/2008 11:00AM
The reviews are in – and Ashley Alexandra Dupré may just have a future in music.

In the days since she was first identified as "Kristen," the 22-year-old at the center of the sex scandal that brought down New York Governor Elliot Spitzer is seeing her career as an aspiring singer skyrocket.
Originally posted 03/14/2008 08:30AM
Ashley Alexandra Dupré – a.k.a 'Kristen,' the alleged high-priced call girl who brought down New York Gov. Eliot Spitzer – once appeared in a video by the rapper Mysterious.

In the clip, the 22-year-old is seen leaning against various cars and putting a bulletproof vest on one of the video's stars. (The clip, which features graphic language, can be seen on MySpace.)

"She was very professional," the video's director, Jonathan Ehlers, told Los Angeles TV station KCAL, the Associated Press reports. "Again, she was really warm. She had a great vibe and she was really fun to be around."

When he heard about the prostitution scandal, Ehlers added, "I was shocked. All I could think was, I wondered where she was and I hoped she was all right."
Originally posted 03/13/2008 07:15PM
They remember her as Ashley, the attractive cheerleader from a New Jersey town who seemed headed to anywhere but a headline-grabbing scandal.

Friends of the 22-year-old alleged high-priced call girl named "Kristen" are now rallying around the woman they knew as Ashley Youmans of Wall, N.J.
Originally posted 03/13/2008 06:50PM
Ashley Alexandra Dupré was a significant presence online – even before her identity was revealed this week in New York Gov. Eliot Spitzer's sex scandal.

Dupré (aka "Kristen") had a profile on the talent website ExploreTalent.com and a source at the site tells PEOPLE Dupré "got a lot of requests" – including everything from hair-modeling gigs to a feature film role.
Originally posted 03/13/2008 03:50PM
Ashley Alexandra Dupré, the 22-year-old at the center of the N.Y. governor sex scandal, is getting an unexpected boost to her music career.

JJ, a disc jockey for New York's Z100, the most widely listened to radio station in the U.S., and one of the most influential in pop music, played her song "What We Want" on Thursday.

"Z100 is all about playing what's hot, and we can't think of anything hotter than a song from the woman at the center of a scandal that took down the governor of New York," says Tom Poleman, SVP of Programming for Z100 New York. "On top of that, it's a surprisingly good song. Looks like she may have a new career; this time in music."
Update
Posted 03/12/2008 07:35PM
Originally posted 03/12/2008 06:55PM
The alleged prostitute known as "Kristen" in the New York governor sex scandal is a 22-year-old New Jersey native from a broken home who now worries what people will think of her, according to a newspaper report.

"I just don't want to be thought of as a monster," the woman, identified as Ashley Alexandra Dupre, tells The New York Times. "This has been a very difficult time. It is complicated."
Credit: Mike Groll/AP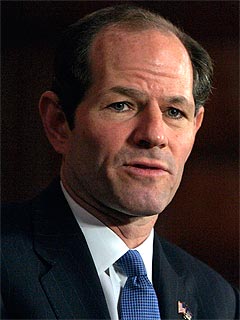 Originally posted 03/12/2008 11:50AM
Saying, "I sincerely apologize," New York Gov. Eliot Spitzer announced his resignation during a brief statement delivered Wednesday morning from his downtown Manhattan office. His stepping down comes in the wake of his being linked to a prostitution ring.

"I am deeply sorry I did not live up to what was expected of me," said Spitzer, referring to his "private failings" for which, he also said, "I've begun to atone."

The announcement (see video of the statement below) follows a stunning two days of revelations about Spitzer's personal activities. At a press conference Monday with his wife, Silda, at his side (as she was for Wednesday's announcement), Spitzer said: "I have acted in a way that violates my obligations to my family and violates my – or any – sense of right and wrong."

He added, "I apologize to the public, whom I promised better."
Credit: Mike Groll/AP; Jordan Strauss/WireImage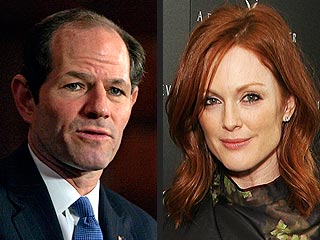 Originally posted 03/12/2008 09:00AM
New York Governor Elliot Spitzer apparently won't be getting off easy with his celebrity constituents.

"A f---ing embarrassment" is how Julianne Moore, once a fan of the former attorney general, termed the politico's involvement in a prostitution ring – for which it is anticipated he will resign on Wednesday.

"I'm really pissed," the fiery New Yorker, 47, told PEOPLE during Tuesday's TSE flagship SoHo store opening. "I honestly don't care where or how people have sex, or with whom, but prostitution is illegal. For someone whose got such a reputation for having a real attitude towards crime, you have to walk the walk. I'm sorry."

Meanwhile, TV hosts were more than happy to have a new political punching bag for their monologues. For instance:
Advertisement
The most buzzed about stars this minute!
Treat Yourself! 4 Preview Issues
Got a News Tip?
Send it to our People.com editors!