10:56 AM EDT 03/19/2015
Farrah Fawcett
Credit:

Jim Smeal/WireImage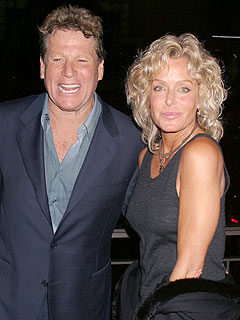 Originally posted 11/17/2009 06:50PM
A love story until the very end, Ryan O'Neal stayed with Farrah Fawcett until her death from cancer. So how, then, does he react to reports that the actress left most of her estate to their son Redmond – and nothing to him?

"Farrah's and my relationship was based on a deep love and respect for one another and for our son Redmond," O'Neal says in a statement. "After discussing how her financial affairs would be handled in the event of her passing we agreed that our son Redmond would be the primary beneficiary of her estate. These were Farrah's wishes and I am perfectly happy with them."
Credit: Whittle/Splash News Online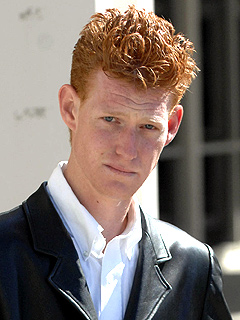 Originally posted 09/24/2009 06:15PM
Redmond O'Neal, the 24-year-old son of actors Ryan O'Neal and the late Farrah Fawcett, was released from a California jail Thursday after a judge ordered him into an in-patient drug rehab facility.

Saying Redmond was "doing extremely well," Judge Jane Godfrey of Los Angeles Superior Court sent O'Neal to the Impact Drug and Alcohol Treatment Center in Pasadena, Calif., where he will participate in a one-year residential program. O'Neal's incarceration stemmed from a January 2008 drug arrest and a probation violation.

"Redmond has embraced recovery," his attorney Richard Pintal tells PEOPLE. "All of his reports are extremely positive. He has taken huge steps towards his new life. This has been a very challenging time for Redmond. He lost his mother while in recovery. He loved his mother dearly and that was extremely hard on him. It would be challenging for anybody, much less a 24-year-old coming to grips with his addiction and recovery."
Credit: Whittle/Splash News Online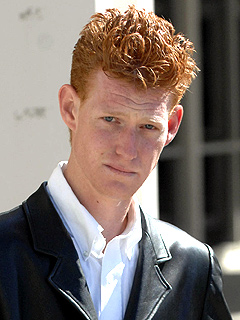 Originally posted 09/18/2009 04:45PM
Five months after his arrest for bringing heroin into a jail facility, Redmond O'Neal pleaded no contest Friday in a Santa Clarita, Calif., courtroom and was sentenced to a minimum of one year in a residential drug treatment program.

O'Neal, 24, son of Ryan O'Neal and the late Farrah Fawcett, is expected to be moved from the Pitchess Detention Center – where he was already serving time for violating his probation on drug charges – to the Impact Drug and Alcohol Treatment Center in Pasadena, Calif.
Originally posted 08/03/2009 11:55AM
Speaking publicly for the first time since the death of his longtime partner Farrah Fawcett on June 25, Ryan O'Neal says he wishes he could have a second shot at the 30-year relationship, and wonders if his own sometimes cruel character somehow led to her fateful illness.

The grieving actor, 68, tells Vanity Fair in its September issue (on sale Aug. 5) that he'd love to "do it over," given the chance, and in the process would change some unpleasant flaws in himself that caused Fawcett pain. "I would have been much kinder, more understanding, more mature," he says. "I'd lose some of the savagery. I don't know how she got cancer; maybe some of it was me."

O'Neal and Fawcett split up in 1998 after a tumultuous 20 years, and reconnected in 2001, after he was diagnosed with leukemia. O'Neal blames that split on, among other things, her menopause – and his own lack of sympathy.
Originally posted 07/21/2009 06:30AM
Redmond O'Neal's final conversation with his dying mother Farrah Fawcett allowed him to express a vow to turn around his troubled life, says his father, Ryan O'Neal.
"I held the phone to her ear, so I'm not exactly sure, but I think it was about regret," the elder O'Neal tells Meredith Vieira in a
Today
show interview airing Tuesday. "And the horror of, of not being able to see her again. And the promise – the promise of a good life. Of a life that she would have be proud of."
Fawcett, who
died of cancer
on June 25, had not seen her incarcerated son since April, when the 24-year-old was granted a court-approved
personal visit
to her bedside. He was also
permitted to attend
, in handcuffs, her
June 30
funeral. Redmond is currently serving time at the Pitchess Detention Center in Castaic, Calif., for violating probation on a previous
drug conviction
.
Credit: Bauer-Griffin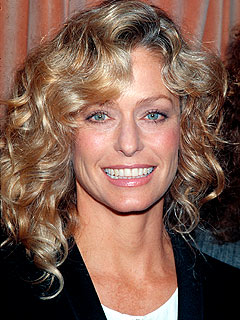 Originally posted 07/16/2009 01:05PM
Three times nominated for her acting, though never a winner, Farrah Fawcett received her fourth Emmy nod posthumously on Thursday, as an executive producer of Farrah's Story, the May 15 NBC special that tracked the three-year cancer battle that eventually claimed her life on June 25.

Fawcett, 62, was best known for her portrayal of Jill Munroe on Charlie's Angels, though she only remained with the show its first season, 1976-77. Her acting nominations were for roles in The Burning Bed (1984), Small Sacrifices (1989) and The Guardian (2004).

In a statement Thursday, Fawcett's longtime companion, Ryan O'Neal said, "For the Television Academy to recognize Farrah's Story with this nomination is such a wonderful acknowledgment for Farrah and her legacy. I know that she is smiling that fabulous smile right now in heaven, and that she is grateful that the show has been so well received not only by her peers in the industry but by the public at large."
– Stephen M. Silverman
Credit: Kevin Winter/Getty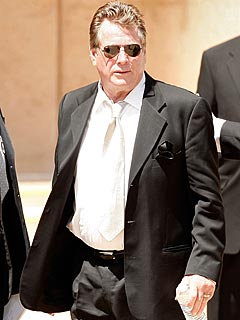 Originally posted 06/30/2009 09:40PM
A tearful Ryan and Redmond O'Neal joined Farrah Fawcett's closest friends and family for the actress's private funeral Tuesday afternoon at the Cathedral of Our Lady of the Angels in downtown Los Angeles.

Fawcett's Charlie's Angels costar Kate Jackson, Marla Maples, Joan Collins and Tatum O'Neal were among the 200 guests attending the hour-long Catholic service, where longtime pal Alana Stewart and Fawcett's doctor Lawrence Piro delivered the eulogies.

"Goodbye sweet girl," said Stewart. "[Farrah] never felt sorry for herself during her illness ... she fought cancer furiously."
Credit: Axelle/Bauer-Griffin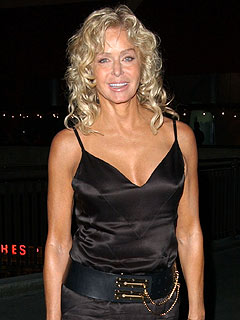 Originally posted 06/30/2009 08:45AM
To most of the world, she was the sex symbol with the flowing hair and dazzling smile – but Joan Dangerfield remembers Farrah Fawcett as the daredevil friend who took her out for a night of breaking and entering.

A few years ago, after the death of Joan's husband, comedian Rodney Dangerfield, Fawcett stopped by her house in the Los Angeles hills with a bottle of tequila.

"We stayed up all night long, talking and laughing and making plans," recalls Dangerfield. "Farrah decided that she wanted a house up here too." They set out to investigate a house for sale.
Credit: Whittle/Splash News Online, Charlies Sykes/REX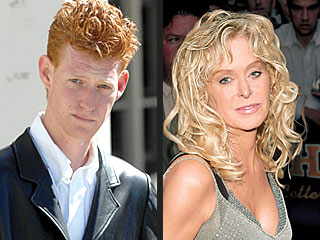 Originally posted 06/29/2009 05:30PM
Farrah Fawcett's son Redmond O'Neal, currently serving a jail sentence for violating his probation on drug charges, will attend his mother's memorial service on Tuesday, his attorney tells PEOPLE.

"That's an absolute yes," says William Slattery about plans for the 24-year-old son of Fawcett and Ryan O'Neal to go to the funeral.

O'Neal will be allowed to leave the Pitchess Detention Center in Castaic, Calif., where he is enrolled in an inmate treatment program, for the invitation-only ceremony, which will be held at the Cathedral of Our Lady of Angels at 4 p.m. PST in downtown Los Angeles.

Fawcett, 62, died after a long battle with cancer on Thursday.
Credit: Carlo Allegri/Getty; Lawrence Lucier/FilmMagic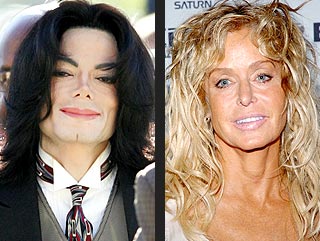 Originally posted 06/27/2009 07:30AM
The two pop icons who passed away this week will be remembered this weekend on the very medium that helped propel them into the famous figures they were.

In memory of Michael Jackson, TV Land will air the 1992 five hour mini-series, The Jacksons: An American Dream on Sunday from 2 p.m. to 7 p.m. (both Eastern and Pacific Times), with an immediate encore presentation from 7 p.m. to 12 a.m. The biographical series documents the progression of Michael's career from childhood to international stardom.

TV Land will also honor the memory of Farrah Fawcett with a tribute presentation of two Charlie's Angels episodes on Saturday from 7 p.m. to 9 p.m. (both ET and PT), leading up to the airing of the first two episodes of the 2005 TV Land original series, Chasing Farrah from 9 to 10 p.m.
Advertisement
The most buzzed about stars this minute!
Treat Yourself! 4 Preview Issues
Got a News Tip?
Send it to our People.com editors!