06:51 PM EDT 08/28/2015
Frank Sinatra
Credit:

David Becker/WireImage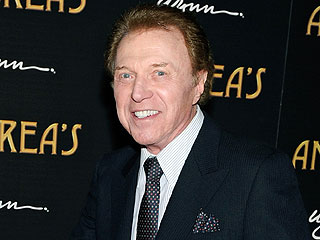 Update
Posted 02/11/2014 08:05AM
Originally posted 02/11/2014 07:00AM
It's not every 78-year-old who releases a new album for Valentine's Day – or has his friends Garth Brooks and Trisha Yearwood backing him up.

But, where showbiz is concerned, Steve Lawrence isn't just any 78-year-old.

"To my knowledge, it's over 50-something, and my first in 10 years, at least," the familiar voice, calculating the number of albums he's released since his first in 1953, tells PEOPLE from the home in Las Vegas he and his late wife Eydie Gorme shared since 1980.

Titled When You Come Back to Me Again, after the Garth Brooks song on the lead track, the new album contains 10 songs and, according to Lawrence, has him "surrounded with a new sound."

Not that the listener should expect One Direction. "I can't compete with the kids," Lawrence admits, "but they can't compete with me."
Credit: People.com Photo Illustration; Photos Provided by Getty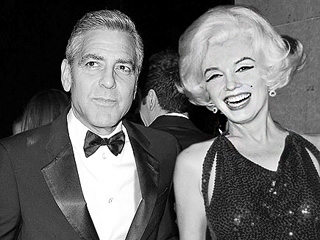 Originally posted 01/15/2014 02:00PM
After, "Who are you wearing?," the most important question on the Oscars' red carpet is "Who are you here with?"

Celebrity couples are always alluring. Drench them in tulle, tuxes and accolades, and they become nearly irresistible. But it's a shame that today's biggest stars can't hob knob with the glamorous old guard of Tinseltown ... or can they?
Filed Under:
Academy Awards
,
Oscars 2014
,
Amy Adams
,
Audrey Hepburn
,
Bette Davis
,
Bradley Cooper
,
Christian Bale
,
Elizabeth Taylor
,
Frank Sinatra
,
George Clooney
,
Grace Kelly
,
Jennifer Lawrence
,
John Wayne
,
Leonardo DiCaprio
,
Marilyn Monroe
,
Matthew McConaughey
,
Natalie Wood
,
Paul Newman
,
Rico Rodriguez
,
Shirley Temple
,
Sofia Vergara
Credit: Profiles in History Auctions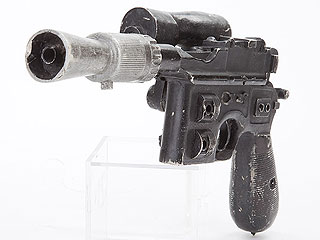 Originally posted 12/18/2013 09:00AM
Have you ever wanted a Tron suit? Would you be willing to sell your car, or perhaps one of your less-essential internal organs, for it?

If so, we have great news for you.

Auction house Profiles in History is auctioning off an astounding number of pieces of Hollywood memorabilia on Dec. 21.

While the average fan probably can't afford any of it, even average fans can pray for a Christmas miracle.


Filed Under:
Indiana Jones
,
Mighty Morphin Power Rangers
,
Mork & Mindy
,
Aliens
,
Batman Returns
,
Casablanca
,
Cast Away
,
Rebel Without a Cause
,
The Godfather
,
The Wizard of Oz
,
Tim Burton's The Nightmare Before Christmas in 3-D
,
Tron
,
Willy Wonka and the Chocolate Factory
,
Mary Poppins
,
Star Trek
,
Star Wars
,
The Lord of the Rings
,
The X-Files
,
Frank Sinatra
Credit: WireImage; Getty (2)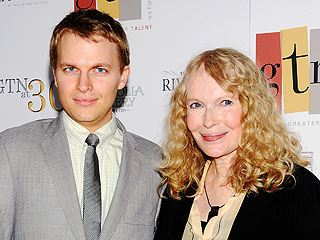 Originally posted 10/06/2013 09:00AM
Paternity was a much-discussed topic among PEOPLE.com readers this week, with few lacking for a strong opinion.

At the same time, a certain already controversial young pop star further raised blood pressures with her latest remarks.

Here are the five stories that sparked the strongest reactions this week, from happy, sad, laugh out loud, angry and wow.

To tell us what you think of what's going on in the news, click on the appropriate icon appearing at the bottom of every story.
Credit: WireImage; Getty (2)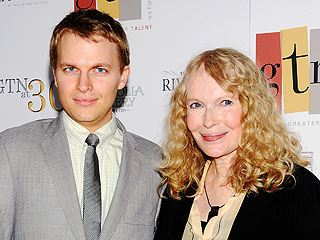 Originally posted 10/03/2013 01:45PM
Mia Farrow raised millions of eyebrows this week when she admitted to Vanity Fair that former husband Frank Sinatra "possibly" fathered son Ronan, rather than long-assumed dad Woody Allen.

But two people are quite certain that what Farrow asserts is bunk: Sinatra's widow, Barbara, and Allen himself.

Barbara Sinatra, who was married to the legendary crooner from 1976 until his death in 1998, told Palm Springs, Calif., newspaper the Desert Sun that Farrow's potential admission was "a phony deal."
Credit: WireImage; Getty (2)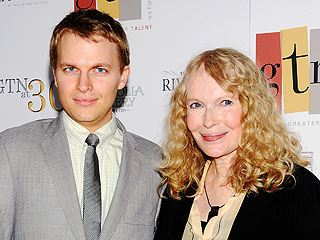 Originally posted 10/02/2013 09:45AM
Could Frank Sinatra actually be the biological father of Mia Farrow's handsome son Ronan – whose father was always said to be Woody Allen?

Although no DNA tests were ever done, Ronan, a 25-year-old former Rhodes scholar who bears a striking resemblance to Ol' Blue Eyes, remains close to the late crooner's family, as does Farrow, Vanity Fair reports in its November issue, in an interview with the actress.

Farrow, 68, who was married to Sinatra from 1966 to 1968, admittedly continued a relationship with the music legend while she was involved in a longtime relationship with filmmaker Allen.

Sinatra, who died in 1998, would have been about 72 when Ronan, born in 1987, was conceived.

Asked point blank by Vanity Fair's Maureen Orth whether Ronan could be Sinatra's son, Farrow responds with one word: "Possibly."
Credit: Syfy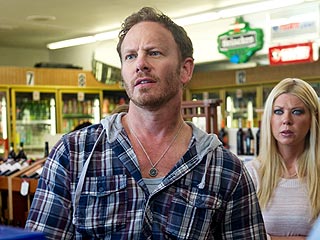 Originally posted 07/13/2013 11:50AM
Sharknado-mania swept social media Thursday night, but outside of the Twitterverse it looks like most people chose not to take the sharkbait.

Recently released Nielsen ratings show that only about 1.4 million people watched SyFy's shlock masterpiece, which "realistically" (cough, cough) features man-eating sharks attacking unsuspecting Los Angeles residents after getting blown to shore by an epic storm.

According to USA Today, the Nielsen figure is downright average for a movie premiere on this channel, which has found a niche trotting out awesomely bad horror flicks. (Case in point: the 2011 film Mega Python vs. Gatoroid starring '80s queens Tiffany and Deborah Gibson.)
Credit: Davila/Startraks, Fame, Mayer/WireImage, Kopaloff/FilmMagic, Wargo/WireImage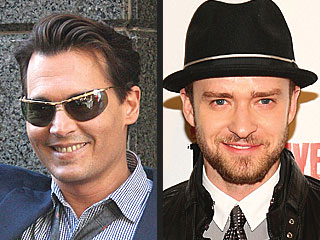 Originally posted 05/15/2009 09:35AM
The race is on in Hollywood to play Ol' Blue Eyes.

Oscar winner Martin Scorsese will be directing and producing a biopic about legendary singer Frank Sinatra, who died in 1998 at age 82. The hot-tempered Sinatra led a famously colorful life: He wed four times (including to movie stars Ava Gardner and Mia Farrow), had early ties to organized crime, and starred in 50-plus movies, including the original Rat Pack extravaganza, Ocean's Eleven, as well as From Here to Eternity, for which he won an Oscar for Best Supporting Actor.

The role of Sinatra has yet to be cast, but the early favorite is Leonardo DiCaprio, who has made three films with Scorsese, including Shutter Island, which opens this fall. Another possible contender: Johnny Depp. Respected film industry blogger Nikki Finke reports he's the choice of the sponsoring studio, Universal. Neither actor is known for his warbling abilities, but that doesn't matter because the film, which has the cooperation of the Sinatra estate, will use the crooner's original recordings.

Other possible contenders? Justin Timberlake, who actually can sing and has the right hungry look. Tween heartthrob Joe Jonas has the pipes and the right look. Or maybe even Twilight's Robert Pattinson, if he loses the fangs and nails a New Jersey accent. Pick your favorite to portray the crooner below:
Credit: Jose Perez/Splash News Online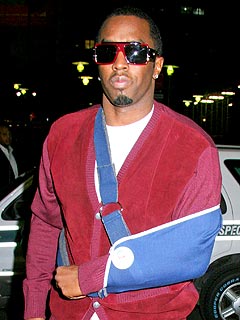 Originally posted 10/10/2008 12:25PM
He may have his hands full as a rapper, actor, and CEO, but Diddy is never one to be all business and no pleasure. In his latest TV ad, he manages to cover both simultaneously by paying homage to Frank Sinatra.

But recent days haven't been a total party. Last week, Diddy had surgery to repair his right rotator cuff.

Still, injury or no injury, the hip hop mogul still knows how to get down.

"There's nights in Vegas when I have my Frankie baby with me. That's right, Frank Sinatra is with me. Call me crazy. I'm not afraid to say I have imaginary friends," Diddy quips. "And Frank is one of them."

A tuxedoed Diddy hosts a swanky house party in Ciroc Vodka's newest commercial that evokes Sinatra's era. It was shot in black and white at one of Sinatra's California homes and features the late singer's classic, "Come Fly With Me."

"He's always influenced me and naturally inspired me," Diddy, who announced his partnership with the vodka brand last year, tells PEOPLE. "So this was me honoring Sinatra, the Rat Pack, and the style and sophistication of that time."
Originally posted 11/06/1998 12:00AM
Found, in Old Blue Eyes's hometown of Hoboken, N.J.: a lacquered aluminum record from the 1930s that may actually be Frank Sinatra's first recording as a solo artist. The recording, made by amateur musician Walter Costello, features Sinatra singing "Roses of Picardy," accompanied by Costello on the accordion. "My opinion is that the record is for real," Tom Owen, a voice identification expert, told the Associated Press. "If it's not Sinatra, it's the best fake you could do." Costello's widow, Angela "Dolly" Calandriello, said her only plans for the momento are to display it at Hoboken's mini-museum for Sinatra, called From Here to Eternity -- after his 1954 Oscar-winning movie.
Advertisement
The most buzzed about stars this minute!
Treat Yourself! 4 Preview Issues
Got a News Tip?
Send it to our People.com editors!