11:12 AM EDT 08/10/2016
Gary Oldman
Credit:

Gary Gershoff/WireImage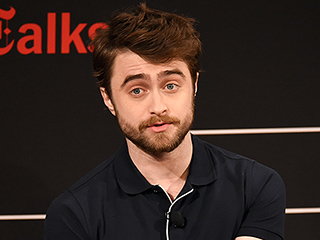 Originally posted 08/09/2016 05:00PM
Daniel Radcliffe is certainly not one to keep up with the digital world.
Originally posted 02/24/2016 06:15PM
Annie Lennox, Gary Oldman and Lorde joined forces for an all-star tribute honoring British icon David Bowie, who passed away at 69 last month from cancer, at the Brit Awards in London on Wednesday.
Originally posted 10/05/2015 12:30PM
[BRIGHTCOVE "4518951351001"] Hotel Transylvania 2 topped the box office last week, and that meant yet another victory for one of cinema's biggest-ever stars: Count Dracula.
Filed Under:
Dracula
,
Dracula
,
Blood For Dracula
,
Blood of Dracula
,
Bram Stoker's Dracula
,
Horror of Dracula
,
Nosferatu
,
Nosferatu: A Symphony of Horror
,
Movie News
,
Adam Sandler
,
Bela Lugosi
,
Christopher Lee
,
Dominic Purcell
,
Frank Langella
,
Gary Oldman
,
George Hamilton
,
John Carradine
,
Klaus Kinski
,
Leslie Nielsen
,
Max Schreck
,
Morgan Freeman
,
Udo Kier
Credit: Lionel Hahn/Abaca USA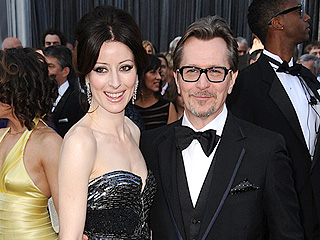 Originally posted 01/12/2015 02:30PM
The Dark Knight actor Gary Oldman and fourth wife Alexandra Edenborough are getting divorced.
Originally posted 06/26/2014 08:45AM
Gary Oldman's recent Playboy interview – in which he defended Mel Gibson's anti-Semitic remarks and delivered some offensive comments of his own – has been in the news, resulting in his apparent whirlwind apology tour, now taking place.

Wednesday, on Jimmy Kimmel Live!, he told the told the show's host, "I said some things that were poorly considered. From my heart, I am profoundly sorry."
Originally posted 05/23/2014 11:05AM
[YOUTUBE "imW392e6XR0"] Jimmy Kimmel brought back his fantastic Celebrities Read Mean Tweets About Themselves segment Wednesday night, with a shocking twist. This time, a surprising number of the mean Tweets were actually ... good?

Sure, there were the requisite amounts of unfathomable abuse – why does Andy Garcia, of all people, have haters? – and impenetrable obscenities (particularly the ones aimed at Matthew McConaughey). But other Tweets showed a heretofore-unobserved level of wit that made their targets suppress a chuckle. Even David Blaine thought that David Blaine joke was pretty solid!


Credit: Getty(2)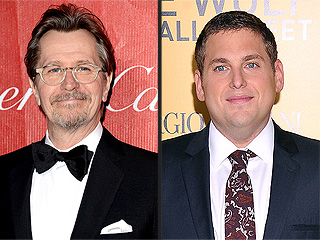 Originally posted 01/16/2014 11:00AM
Jonah Hill, of Superbad fame, is now a two-time Academy Award nominee.

The 30-year-old received a Best Supporting Actor nomination on Thursday for his role in The Wolf of Wall Street. This follows a 2012 nomination in the same category for Moneyball.
Credit: Getty; Celebrity Photo; Splash News Online; Landov; Getty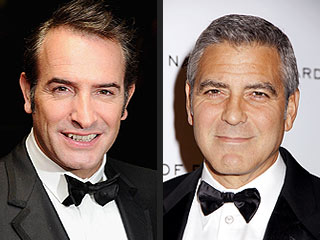 Originally posted 02/26/2012 04:20PM
In this year's Best Actor category, the snubs may have gotten more attention than the actual nominees.

Many Oscar-watchers thought Michael Fassbender would be nominated for Shame, Leonardo DiCaprio for J. Edgar and Ryan Gosling for The Ides of March. But none of those heartthrobs made the cut.

Instead, George Clooney (The Descendants) is pitted against is his good pal Brad Pitt (Moneyball), The Artist's breakout star Jean Dujardin, character actor Gary Oldman and Demián Bichir for A Better Life.
Credit: Bob D'Amico/ABC, Stephane Cardinale/Corbis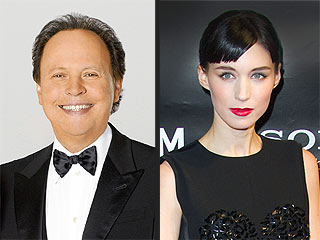 Originally posted 02/23/2012 01:15PM
Pop quiz: What annual awards show airs this Sunday night? If you're as into the Oscars as we are, you likely just yawned and said, "Easiest. Question. Ever." And you'd be right.

Now, let's try a few more challenging questions. Which of the current crop of Best Actress hopefuls honeymooned at George Clooney's Italian villa? The Help's Jessica Chastain earned a scholarship to Julliard funded by which Oscar-winning comedian? War Horse composer John Williams's son sang for which classic rock band?


Filed Under:
Oscars 2012
,
Academy Awards
,
Friends
,
Billy Crystal
,
Gary Oldman
,
George Clooney
,
Jennifer Aniston
,
Matt LeBlanc
,
Rooney Mara
,
Viola Davis
,
Woody Allen
Credit: Paramount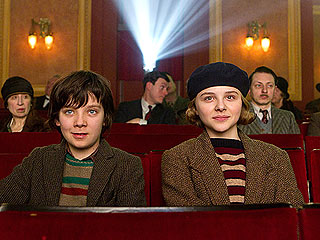 Originally posted 01/24/2012 02:00PM
Nominations are out for the 84th Academy Awards. Here is PEOPLE Magazine critic Alynda Wheat's take on what went down at the Academy of Motion Picture Arts and Sciences.

Hugo?! Fine, Hugo.
Leading the pack with 11 nominations is Martin Scorsese's kids movie that's not actually for kids. I confess that I still don't get it. Technically, Hugo is a triumph (you'll notice that the vast majority of its nominations are for technical awards), and Scorsese's nod for Best Director is certainly justified. But as a movie-going experience I still think it's remarkably cold (lectures about film history don't really move me). For my money, it's still a race between the French silent film The Artist and The Descendants, starring George Clooney, who did get nominated and Shailene Woodley, who missed the cut. Which brings me to my next point:

Snubs? What snubs?
Okay, sure, Golden Globe nominee Woodley might be a tad disappointed, as might Albert Brooks (Drive), Michael Fassbender (Shame), Tilda Swinton (We Need to Talk About Kevin) and even Steven Spielberg, whose amazing animated The Adventures of Tintin didn't rate a Best Animated Film nod, and who wasn't on the Best Directors list, in spite of the fact that his War Horse is a Best Picture nominee. But are these omissions actually snubs? Not really.
Filed Under:
Oscars 2012
,
Steven Spielberg
,
The Artist
,
The Help
,
The Muppets
,
Oscar
,
Movie News
,
Brad Pitt
,
Gary Oldman
,
George Clooney
,
Glenn Close
,
Jessica Chastain
,
Kirsten Dunst
,
Martin Scorsese
,
Melissa McCarthy
,
Meryl Streep
,
Michelle Williams
,
Octavia Spencer
,
Rooney Mara
,
Viola Davis
,
Woody Allen
The most buzzed about stars this minute!
Treat Yourself! 4 Preview Issues
Got a News Tip?
Send it to our People.com editors!