01:00 PM EDT 12/01/2015
Gordon Ramsay
Credit:

Greg Gayne/FOX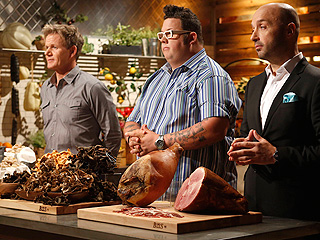 Update
Posted 07/29/2013 08:35AM
Originally posted 07/28/2013 06:15PM
Are your cooking skills put to the test just microwaving?

If so, then you won't believe what Gordon Ramsay and Graham Elliot were able to create in just five minutes on a recent episode of MasterChef.

As seen in this clip from the TV show, the two chefs were able to plate culinary masterpieces in less time than it takes most of us to order a pizza. Ramsay makes caramelized scallops with roasted endive and fresh cauliflower puree, while Elliot whips up grilled wild salmon with a beet juice reduction, sautéed beet greens and a beet salad with mustard vinaigrette.
Credit: FOX (2)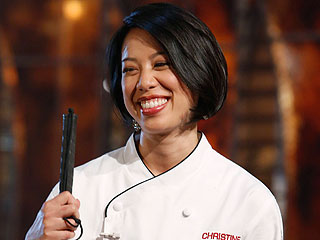 Originally posted 09/11/2012 07:30PM
On Monday's finale we watched the culmination of a stellar and emotional season of MasterChef. The level of talent this year had an almost pioneering quality to it – and our final two, Josh Marks and Christine Ha, both exemplified this beautifully in the finale.

The last challenge from which we select the winner will always be a nail biting experience. However, this year felt a little different.

Since the finale was pre-taped, we had a viewing party with Josh, Christine and their families at Eataly in New York. I was able to relive the final day and its excitement alongside Christine and Josh.
Credit: Greg Gayne/FOX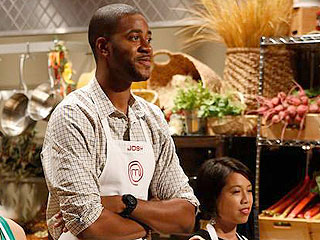 Originally posted 09/10/2012 10:30PM
MasterChef judges Gordon Ramsay, Joe Bastianich and Graham Elliot started season 3 by inviting 100 home cooks to Los Angeles to show off their best dishes. After weeks of intense competition and countless flavorful foods, only two remained, Josh Marks and Christine Ha, the show's first blind contestant.

So who took home the prizes – including $250,000 and a cook book deal – on Monday's finale? Keep reading to find out. Spoilers ahead!
Credit: Michael Lavine/FOX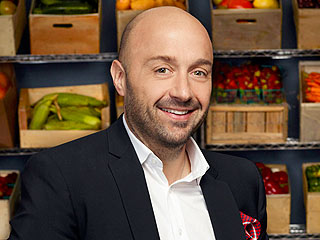 Originally posted 09/05/2012 10:15AM
Joe Bastianich is a successful restaurateur, vineyard owner and author of the memoir Restaurant Man. He's also a judge on MasterChef, which challenges home cooks to prove they can cut it in top professional kitchens. Each week he's blogging season 3 of Fox's hit show, offering an insider's take on the competition.

This week's episode of MasterChef brings us one step closer to finding our next winner! Becky, Josh and Christine battled through part one of the finale and surprisingly it was our consummate frontrunner Becky who underperformed.

Putting yourself on a plate apparently isn't as easy as it looks – and I honestly thought this challenge was too simple for our top three.

For Becky to end her time here over a horribly butchered filet of fish is something that still shocks me. I'll never understand why she didn't choose something she knew beyond the shadow of a doubt that she could ace – a dumb move for such a smart girl. I would have chosen something I could have prepared drunk or in my sleep and still executed to perfection. This challenge was meant for playing it safe! Prepare something within in your repertoire – and nail it! Her failure here was a prime example of overconfidence, which can be a killer.
Credit: Greg Gayne/FOX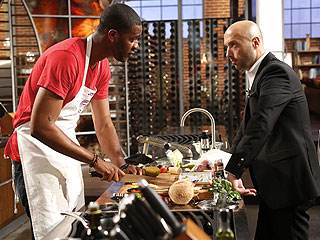 Originally posted 08/22/2012 12:35PM
Joe Bastianich is a successful restaurateur, vineyard owner and author of the memoir Restaurant Man. He's also a judge on MasterChef, which challenges home cooks to prove they can cut it in top professional kitchens. Each week he's blogging season 3 of Fox's hit show, offering an insider's take on the competition.

We are down to our own Fab Five on MasterChef!

Allowing our remaining home cooks to use self-selected ingredients is so beyond their skill level at this point, I'm honestly surprised they thought it would be that easy. With $250,000 up for grabs, they should have seen it coming. Graham, Gordon and I took a look around that kitchen and realized the best way to trip them up was to let their extreme diversity pose the challenge.

There is an unspoken but absolute belief among the contestants that Becky is the frontrunner by a long shot. The problem this poses for Becky is that she, too, believes this blindly. While I admire a strong sense of self-confidence, there is always a happy medium.
Credit: Michael Lavine/FOX (2)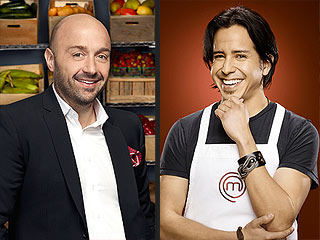 Originally posted 07/10/2012 09:30AM
From what was once a solid and tight-knit group of home cooks, on Monday's episode of MasterChef we saw the competitive nature of our contestants! With nine left, the pressure is mounting, and we are anxious to see who has the ability to carry it to the next level.

Sea urchin is not something that is found in most kitchens across the country, but Graham, Gordon and I wanted a clearer picture of our home cooks' food sensibility and creativity. Cooking is a craft, a profession and an art form. A true MasterChef should have the ability to work with something foreign to them and, with little explanation, should possess enough innate knowledge and intuition about food to make the most out of it. It is what differentiates a cook from a chef. We saw this with both Felix and Josh in the uni challenge, and later with Monti during elimination. It is exactly what we expect at this stage of the game, and those who don't possess it will be weeded out.
Update
Posted 06/04/2012 07:45PM
Originally posted 06/04/2012 08:15PM


Chefs rely heavily on their sense of taste and smell to cook – especially if they're blind like MasterChef contestant Christine Ha.

"I have to depend a lot more on the other senses to cook – taste, smell, how certain ingredients feel," she tells PEOPLE. "I'll know if a piece of meat is close to being done by how it feels against my hand or utensils."

Christine, 33, has been diagnosed with neuromyelitis optica (NMO), a condition of the central nervous system that affects the optic nerves and spinal cord.

"The very first bout I had was in 1999," she says of the condition. "It only happened in one eye then. It didn't recover completely so I learned to adjust to seeing out of one eye. In 2004, it decreased to the level where I could no longer drive. In 2007, it decreased to where I am now. I have to use a cane to walk around or take somebody's arm and be guided."
Credit: PA/Landov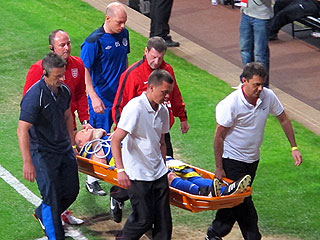 Originally posted 05/28/2012 12:15PM
It was supposed to be a friendly affair, but Will Ferrell and Gordon Ramsay got more than they bargained for – the latter ended up in hospital – at a charity soccer game on Sunday that was rougher than anticipated.

The actor, 44, hobbled off with an apparent leg injury, while the celebrity chef, 45, had to be stretchered off and given oxygen after a clattering tackle by former pro player Teddy Sheringham at the annual Soccer Aid game in Manchester, England.

"Thx 4 all the messages. Out of hospital after receiving amazing care from medics at ground & hospital. Bit sore but fine," Ramsay wrote Monday on Twitter.
Credit: Amanda Edwards/Getty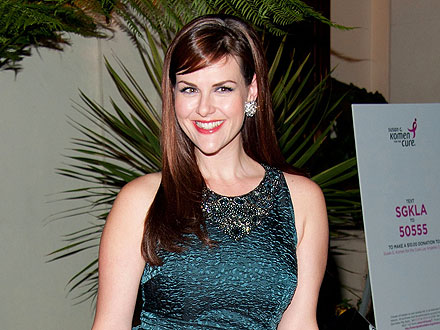 Originally posted 11/10/2011 05:55AM
Sara Rue treated herself at the London Hotel in West Hollywood during the Give & Get fête. The former Jenny Craig spokesperson and her husband Kevin Price sampled tray-passed mini turkey burgers and French macaroons made by Gordon Ramsay. She also chatted with Glee's Jenna Ushkowitz about her favorite new TV shows. Also at the soiree, which featured a silent auction: Tiffani Thiessen and Jennifer Love Hewitt. – Jessica Wedemeyer
Credit: El Jefe/Flynet; AP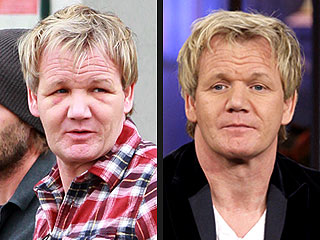 Update
Posted 01/20/2011 11:00AM
Originally posted 01/20/2011 10:35AM
When Gordon Ramsay was recently photographed with a puffed-up face while on vacation with his family in Napa Valley, Calif., tabloids were quick to suspect hair treatments or cosmetic surgery, which Ramsay has admitted to having before.

The real answer, this time, according to the celebrity chef? Gasoline and horses.

Ramsay, 44, told reporters during a conference call that he was chasing bandits in Costa Rica for a documentary on illegal shark fin hunting when his "hair nightmare" occurred.
Advertisement
The most buzzed about stars this minute!
Treat Yourself! 4 Preview Issues
Got a News Tip?
Send it to our People.com editors!