01:30 PM EDT 04/08/2016
Howie Mandel
Originally posted 05/22/2012 11:55AM
It's not easy being a judge on
America's Got Talent
.
Howard Stern, who
joined the panel
alongside Sharon Osbourne and Howie Mandel for the
show's new season
, found that out the hard way when he buzzed a 7-year-old rapper named Mir Money.
After the Philadelphia student took the stage and had the crowd cheering along to his song, Stern hit his X button ("I think the X has a lot of power," he said in the season premiere. "I like hitting it"), before Osbourne followed suit.
"You're a very nice young man and you know that. No one likes hitting the X on a 7-year-old. You're very brave to get up there at 7 years old," Stern said, as Money started to cry.
Originally posted 05/16/2012 09:30AM
Night two of
America's Got Talent
took the search for performers to San Francisco, where the judges – including
newcomer Howard Stern
– discovered a rapping 80-year-old grandmother known as Granny G.
"I caught the entertainment bug when I was a little girl, like four years old. But things get in your way like marriage and children and you wake up one day and you think, 'My life has passed me by!' " she said before her audition. "I never thought that I would have this wonderful opportunity. ... It would be the fulfillment of all my dreams. I want to be a star."
Taking the stage in a pink dress, pearls and a walker, she performed a rap about family values, dedicated to "all you horny boys out there." (Watch a clip above.)
Credit: Mark Seliger/NBC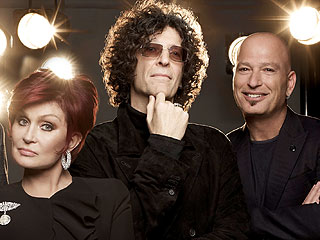 Originally posted 05/14/2012 10:45PM
Howard Stern made his debut on America's Got Talent Monday night, taking a seat next to Sharon Osbourne and Howie Mandel on the show's seventh season premiere.

"These executives at NBC must be out of their mind to take a risk on me," he said at the top of the hour. But in fact, the radio shock jock showed a lot of heart and proved he's got talent – for judging!

When the Light Wire Theater group performed a dance routine featuring glow-in-the-dark dinosaurs, Stern, who pointed out earlier in the night that he was the only American on the panel, had a moment of patriotism. "We are the greatest country in the world. We have the most creative people. You're everything that makes America great," he told the dancers. "I applaud your originality and I thank you for lifting everyone's spirit."
Originally posted 08/31/2011 08:50AM
As the
semi-finals continued
on
America's Got Talent
Tuesday, aerialists Gymkana had a close call with a ring of fire.
Just moments before the gymnasts completed their high-flying act, a member's flip through a flaming hoop went awry when a foot caught. The burning hoop tumbled down on another member of Gymkana. Luckily, the performers appeared to come out unscathed.
But with or without the scary blunder, the act didn't sit well with the judges. Piers Morgan expressed his "sympathy" for the dangerous mistake but even before the mishap, he had buzzed the acrobats, calling their stunts repetitive.
Originally posted 08/24/2011 09:30AM
Piers Morgan declared Tuesday's semi-final round of competition on
America's Got Talent
the best on the show to date.
Morgan and the other judges, Sharon Osbourn and Howie Mandel, heaped their praise on musical group Poplyfe, who performed "Come Together" by the Beatles, putting their own soulful, rock 'n' roll twist on the well known song.
"You blew me away," Mandel said. "You guys are already stars."
Osbourne said she felt she was "looking at a winner," and Morgan agreed, telling Poplyfe they're sure to be a "huge band in this country."
Originally posted 08/17/2011 09:30AM
America has voted, and the contestants going on to the semi-finals of this season's
America's Got Talent
have been selected.
But according to judges Piers Morgan, Sharon Osbourne and Howie Mandel, some contestants were wrongly eliminated from the competition. And thanks to Tuesday's wildcard round, each judge picked four favorites to vie for a second shot at the semi-finals.
The Kinetic King – who failed miserably last week – redeemed himself with a unique demonstration of the domino effect, using cans, plastic cups, balloons and metal trash cans. Watch a clip above.
Originally posted 08/03/2011 07:55AM
Last week, the musical acts
hit a high note
on
America's Got Talent
. This week, it was all about the dancers – both serious and silly – that earned the judges' stamps of approval.
Zuma Zuma, the second act of the evening, made hardheaded Piers Morgan a newfound fan of pole dancing.
"That is exactly the kind I enjoy," Morgan told the Kenya-bred men's group, who courageously jumped and flipped from pole to pole. "[This performance was] exuberant, vibrant. If you're having fun, so is the audience."
Fellow judge Sharon Osbourne admired the group's "great speed and enthusiasm," while Howie Mandel praised their performance for being "dangerous" and "exciting."
Three acts later, Sam B. took the stage. The stout male – clad in a bright gold sparkly jacket – didn't do much more than wiggle, jump and sandwich himself in between a handful of women. But for some reason, that performance, which took place in front of a neon, '80s-themed backdrop, was enough to win over the fans and (most of) the judges. (Watch a clip.)
Originally posted 07/20/2011 09:00AM
Tuesday night's taping of
America's Got Talent
brought out an eclectic group of acts, but among the variety – including a magician, comedian, juggler and female singer-songwriter whose appearance resembled
Justin Bieber
– only a small portion stood out for the right reasons.
Judge Piers Morgan, who used his buzzer four times during the night, seemed unimpressed with the majority of acts altogether. Although there were three acts that received negative feedback from all three judges, one in particular came off as especially disappointing.
Following a knife-slinging, gun-shooting audition in June that had the judges and the audience's jaws dropping, the cowboy-cowgirl duo Rhinestone Ropers came back with an anticlimactic performance that involved a lasso and their horse Lucky Joe.
"It's lovely and nice and it wasn't exciting," judge Sharon Osbourne said. "[It was] more like a kid's birthday party."
Originally posted 07/13/2011 10:00AM
Although Piers Morgan put his buzzer to good use and even compared one of Tuesday's
America's Got Talent
acts to what "hell is like," the tough judge softened when it came to adorable Anna Graceman, 11, who performed Louis Armstrong's "What a Wonderful World."
"You sang it beautifully," Morgan said after Graceman received a standing ovation and the loudest applause of the night. Fellow judges Sharon Osbourne and Howie Mandel also had nothing but praise for the talented young Canadian.
Credit: Jen Lowery/LFI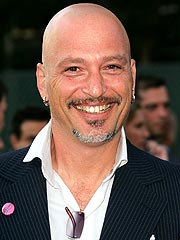 Originally posted 01/15/2009 04:50PM
Howie Mandel isn't surprised fans may have thought his hospital trip on Monday to treat an irregular heartbeat was an elaborate part of his NBC hidden camera series Howie Do It, but his experience getting treatment could make a whole reality show in itself.

"It was no treat for me, being the germaphobe that I am," Mandel tells PEOPLE. "It was really hard. I wouldn't put on the gown or the customary clothing. I remained clothed and in my boots on the gurney and in the hospital!"
Advertisement
The most buzzed about stars this minute!
Treat Yourself! 4 Preview Issues
Got a News Tip?
Send it to our People.com editors!