12:16 AM EDT 05/29/2015
James Holmes
Credit:

University of CO/Splash News Online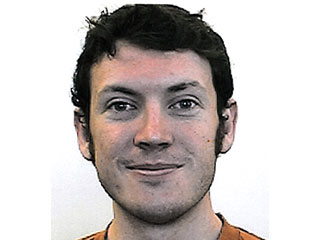 Originally posted 03/27/2013 06:00PM
Lawyers for Colorado theater shooting suspect James Holmes said Wednesday he would plead guilty and serve the rest of his life in prison to avoid the death penalty.

The offer comes just days before the prosecution was set to announce whether they would seek to have Holmes put to death for the attack that killed 12 people and injured 70.

Prosecutors wouldn't say Wednesday whether they'd go along with a plea deal, and likely will consult with victims of the Aurora massacre and their families before deciding whether to accept the offer.
Credit: University of CO/Splash News Online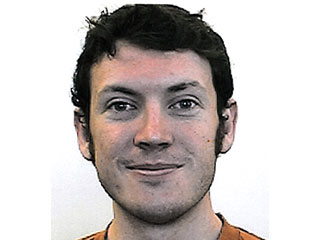 Originally posted 03/12/2013 06:30PM
The judge in the deadly Colorado movie theater shooting case entered a not guilty plea on behalf of James Holmes on Tuesday after the former graduate student's defense team said he was not ready to enter one.

If Holmes is convicted, he could be executed or spend the rest of his life in prison. Judge William Sylvester said Holmes, 25, can change his plea to not guilty by reason of insanity later, if he chooses.

Such a change could be the only way Holmes could avoid life in prison or execution.
Credit: Thomas Cooper/Getty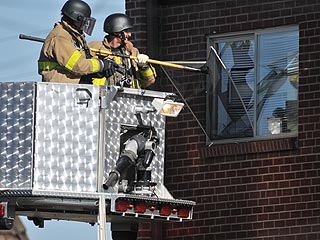 Originally posted 01/08/2013 05:45PM
Authorities for the first time Tuesday described the elaborate and deadly booby trap that James Holmes constructed in his apartment to blow up the building and delay police response to the massacre he allegedly carried out at a packed Colorado movie theater.

Holmes, who had recently failed out of a graduate neuroscience program, used such items as a thermos, frying pan, fishing line, remote-control car and caustic chemicals to create a series of homemade bombs that never ignited, FBI bomb technician Garret Gumbinner testified in the second day of Holmes's preliminary hearing.
Credit: University of CO/Splash News Online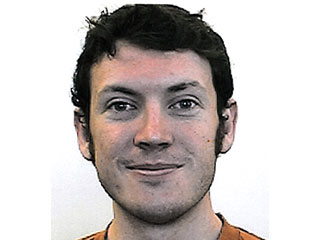 Originally posted 01/07/2013 04:10PM
As a body armor-clad James Holmes calmly told police about the explosives in his apartment, other officers raced to save victims of the movie-theater massacre, the first witnesses testified Monday in Holmes's preliminary hearing.

Officer Justin Grizzle choked up on the stand recalling slipping on the bloody floor as he encountered "several bodies throughout the theater laying motionless." He testified that, as he drove six victims to the hospital, "there was so much blood I could hear it sloshing around in the back of my car."
Credit: RJ Sangosti/The Denver Post/Getty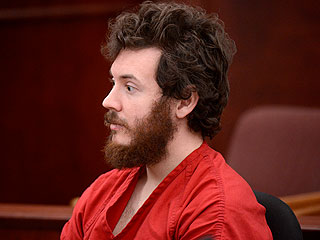 Originally posted 07/30/2012 01:55PM
Colorado prosecutors have charged James Holmes – the 24-year-old accused of killing 12 and injuring 58 others at an Aurora, Colo., movie theater on July 20 – with 24 counts of murder on Monday.

Holmes was charged with two counts of first-degree murder for each victim who died – one for allegedly intending to cause harm and the other for allegedly acting with extreme indifference to human life, court documents say. He was also charged with 116 counts of attempted murder, in addition to one count of possession of explosives and another of committing a crime of violence.

The charges carry a minimum sentence of life in prison and a maximum of the death penalty.
Credit: RJ Sangosti/The Denver Post/Getty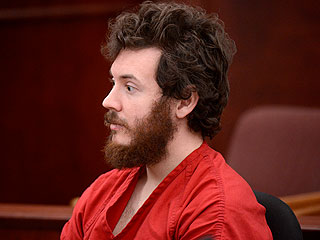 Originally posted 07/25/2012 03:40PM
James Holmes, the suspect in the Aurora movie theater shooting that left 12 dead and 58 injured, mailed planned details of his rampage to a University of Colorado psychiatrist before the July 20 attack, Fox News reports.

But according to a law enforcement source, the unopened package sat in a mailroom for as long as a week before it was discovered on Monday, July 23.

Police and FBI agents were called to the University of Colorado Anschutz Medical Campus on Monday after the psychiatrist (who is also a professor at the school) reported receiving a package believed to be from Holmes.
Credit: Courtesy Carey Rottman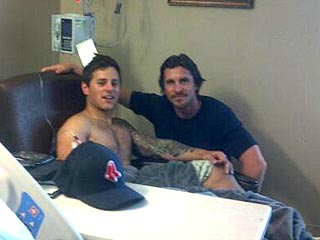 Update
Posted 07/25/2012 12:00PM
Originally posted 07/24/2012 05:45PM
Christian Bale, who stars in The Dark Knight Rises, is visiting the victims of the Aurora, Colo., shooting spree who were injured while watching a midnight showing of the movie.

According to a local Denver TV reporter, Bale was seen entering the hospital where many of the wounded are being treated.

One of them, Carey Rottman, posted a Facebook photo of himself with Bale at his bedside.
Credit: Zuma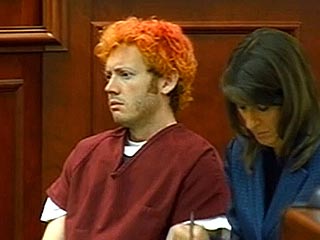 Update
Posted 07/23/2012 05:30PM
Originally posted 07/23/2012 12:25PM
The man suspected in a horrific shooting rampage at a Colorado movie theater last Friday that left 12 people dead and 58 injured made his first appearance in court Monday morning – an introductory hearing ahead of what is expected to be a slew of criminal charges.

James Eagan Holmes, 24, appeared before an Arapahoe County judge in Centennial, Colo., and was advised of the charges he is likely to face.

Sitting in the courtroom as the judge went over his case, Holmes, under his mop of dyed orange and red hair, showed no emotion but frequently opened his eyes wide only to close them, as if in a daze. He made no attempt to speak to his lawyer or to acknowledge any statement by the judge.
Credit: AP (3)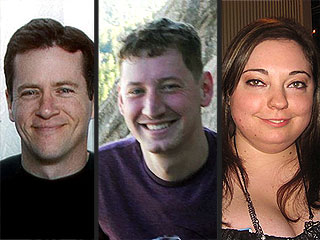 Update
Posted 07/22/2012 02:00PM
Originally posted 07/22/2012 10:45AM
Ever since news broke of the heinous mass shooting in an Aurora, Colo., screening of The Dark Knight Rises Friday morning, everyone from President Obama to the film's cast has offered their condolences to those affected by the tragedy.

Jessica Ghawi was one of the first victims identified, but now a complete list has been released. From the youngest – a 6-year-old girl, whose mother remains in critical condition – to the eldest – a 51-year-old father whose teens escaped the violence – here are their stories. 
Credit: FameFlynet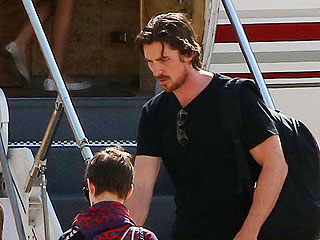 Update
Posted 07/22/2012 12:30PM
Originally posted 07/21/2012 02:30PM
Shocked and "keeping victims' families in their thoughts," The Dark Knight Rises cast jetted back to the states after Friday's horrific shooting at a screening of their new film.

Christian Bale, Anne Hathaway, and Joseph Gordon-Levitt were in France for the canceled Paris premiere, but took a Warner Brothers plane bound for Los Angeles on Saturday.

"The cast was completely shocked and several – Anne and Marion [Cotillard], a couple of the men – were in tears," a source tells PEOPLE. "There was enormous, enormous sadness."
Advertisement
The most buzzed about stars this minute!
Treat Yourself! 4 Preview Issues
Got a News Tip?
Send it to our People.com editors!