01:59 PM EDT 04/17/2015
James Holmes
Credit:

University of CO/Splash News Online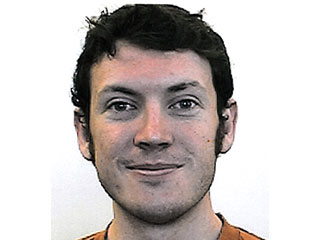 Originally posted 01/07/2013 04:10PM
As a body armor-clad James Holmes calmly told police about the explosives in his apartment, other officers raced to save victims of the movie-theater massacre, the first witnesses testified Monday in Holmes's preliminary hearing.

Officer Justin Grizzle choked up on the stand recalling slipping on the bloody floor as he encountered "several bodies throughout the theater laying motionless." He testified that, as he drove six victims to the hospital, "there was so much blood I could hear it sloshing around in the back of my car."
Credit: RJ Sangosti/The Denver Post/Getty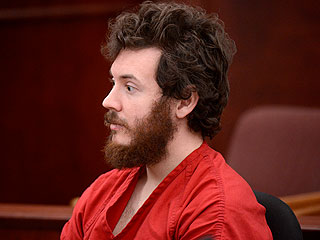 Originally posted 07/30/2012 01:55PM
Colorado prosecutors have charged James Holmes – the 24-year-old accused of killing 12 and injuring 58 others at an Aurora, Colo., movie theater on July 20 – with 24 counts of murder on Monday.

Holmes was charged with two counts of first-degree murder for each victim who died – one for allegedly intending to cause harm and the other for allegedly acting with extreme indifference to human life, court documents say. He was also charged with 116 counts of attempted murder, in addition to one count of possession of explosives and another of committing a crime of violence.

The charges carry a minimum sentence of life in prison and a maximum of the death penalty.
Credit: RJ Sangosti/The Denver Post/Getty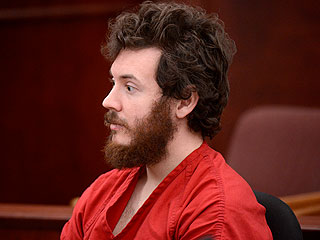 Originally posted 07/25/2012 03:40PM
James Holmes, the suspect in the Aurora movie theater shooting that left 12 dead and 58 injured, mailed planned details of his rampage to a University of Colorado psychiatrist before the July 20 attack, Fox News reports.

But according to a law enforcement source, the unopened package sat in a mailroom for as long as a week before it was discovered on Monday, July 23.

Police and FBI agents were called to the University of Colorado Anschutz Medical Campus on Monday after the psychiatrist (who is also a professor at the school) reported receiving a package believed to be from Holmes.
Credit: Courtesy Carey Rottman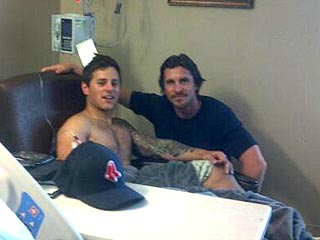 Update
Posted 07/25/2012 12:00PM
Originally posted 07/24/2012 05:45PM
Christian Bale, who stars in The Dark Knight Rises, is visiting the victims of the Aurora, Colo., shooting spree who were injured while watching a midnight showing of the movie.

According to a local Denver TV reporter, Bale was seen entering the hospital where many of the wounded are being treated.

One of them, Carey Rottman, posted a Facebook photo of himself with Bale at his bedside.
Credit: Zuma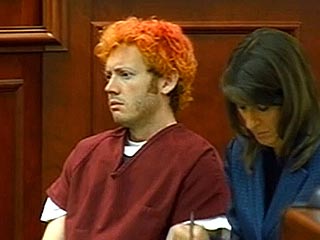 Update
Posted 07/23/2012 05:30PM
Originally posted 07/23/2012 12:25PM
The man suspected in a horrific shooting rampage at a Colorado movie theater last Friday that left 12 people dead and 58 injured made his first appearance in court Monday morning – an introductory hearing ahead of what is expected to be a slew of criminal charges.

James Eagan Holmes, 24, appeared before an Arapahoe County judge in Centennial, Colo., and was advised of the charges he is likely to face.

Sitting in the courtroom as the judge went over his case, Holmes, under his mop of dyed orange and red hair, showed no emotion but frequently opened his eyes wide only to close them, as if in a daze. He made no attempt to speak to his lawyer or to acknowledge any statement by the judge.
Credit: AP (3)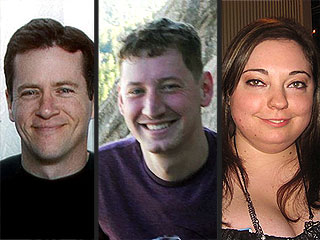 Update
Posted 07/22/2012 02:00PM
Originally posted 07/22/2012 10:45AM
Ever since news broke of the heinous mass shooting in an Aurora, Colo., screening of The Dark Knight Rises Friday morning, everyone from President Obama to the film's cast has offered their condolences to those affected by the tragedy.

Jessica Ghawi was one of the first victims identified, but now a complete list has been released. From the youngest – a 6-year-old girl, whose mother remains in critical condition – to the eldest – a 51-year-old father whose teens escaped the violence – here are their stories. 
Credit: FameFlynet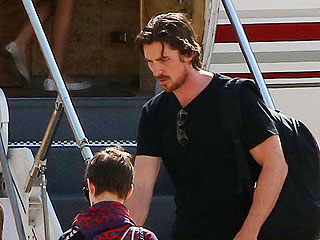 Update
Posted 07/22/2012 12:30PM
Originally posted 07/21/2012 02:30PM
Shocked and "keeping victims' families in their thoughts," The Dark Knight Rises cast jetted back to the states after Friday's horrific shooting at a screening of their new film.

Christian Bale, Anne Hathaway, and Joseph Gordon-Levitt were in France for the canceled Paris premiere, but took a Warner Brothers plane bound for Los Angeles on Saturday.

"The cast was completely shocked and several – Anne and Marion [Cotillard], a couple of the men – were in tears," a source tells PEOPLE. "There was enormous, enormous sadness."
Credit: Courtesy Jay Meloff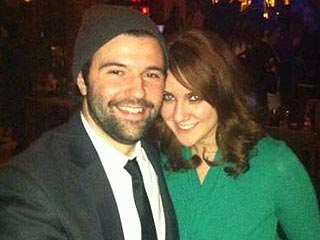 Originally posted 07/21/2012 02:00PM
Friends say Dark Knight shooting victim Jessica Ghawi was an amazing person – but no one knew her quite like boyfriend Jay Meloff.

"Every experience in life was amplified beyond my wildest dreams with you," Meloff, a 22-year-old Toronto junior hockey player, Tweeted on Friday, shortly after news broke that his girlfriend, along with 11 others, had been killed, leaving 59 injured during an Aurora, Colo., movie theater massacre.

Ghawi, 25, an aspiring sports writer and avid Twitter user who went by the pen name Redfield, was remembered on the social networking site with an #RIPJessica hashtag that eventually began trending.
Credit: Courtesy Jessica Ghawi; Courtesy Jordan Ghawi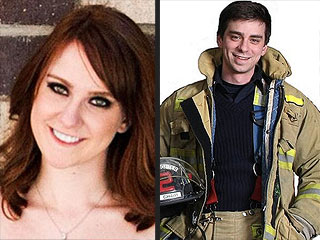 Originally posted 07/20/2012 04:25PM
Jordan Ghawi received one of the most horrific phone calls imaginable early Friday morning.

His mother, "hysterical and almost unintelligible," phoned with news that his sister, 24-year-old Jessica Ghawi, had been shot at a midnight showing of The Dark Knight Rises in Aurora, Colo., Jordan blogged Friday.

Twelve people were killed and 59 more injured by alleged gunman James Holmes, who reportedly later called himself The Joker.

Jordan, 26, a student, firefighter and paramedic in Texas, traveled to Colorado on Friday morning and wrote in detail about his sister's final moments, as told to him by their mutual friend Brent.

"Jessica and Brent were seated in the middle portion of the theatre when a device was thrown into the theatre that produced a 'hissing' sound," Jordan wrote. "The theatre then began to fill with smoke which is when patrons began to move from their seats. At that time, shots were fired."

He continued in chilling detail.
Credit: University of CO/Splash News Online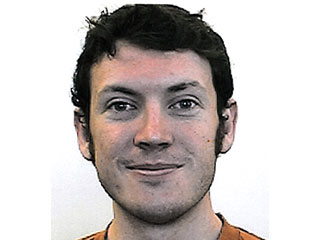 Originally posted 07/20/2012 03:00PM
James Holmes, the alleged gunman who killed 12 people and injured dozens during a screening of the Batman movie The Dark Knight Rises, described himself as the hero's arch nemesis, a police official says.

"It clearly looks like a deranged individual. He had his hair painted red, he said he was 'The Joker,' obviously the enemy of Batman," New York Police Commissioner Ray Kelly said Friday at a press conference.

The source of Kelly's information wasn't immediately clear – also, The Joker had green hair.

However, the commissioner is reportedly a close friend of Dan Oates, the chief of police in Aurora, Colo., where the massacre occurred. Oates, formerly a longtime member of the New York Police Department, didn't confirm or deny The Joker account, but did say he had spoken with Kelly.
Advertisement
The most buzzed about stars this minute!
Treat Yourself! 4 Preview Issues
Got a News Tip?
Send it to our People.com editors!