01:55 PM EDT 09/22/2016
Jamie Lee Curtis
Originally posted 01/10/2016 07:40PM
It's family night on the red carpet for Jamie Lee Curtis.
Originally posted 01/05/2016 03:40PM
An awkward thing happened to the Leonardo DiCaprio film The Revenant as it trekked into theaters last last year in hopes of picking up award show nominations: A rumor put the film in headlines but for reasons that none of its publicists were happy about. In early December, 20th Century Fox spokespeople were forced to clarify that no, the film does not feature a scene in which its star is raped by a bear.
Filed Under:
Golden Globe Awards 2016
,
Golden Globes
,
Back to the Future
,
Casablanca
,
Fargo
,
My Cousin Vinny
,
The Little Mermaid
,
Fargo
,
Movie News
,
Bette Davis
,
Clark Gable
,
Ethan Coen
,
Humphrey Bogart
,
Jack Palance
,
Jamie Lee Curtis
,
Janet Leigh
,
Joel Coen
,
Leonardo DiCaprio
,
Marilyn Monroe
,
Marisa Tomei
,
Ronald Reagan
Originally posted 11/11/2015 12:35PM
Like mother, like daughter.

Jamie Lee Curtis paid homage to original "scream queen" Janet Lee during Tuesday's episode of Ryan Murphy's slasher comedy.

As Wallace University's scheming Dean Cathy Munsch, Curtis recreated Psycho's iconic shower scene ... in a black-and-white, of course.

But instead of (SPOILER ALERT if you someone still haven't watched Alfred Hitchcock's scary 1960 classic) being stabbed by Norman Bates masquerading as his dead mom, it's the Red Devil lurking behind the dean's curtain on Scream Queens.
Originally posted 10/13/2015 03:15PM
Scream Queens star Emma Roberts may play a mean girl on TV, but in real life she plays nice with her girlfriends.
Credit: Moviestore/Re/REX Shutterstock; New Line Cinema/Getty; Dimension Films/Everett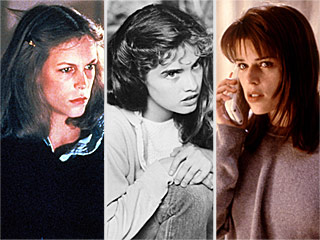 Originally posted 10/12/2015 05:20PM
The slasher-comedy The Final Girls opened in theaters Friday, and that very title begs horror fans to wonder who among the cast will be the actual last girl standing: American Horror Story vet Taissa Farmiga or Malin Ackerman, the actress playing the character in the film's movie-within-a-movie.
Filed Under:
A Nightmare on Elm Street
,
Friday the 13th
,
Halloween
,
Scream
,
Suspiria
,
The Texas Chainsaw Massacre (Movie - 1974)
,
Movie News
,
Adrienne King
,
Heather Langenkamp
,
Jamie Lee Curtis
,
Janet Leigh
,
Jennifer Love Hewitt
,
Jessica Harper
,
Marilyn Burns
,
Neve Campbell
,
Patricia Arquette
,
Sarah Michelle Gellar
,
Sigourney Weaver
,
Vera Miles
Originally posted 10/09/2015 11:00AM
Jamie Lee Curtis
insists that she learned plenty from her parents – Hollywood legends
Janet Leigh
and
Tony Curtis
. And one of her most powerful lessons they inadvertently taught her was that she's not a big fan of the limelight that comes with being an actor.
"Public attention was very important to my parents," Curtis, who currently stars in Fox's new dark comedy
Scream Queens
, says in this week's issue of PEOPLE. "They required that attention all the way through the end of their lives. Given what their backgrounds were and how their rise to fame was so meteoric, that sort of thing was important to them.
Update
Posted 10/08/2015 11:20AM
Originally posted 10/07/2015 10:10PM
Sure,
Jamie Lee Curtis
is known as Hollywood's reigning Scream Queen, but that certainly doesn't mean her idea of a good time is curling up at night with a good slasher video.
In fact, Curtis – who currently stars in Fox's new dark comedy
Scream Queens
– admits that she's something of a scaredy-cat when it comes to being frightened.
"I scare easily," Curtis says in the current issue of PEOPLE. "In fact, that's what my tombstone should say: 'Scared Easily' ... I just can't watch thrillers or violence or anything with the possibility of ominousness. I'm too jumpy."
Credit: Ruven Afanador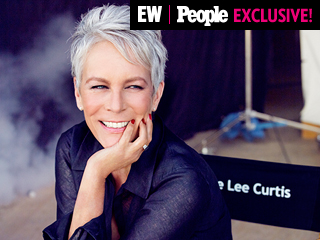 Originally posted 10/07/2015 04:55PM
Jamie Lee Curtis made headlines back in 2002 when she famously posed in More in her underwear without makeup or airbrushing in a move to call attention to the way Hollywood treats older actresses.

More than a dozen years later, the 56-year-old actress – who currently stars in Fox's new dark comedy Scream Queens – is still as outspoken as ever when comes to the issue of ageism in her business.

"I think it's humiliating to see the media frenzy when somebody gets older and they don't look the way they used to look," Curtis says in the current issue of PEOPLE. "It's like dancing with the devil. I've danced with it for a long time, and it's been okay. But I don't want to be punished for the natural evolution of being human, and I will be if I stay in it too long."
Originally posted 09/23/2015 04:20PM
Jamie Lee Curtis
is already a legendary actress, but can she add tech innovator to her long list of accomplishments?
The
Scream Queens
star says that she had the idea for Instagram a few years before its creators did.
Originally posted 09/22/2015 08:00PM
Scream Queens
,
Ryan Murphy
's new festival of blood, fun and cruelty, doesn't pitch its tent too far from his
American Horror Story
on FX, except that he's smart enough to have eliminated the churning psychosexual undercurrents that can make
AHS
so strangely unsettling.
Queens
will make you laugh and maybe squeak with surprise from time to time, whereas
AHS
is a good argument for providing trigger alerts for TV shows.
Scream Queens
is like
AHS
taking a Mentos break.
The show is set on a college campus, which keeps it close to contemporary teen-slasher movies (and parodies of teen-slasher movies). If your memory goes back far enough and low enough, you may find yourself even thinking of the 1973 TV movie
Satan's School for Girls
– or, more recently, the 2000 remake with
Shannen Doherty
.
And
Heathers
.
The most buzzed about stars this minute!
Treat Yourself! 4 Preview Issues
Got a News Tip?
Send it to our People.com editors!