11:13 AM EDT 07/10/2016
Janet Leigh
Originally posted 01/10/2016 07:40PM
It's family night on the red carpet for Jamie Lee Curtis.
Originally posted 01/05/2016 03:40PM
An awkward thing happened to the Leonardo DiCaprio film The Revenant as it trekked into theaters last last year in hopes of picking up award show nominations: A rumor put the film in headlines but for reasons that none of its publicists were happy about. In early December, 20th Century Fox spokespeople were forced to clarify that no, the film does not feature a scene in which its star is raped by a bear.
Filed Under:
Golden Globe Awards 2016
,
Golden Globes
,
Back to the Future
,
Casablanca
,
Fargo
,
My Cousin Vinny
,
The Little Mermaid
,
Fargo
,
Movie News
,
Bette Davis
,
Clark Gable
,
Ethan Coen
,
Humphrey Bogart
,
Jack Palance
,
Jamie Lee Curtis
,
Janet Leigh
,
Joel Coen
,
Leonardo DiCaprio
,
Marilyn Monroe
,
Marisa Tomei
,
Ronald Reagan
Originally posted 11/11/2015 12:35PM
Like mother, like daughter.

Jamie Lee Curtis paid homage to original "scream queen" Janet Lee during Tuesday's episode of Ryan Murphy's slasher comedy.

As Wallace University's scheming Dean Cathy Munsch, Curtis recreated Psycho's iconic shower scene ... in a black-and-white, of course.

But instead of (SPOILER ALERT if you someone still haven't watched Alfred Hitchcock's scary 1960 classic) being stabbed by Norman Bates masquerading as his dead mom, it's the Red Devil lurking behind the dean's curtain on Scream Queens.
Credit: Moviestore/Re/REX Shutterstock; New Line Cinema/Getty; Dimension Films/Everett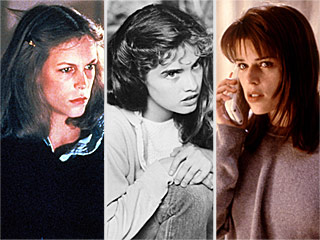 Originally posted 10/12/2015 05:20PM
The slasher-comedy The Final Girls opened in theaters Friday, and that very title begs horror fans to wonder who among the cast will be the actual last girl standing: American Horror Story vet Taissa Farmiga or Malin Ackerman, the actress playing the character in the film's movie-within-a-movie.
Filed Under:
A Nightmare on Elm Street
,
Friday the 13th
,
Halloween
,
Scream
,
Suspiria
,
The Texas Chainsaw Massacre (Movie - 1974)
,
Movie News
,
Adrienne King
,
Heather Langenkamp
,
Jamie Lee Curtis
,
Janet Leigh
,
Jennifer Love Hewitt
,
Jessica Harper
,
Marilyn Burns
,
Neve Campbell
,
Patricia Arquette
,
Sarah Michelle Gellar
,
Sigourney Weaver
,
Vera Miles
Originally posted 10/09/2015 11:00AM
Jamie Lee Curtis
insists that she learned plenty from her parents – Hollywood legends
Janet Leigh
and
Tony Curtis
. And one of her most powerful lessons they inadvertently taught her was that she's not a big fan of the limelight that comes with being an actor.
"Public attention was very important to my parents," Curtis, who currently stars in Fox's new dark comedy
Scream Queens
, says in this week's issue of PEOPLE. "They required that attention all the way through the end of their lives. Given what their backgrounds were and how their rise to fame was so meteoric, that sort of thing was important to them.
Credit: Courtesy Jamie Lee Curtis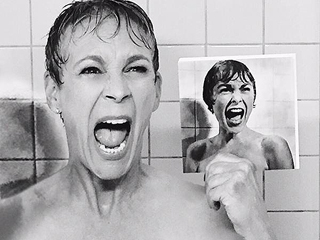 Originally posted 09/15/2015 04:45PM
Curtis tweeted a black-and-white photo and teased that the scene will appear in an upcoming "special ep" of Ryan Murphy's upcoming Fox series
Credit: Courtesy V Magazine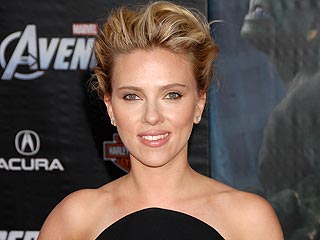 Originally posted 11/06/2012 12:50PM
Say, "Ahhhhhh!"

Scarlett Johansson is a scream as Psycho star Janet Leigh in her new film, Hitchcock, which tells the story of the making of the classic horror movie in 1959.

Filming Pyscho's iconic shower scene had its challenges, Johansson 27, tells V magazine in a new interview.

"We only had the luxury to shoot the scene for a day, and everybody was feeling very nervous because it involved water and nobody wants the actor to get wet," she says. "They were concerned with modesty and all these things – but I don't care about any of that stuff and Janet Leigh never did either.
Credit: Suzanne Tenner; Everett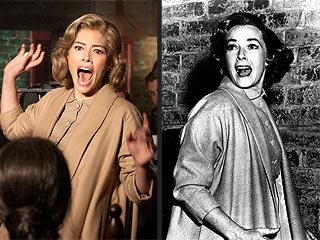 Originally posted 10/07/2012 10:35AM
To star in the upcoming Hitchcock, Scarlett Johansson and Jessica Biel had to channel classic Hollywood glam – well, at least one of them.

In the film, which tells the story of legendary director Alfred Hitchcock's life and marriage at the time he was making his 1960 horror classic Psycho, Johansson, 27, and Biel, 30, play the parts of that film's leading ladies, Janet Leigh and Vera Miles, respectively.

"When we took that still of Scarlett behind the wheel and put it up against the still of Janet behind the wheel in Psycho, it was eerie," says Hitchcock director Sacha Gervasi. "The extent to which Scarlett was able to channel Janet [was] a real surprise. She brought it in such a way that no one really anticipated."


As for Biel, embodying Miles – a longtime Hitchcock collaborator who had infuriated the mercurial auteur when she dropped out of his
Vertigo
to have a baby – proved more of a stretch.
Credit: Courtesy of FOX Searchlight Pictures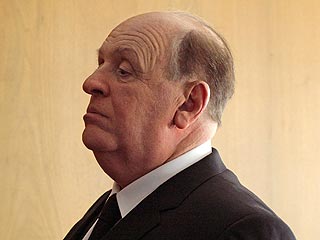 Originally posted 04/18/2012 04:05PM
Sir Anthony Hopkins won an Oscar for playing one of the biggest psychos of all time, Hannibal Lecter, in 1991's The Silence of the Lambs.

Now he's playing the man who directed the movie that had all of America screaming, Alfred Hitchcock, at the time the Hollywood legend was making his classic 1960 film Psycho.

Here, in this first look from the movie Hitchcock, which began shooting last Friday (Hitch would have loved the date, Friday the 13th), Hopkins, 74, is seen as the bald, portly and droll 60-year-old.
Credit: Landov; Everett (2); BEImages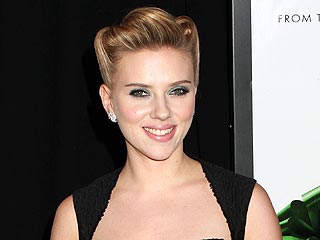 Originally posted 03/02/2012 11:05AM
Movie history proved golden at this year's Oscars – what with the winning The Artist and Hugo, as well as the nominated My Week with Marilyn – so, what's next?

How about a look-back to Tinseltown's glorious and goriest past with Scarlett Johansson and Anthony Hopkins, who are set to costar in the upcoming Alfred Hitchcock and the Making of Psycho, reports Variety.

Johansson will play leading lady Janet Leigh, who took the screen's most famous shower in the 1960 classic of its genre. James D'Arcy (Madonna's W.E.) will play Anthony Perkins, whose acting career never quite recovered after he was typecast as Norman Bates, a motel owner with something of a mother complex.
Advertisement
The most buzzed about stars this minute!
Treat Yourself! 4 Preview Issues
Got a News Tip?
Send it to our People.com editors!