11:37 AM EDT 03/19/2015
Jenna Bush
Credit:

Cindy Ord/WireImage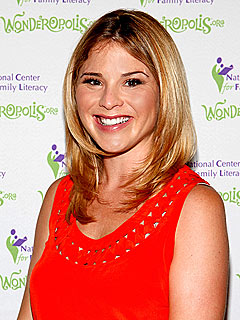 Originally posted 06/18/2011 09:30AM
Her father may no longer be in office, but former President George W. Bush is still issuing executive orders – for grandchildren.

"I don't have any children. I just have a cat, to my parents' dismay," former First Daughter Jenna Bush Hager said at Thursday's Wonderopolis launch. "My dad saw my husband's boss at a conference, and he said to stop paying my husband until we produce children."

The NBC correspondent, 29, and her husband Henry Hager are keeping busy with their careers and settling into New York City with their cat, Bernadette.
Credit: Bryan Bedder/Getty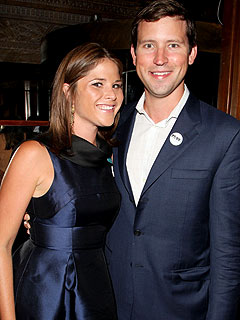 Originally posted 12/13/2010 07:10AM
Former First Daughter and current Today show correspondent Jenna Bush Hager is reportedly leaving Baltimore for a new nabe, the Big Apple.

Hager's Baltimore 3-bedoom, 3-bath rowhouse, which she shares with husband Henry Hager, is on the market for $474,900, reports the Baltimore Sun. They paid $440,000 for it in 2008, right before their wedding, and have recently – and quietly – moved out.

Besides being closer to Today headquarters, a Manhattan move will also enable Jenna, 29, to be closer to her twin, Barbara, who lives in the West Village, reports The Washington Post.
Credit: Courtesy AARP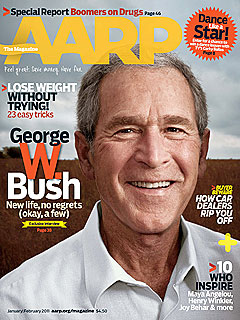 Originally posted 11/10/2010 09:00AM
Bush Twins take note: Your dad is anxious to be a grandfather.

"I'm a little disappointed it hasn't happened yet," former President George W. Bush tells December's AARP The Magazine. "But the more disappointment I show, the less likely it is things are going to happen on the time table I want."

He may be in for a wait since 28-year-old daughters Jenna Bush Hager, who married in 2008, and Barbara Bush are both focused on their careers. Jenna told PEOPLE in May that it will be "years" before she gives her parents grandkids. Fortunately, Bush has his wife Laura to keep him company.
Credit: Stephen Lovekin/Getty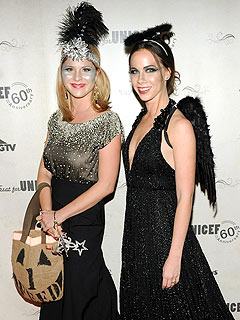 Originally posted 10/22/2010 05:15PM
They may be past their trick-or-treating prime, but the Bush twins couldn't pass up candy and a good cause Thursday night.

Jenna Hager and Barbara Bush, both 28, joined celebs like former New York Giants running back Tiki Barber and girlfriend Traci Johnson for a masquerade ball for UNICEF, which celebrated the 60th anniversary of its trick-or-treating program.

Jenna paid homage to the roaring twenties with a flapper ensemble, while her sister got in touch with her dark side in a head-to-toe black angel costume.
Credit: Bryan Bedder/Getty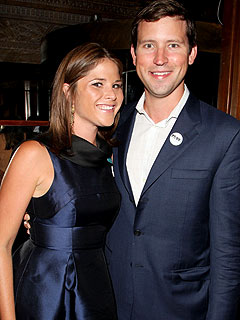 Originally posted 06/21/2010 11:00AM
Not even the former first daughter is immune to theft. Jenna Bush Hager and her husband, Henry, were the victims of a burglary Friday afternoon and two mountain bikes worth $3,500 were stolen from their home. The couple was not present at the time of the break-in.

Officers responded to a burglar alarm at their South Baltimore row house at 1:22 p.m., but left when they didn't find signs of an attempted break-in, reports the Baltimore Sun". The Hagers, who were out of town at the time, had a neighbor check things out.
Credit: Tina Fineberg/AP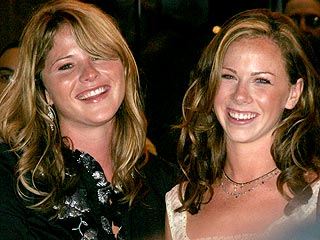 Originally posted 05/06/2010 10:05AM
You'd think Barbara Bush would be the first person tuning in every time sister Jenna, a Today show correspondent, does an on-air segment. Trouble is, Barbara has no TV!

"I live alone, so I'm trying to force myself to get out and do other things," Barbara tells PEOPLE of her low-fi existence in a fifth-floor New York City walk-up apartment.

Luckily, Jenna, who lives outside the city, regularly comes to town and stays in hotels – where Barbara can get her TV fix. "She'll pack a bag and come stay with me," says Jenna. "We're in the room, and I'll be, 'Can't we read?' And she's like, 'Nope. Is there a Law & Order on?' "

Barbara also keeps it simple when she visits Jenna and her husband, Henry Hager – she takes the bus. "It's $10 and has Internet," she explains.
Credit: George Burns/Harpo Productions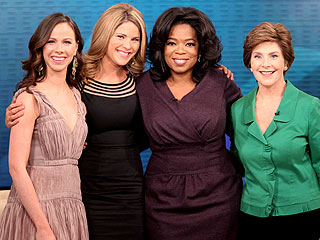 Originally posted 05/03/2010 12:55PM
What does former First Lady Laura Bush have on her iPod? The answer may surprise you.

"My mom's a secret Rastafarian," her daughter Jenna says in an interview scheduled to air on the Oprah Winfrey Show Tuesday, "so [she plays] Bob Marley" around the house.

Appearing on the show with her sister Barbara and mom Laura, who was promoting her new memoir Spoken from the Heart, Jenna explains what a typical night at the Bush family ranch in Crawford, Texas, is like. There's the music (the family also listens to "old country [songs]," Jenna says), family activities and plenty of food.

"We don't really cook dinner if I'm gonna be honest," Jenna says. "Somebody cooks dinner and we sit around and we talk and we laugh and we do puzzles and we get in bed by 9:00."

Teases Laura: "They didn't use to."
Originally posted 09/18/2009 11:55AM
While waiting to make her debut as a
Today
show correspondent live from the new and massive Cowboys Stadium in Arlington, Texas, Jenna Bush Hager was feeling a bit nostalgic.
"My first cat was named Cowboy, after the Dallas Cowboys," she told PEOPLE. "I'm from Texas and went to elementary school here, so to come back here to do my first story in Dallas is really meaningful to me. Especially since my parents moved back."
So where would former president George W. Bush and wife Laura be watching their daughter's debut? "At home. They're retired," she said with a laugh.
Hager, who plans to keep her part-time job as a sixth-grade reading resource teacher, will focus mostly on the education beat for
Today
. Her first assignment: a feature on Dalton Sherman, a Dallas 11-year-old public-speaking pro who has left some audiences in tears.
Credit: J. Scott Applewhite/AP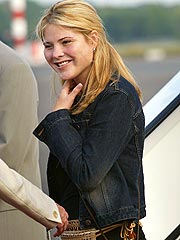 Originally posted 08/30/2009 04:00PM
Though her father, former President George W. Bush, enjoyed an often-testy relationship with the press, his daughter, Jenna Bush Hager, is about to join the Fourth Estate – by becoming a special correspondent to NBC's Today show, the program's executive producer, Jim Bell, tells the Associated Press.

"It wasn't something I'd always dreamed to do," said Hager, 27, a two-time author and teacher in Baltimore. "But I think one of the most important things in life is to be open-minded and to be open-minded for change."

While keeping her day job in Baltimore, Hager, who was approached by Bell about the TV job, will be contributing stories about once a month to the top-rated network morning show. Among the topics she might cover, according to the AP, is education.
Credit: Bryan Bedder/Getty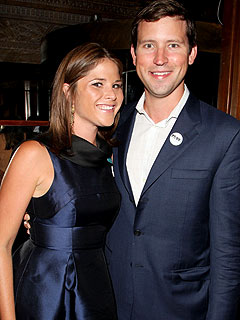 Originally posted 07/24/2009 02:25PM
When First Lady Laura Bush packed the last of her White House things off to Dallas in January, she didn't even know how to use a computer. Now, her daughter says, she's a regular thumb-typer on a new Blackberry – and so is the former President.

"It's funny to see them on their Blackberries. They didn't have Blackberries in office," their daughter Jenna Hager, 27, tells PEOPLE. "And now it's funny to get emails from them – even when I know they're traveling."

So have they mastered typing with their thumbs? "They're learning," says Hager. "My mom is pretty slow."

As for Hager, a Baltimore 6th-grade teacher who celebrated her first wedding anniversary in May with husband Henry Hager, she's still learning the secrets to a successful marriage: "We've only been married a year, so I don't know if I'm any guru on marriage. I think it's just to stay really supportive and active in each other's lives."
Advertisement
The most buzzed about stars this minute!
Treat Yourself! 4 Preview Issues
Got a News Tip?
Send it to our People.com editors!