08:02 PM EDT 05/04/2015
Joaquin Phoenix
Credit:

AKM Images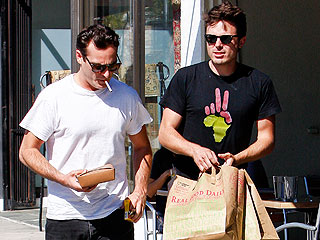 Originally posted 12/31/2010 05:00PM
Credit: AKM Images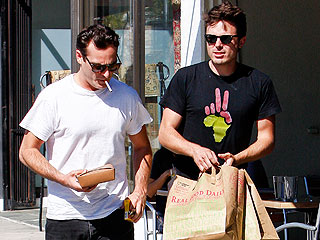 Originally posted 12/31/2010 06:00AM
• I'm Still Here schemers Casey Affleck and Joaquin Phoenix met two pals for dinner at Osteria Mozza in Los Angeles. The well-dressed foursome sat in the middle of the dining room, and cordially greeted a few friends who stopped by to say hello.
Credit: AKM Images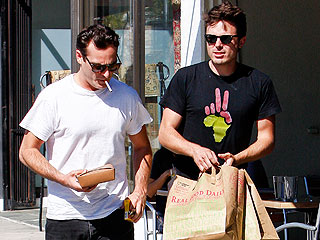 Originally posted 12/31/2010 06:00AM
• I'm Still Here schemers Casey Affleck and Joaquin Phoenix met two pals for dinner at Osteria Mozza in Los Angeles. The well-dressed foursome sat in the middle of the dining room, and cordially greeted a few friends who stopped by to say hello.
Originally posted 09/22/2010 08:15PM
He's sane and sorry.
More than a year after Joaquin Phoenix's
awkward appearance
on the
Late Show with David Letterman
, the actor – clean-shaven and without sunglasses – returned to New York's Ed Sullivan Theater on Wednesday to apologize for his behavior.
"I mean, I think that you've interviewed many, many people and I assumed that you would know the difference between a character and a real person," he says about the now-infamous 2009 interview, in which a gum-chomping, mumbling Phoenix barely answered Letterman's questions. "I hope I didn't offend you in any way."
Credit: Orlando Garcia/JPI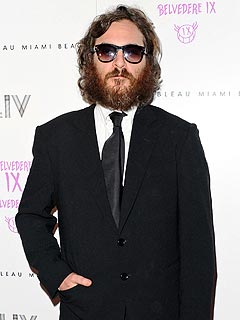 Originally posted 09/16/2010 08:05PM
Documentary? More like mockumentary.

Joaquin Phoenix's supposed bizarre behavior last year – including an awkward interview with David Letterman – chronicled in the film I'm Still Here was, in fact, all for show, director Casey Affleck reveals.

"It's a terrific performance, it's the performance of his career," Affleck tells The New York Times, finally providing an explanation for Phoenix's partying, impromptu rap performances and unkempt look.
Credit: Picture Perfect/REX USA; Nicolas Briquet/Abaca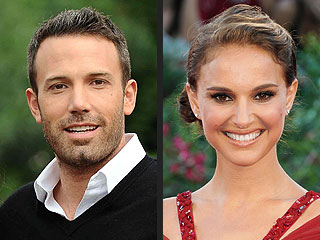 Originally posted 09/09/2010 11:20AM
Hoping to get a glimpse of Ben Affleck, shoot the breeze with James Franco, or catch a canoodle between Shia LaBeouf and Carey Mulligan? Then pack your bags for Toronto, because those are just of the few of the glittery names hitting town for the 35th Toronto International Film Festival.

Speaking of The Town, Affleck's heist drama of that name is one of the festival's most hotly anticipated films, along with Mulligan's mesmerizing Never Let Me Go, about children raised to be spare parts for wealthier, luckier humans. Having seen both, we can already declare them more than worthy (and look for Mulligan's name on Best Actress ballots come Oscar time).

Also generating heavy buzz is Franco in 127 Hours, Slumdog Millionaire director Danny Boyle's film about Aron Ralston, the hiker forced to cut off his own arm after being trapped by a boulder, and Natalie Portman in Black Swan, a dark (some say creepy) film about the ballet world. Word is, we should expect to see Portman giving Mulligan some solid competition come awards season.
Originally posted 08/17/2010 11:50AM
For several months last year, a bearded and bizarre Joaquin Phoenix had everyone wondering, "Has he gone insane?"
Now, there's finally an answer – sort of.
The
theatrical trailer
for
I'm Still Here
, the Casey Affleck-directed documentary about the actor, 35, has just been released, and it offers a peek into that strange time.
Credit: Seth Browarnik/Startraks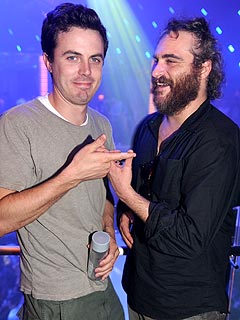 Originally posted 07/24/2010 06:00AM
Actor Casey Affleck has been slapped with a $2 million sexual harassment lawsuit by a producer of his offbeat documentary about Affleck's brother-in-law Joaquin Phoenix's quest to become a rap star. And Affleck is slapping back.

In papers filed Friday in Los Angeles, Amanda White claims Affleck acted inappropriately while directing I'm Still Here: The Lost Year of Joaquin Phoenix, alleging she encountered "uninvited and unwelcome sexual advances in the workplace" during production, according to the Hollywood Reporter.

In response, Michael Plonsker, a litigator for Affleck and his production company Flemmy Prods., tells the trade paper, "The allegations brought upon our clients are preposterous and without merit. Ms. White was terminated from the production over a year ago. She and her lawyers believe that this maliciously and erroneously filed complaint will cause the producers to succumb to her outrageous and baseless demands. She is mistaken."

Adds Plonsker: "The complaint will be vigorously defended and cross-claims will be filed against her."
Originally posted 01/22/2010 01:30PM
Joaquin Phoenix is back in front of the camera, minus the beard and shades he sported on
Late Show with David Letterman
last February 2009
– and making fun of his on-air bizarre behavior.
A clean-shaven Phoenix, 35, along with
Miley Cyrus
and
Liv Tyler
, appears in a
YouTube video
for a charity called
To Write Love on Her Arms
, which is in the running to win an online competition for a $1 million grant to help suicide prevention.
The four-minute video opens with charity founder Jamie Tworkowski and Phoenix sitting in a loft-style space. Tworkowski explains during a music-video shoot with Phoenix's band that the charity's name was initially inspired by Phoenix – and the Magic-Marker scribblings on his arms.
Then the scene appears headed for the same awkwardness that ensued with Letterman. When Tworkowski solicits Phoenix's help with the campaign, he receives a long, uncomfortable pause from the fidgety actor. "Are you scared?" Tworkowski finally asks him – the first sign that, at least this time around, Phoenix is acting weird on purpose.
Credit: Mark Von Holden/WireImage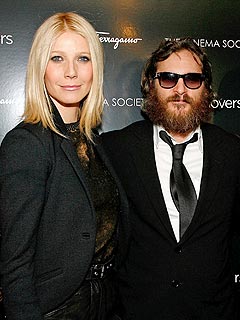 Originally posted 03/16/2009 11:25AM
Gwyneth Paltrow has some advice for her friend and costar Joaquin Phoenix about his new career path: Get some street cred.

Popular belief is that Phoenix's saying goodbye to acting and launching a hip-hop career could be an elaborate hoax, despite his publicist's assertions to the contrary.

"I think that there might be some other explanation or something going on. I'm not quite sure what, but I can't believe that he's really going to quit [acting] forever to become a rapper," she told MTV UK during a promotional junket for Two Lovers. "It seems odd."
Advertisement
The most buzzed about stars this minute!
Treat Yourself! 4 Preview Issues
Got a News Tip?
Send it to our People.com editors!