12:46 PM EDT 03/19/2015
John Edwards
Credit:

Gerry Broome/AP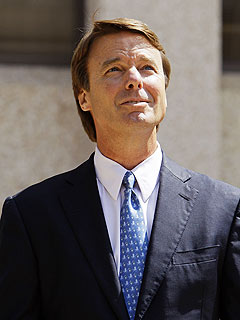 Originally posted 05/31/2012 03:25PM
It's not over for John Edwards – who faces charges of breaking federal campaign-finance laws – despite an announcement Thursday afternoon that, after nine days of deliberations, the jury had reached a verdict.

In fact, the jury of eight men and four women entered the courtroom in Greensboro, N.C., and announced that they had only decided one count out of six counts that are to be decided. (Their guilty or not guilty decision on the one count was not announced.)

"The government's view is it appears they are not finished," said a member of the prosecution team. Edwards's defense team countered with a suggestion that the court take the verdict on the single count and declare a mistrial on the rest. The judge sent the jury back to work to continue deliberating.
Credit: Gerry Broome/AP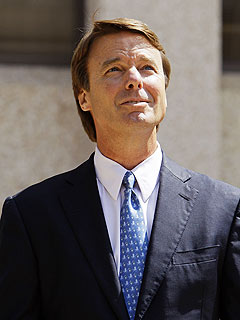 Update
Posted 05/16/2012 05:15PM
Originally posted 05/31/2012 04:40PM
John Edwards embraced his daughter and tearful mother on Thursday after he was found not guilty of one count in his campaign corruption case and the jury failed to reach decisions on five remaining charges.

A mistrial was declared on those outstanding counts, leaving the final chapter in the downfall of the once-rising political star still to be written.

The jury of eight men and four women reached its single decision after deliberating for nine days.

"I know you're probably frustrated to some extent," Judge Catherine C. Eagles told jurors. "You worked hard. You did your job. You can hold your head up."
Credit: Billy Farrell/Sipa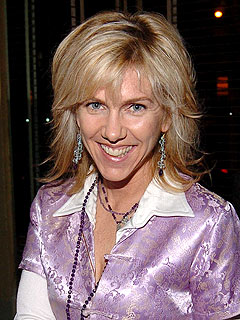 Originally posted 05/14/2012 03:05PM
She's the witness everyone is anxiously awaiting at the John Edwards trial. The courtroom is packed daily with anticipation, with talk of setting up an overflow room for extra reporters if she appears.

Rielle Hunter, the mistress with whom Edwards has a child, has been at the center of his campaign corruption trial, but so far has been an invisible presence – only spoken about by other witnesses.

As the defense for former presidential candidate begins its case, lawyers are faced with whether to call Hunter as a witness, a decision both fraught with risk but offering a potential windfall.
Credit: Gerry Broome/AP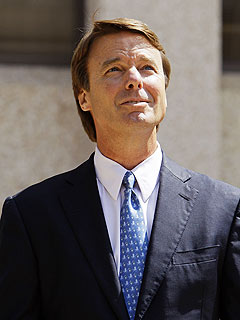 Update
Posted 05/11/2012 02:20PM
Originally posted 05/11/2012 02:15PM
At its core, it's a case about money, but at each stage John Edwards's character also seems to be on trial.

After 14 days of testimony in a Greensboro, N.C., courtroom, prosecutors on Thursday rested a case that both alleged criminal misuse of campaign funds and laid bare the implosion of a once-promising political figure.

Even before the defense called its first witness, legal analysts said the prosecution's case was far from a slam-dunk.
Credit: Splash News Online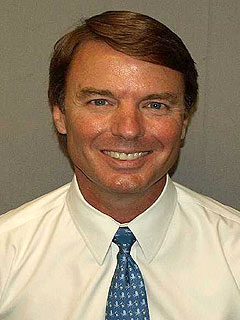 Originally posted 05/09/2012 03:45PM
Before John Edwards admitted to fathering a child with mistress Rielle Hunter, he reached out to Hollywood friends including Sean Penn, Madeleine Stowe and Crash director Paul Haggis, a witness testified Wednesday.

The former presidential candidate, on trial in Greensboro, N.C., on campaign corruption charges, made dozens of revisions to a public statement about the illegitimate child and sent copies to the show business supporters, his former speechwriter Wendy Button told the jury.

No reason was provided for sending around the draft. It also went to other people, Button said.

The final statement was issued in January 2010 in which he said he was the father of then-2-year-old girl named Quinn and revealed that he had been providing support for the child.
Credit: Splash News Online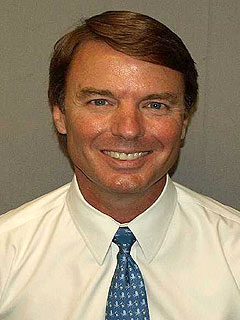 Originally posted 05/08/2012 08:05PM
John Edwards has never spoken publicly about his feelings for Rielle Hunter, but new testimony offers insight into his relationship with his mistress with whom he has a daughter.

His former speechwriter Wendy Button testified Tuesday at the former senator's campaign corruption trial, saying that Edwards admitted he loved Hunter – though described the relationship as "complicated."

Edwards spoke about the relationship when answering mock questions as he practiced what he would say during a press conference where he planned to admit he fathered a child with Hunter.

"Do you love Rielle?" Button testified she asked Edwards as Button was playing the role of a reporter. "Yes, it's complicated," he answered in July of 2009, according to Button.
Credit: Sara D. Davis/Getty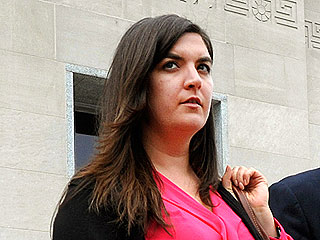 Originally posted 05/02/2012 05:30PM
John Edwards's daughter Cate walked out of the courtroom crying Wednesday as a witness was about to describe an argument between her parents after a tabloid reported her father's extramarital affair.

The dramatic scene played out Wednesday during Edwards's trial in Greensboro, N.C., on charges of illegally using campaign contributions to cover up his affair with Rielle Hunter while he was running for president.

Former Edwards aide Christina Reynolds testified about the day in 2007 when John and Elizabeth Edwards arrived at the airport in Raleigh, N.C., after the National Enquirer's report.
Credit: Splash News Online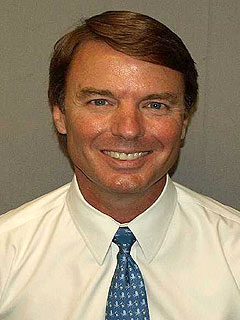 Originally posted 04/24/2012 03:00PM
When John Edwards learned that Rielle Hunter was pregnant with his child, he reacted with disbelief – and a verbal swipe at his mistress, a witness testified Tuesday.

"She's a 'crazy slut,' " former aide Andrew Young says Edwards told him.

Testifying Tuesday in the second day of Edwards's criminal trial in Greensboro, N.C., Young recalled delivering the news to Edwards in the summer of 2007 after Hunter called Young at home.

Describing his phone conversation with Edwards, Young testified, "He was very concerned. He was angry."
Credit: Gerry Broome/AP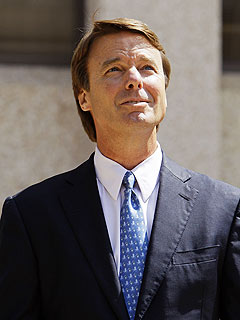 Originally posted 01/13/2012 05:00PM
A federal judge revealed Thursday that John Edwards is suffering from a life-threatening heart condition, CNN reports.

The former presidential candidate, 58, previously sought a delay in his criminal corruption trial. Last month, his attorneys said he had an unspecified medical issue.

Now, the trial has been delayed until at least March 26 and U.S. District Judge Catherine Eagles said she had letters from cardiologists to verify the politician's condition.
Credit: Flynet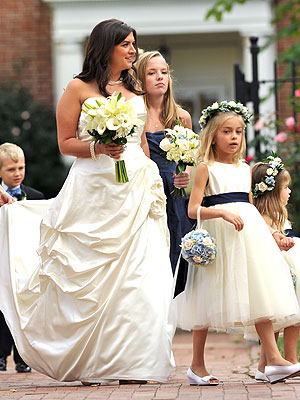 Originally posted 10/26/2011 01:00PM
It was Monique Lhuillier for Cate Edwards's recent wedding to her longtime beau, Trevor Upham, and there were no wardrobe changes, either.

The elegant bride wore the strapless gown with its elaborately draped skirt for dinner and dancing, too, during her Oct. 22 nuptials.

As for that dress, a girlfriend of the bride said it was love at first sight for Cate. "That was the first dress she tried on," the girlfriend tells PEOPLE, "which was fitting because Trevor was her first love."
Advertisement
The most buzzed about stars this minute!
Treat Yourself! 4 Preview Issues
Got a News Tip?
Send it to our People.com editors!