04:23 PM EDT 07/20/2015
John F. Kennedy
Originally posted 11/22/2013 01:40PM


In Dallas, somber and thoughtful ceremonies were set for Friday afternoon to mark the 50th anniversary of the assassination of President John F. Kennedy, who was gunned down on Nov. 22, 1963, as his open-air motorcade traveled through the city.

Bells were expected to toll throughout Dealey Plaza, where sniper Lee Harvey Oswald fired upon Kennedy, who was traveling with his wife, Jacqueline, and Texas Gov. John Connally and his wife, Nellie. The death of Kennedy, the nation's youngest president, plunged the word into mourning, and even today he continues to remain a figure of hope and unity.

Historian David McCullough was scheduled to read passages from Kennedy's speeches, including his much-repeated call to service made during his 1961 inaugural address: "Ask not what your country will do for you. Ask what you can do for your country."
Originally posted 11/22/2013 01:15PM


Abraham Zapruder's footage of President John F. Kennedy's assassination may be the most famous home movie in American history. It's also the most chilling.

In this video, journalist Richard Stolley (who later became PEOPLE magazine's founding editor) recounts how he tracked down Zapruder, an amateur film-buff, and purchased the 26-second clip for Life magazine.
Credit: Dave Kotinsky/Getty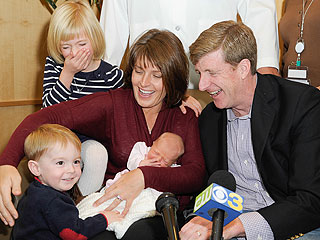 Originally posted 11/22/2013 11:15AM
On this bittersweet anniversary, the Kennedy family has reason to celebrate: The first photos of its youngest member have emerged, 50 years after the death of President John F. Kennedy.

Nora Kara Kennedy was born on Nov. 19, joining the ranks of a family that includes one president, three senators, four members of the House of Representatives and one ex-boyfriend of Taylor Swift. Her father, former U.S. representative Patrick Kennedy, is the son of longtime senator Ted Kennedy, which (if you're keeping track) makes her the great-niece of JFK.


Credit: Getty(2)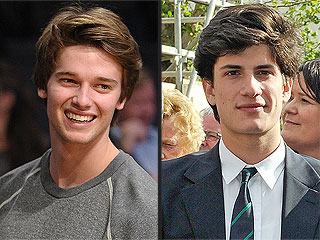 Originally posted 11/22/2013 07:00AM
On Friday's 50th anniversary of President John F. Kennedy's assassination, it's only natural to dwell on how the tragedy affected the nation. But while we remember and pay tribute to the charismatic 35th President half a century later, it is also relevant to assess the Kennedy legacy and look forward.

The Kennedy family has shaped the politics, news and minds of America. Their power and allure continues with the new generation of Kennedys. JFK's grandchildren, great nieces and great nephews are making names for themselves in a variety of fields. Read on to learn more about the most recent members of the Kennedy family tree, and why you should expect to see their names in the news.
Credit: Arthur Rickerby/Life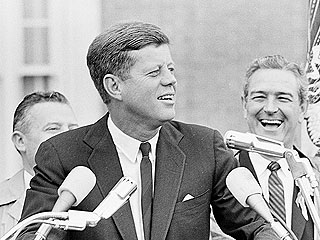 Originally posted 11/21/2013 01:20PM
As the nation prepares to commemorate the 50th anniversary of President John F. Kennedy's assassination, it is worth remembering that we are not just mourning a death but also celebrating a remarkable life.

Our friends at LIFE recently discovered in their archives a series of rare and never-published photographs of President Kennedy in the autumn of 1963, some taken the day of Kennedy's assassination and others snapped in the weeks and months that preceded the murder.

They are portraits of a leader at the peak of his powers, and a lasting tribute to a presidency that was flourishing prior to Dealey Plaza.
Originally posted 11/21/2013 12:15PM
Bill Clinton and Oprah Winfrey, both of whom rose from humble beginnings to become two of the world's most powerful and visionary leaders, were honored Wednesday by President Obama with the nation's highest civilian award: the Presidential Medal of Freedom.

The honors were bestowed on a day during which Obama honored the legacy of John F. Kennedy, who created the award, by laying a wreath at the assassinated president's gravesite as a nation remembers that terrible day in Dallas a half-century ago Friday.

The day of tributes began at the White House, where Obama awarded the Presidential Medal of Freedom to 16 living and deceased Americans for their contributions in fields ranging from sports and entertainment to science and public service.
Originally posted 11/13/2013 08:00AM
50 years after the Kennedy assassination, the First Lady's hidden grief is revealed – be the first to read this week's cover story
Originally posted 11/13/2013 07:30AM
When Jackie Kennedy returned to the White House in her bloodstained Chanel suit at 4 a.m. on Nov. 23, she took the elevator up to her private quarters on the third floor.

There, she sat in her bedroom and quietly confided her deepest fears to her personal assistant, Providencia Paredes, who was always by her side.

"She was scared," Paredes, 89, tells PEOPLE in a rare interview. "She cried and she said, 'I thought they might kill me too.'"
Originally posted 11/13/2013 08:00AM
Be the first to read this week's cover story by subscribing now
Credit: Lisa Larsen—Time & Life Pictures/Getty Images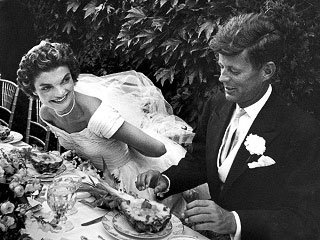 Originally posted 09/12/2013 09:30AM
Socialite Jacqueline Bouvier married Massachusetts Sen. John F. Kennedy, scion of the powerful Boston clan, in Newport, R.I., on Sept. 12, 1953, and though it would be another seven years before the movie-star-beautiful couple would be ready to move into the White House, it easily could be said Camelot was born on their wedding day.

"The whole affair, said one enthusiastic guest, was 'just like a coronation,' " reported LIFE magazine, America's window on the world at the time.

To mark the 60th anniversary of the nuptials, LIFE.com offers a gallery of the very best of photographer Lisa Larsen's takes from Jack and Jackie's wedding album – capturing the bride's Battenburg gown of 50 yards of material, the groom's first bite (a fruit cup) and Jackie's dance with her new father-in-law, the imposing Joseph P. Kennedy.
Advertisement
The most buzzed about stars this minute!
Treat Yourself! 4 Preview Issues
Got a News Tip?
Send it to our People.com editors!