02:14 PM EDT 04/06/2016
John McCain
Credit:

Andrea Renault/Polaris; Phillip V. Caruso/HBO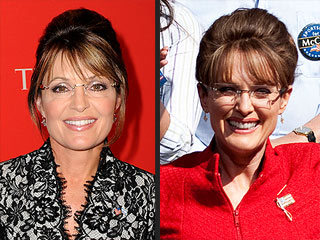 Originally posted 03/12/2012 11:05AM
Neither appears to have seen it, but Sarah Palin and John McCain both took shots this weekend at Game Change, the HBO movie about their unsuccessful 2008 presidential campaign. The film premiered Saturday night.

Palin, 48, portrayed in the film by Julianne Moore, told Fox News before the premiere that she was "not concerned about an HBO movie based on a false narrative when there are so many other things to be concerned about."

She added: "I believe my family has the right priorities and knows what really matters. For instance, our son called from Afghanistan yesterday and he sounded good, and that's what matters. Being in the good graces of Hollywood's 'Team Obama' isn't top of my list."
Originally posted 02/22/2012 08:15AM


Moviegoers are getting a peek at Julianne Moore as Sarah Palin in a theatrical trailer for Game Change, HBO's political thriller about the 2008 presidential race.

The movie, which will air on March 10 at 9 p.m., goes behind the scenes of Sen. John McCain's campaign and in particular his decision to pick the relatively unknown Alaska governor as his controversial running mate.

"We need to create a dynamic moment in this campaign," says Woody Harrelson, who plays McCain's adviser Steve Schmidt. "Or we're dead."
Credit: Startraks; Getty; REX; Photo Image Press; inset: Landov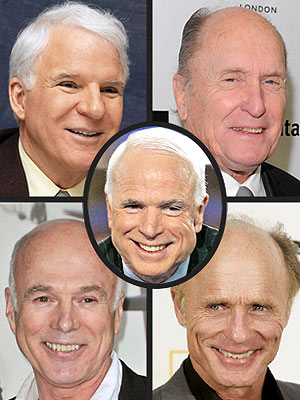 Originally posted 03/10/2011 03:05PM
While Julianne Moore is brushing up on her Alaskan accent to play Sarah Palin in HBO's upcoming film Game Change, producers are going to need someone to play her former running mate, Sen. John McCain.

The movie, based on John Heilemann and Mark Halperin's bestselling book of the same name, is about McCain's 2008 presidential run.

So who in Hollywood could take on Arizona's war hero senator?
Credit: Danny Moloshok/Reuters/Landov; Bauer-Griffin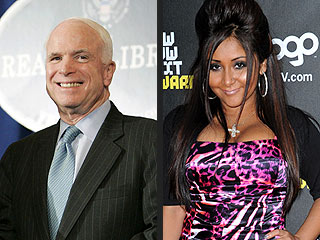 Originally posted 06/09/2010 06:10PM
"U r right, I would never tax your tanning bed! Pres Obama's tax/spend policy is quite The Situation. but I do rec wearing sunscreen!"

• Sen. John McCain Tweeted to Jersey Shore star Nicole "Snooki" Polizzi, after the reality star complained, "I don't go tanning-tanning anymore because Obama put a 10 percent tax on tanning ... And I feel like he did that intentionally for us."
Credit: Ben Baker/Redux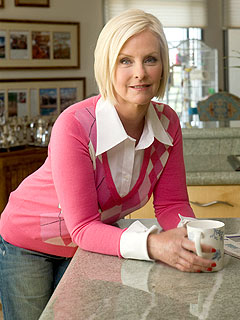 Originally posted 09/02/2009 09:25AM
Cindy McCain, the wife of U.S. Senator and former GOP presidential candidate John McCain, has suffered from severe migraines for over 15 years but has never spoken out about it – until now.

In this week's PEOPLE magazine, McCain, 54, reveals her painful condition in the hope of raising awareness and encouraging more research. She says one of her first challenges was finding the words to describe how painful the headaches can be. When she first told her husband, a former POW during the Vietnam War, she used a word she knew he would understand.

"Torture," she says. "Being tied to a chair for four days. I can't imagine how unbearable that pain must have been, but yeah, I can, because a migraine may come close."
Credit: Olivier Douliery /Abaca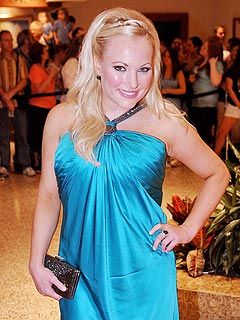 Originally posted 03/03/2009 11:40AM
John McCain wasn't the only family member to suffer a loss after November's presidential race. Daughter Meghan says her love life has flatlined as well.

"The election killed my personal life," she writes in a Daily Beast blog. "Nothing kills my libido quite like discussing politics."

The 24-year-old, who was an active campaigner for her Republican father's presidential bid, writes that she's "become something I used to despise: people who let politics dictate his or her attraction to someone." She adds that her aversion extends not just to those on the left, but to McCain superfans as well.
Credit: Jack Kurtz/ZUMA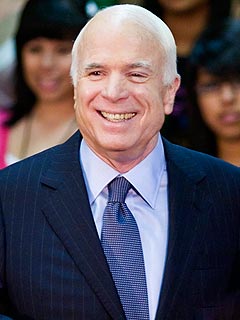 Originally posted 11/11/2008 09:10PM
While he may have lost his bid for the White House, John McCain did not lose his sense of humor.

"I've been sleeping like a baby," the GOP candidate said on The Tonight Show Tuesday. "I sleep two hours, wake up and cry. Sleep two hours, wake up and cry."

The Arizona senator's 14th visit to the show brought a loud and spontaneous ovation from Jay Leno's special Veteran's Day audience of U.S. service men and women.

Noting that Americans "don't like a sore loser," McCain defended his choice of Sarah Palin as his running mate and of Joe the Plumber as his campaign everyman.
Credit: Reuters/Landov (2)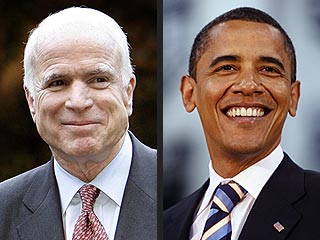 Originally posted 11/04/2008 07:15AM
As the clock struck midnight Tuesday – signaling the start of Election Day – both John McCain and Barack Obama couldn't help feeling sentimental.

Obama marked the occasion with a solemn stroll through his campaign plane before it carried him home to Chicago. The Democratic hopeful shook the hand of each of the five dozen journalists aboard, some of whom had traveled with him for all 21 months of his long campaign. (One photographer, who was celebrating her birthday, even got a kiss!)

And when one in the entourage said, "Good luck," Obama simply shook his head. "It'll be fun," he replied, "fun to see how the story ends."

And, early Tuesday, Obama and his wife Michelle cast their ballots at a polling place in Hyde Park, just a few minutes from their home. Their daughters were with them.

Asked by reporters if he was feeling sentimental, Obama replied, "I'm sure I will tonight. That's when the polls close and the journey ends."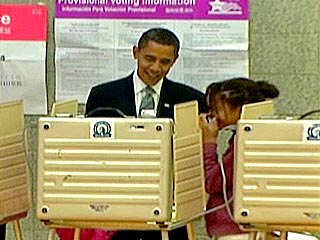 At the same time in Wilmington, Delaware, his running mate Joe Biden, along with his family, was doing the same.
Meanwhile, in Prescott, Ariz., Obama's Republican rival was also eagerly anticipating his final day of stumping.
"I'm confident," he told the crowd at the Yavapai County courthouse. And while polls show the Arizona Senator running behind Obama, McCain added, "I have seen the momentum."
Originally posted 11/02/2008 01:45AM




With the presidential election just days away, Republican presidential candidate John McCain drew laughs – often at his own expense – during an appearance on Saturday Night Live.

In response to Barack Obama's purchase of airtime on several major networks on Wednesday, McCain joked in the opening sketch that he could only afford airtime on QVC, peddling everything from pork knives to commemorative plates.

"I'm a true Maverick: a Republican without money!" he quipped. "My only showbiz connections are Jon Voight and Heidi from The Hills."
Credit: Jack Kurtz/ZUMA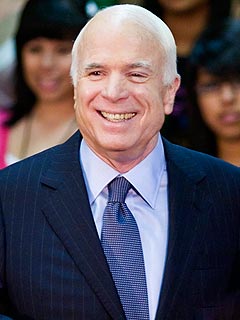 Originally posted 10/31/2008 11:30AM
John McCain may be locked in the fight of his political life, but he just found time to appear on Saturday Night Live.

With only three days to go until his Nov. 4 ballot box clash with Barack Obama, the GOP presidential hopeful will duck from the campaign trail to appear on NBC's live broadcast, according to the Associated Press.

McCain last appeared on SNL in May, after he became the Republican nominee. During that appearance, the candidate, 72, joked about his age, saying: "I ask you, what should we be looking for in our next president? Certainly, someone who is very, very, very old."
Advertisement
The most buzzed about stars this minute!
Treat Yourself! 4 Preview Issues
Got a News Tip?
Send it to our People.com editors!