01:47 PM EDT 08/24/2016
JonBenet Ramsey
Credit:

Randall Simons/Polaris
Originally posted 04/08/2016 09:40AM
The series would unite the original team of investigators as well as new experts to re-examine the unsolved 1996 case
Originally posted 11/06/2015 12:20PM
In a new interview with Barbara Walters on Investigation Discovery, John Ramsey says he desperately tried to shield his son Burke from the tabloid headlines that accused him of murdering his 6-year-old beauty queen sister, JonBenét Ramsey.
Credit: Andy Cross/The Denver Post/Getty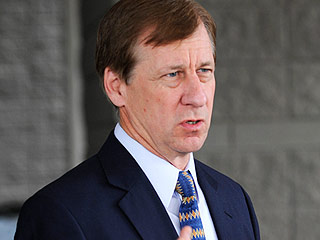 Originally posted 02/26/2015 12:00PM
A former Boulder, Colorado, police chief who investigated the death of 6-year-old beauty queen JonBenét Ramsey has acknowledged the murder case was mishandled.
Originally posted 10/25/2013 12:15PM
According to court documents released Friday in Boulder, Colo., a grand jury voted in 1999 to indict the parents of murdered 6-year-old beauty pageant winner JonBenét Ramsey on charges of child abuse resulting in death and of being accessories to a crime.

The indictment alleges that between Christmas Day and Dec. 26, 1996, John and Patsy Ramsey "unlawfully, knowingly, recklessly and feloniously permit a child to be unreasonably placed in a situation which posed a threat of injury to the child's life or health," which resulted in her death.

But the release of the documents is somewhat of a red herring. Seventeen years after the nation was shocked by news that the precocious pageant queen had been beaten, strangled and sexually assaulted, JonBenét's case is still considered unsolved.
Credit: Jeff Kravitz/FilmMagic; Monica Schipper/WireImage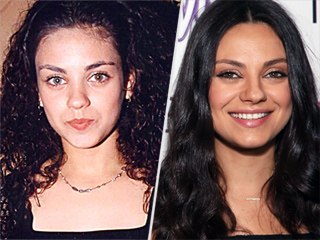 Originally posted 03/18/2012 02:45PM
In the months following his daughter JonBenét's brutal murder, John Ramsey contemplated ending it all.

"I wanted to escape from the pain," Ramsey – the author of a new memoir, The Other Side of Suffering, which recounts the aftermath of that fateful day in December 1996, when he found the 6-year-old's lifeless body in the basement of his and wife Patsy's Boulder, Colo., home – tells PEOPLE.

Long the targets of the Boulder Police Department's investigation, Ramsey, 68, says he and Patsy, who died of ovarian cancer in 2006, were prepared to go to jail, signing over custody of JonBenét's older brother Burke to a relative.
Credit: Jeff Kowalsky/Zuma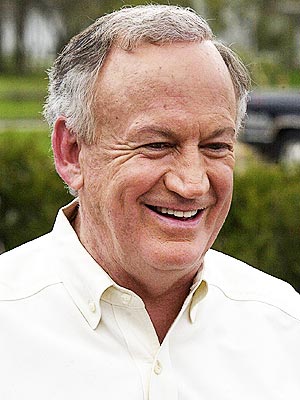 Originally posted 07/28/2011 11:00AM
Five years after his wife Patsy died of ovarian cancer, John Ramsey, the father of slain Colorado child beauty queen JonBenet Ramsey, has remarried.

Ramsey, 67, tied the knot with Jan Rousseaux, 53, a twice-divorced Las Vegas designer, on July 21 in Charlevoix, Mich., reports the National Enquirer.

"I have no doubt she will be smiling," Ramsey tells the Enquirer of JonBenet, who would have turned 21 on Aug. 6.
Credit: AP; Michael Albert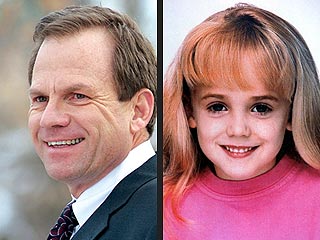 Originally posted 03/08/2009 05:30PM
Call him Mr. Cautious. Boulder, Colo., District Attorney Stan Garnett isn't about to make the same mistakes as his two predecessors by opening or closing the umbrella of suspicion on any suspects in the unsolved murder of 6-year-old JonBenét Ramsey.

In a recent interview, Garnett tells PEOPLE the Boulder Police Department's task force met for the first time last week, and it's "a very impressive group." He says it was "a worthwhile couple of days," but when it comes to making promises on what comes next, Garnett goes back to what constituents told him back on the campaign trail: "Don't talk about the case unless you solve it."

Still one of the nation's most notorious murder mysteries, JonBenét's body – bludgeoned and strangled – was discovered in the basement of her parent's upscale Boulder home the day after Christmas 1996, hours after her mother called 911 to report a kidnapping. A rambling, three-page ransom note was also left at the scene. The child's parents, John and Patsy Ramsey, quickly came under suspicion, although a grand jury convened in October of 1999 failed to indict anyone.
Credit: Tami Chappell/REUTERS/Landov; Leslie Mazoch/AP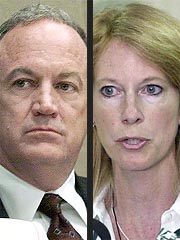 Originally posted 06/05/2007 11:00AM
The father of murdered child beauty queen JonBenet Ramsey and the mother of missing teen Natalee Holloway now appear to share something beyond their tragic circumstances – each other.
Credit: Steve Sandford/ZUMA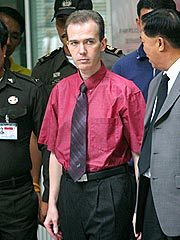 Originally posted 08/24/2006 02:00PM
While in custody in Bangkok last week, John Mark Karr, the suspect in the 1996 killing of JonBenet Ramsey, spoke with Thai officials. In its new issue, PEOPLE has exclusive excerpts of the interviews.
Credit: Rungroj Yongrit/EPA/Corbis; Randall Simons/Polaris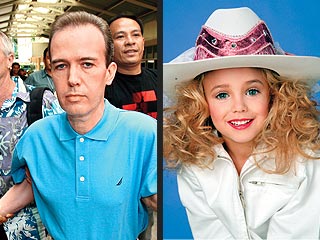 Originally posted 08/24/2006 12:00PM
More on this story John Mark Karr: His Dark PastJonBenet Suspect Claims Her Death Was 'an Accident' It started with a stunning phone call: There was a new suspect in the case. Patsy Ramsey – her cancer spreading, her strength sapped – boarded a plane to Colorado last February and, with her husband, John, went to see Boulder County District Attorney Mary Lacy. There had been other suspects, and even a number of false confessions, but this time was different: This suspect seemed to know undisclosed details of the crime scene. The Ramseys – who for many years had lived with widespread public perception that they might have been involved in or knew more than they were saying about the crime – left the meeting with Lacy feeling hopeful.
The most buzzed about stars this minute!
Treat Yourself! 4 Preview Issues
Got a News Tip?
Send it to our People.com editors!