11:12 AM EDT 07/10/2016
Lazaro Arbos
Credit:

Frank Micelotta/FOX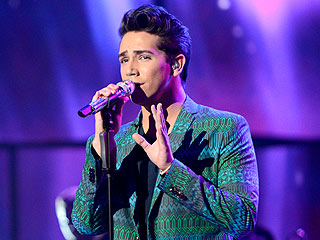 Update
Posted 04/12/2013 02:25PM
Originally posted 04/12/2013 11:25AM
The end of the line is just the beginning of the story.

So it is for Lazaro Arbos, who learned Thursday, after several tough weeks, that his American Idol dream is over.

But all that means is he can focus on his other dreams – one in particular, which involves a visit to the glee club at William McKinley High School.
Credit: Michael Becker/FOX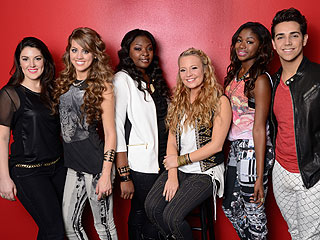 Originally posted 04/11/2013 09:15PM
Did American Idol make history on Thursday?

The top six contestants of season 12, who performed Wednesday night, included five women and one man, Lazaro Arbos.

Arbos, who has a stutter that seems to disappear when he sings, started off strong in the competition. But in recent weeks, the ice cream scooper from Naples, Fla., flubbed his lyrics and struggled to get positive feedback from judges Mariah Carey, Keith Urban, Nicki Minaj and Randy Jackson.

Meanwhile, the women – Kree Harrison, Candice Glover, Amber Holcomb, Angie Miller and Janelle Arthur – were doing well, setting up a unique situation for the show: a possible all-female top five.

Keep reading to find out what happened on elimination night ...
Credit: Frank Micelotta/FOX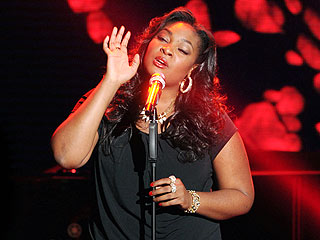 Update
Posted 04/11/2013 08:00AM
Originally posted 04/10/2013 10:45PM
With Sir Anthony Hopkins in the audience, American Idol's six remaining contestants took the stage to perform two songs – one from the catalogue of legendary songwriters Burt Bacharach and Hal David and another one "they wish they had written."

The best performance of the night – and according to Randy Jackson, "one of the greatest performances in the history ... of American Idol" – came at the very end of the two-hour show.

Candice Glover, who first earned a standing ovation for her soulful take on "Don't Make Me Over," sang "Lovesong" by The Cure. The crowd exploded in a raucous uproar, Keith Urban literally bowed down in front of her and Mariah Carey walked up on stage and showered Candice in glitter. The enthusiastic response brought Candice to tears. Watch her performance below.
Credit: Frank Micelotta/FOX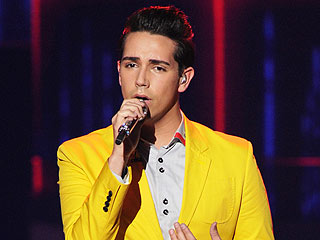 Originally posted 04/04/2013 10:00PM
It's always interesting when American Idol brings back a former winner to perform on their stage. Older, wiser and much more polished, they often bear little resemblance to the contestants.

On Thursday's show, Carrie Underwood's performance showed how far she came from when she competed eight years ago on season 4. It was hard not to look at the final seven contestants and wonder if any of them would ever be able to duplicate her success.

Early in the show, Mariah Carey sized up the finalists, who performed Wednesday.

"There's so much talent on this stage," she said.

Carey has been an interesting judge this season, overusing words like "amazing" and "wonderful" while frequently dissolving into tears. Compared to her, Paula Abdul was a barracuda.

And then the lights dimmed and Ryan Seacrest began to announce the results. Would Lazaro Arbos survive after flubbing the words again?
Credit: Michael Becker/FOX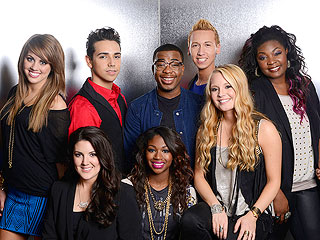 Originally posted 03/28/2013 09:00PM
It only takes one bad performance to end someone's dream on American Idol.

Back in season 5, Kellie Pickler "butchered" (her word, not ours) "Unchained Melody," and was unceremoniously sent home. In a previous season, frontrunner Constantine Maroulis left the competition after an unpleasant version of Nickelback's "How You Remind Me."

It's not always their fault – Jennifer Hudson was forced to sing a Barry Manilow song on the night she left the show. But the message is clear: no matter how fabulous you have been, you're only as good as your last performance.

And the guys' last time on the stage – for the cringe-worthy group performance of "I Can't Help Myself (Sugar Pie Honey Bunch)" – was enough to send any one of them home. In a season where the girls are head and shoulders above the men, they couldn't afford a bad performance – and they had one of the season's worst on Wednesday's Motown Night.

But after all the judges' criticism, it's still America's votes that matter. Did the guys survive this week?
Filed Under:
,
American Idol
,
Burnell Taylor
,
Candice Glover
,
Devin Velez
,
Keith Urban
,
Kree Harrison
,
Lazaro Arbos
,
Mariah Carey
,
Randy Jackson
,
Ryan Seacrest
Credit: Michael Becker/FOX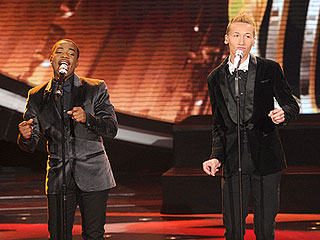 Update
Posted 03/28/2013 07:00PM
Originally posted 03/28/2013 03:45PM
It was a moment every American Idol contestant dreads – live, in front of millions, a song goes off the rails.

The nightmare came true for Burnell Taylor, Devin Velez and Lazaro Arbos during Motown Night on Wednesday, as the three finalists botched a group performance of "I Can't Help Myself (Sugar Pie Honey Bunch)," the 1965 hit by the Four Tops.

It started off okay, but Arbos then forgot the lyrics, and as a group they missed their cues and strayed off key. The performance had judge Nicki Minaj fuming.

"Don't ever do that again," she said. "All three of you, go. Go! Go! Get off the stage!"

After the show, the three singers struggled to explain what went wrong.
Credit: Frank Micelotta/FOX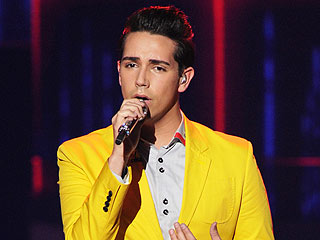 Originally posted 03/21/2013 09:45PM
All season long, the American Idol judges have been saying a girl will win this season. If Thursday night's group numbers were any indication, they are probably right.

The five remaining females did a show-stopping performance of "Here, There and Everywhere" that showcased each of their voices. The four remaining men sang "Got to Get You Into My Life." It was a capable rendition, but strangely reminiscent of the musical numbers from The Love Boat.

Based on Wednesday's performances of Beatles songs, Lazaro Arbos was perhaps in the greatest danger of leaving. The judges and mentor Jimmy Iovine brutally criticized his rendition of "In My Life." But Arbos agreed with their assessment.

"They were right for the most part," he told Ryan Seacrest Thursday. "I have to do songs that I love and that I want to sing." But would he survive America's vote?
Advertisement
The most buzzed about stars this minute!
Treat Yourself! 4 Preview Issues
Got a News Tip?
Send it to our People.com editors!