12:19 PM EDT 07/10/2016
Lisa Irwin
Credit:

The Kansas City Star/AP (2)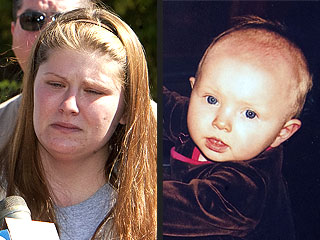 Originally posted 11/11/2011 03:30PM
Missing Lisa Irwin turns 1 Friday, and as the investigation into her disappearance continues, her family will mark the day by reflecting in private.

"This is a very tough day for them," one of the family's attorneys, Joe Tacopina, said on Good Morning America of Lisa's parents, Deborah Bradley and Jeremy Irwin.

"This is not a day of celebration right now. Obviously, they're very hopeful. They believe that Lisa is still alive, but they're going to recognize this day and deal with this day very privately."
Credit: Orlin Wagner/AP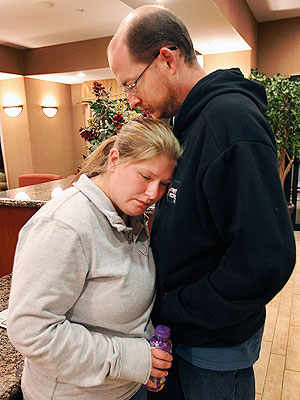 Originally posted 10/26/2011 03:15PM
Accused during police questioning in the disappearance of their missing daughter, the parents of 10-month-old Lisa Irwin want a new set of detectives to meet with them before they will agree to sit down for any further interrogation.

That's the word from an attorney, Cyndy Short, who tells PEOPLE that her clients, parents Deborah Bradley and Jeremy Irwin, are on "an emotional roller coaster" as the search for Lisa hits Day 23.

Bradley, 25, and Irwin, 29, initially spent hours with police but have not consented to be questioned since Oct. 8, according to police, although they have remained available to investigators who are following up leads.
Credit: The Kansas City Star/AP (2)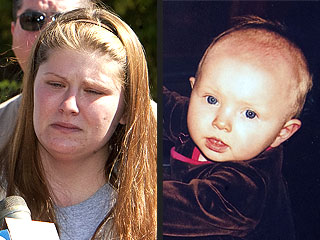 Originally posted 10/24/2011 10:45AM
Was the man seen walking post-midnight near the home of missing 11-month-old Lisa Irwin carrying a baby that did not belong to him?

Police won't say, and Lisa's parents don't know. But that report, along with a second report of a man carrying a baby a short distance away around 4 a.m. on Oct. 4 – the time that Lisa was reported missing from her crib – is "unbelievably substantial," says the attorney for parents Deborah Bradley, 25, and Jeremy Irwin, 29.

"When you have two independent witnesses making that same observation a mile apart," attorney Joe Tacopina tells PEOPLE, "that's something that cannot be discounted."
Credit: The Kansas City Star/AP (2)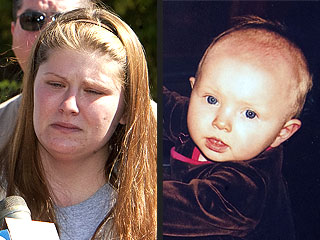 Update
Posted 10/21/2011 06:50PM
Originally posted 10/21/2011 05:15PM
A cadaver dog searching the home of missing baby Lisa Irwin – who disappeared 17 days ago – has picked up the scent of a dead body in her parents' bedroom, according to a newly released document in the case.

"On October 17, 2011, an FBI cadaver dog was brought into the residence upon consent of [parents Deborah Bradley and Jeremy Irwin]," states a request for a search warrant that police carried out at the Kansas City home two days later. "The cadaver dog indicated a positive 'hit' for the scent of a deceased human in an area of the floor of Bradley's bedroom near the bed."

The cadaver dog's reaction led to the search warrant, and police and FBI spent nearly 17 hours at the home on Wednesday. Authorities also received a judge's permission to search "a garden area with portions of dirt having an appearance of being recently disturbed or overturned."
Originally posted 10/19/2011 08:00AM
When Jeremy Irwin returned home from work in the early morning hours of Oct. 4, he found his fiancée, Debbie Bradley, and two sons asleep.

But when he peeked in on then 10-month-old daughter Lisa, her light was on and the crib was empty.

That, Irwin tells PEOPLE in this week's cover story, "is when all hell broke loose."

Since little Lisa's strange disappearance two weeks ago, investigators have been struggling to determine exactly what happened to the bubbly girl whose family called her "Pumpkin Pie."
Credit: Jon Kopaloff/FilmMagic, Kansas City Police Department/AP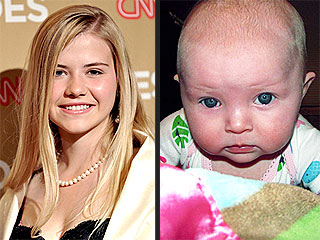 Originally posted 10/18/2011 01:35PM
Now helping other kidnap victims with her foundation and in her role as an ABC News contributor covering missing person and child abduction cases, Elizabeth Smart was in Los Angeles Monday for the 6th annual Squeaky Wheel Tour kickoff, to help raise awareness on the 11th anniversary of singer-songwriter Gina Bos's disappearance in Nebraska.

The tour has drawn attention to thousands of missing persons and the organization's founder, Bos's sister Janelle Rap, claims their joint efforts with artists, media and law enforcement have helped lead to the discovery of more than 1,000 missing persons.

Attending Monday's event at the guitar store West LA Music with her father, Ed Smart, before returning to her classes at Brigham Young University in Salt Lake City, Elizabeth, 23, spoke to PEOPLE about, among various topics, missing children. "There's always hope," she said. "There's my story, there's Jayceee Dugard's story and Shawn Hornbeck.

She also discussed the child safety education program radKIDS and her own Elizabeth Smart Foundation – as well as a Missouri missing child case currently making national headlines, that of Baby Lisa.
Credit: Mike Ransdell/The Kansas City Star/AP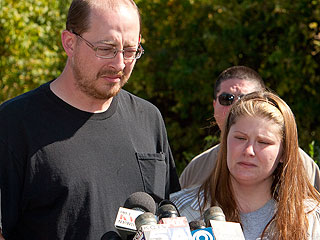 Originally posted 10/18/2011 01:30PM
The parents of missing Baby Lisa have hired a high-profile lawyer, who quickly proclaimed their innocence and said they were focused on finding the 11-month-old girl.

Joseph Tacopina – who once represented Joran van der Sloot, the suspect in the Natalee Holloway disappearance – says that "there's no question in my mind" that Lisa's parents Deborah Bradley and Jeremy Irwin "had absolutely nothing to do with the disappearance of their baby girl."

In a press conference in Kansas City, Mo., on Monday afternoon, Tacopina said that Bradley's admission she may have been drunk or even passed out the night her baby went missing from a crib "goes to her credibility."

"It's her being truthful," says Tacopina. "That's something that she was willing to tell the truth about even if didn't make her look great because at the end of the day, she's got nothing to hide."
Credit: The Kansas City Star/AP (2)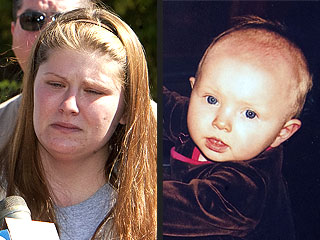 Originally posted 10/17/2011 06:30AM
On the night her 10-month-old daughter disappeared, Lisa Irwin's mother drank enough wine at home while relaxing with a neighbor that she has no recollection of whether or not she checked on her daughter or turned off the house lights before she went to bed.

Did the alcohol cause her to black out? "It's a possibility," Deborah Bradley tells Fox News Channel.

On Sunday, 25 members of the Missouri National Guard scoured areas searched previously by police and FBI agents for clues regarding the whereabouts of Baby Lisa, whom her mother says was snatched from her crib in the hours prior to 4 a.m. Oct. 4.

That's when Lisa's father, Bradley's fiancé Jeremy Irwin, returned home from a late work shift to find a front window open, the front door unlocked, several inside lights on and their daughter missing.
Credit: The Kansas City Star/AP (2)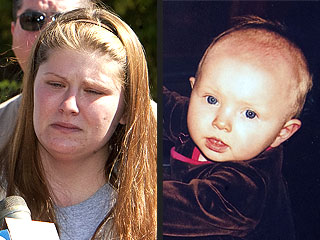 Originally posted 10/13/2011 03:25PM
The man seen on a surveillance tape shopping with Baby Lisa's mother has been identified as the woman's brother, according to a news report.

Deborah Bradley and her brother were purchasing wine for a family event at the Festival Foods near her home in Kansas City, Mo., family members tell KCTV5.

According to the station, police have interviewed the brother and determined he wasn't involved in the disappearance of 10-month-old Lisa.
Originally posted 10/12/2011 06:40PM
Just hours before 10-month-old Baby Lisa
went missing
, her mother was caught on a security video shopping for wine and baby supplies with an unidentified man.
The footage shows Deborah Bradley and a man in a dark shirt and blue jeans walking through Festival Foods, about a mile from her Kansas City, Mo., home, at about 5 p.m. on Oct. 3. The store says she purchased boxed wine, baby wipes and baby food.
Bradley has told authorities that later that night she put Lisa to bed in her crib while the child's father, Jeremy Irwin, was working the overnight shift. Irwin says that when he got home, the front door was unlocked, windows were open and the baby was gone.
Advertisement
The most buzzed about stars this minute!
Treat Yourself! 4 Preview Issues
Got a News Tip?
Send it to our People.com editors!