04:33 PM EDT 05/19/2015
Maggie Smith
Credit:

PBS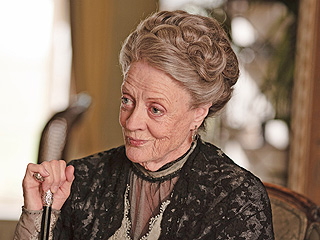 Originally posted 08/22/2014 05:45PM
If there were an Emmy Award for scene stealing, Maggie Smith would win it every time.

Whether she's delivering lines with deadly precision or arching an eyebrow to withering effect, it's obvious why Dame Maggie has won a Golden Globe, two Screen Actors Guild awards and two Emmys for playing Lady Violet, the Dowager Countess, on Downton Abbey.

Smith, 79, nominated again this year as outstanding supporting actress in a drama series, is "the Queen of the Double Take," says costar Jim Carter, who is also nominated for an Emmy this year for playing Mr. Carson.
Credit: NBC; Carnival Film; HBO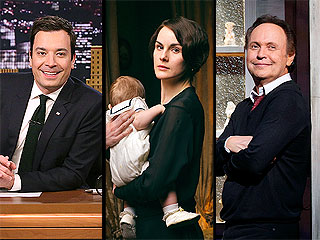 Originally posted 07/10/2014 04:00PM
Now that the Emmy nominations are here, some of the day's deserving nominees are weighing in – many in wry fashion.
Credit: Courtesy The Hollywood Reporter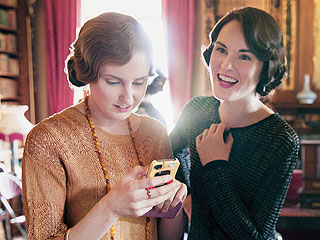 Originally posted 06/25/2014 11:35AM
When last we left the good folks at Downton Abbey, Lady Mary Crawley (Michelle Dockery) had to choose between suitors, one more handsome and wealthy than the other.

Such a dilemma.

So, where is the show going with this?

Thanks to this newly released teaser for season 5, fans of the acclaimed British period drama can get a glimpse of what's to come – and seemingly without spoilers.
Credit: Courtesy The Hollywood Reporter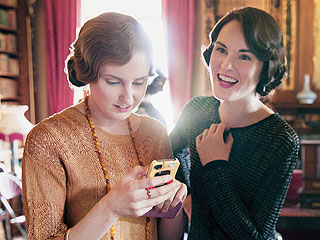 Update
Posted 06/18/2014 02:00PM
Originally posted 06/18/2014 10:45AM
When last we left Downton Abbey, the Crawley family was teaming up to rescue the Prince of Wales from a royal scandal, while Paul Giamatti was making his first appearance as Cara's boorish brother.

Now, The Hollywood Reporter has a first glimpse at the set of the British drama's upcoming fifth season, currently shooting at England's Highclere Castle.

From the looks of it, the British drama is about to enter its P.G. Wodehouse years, with the ornate finery of the pre-war era giving way to a more casual definition of elegance. (That means tweed. Lots and lots of tweed.)


Credit: Bertrand Rindoff Petroff/Getty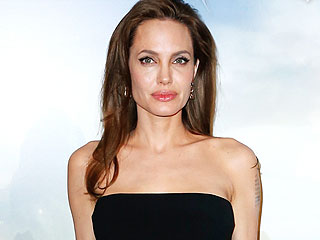 Originally posted 06/13/2014 07:30PM
Just call her Dame Angelina!
Credit: Carnival Film and Television Limited 2013 for Masterpiece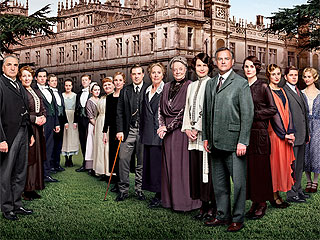 Originally posted 02/24/2014 05:30AM
Sunday's Downton Abbey on PBS Masterpiece brought a nice, gentle close to a difficult, unsatisfactory season. At the end we got to see Mr. Carson and Mrs. Hughes on a rare day off, at the English seaside, wading into the water and holding hands like two children afraid of being carried off by a wave.

This may even have hinted at a growing, sunset intimacy between the two. Given all the misalliances on Downton, what could be better than the prospect of a romance between the two characters with the best hearts?

Considering last season's brutal finale and the sometimes ridiculous swings of the show's plot, this could very well mean that Carson winds up like poor Mr. Pamuk, smuggled out of a bedroom wrapped in a sheet. Not yet, anyway.
Credit: Carnival Film and Television Limited 2013 for Masterpiece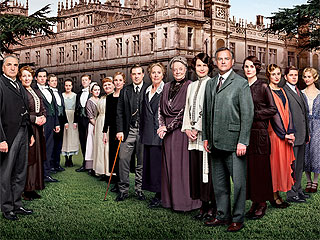 Originally posted 02/17/2014 12:10PM
Rose asks the women of Downton Abbey.

Yes, love is in the air at Downton, and there's no better place to show it off than at the church bazaar. While Lord Grantham is in America helping Cora's brother out of jam (which history knows as the Teapot Dome Scandal), Cora manages to stage an elaborate fundraiser for the church, complete with games, drinks, bunting and plenty of gossip.

Here are 7 quotes to remember from this season's penultimate episode:

1. It's not exactly news to Mary, given that Tom Branson saw Rose and Jack Ross out on the town together, and she's not very happy about the match, which seems driven less by true love than by Rose's desire to retaliate against her hated mother. ("I want to see her face crumble!") Concerned about the engagement, Mary heads to London to petition Ross, who is surprisingly receptive and agrees not to marry Rose, but for a different reason entirely: He loves her, and doesn't want to ruin her life with the complications of an interracial marriage. A surprisingly tolerant Mary understands, but adds, "To be fair to papa, he would find you being a bandleader harder to swallow than your color."


Credit: Nick Briggs/PBS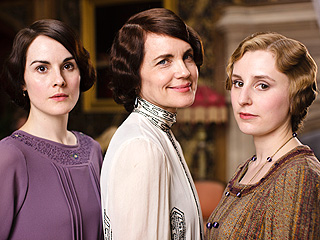 Originally posted 02/10/2014 11:55AM
Shocking, but true: Lady Mary got down and dirty on the Feb. 9 episode of Downton Abbey , but it was Rose and Edith who had far darker secrets to conceal.

Here are seven of Sunday's more memorable quotes, as the passive-aggressive Downton drama unfolded:

1. While Mary and Mr. Blake revealed an instant, though superficially courteous, dislike for each other, things quickly heated up as Blake soon realized that Mary isn't just another aloof aristocrat. When the two went to inspect the estate's newly arrived pigs, he realizes the poor animals are dehydrated and on the verge of dying. When he suggests Mary leave so he can save the pigs, she balks, "I'm not going, they're my pigs!" Working side by side, the two – dressed in their dinner-at-Downton best – spend hours carting buckets of water through the mud to save the pigs, finally lightening the tension (on every level) by breaking into a mud fight. Returning to the house, Mary cooks up some scrambled eggs – further impressing Blake – and thanks him: And thus is a new flame ignited.


Credit: Nick Briggs/PBS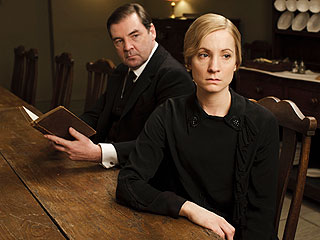 Originally posted 01/27/2014 12:45PM
Skipped this week's episode of Downton Abbey to watch the Grammy Awards? Find out what happened with our recap in seven quotes. (Warning: Spoilers ahead.)

1. "Well, it's in the open. No more secrets."
After a grueling couple of episodes in which Anna avoids Bates at all costs, Bates bullies Mrs. Hughes into telling him the truth, and, just like that, the secret is finally out in the open. While Anna and Mrs. Hughes conspire to throw Bates off the scent by insisting that Lord Gillingham's valet, Green, wasn't the attacker, Bates does not buy it. While he and Anna work on their relationship – and Anna moves back into the house – at the end of the episode, Bates ominously growls, "Nothing's over and done with."


Credit: Carnival Film and Television Limited 2013 for Masterpiece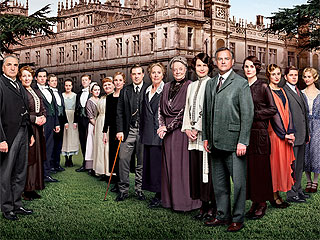 Originally posted 01/20/2014 12:35PM
There was a pall cast over Downton after the dark events of last week's episode. Fortunately, to lift the spirits, this week brought a trip to London, a surprising and modest proposal, dancing at the Lotus Club and the comeuppance of a certain conniving maid.

Here, in seven quotes, is everything you need to know about Sunday night's episode of Downton Abbey:
Advertisement
The most buzzed about stars this minute!
Treat Yourself! 4 Preview Issues
Got a News Tip?
Send it to our People.com editors!