08:04 PM EDT 12/17/2014
Matt Lauer
Credit:

Slaven Vlasic/Getty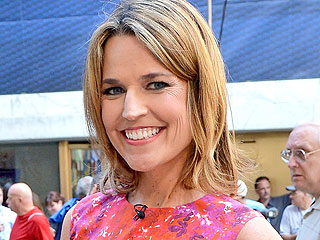 Originally posted 08/14/2013 08:20AM
She's busy planning a wedding, but there's something else Savannah Guthrie would like to plan in the future – a family.

"I would love to have kids," the Today show host, who got engaged to her boyfriend of four years, Michael Feldman, in May, tells ELLE magazine for its September issue (available Aug. 20).

"I hope so, if we're lucky and blessed, but who knows what life holds, you know? I'm 41 years old."
Originally posted 06/26/2013 08:45AM
Saying she "committed a sin" with her racial remark and did something she deeply regrets, Paula Deen broke down in tears on national television Wednesday, making her delayed appearance on Today after she pulled out at the last minute from a scheduled interview on the NBC show last Friday.

In the course of her 13-minute interview, Deen, repeatedly stating she believes "everyone created on God's earth is created equal … that's the way I was raised and that's the way I live my life," said, "I've had wonderful support from Rev. [Jesse] Jackson, and I tell ya what: If there's anyone out there that has never said something that they wish they could take back, if you are out there, please pick up that stone and throw it so hard at me that it kills me. Please, I want to meet you … I is what I is, and I'm not changing."
Credit: Getty; Richard Drew/AP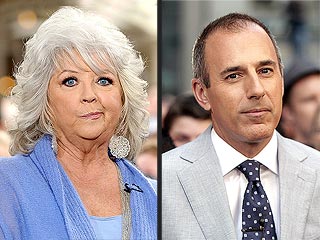 Originally posted 06/21/2013 09:10AM
Days after it was revealed that she admitted to using the N-word in the past, Paula Deen canceled at the last minute a live TV interview with Today's Matt Lauer.

The southern cook, 66, had been scheduled to appear on Friday's broadcast to discuss her admission under oath in a deposition for a discrimination lawsuit that she has used racial epithets.

But, according to Lauer, Deen's rep contacted the show moments before she was set to appear live and told producers that she is "exhausted" after flying into New York overnight and would not be showing up at the studio.

"We had planned to have an exclusive live interview with Paula Deen this morning," Lauer announced on-air Friday. "We spoke several times with her people yesterday and then I spoke with Paula yesterday afternoon. We arranged an interview this morning. We agreed there would be no restrictions to that interview only that it would be an open and candid exchange."
Credit: Courtesy Shawna Munger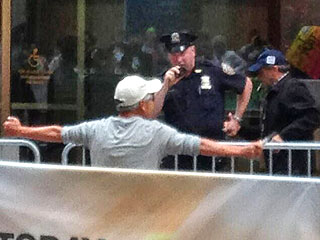 Update
Posted 06/06/2013 02:30PM
Originally posted 06/06/2013 11:30AM
A gruesome scene unfolded outside the Today show on Thursday.

When a man threatened to harm himself at Rockefeller Plaza, security crews and police quickly responded, but not before the man cut his own wrist with a knife.

Matt Lauer addressed the incident on-air, as the anchors had originally planned a segment outdoors.

"A short time ago a man out there tried to harm himself with a knife, he did manage to cut himself, he was controlled by our security team out there," Lauer said on Today. "However he did harm himself in some way, he's now being attended to."
Credit: Courtesy Today Show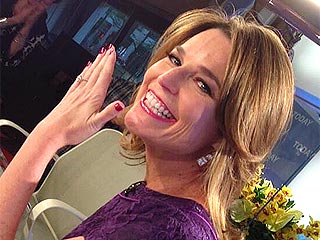 Update
Posted 05/13/2013 08:15AM
Originally posted 05/13/2013 08:00AM
There's good news off-camera on the Today show.

Co-host Savannah Guthrie is engaged to marry her boyfriend of four years, Michael Feldman, who proposed over this Mother's Day weekend, the morning personality, 41, announced on the show Monday.

"Good for you and congratulations to Mr. Feldman," said her anchor mate Matt Lauer. "He's a great guy."

Guthrie, who was married (and divorced) once before, from 2005 to 2009 to BBC News presenter Mark Orchard, said she wouldn't let her wedding be broadcast on the show.
Credit: Alex Oliveira/Startraks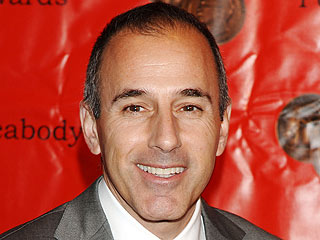 Originally posted 03/25/2013 07:20AM
While the news is still playing out on the future of NBC's Tonight Show, with Jimmy Fallon set to succeed Jay Leno, now comes the revelation that the network's half-a-billion-dollar-a-year morning franchise, the Today show, nearly lost its No. 1 star: Matt Lauer.

Though currently the show is going through a turbulent period in the aftermath of Ann Curry's departure and its ratings slip to ABC rival Good Morning America, Lauer, 55, was set to jump ship to ABC last year, when reports surfaced that Ryan Seacrest was possibly going to replace him on Today, reports New York magazine, in the issue hitting newsstands Monday.
Credit: Gregg DeGuire/WireImage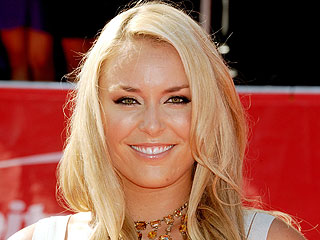 Originally posted 02/25/2013 08:30AM
Lindsey Vonn, who is working to rehab her injured knee, remains highly optimistic that she'll not only be back on the ski slopes but she'll be ready for the 2014 Winter Olympics in Sochi, Russia.

Speaking with Matt Lauer on Today" Monday, Vonn, 28, deflected any questions about reports of her dating of Tiger Woods, telling the host she preferred to keep her private life private. She says she is focused on regaining her career as America's top female downhill skier and defending Olympic gold medal winner.
Originally posted 01/09/2013 09:30AM
Former Miss Alabama Katherine Webb says ESPN announcer Brent Musberger doesn't owe her an apology after he singled her out on Monday night's BCS Championship football game – where she was watching her boyfriend, star quarterback AJ McCarron, lead Alabama to a runaway victory over Notre Dame.

Webb's profile on Twitter went white hot on Monday – from 2,000 followers to nearly 200,000 – as Musberger, 73, took to the airways during the game to extol the beauty queen's good looks and her relationship with McCarron.

The couple, who met on Twitter, have been dating for a month.

Quickly, however, viewers and others criticized Musberger's effusive praise as "creepy."
Credit: Courtesy Jasmine Jae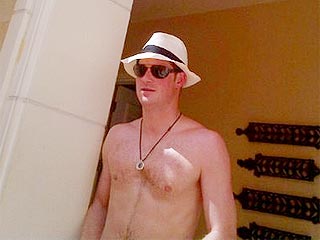 Update
Posted 08/23/2012 10:35AM
Originally posted 08/23/2012 09:35AM
Billiards will never be the same. But what about the perception of the Royal Family?

Now that photos of a naked Prince Harry playing strip billiards at an after-hours party in his Las Vegas hotel suite have been seen far and wide – and from every other angle – questions arise as to whether what he did is conduct unbecoming for a prince, or strictly an example of how down-to-earth this child of extraordinary privilege really is.

Royal watcher Ingrid Seward told PEOPLE that being caught with his pants down gives the 27-year-old an "endearing" quality, while on Thursday's Today show, outraged British journalist Martin Bashir said his countrymen and women may not stand for their tax money going to protect members of the Royal Family who carry on in such a fashion.
Credit: Peter Kramer/NBC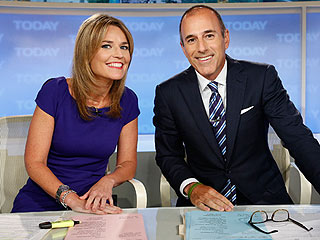 Originally posted 07/10/2012 10:45AM
Now that she's taken her spot next to Matt Lauer on the Today show, Savannah Guthrie has plenty of reasons to be happy – and possibly a little embarrassed, too.

On her official welcome to her morning gig Monday, Guthrie, 40, endured a friendly hazing-like induction, in which viewers caught a glimpse of a favorite childhood book about an aspiring cheerleader, as well as a clip of her singing and playing the guitar to Bob Dylan's "You're Gonna Make Me Lonesome When You Go."

"It was just such a warm welcome, and how could you not feel really good after that?" she tells PEOPLE of her on-air introduction, which also included heartfelt comments from friends, her mother and former colleagues. "I'm thankful and excited for the future."
Advertisement
The most buzzed about stars this minute!
Treat Yourself! 4 Preview Issues
Got a News Tip?
Send it to our People.com editors!