02:36 PM EDT 03/19/2015
Matthew Perry
Credit:

Michael Papo-KPA/ZUMA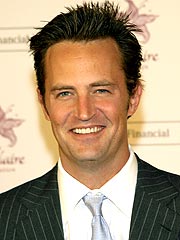 Originally posted 02/17/2005 08:00AM
When Matthew Perry was rushed to a Los Angeles hospital last week due to an adverse reaction to prescription medication, his rep said the actor was "fine" – but the former Friends star had several of his pals worrying.
Credit: Michael Papo-KPA/ZUMA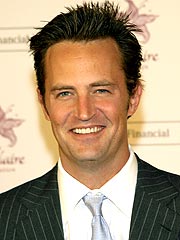 Originally posted 02/12/2005 06:00PM
Matthew Perry was hospitalized in Los Angeles earlier this week because of a bad reaction to prescribed medication, his rep confirmed to PEOPLE.
Credit: Michael Papo-KPA/ZUMA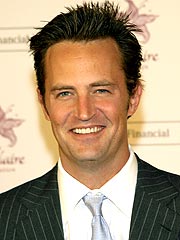 Originally posted 11/23/2004 06:00AM
Matthew Perry is focusing on being a son rather than a Friend this week, appearing as a guest star on Scrubs on Tuesday night with his father, John Bennett Perry. The younger Perry, who plays his real-life dad's son on the show, also makes his directorial debut. "I wanted to take my career in a slightly different direction and challenge myself and I found that a one-camera show is where my interests lie. I think it's the best way to learn how to possibly direct a movie," says Perry. As for directing Dad, he "took direction great in the episode. The other thing that's great is my father is a great musician and we were able to incorporate that into the show as well, so he plays guitar. It adds a level of heart and sweetness to the show that I think is pretty great." Well, that's, um, great. But Perry says that although he's interested in pursuing more directorial work, he'll still be in front of the camera as well. "It's important once you've completed a project as significant as Friends to kind of keep things open," he says. "I'm not interested in doing another sitcom and that's where most of the offers have come. There's no talk of me stopping acting. I'm doing a movie with Sally Field in January called Two Weeks. It's a drama and I can't wait to act with Sally Field. I just want to keep things open. I've been offered to direct things in the past and I just simply didn't know how. Now I feel like I sort of know how so I want to be able to do both."
Credit: Mike Valdez/ZUMA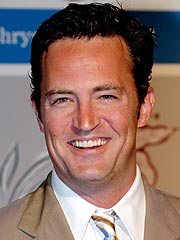 Originally posted 06/15/2004 06:00AM
JET SET Matthew Perry flew a group of pals to Las Vegas on a private NBC charter. The gang hit hotspot Light at the Bellagio Hotel on Friday night, where Jerry O'Connell (Crossing Jordan) happened to be attending a bachelor party.
Credit: Tim Shaffer/REUTERS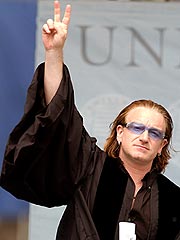 Originally posted 05/31/2004 06:00AM
Bono issued a warning along with the commencement address at the University of Pennsylvania recently: "Don't get me too excited because I use four-letter words when I get excited," he told the crowd. "The only four-letter word I'm going to use today is 'Penn.' " But he had spoken too soon: "Come to think of it, Bono is a four-letter word," he added. The rock star and activist, who picked up an honorary doctorate of law at the Ivy League school, reminisced about his last visit to the campus seven years ago for a U2 concert. "I was wearing a mirror-ball suit at the time and I emerged from a 40-foot-high revolving lemon," he said. "I guess it was at that point when your trustees decided to give me their highest honor."
Originally posted 04/14/2004 01:45PM
SURVEYED: Matthew Perry's character of Chandler Bing on "Friends" is the overwhelming choice when it comes to women looking for a man they'd most want to date or marry, according to a poll conducted by Yahoo! Personals, using the soon-to-exit sitcom as a guide to potential friend and lover role models. Jennifer Aniston's Rachel Green was the males' choice for a mate, while an overwhelming 75 percent of the 1,200 singles surveyed responded that the TV characters have become their own friends over the past 10 years. And, yes: 40 percent of the men admitted that they've used Matt LeBlanc's pickup line as Joey, "How you doin'?"
Credit: FRIENDS . . . 'TIL THE END ©2004 WARNER BROS. ENTERTAINMENT INC.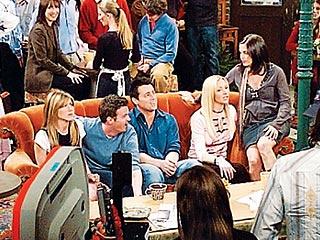 Originally posted 04/08/2004 01:00PM
The theme song promised they would be there for each other – and for 10 years the six stars of Friends truly were. Together they rode the bronco of sudden fame, hung on during a media backlash and tough salary negotiations and supported each other through personal crises, marriages and babies. As the show's May 6 finale approaches, the famous sextet looks back in a new book, Friends ... 'Til The End. In this exclusive excerpt – featuring never-before-seen photos from the set – they open up about the show and each other. Friends, says Jennifer Aniston, has been "like a gift you can't even imagine." Jennifer AnistonI was 23 years old when we started. Now here we are in our 30s and some of us have been married and some babies have been born. ... What's so weird about this show is that so much of our lives get in there. ... Whether it was a relationship thing or a parental thing, a situation in our lives is somehow always being played out on the show. ... It did feel like I was growing up in front of everybody.
Originally posted 02/09/2004 10:36AM
February 10, 2004GUESS HE FOLLOWED THE RULES... Amy Davidson, star of 8 Simple Rules for Dating My Teenage Daughter, must be breathing a sigh of relief that Average Joe: Hawaii's Larissa Meek sacked Todd Mitchell from the NBC reality show. After all, Davidson's been secretly dating the 26-year-old trainer since August. The couple met almost a year ago when they were both working out at the same gym. When he left to shoot Joe last summer, he kept it a secret. "He told me he had to go away for four weeks to relax," said Davidson, 24. "He said, 'I need to get away.' " It wasn't until October that Mitchell spilled the beans, but Davidson didn't mind. In fact, the couple have been watching the show together. "He's a wonderful kisser on TV – and in real life," says Davidson. "But I don't think anyone likes to watch the person they're into kissing someone else."
Originally posted 09/25/2003 01:00PM
Before Friends: Guest appearances on Beverly Hills, 90210, Growing Pains and Who's the Boss? Family Life: Dating fashion student Rachel Dunn Best Friends Moment: Waking up in the same bed with Monica after Ross's wedding What's next?: The Whole Ten Yards with Bruce Willis
Originally posted 08/29/2002 01:00PM
Matthew Perry likes to win. Very, very much. Which is why anyone who picks up a tennis racket opposite the Friends star could be in for a serious whuppin'. Behind the net on a recent Saturday afternoon at an L.A. club, the tanned, trim actor -- once the No. 2-ranked junior tennis player in his hometown of Ottawa -- makes John McEnroe look like a lovable softie. "Are you thirsty?" he asks his exhausted opponent, whom he handily beats six games to love. "Yes? Good. We'll get a drink later." And if dehydration sets in sooner? Replies Perry with a sly grin: "That's a forfeit, my friend."
Advertisement
The most buzzed about stars this minute!
Treat Yourself! 4 Preview Issues
Got a News Tip?
Send it to our People.com editors!