01:35 PM EDT 07/10/2016
Paul Newman
Originally posted 11/11/2015 12:50PM
A movie starring two famous actors who happen to be married in real-life: On paper, it sounds like it should be a sure-fire win. In reality? It's not that simple.
Filed Under:
Mr. & Mrs. Smith
,
Movie News
,
Alec Baldwin
,
Angelina Jolie
,
Anna Faris
,
Annette Bening
,
Brad Pitt
,
Chris Pratt
,
Christine Taylor
,
Courteney Cox
,
David Arquette
,
Elizabeth Taylor
,
Emma Thompson
,
Goldie Hawn
,
Humphrey Bogart
,
Jada Pinkett Smith
,
Joanne Woodward
,
Kenneth Branagh
,
Kim Basinger
,
Kurt Russell
,
Lauren Bacall
,
Madonna
,
Nicole Kidman
,
Paul Newman
,
Richard Burton
,
Sean Penn
,
Tom Cruise
,
Warren Beatty
,
Will Smith
Credit: Imeh Akpanudosen/Getty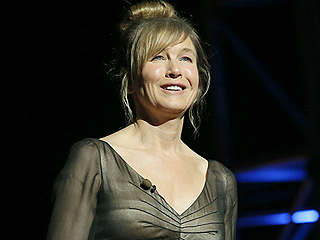 Originally posted 05/15/2015 12:20PM
Renée Zellweger looked radiant Thursday as she joined other stars in honoring the legacy of Paul Newman at a Los Angeles gala for the late actor's SeriousFun Children's Network charity.
Credit: Evan Agostini/Invision/AP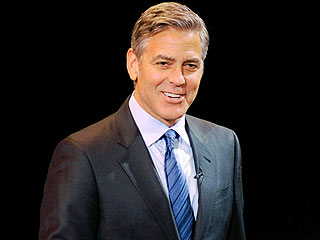 Originally posted 03/03/2015 10:55AM
George Clooney definitely married up.
Credit: People.com Photo Illustration; Photos Provided by Getty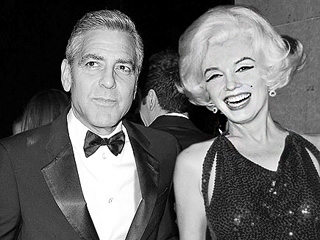 Originally posted 01/15/2014 02:00PM
After, "Who are you wearing?," the most important question on the Oscars' red carpet is "Who are you here with?"

Celebrity couples are always alluring. Drench them in tulle, tuxes and accolades, and they become nearly irresistible. But it's a shame that today's biggest stars can't hob knob with the glamorous old guard of Tinseltown ... or can they?
Filed Under:
Academy Awards
,
Oscars 2014
,
Amy Adams
,
Audrey Hepburn
,
Bette Davis
,
Bradley Cooper
,
Christian Bale
,
Elizabeth Taylor
,
Frank Sinatra
,
George Clooney
,
Grace Kelly
,
Jennifer Lawrence
,
John Wayne
,
Leonardo DiCaprio
,
Marilyn Monroe
,
Matthew McConaughey
,
Natalie Wood
,
Paul Newman
,
Rico Rodriguez
,
Shirley Temple
,
Sofia Vergara
Credit: MGM Studios/Getty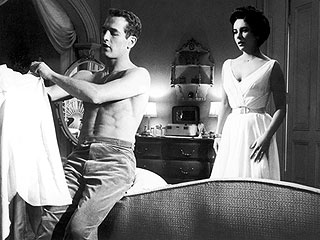 Originally posted 03/23/2011 01:10PM
Superstar to superstar. To Paul Newman, Elizabeth Taylor was "a functioning voluptuary … a courageous survivor, a helluva actress and someone I am extremely proud to know."

Even in the sanitized 1958 MGM version of Tennessee Williams's potent drama in which they costarred, Cat on a Hot Tin Roof – with the sultry Newman as the drunkard ex-athlete Brick and an indelible Taylor as his neglected wife, Maggie the Cat – the two sent audiences' pulses racing. But they were more than simply sex symbols. Both proved themselves Academy Award-level actors and world-class humanitarians.

Now, sadly, they are both gone. Newman died at age 83, in 2008, and Taylor, at 79, early Wednesday morning.

Fortunately, their performances remain – as does a tribute Newman paid Taylor on behalf of Turner Classic Movies. (See the video below.)
Credit: Getty; Landov; Globe
Originally posted 05/13/2010 12:20PM
It's an honor bestowed on America's best-loved entertainers who've passed away – a commemorative U.S. postage stamp.

Elvis has one – the most popular U.S. stamp of all time, in fact. So do Marilyn Monroe and James Dean. As of Wednesday, Katharine Hepburn, who died in 2003, has one too.

The full 2010 lineup is already set. But what happens when the U.S. Postal Service has to ready more celeb-studded stamps? Here are a few ideas to consider for the future:
Credit: Kevin Mazur/WireImage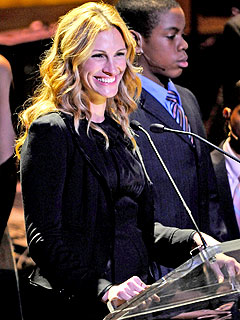 Originally posted 06/09/2009 02:50PM
Julia Roberts, Jerry Seinfeld, Robert Redford, Bill Clinton, Harry Connick Jr. and Kristin Chenoweth helped deliver some serious star power to Monday's Lincoln Center gala in New York on behalf of Paul Newman's Hole in the Wall Camps and honor the beloved, late founder of the charity benefiting children with life-threatening medical conditions.

Among what they had to say about Newman, who died last year, was:

• "We've done a lot of these galas," Julia Roberts said, after doing a dancing kick line with kids who have attended the camps. "And I've never stood up without my buddy Paul Newman. It seems so much easier to sing and dance and make a fool of yourself when he's right next to you. He encourages fun, more than any person I've ever met. "

• "I went up to the camp and Paul had me eat my first oyster," Jerry Seinfeld said during a sidesplitting stand-up routine. "I had never had an oyster in my life. And he convinced me to eat one. And it was horrible and it was exciting. And I thought, this will be gross and I'll have a story: I had my first oyster with Paul Newman."
Credit: LISA ROSE/GLOBE PHOTOS; Michael Loccisano/FilmMagic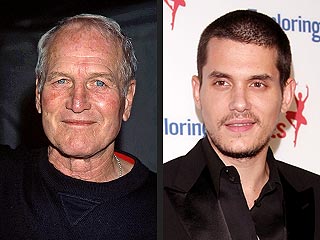 Originally posted 10/02/2008 08:30AM
Move over, Kevin Bacon. John Mayer has his own celebrity name game – and Paul Newman is the undisputed champ.

The singer-songwriter recently took to his blog to explain the game and, more importantly, to honor the late screen legend.

"I used to play this game with my friends where we'd try and figure out who the 'heaviest' legend was in terms of having the clout to bump another superstar from a reservation at a packed restaurant on a Saturday night," Mayer wrote. "It starts to get fun when ... [you're] bickering about whether Robert De Niro bumps Bob Dylan, or Springsteen bumps Bono."

But the game "quickly runs out of steam," he noted, "when you realize that nobody can top Paul Newman."

Mayer, who turns 31 in two weeks, signed off with an emphatic salute to the blue-eyed icon: "Nobody will ever be that cool again."
Credit: DreamWorks/Everett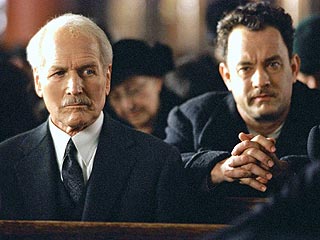 Originally posted 09/30/2008 05:15PM
Tom Hanks released a statement Tuesday remembering his Road to Perdition costar Paul Newman, who died at age 83:

"Paul Newman told me his hotel in Chicago was a room at the YMCA, which was not hard to imagine. He considered himself just another member of the acting company, who would call his wife during breaks and confess to feeling self-conscious on the first day of shooting. But he was Paul Newman, and could not mask the fact he was simply – yet elegantly – an extraordinary artist and man. How lucky we all have been."
Credit: Hulton Archive/Getty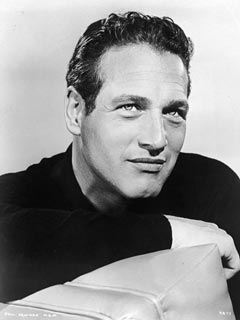 Originally posted 09/30/2008 11:45AM
As fans continue to mourn the death of revered icon Paul Newman, one of the people closest to him – his older brother Arthur – is paying tribute to him.

"Beyond his place as a world famous 'super star,' his reputation as a top international racecar driver and rightful recognition as a most generous global philanthropist, Paul was my loyal and supportive brother for the past 83 years," Arthur said in a statement.

Since the actor's death last Friday, several stars and family members have offered condolences and recalled their fondest memories of the legendary actor.
Advertisement
The most buzzed about stars this minute!
Treat Yourself! 4 Preview Issues
Got a News Tip?
Send it to our People.com editors!