09:53 PM EDT 02/21/2015
Paula Deen
Originally posted 06/29/2013 02:30PM
Last Sunday Paula Deen was able to carve out a brief moment of joy, celebrating the christening of her stepdaughter's baby girl near the Savannah home she shares with husband Michael Groover.

"The subject of the sermon was stand strong. She felt like it was a message," says a source close to the family. During the service, "when Paula went to pray with the minister, he said, 'We're behind you,'" adds a Deen pal. "She got emotional."
Credit: Timothy Hiatt/Getty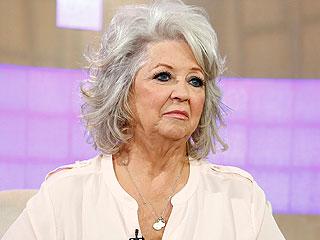 Originally posted 06/29/2013 08:50AM
Paula Deen's horrible month just got worse.

On Friday, Ballantine Books announced it would not publish her latest cookbook that was slated to be released in October. The book already hit No. 1 one on the Amazon bestseller list Thursday, months before its release, after furious fans rallied to the defense of the embattled celebrity cook.

Deen, 66, has watched her lucrative endorsement deals slip away this month after she admitted to using a racial slur in the past.

"After careful consideration, Ballantine Books has made the difficult decision to cancel the publication of Paula Deen's New Testament: 250 Favorite Recipes, All Lightened Up, the publisher, a division of Random House, said in statement to PEOPLE.
Credit: Wilford Harewood/NBC/Getty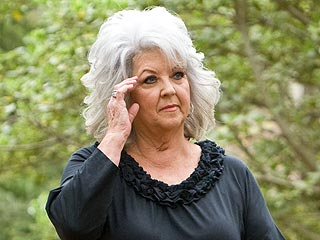 Originally posted 06/28/2013 02:45PM
Her fall has been swift, brutal and unrelenting.

Within a matter of days, Paula Deen, the queen of southern cooking, has found herself to be persona non grata at many of the companies who once enthusiastically sold her wares and reveled in her endorsements – after she admitted to using a racial slur in the past.

The Food Network, Walmart, Target, Smithfield Foods and now Sears are among the companies that have severed ties with the cook, author and TV host. Other marketers, like Novo Nordisk and QVC, are pausing their involvement with her.
Credit: Timothy Hiatt/Getty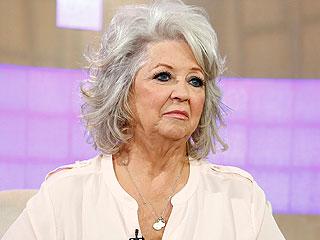 Update
Posted 06/27/2013 05:15PM
Originally posted 06/27/2013 12:45PM
While businesses continue to bail on Paula Deen in light of the racial controversy that is damaging her reputation as the Queen of Southern Cooking, fans are showing that she is not alone in this fight.

Based on an earlier Forbes story published Thursday morning, PEOPLE reported Deen had been dropped from the Novo Nordisk deal that caused a stir last year when she announced that she had ben living with Type 2 diabetes for three years – but a spokesperson for the global healthcare company says that simply isn't true.

"It's too early to suggest what we will wind up doing but we have not dropped Paula Deen," the spokesperson said. "We just felt the recent controversy affected her ability to help manage and work towards our mission which is around changing diabetes. It's unclear what effect this controversy will have on users of the diabetes drug."
Credit: Wilford Harewood/NBC/Getty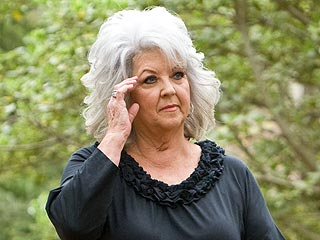 Originally posted 06/26/2013 03:00PM
Despite her teary interview on Today and her recent apology for using a racial slur in the past, more of Paula Deen's business deals have unraveled.

Caesars Entertainment Corporation, which operates as her restaurant, Paula Deen's Kitchen, in four of its casinos in Indiana, Illinois, North Carolina and Mississippi, announced Wednesday they are ending their relationship with the 66-year-old cook.

"While we appreciate Paula's sincere apologies for statements she made in her past that she recently disclosed during a deposition given in response to a lawsuit, after thoughtful consideration of their impact, we have mutually decided that it is in the best interests of both parties to part ways at this time," said Jan Jones Blackhurst, executive vice president of communications and government affairs for Caesars Entertainment.
Originally posted 06/26/2013 08:45AM
Saying she "committed a sin" with her racial remark and did something she deeply regrets, Paula Deen broke down in tears on national television Wednesday, making her delayed appearance on Today after she pulled out at the last minute from a scheduled interview on the NBC show last Friday.

In the course of her 13-minute interview, Deen, repeatedly stating she believes "everyone created on God's earth is created equal … that's the way I was raised and that's the way I live my life," said, "I've had wonderful support from Rev. [Jesse] Jackson, and I tell ya what: If there's anyone out there that has never said something that they wish they could take back, if you are out there, please pick up that stone and throw it so hard at me that it kills me. Please, I want to meet you … I is what I is, and I'm not changing."
Originally posted 06/26/2013 08:00AM
First, an explosive deposition emerged in which Paula Deen admitted to uttering the N-word. Then Deen fumbled not one, but three awkward apology videos.

Finally, after Food Network announced they were axing one of their biggest stars, the Queen of Southern Food decided on a different crisis strategy: Silence.

Lately, however, the one person Deen seems to hurt most is herself.

Holed up over the weekend at home in Savannah, Ga., with husband Michael Groover and her sons Jamie and Bobby, Deen, 66, "is beyond devastated," a producer friend tells PEOPLE in this week's cover story.
Credit: Peter Kramer/NBC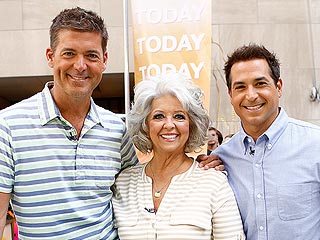 Originally posted 06/25/2013 11:15AM
Paula Deen's sons Bobby and Jamie have leaped to their mother's defense in her racial-slur scandal, saying she's a good person who's being unjustly maligned.

"That word, that horrifying, terrible word that exists and I abhor it coming from any person ... we weren't raised in a home where that word was used," Bobby Deen told CNN's New Day program on Tuesday – referring to the N-word, which Paula Deen has admitted in a legal deposition to having used in the past.

"Neither one of our parents ever taught us to be bigoted toward any other person for any reason," he added. "Our mother is one of the most compassionate, good-hearted, empathetic people that you'd ever meet. These accusations are very hurtful to her, and it's very sad."
Credit: Wilford Harewood/NBC/Getty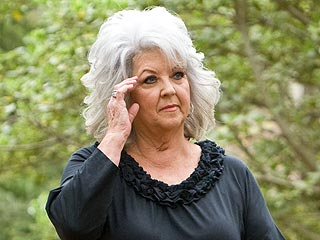 Update
Posted 06/24/2013 07:00PM
Originally posted 06/24/2013 03:30PM
Paula Deen's racial slur scandal is costing her an endorsement deal with Smithfield, the pork company that sold a ham with her name and face on it.

"Smithfield condemns the use of offensive and discriminatory language and behavior of any kind," Smithfield says in a statement. "Therefore, we are terminating our partnership with Paula Deen. Smithfield is determined to be an ethical food industry leader and it is important that our values and those of our spokespeople are properly aligned."

Deen's deal with Smithfield was announced in September 2006.
Credit: Wilford Harewood/NBC/Getty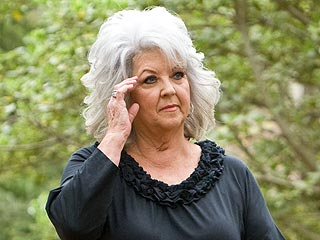 Update
Posted 06/23/2013 09:00PM
Originally posted 06/23/2013 05:00PM
Another serving of drama may be coming for Paula Deen, who could lose more deals on the heels of her firing from the Food Network.

A representative for the shopping network QVC, which sells her cookware, released a statement Sunday to PEOPLE that expressed "concerns [over] the unfortunate Paula Deen situation," adding, "QVC does not tolerate discriminatory behavior."

Following the celebrity chef's admission that she used a racial slur in the past, the network is "closely monitoring these events and the ongoing litigation," continues the representative's statement, which was first reported by TMZ. "We are reviewing our business relationship with Ms. Deen, and in the meantime, we have no immediate plans to have her appear on QVC."
Advertisement
The most buzzed about stars this minute!
Treat Yourself! 4 Preview Issues
Got a News Tip?
Send it to our People.com editors!