11:11 AM EDT 05/13/2015
Randy Jackson
Credit:

FOX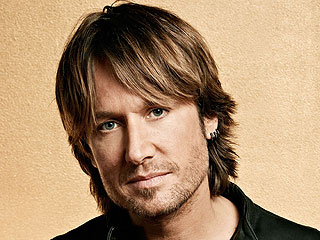 Originally posted 03/25/2013 08:00PM
Keith Urban agrees with acid-tongued American Idol mentor Jimmy Iovine, who said the show's judges need to be tougher.

But the country superstar says being an artist critiquing artists is harder than it looks.

"He is right," says Urban, who sits on the panel alongside Nicki Minaj, Mariah Carey and Randy Jackson. "It is not easy for us a lot of the time because we are just coming from a different place. We're artists talking to a young artist on camera in front of millions of people, trying to give constructive criticism in a way that doesn't humiliate them. I don't ever want to humiliate somebody."
Credit: Frank Micelotta/FOX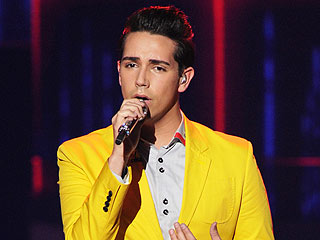 Originally posted 03/21/2013 09:45PM
All season long, the American Idol judges have been saying a girl will win this season. If Thursday night's group numbers were any indication, they are probably right.

The five remaining females did a show-stopping performance of "Here, There and Everywhere" that showcased each of their voices. The four remaining men sang "Got to Get You Into My Life." It was a capable rendition, but strangely reminiscent of the musical numbers from The Love Boat.

Based on Wednesday's performances of Beatles songs, Lazaro Arbos was perhaps in the greatest danger of leaving. The judges and mentor Jimmy Iovine brutally criticized his rendition of "In My Life." But Arbos agreed with their assessment.

"They were right for the most part," he told Ryan Seacrest Thursday. "I have to do songs that I love and that I want to sing." But would he survive America's vote?
Credit: Frank Micelotta/FOX (2)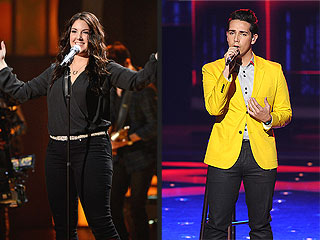 Originally posted 03/20/2013 10:45PM
Nine singers are still in the hunt on American Idol – and this week they were faced with the daunting challenge of putting their own spin on a song from the Beatles catalogue.

"If you sing these songs well they will deliver for you," music producer and Idol mentor Jimmy Iovine told the contestants. "If you don't sing them well, the whole world is going to know."

Country crooner Kree Harrison kicked things off with a booming version of "With a Little Help From My Friends," which had the judges trying to outdo each other with praise. "You're all the cool things about country," Keith Urban said. Mariah Carey dubbed Kree's performance "fan-freaking-tastic." And the always fashion-conscious Nicki Minaj had nothing but praise for Kree's suddenly pumped-up style and her unflappable confidence.
Credit: Jonathan Leibson/WireImage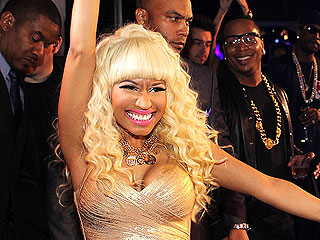 Originally posted 03/13/2013 08:40PM
Better late than never!

When American Idol's live performance episode started at 8 p.m. ET Wednesday, Nicki Minaj was nowhere to be seen.

"We are coming to you live and on time," host Ryan Seacrest said, before asking the crowd which top 10 finalist could win this season. After the cheering subsided, Seacrest added, "Keep that energy going for three of your four judges who are here tonight."

Keith Urban, Randy Jackson and Mariah Carey were all in their seats. But Minaj, it seems, was stuck in traffic.
Credit: Michael Becker/FOX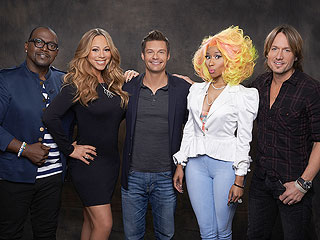 Originally posted 03/07/2013 10:00PM
Meet the top 10!

American Idol cut its 20 semifinalists – 10 guys and 10 girls – in half on Thursday – with few, if any, surprises. In the 90-minute show, Seacrest announced the lucky ones in an offstage room and then led them to the stage.

The finalists, named below (guys first), walked through sliding doors to a surprised and adoring crowd to sing an emotional victory song and take in the judges' praise.

Keep reading to find out season 12's top 10:
Credit: Michael Becker/FOX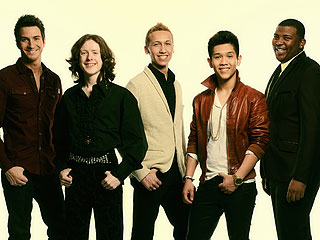 Originally posted 03/06/2013 10:50PM
The time finally arrived Wednesday for viewers to weigh in on American Idol's top 10 guys – and they were faced with some big decisions. (Caution: spoilers ahead!)

Kicking off the night was the Bruno Mars-esque 18-year-old Elijah Liu, who immediately sought to seduce the show's key voting bloc.

"I love the ladies," he said, making it clear that he's also "single and available."

And his plan worked like a charm: His performance of Rihanna's "Stay" elicited a chorus of high-pitched shrieks from the audience. It also caused the judges to rave about his marketability.
Credit: Michael Becker/FOX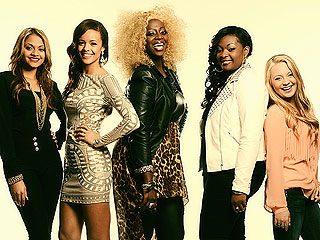 Originally posted 03/05/2013 11:30PM
It was ladies' night on American Idol Tuesday as the top 10 women took the stage, hoping to earn one of just five spots in the next round of competition.

And now it was all up to the viewers.

Caution: spoilers ahead!
Credit: Michael Becker/FOX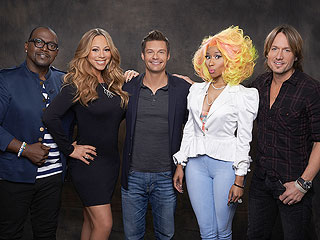 Originally posted 02/28/2013 11:20PM
American Idol has been on the air for 12 seasons. From the early days of Kelly Clarkson, the judges continually hounded the contestants on song choice. Simon Cowell (remember him?) would criticize contestants for being "cabaret," "old-fashioned" and, worst of all, "boring." Some of this season's contestants have been watching Idol since they were in elementary school, which makes it all the more inexplicable that they still choose to sing songs like Peggy Lee's "Fever," which is 57 years old.

The show began with the 10 contestants rising from the floor, Hunger Games-style. Five of them will continue, while five of them met their end. Find out who made it through to the next round … Spoiler Alert! The final picks for the Top 20 follow:
Credit: Michael Becker/FOX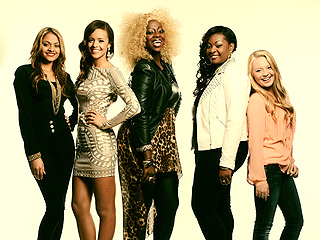 Originally posted 02/27/2013 10:45PM
American Idol's's list of the top 10 women is complete!

After the first week of sudden-death rounds, the judges gave their stamp of approval to five more female singers Wednesday night. And they sent five others home.

Keep reading to find out who's in and who's out on Idol ...
Credit: Michael Becker/FOX (2)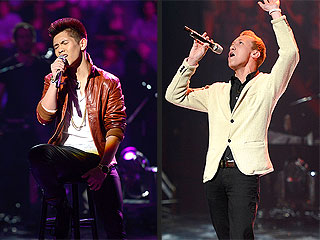 Originally posted 02/21/2013 11:00PM
On Wednesday, 10 women sang for five spots on American Idol's live shows. On Thursday, it was the remaining guys' turn.

The judges have their own euphemisms when they don't like a performance – it's usually easy to read between the lines: If they compliment a singer on his shoes, he won't advance. On Thursday, Nicki Minaj actually told a contestant, "Kudos to you for being really freshly, nicely groomed." They might as well have had a stagehand pull him offstage with an oversized vaudeville hook.

After several weeks of good behavior by the judges, Thursday's episode showed a spark of life when Nicki – who was wearing her very best Jan Brady wig – began rolling her eyes whenever Randy Jackson spoke. At one point, Ryan Seacrest even tried to get them to kiss and make up. There was talk about lipstick, and Mariah Carey did her best to look at anything other than the awkward air kiss that followed.

But the theatrics did not eclipse some solid singers – and a few performances that just weren't good enough for the competition.
Advertisement
The most buzzed about stars this minute!
Treat Yourself! 4 Preview Issues
Got a News Tip?
Send it to our People.com editors!