05:53 PM EDT 05/17/2013
Real Heroes
Credit:

Joe Schildhorn/BFAnyc.com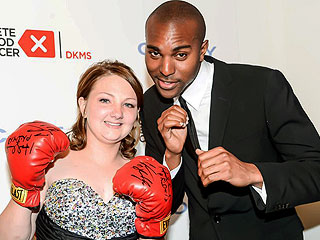 Originally posted 05/16/2013 02:05PM
Darian Craig was just 3 years old when she was diagnosed with neuroblastoma, a cancerous tumor that affects mostly infants.

She was given less than a 15 percent chance of surviving.

Darian eventually beat the disease, but spent the next 14 years of her life in and out of emergency rooms battling Behcet's syndrome, a rare disorder that causes blood vessels to become inflamed, and receiving radiation treatments, chemotherapy and undergoing a bone marrow transplant.
Credit: Courtesy Landfill Harmonic Film
Originally posted 05/09/2013 04:35PM
Back in 2006, ecologist and musician Favio Chavez found himself working on a recycling project in Cateura, Paraguay – a small village that sits atop a landfill.

He was horrified by the conditions in which children were living.

"It is not a place where people are supposed to live," he tells PEOPLE. "It's where the city throws its garbage."

So he decided to do something about it. Chavez, who had once run an orchestra in his nearby village Carapeguá, was inspired to create the Recycled Orchestra, where kids play instruments made from recycled garbage.
Credit: Mark Akeson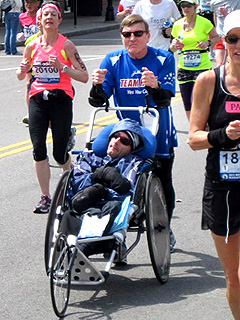 Originally posted 05/02/2013 05:45PM
The Boston Marathon started off like any other for Dick Hoyt, who pushes his son, Rick, in his wheelchair when they compete.

"We took a bus filled with runners from our team from the hotel to the start line," says Dick, 72, who has completed more than 1,000 races (many of them marathons) with his son. "We put together Rick's running chair, put him in it and off we went. It was a great day."

They were making good time, an hour ahead of last year, when Dick noticed an unusual number of police officers around mile 23. "I stopped and asked one of them, 'Is everything OK?' " says Dick, of Holland, Mass.
Credit: Matt Nager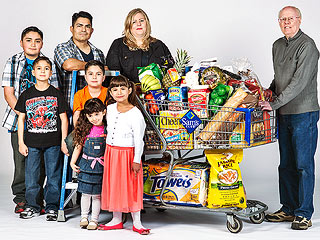 Originally posted 04/25/2013 12:50PM
Retiree Don Hanlon is showing his community – and the rest of the world – how well he can shop, and how many hungry people he can help doing it.

In 2001, Hanlon, a retired warehouse worker living off his social security and savings, walked into the office of Family Tree, a Denver, Colo., nonprofit that helps the homeless, and made a stunning offer: He wanted to take a struggling family grocery shopping – and pay the bill.

"It was so unusual," says Rita Caldwell, a Family Tree coordinator. "Other donors just want to write a check, but Don wanted to get personally involved."
Credit: Massachusetts State Police/Reuters/Landov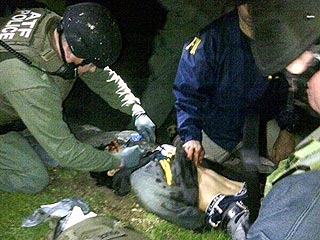 Originally posted 04/20/2013 03:05PM
Even as he huddled with his wife in Watertown, Mass., on Friday, David Henneberry never imagined he'd come face to face with the alleged Boston bomber.

But that's exactly what happened around dusk on Friday evening.

As tanks and SWAT vehicles rolled through the streets and cops went door to door in search of Dzhokhar Tsarnaev, Henneberry was outside smoking a cigarette when he noticed something amiss with the power boat he keeps parked in his driveway.
Credit: Courtesy Matt Patterson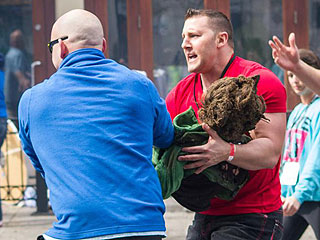 Originally posted 04/19/2013 03:30PM
When blasts rocked the Boston Marathon finish line on Monday, many bystanders selflessly ran toward danger in an effort to save the injured.

Now, many of those same heroes are trying to reunite with those they helped to see if they're okay.

Matt Patterson, 30, an off-duty firefighter from Lynn, Mass., north of Boston, is among those looking to reconnect after helping to save a little boy who lost a leg in the bombings.
Credit: Courtesy Bruce Mendelsohn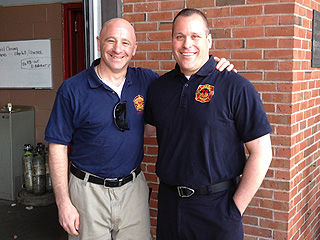 Originally posted 04/18/2013 11:30AM
Former US Army officer Bruce Mendelsohn, 44, who served during the Persian Gulf War, was at a post-race party looking out the window at the Boston Marathon spectators when he heard the the explosions and sprang into action, pushing people to safety and assisting victims. He gave this first-person account of his experience to PEOPLE's Nicole Weisensee Egan.

On marathon day I was enjoying a post-race party with about two dozen people at an office right across from the finish line. At around 4:10 on the marathon clock I saw a flash from the corner of my eye; a blast wave immediately blew me off the couch upon which I was sitting and onto the floor.

I yelled at my brother – who'd finished the race over an hour before – to get all the people away from the windows, in case there was a secondary explosion. As soon as I said that, the second explosion detonated.
Credit: Charles Krupa/AP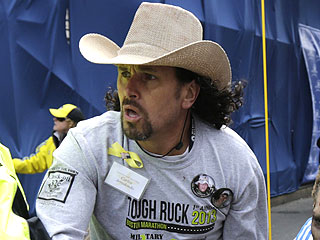 Originally posted 04/16/2013 05:30PM
The images that have surfaced since tragedy struck during Monday's Boston Marathon range from horrific to heartbreaking. Some show runners and bystanders fleeing, mid-screams, past the blasts.

Others show a man in a hat named Carlos Arredondo doing just the opposite.

One of the day's most gruesome but moving photographs, taken by Charles Krupa of The Associated Press, shows Arredondo pushing a man, identified as 27-year-old Jeff Bauman, in a wheelchair. Bauman's lower leg was blown away by the bombings, exposing his bloodied bones.
Credit: Courtesy Storch family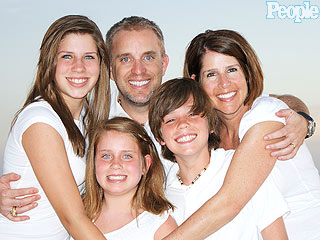 Originally posted 04/11/2013 10:00AM
It was a split second that changed the lives of everyone in the Storch family – and one they used to change millions of lives.

On the last ski run of the day on March 15, 2010, Taylor Storch, 13, along with her father, Todd and brother, Ryan, was excited to be on the beautiful Colorado slopes. "We were stopping to take pictures, everyone was smiling and laughing and Taylor was having a blast," says Todd, 44, of his Coppell, Texas, family, all of whom wore helmets.

Then his teenage daughter lost control and hit a tree. "We went from it being the most amazing trip ever," says Todd, "to the worst nightmare."
Credit: Courtesy Erin Merryn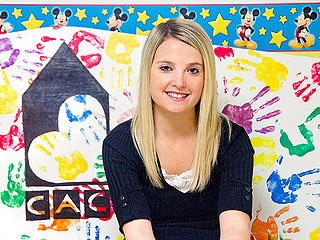 Originally posted 04/04/2013 01:50PM
Erin Merryn was just six years old when she was sexually abused by a male neighbor. She was too scared to tell anyone. "He kept telling me, 'No one will believe you,' " says Merryn, 28, of Schaumburg, Ill.

The abuse didn't stop until her family moved when she was 8 ½ years old. Three years later, a second male relative began abusing her. He scared her into silence as well – until her sister came to her with a chilling story of abuse from the same male relative.

"She just blurted it out," says Merryn. "I thought, 'Wow. Now I have somebody to back up my story.' " The next day they told their parents, who went to the police."
Advertisement
The most buzzed about stars this minute!
Treat Yourself! 4 Preview Issues
Got a News Tip?
Send it to our People.com editors!