04:21 PM EDT 03/19/2015
Regis Philbin
Credit:

Maria Melin/ABC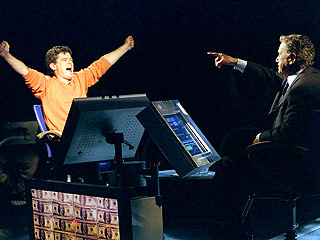 Originally posted 08/16/2014 10:20AM
Fifteen years ago, America was asked a very important question: Who wants to be a millionaire?

Turns out lots of people were interested in getting an extra seven figures, and so a game show was born. Originally hosted by Regis Philbin, Who Wants to Be a Millionaire? premiered on Aug. 16, 1999. Through the years, the program made some tweaks, but the basic principles have stayed the same.
Originally posted 07/17/2014 08:35AM
The highs and lows of the NBC page program (like fetching nachos from Yankee Stadium) were frequent plot points on Tina Fey's beloved comedy 30 Rock, which featured Jack McBrayer as Kenneth, the perennially put-upon and relentlessly cheerful page.

According to Regis Philbin's appearance on Late Night Wednesday, 30 Rock might not have been that far off.
Credit: Ron P. Jaffe/FOX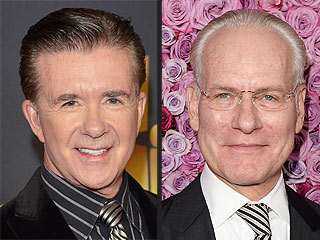 Originally posted 03/31/2014 10:00AM
Over nine seasons, How I Met Your Mother has acquired an impressive list of celebrity guest appearances.

There was Britney Spears as the dippy dermatologist's assistant obsessed with Ted (Josh Radnor). There was Bryan Cranston as the architect whose buildings always seemed to resemble – how shall we put this delicately? – male anatomy. Even Jane Seymour ditched Dr. Quinn's period attire for the sexy style of Marshall's (Jason Segel) cougar law school professor whom Barney (Neil Patrick Harris) just couldn't tame.

But there's a much smaller circle of stars who've managed to do something even more unique: play themselves. Some became part of long-running gags, others only filmed one-off appearances – but all were legen–wait for it–dary.
Originally posted 10/26/2012 04:00PM
At a café in midtown Manhattan, a late-lunch assortment of New Yorkers dot the tables in what could be considered a fairly small crowd for 2:30 in the afternoon.
But Kim Russo would probably say it's jam-packed. The Long Island, N.Y., resident sees beyond the latte-drinkers and customers ordering up salads. She sees people, she says, who others may or may not see – because these people inhabit the spirit world.
Russo is a medium (not to be confused with
the Long Island Medium
), meaning she has the ability to tap into this controversial realm, where she says she can communicate with spirits and ghosts.
"I don't dial the dead," Russo – whose show
The Haunting Of
premieres on the Biography Channel Saturday (10 p.m. EST) – tells PEOPLE. "It's whoever shows up."
Credit: Ray Tamarra/Getty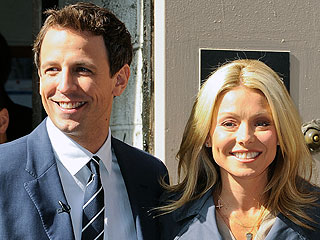 Originally posted 07/06/2012 10:30AM
Live! with Kelly ... and Seth?

Months after Regis Philbin left his morning post of 28 years in November – shortening Live! with Regis and Kelly to the more succinct Live! with Kelly – the search for his successor is down to three familiar faces, including Saturday Night Live's Seth Meyers.

According to one report, Meyers is the frontrunner. Also said to be vying for Philbin's seat next to Ripa are New York Giants veteran Michael Strahan and singer Josh Groban.
Originally posted 11/19/2011 09:30AM
"Some people ask, 'Why has the show stayed on so long?' " Regis Philbin said on his final broadcast of
Live! with Regis and Kelly
Friday. "People tell me why they watch it ... because it makes them feel better. And it can't get any better than that. It makes them happy. "
After 28 years on
Live!
, Regis Philbin signed off for
the final time
Friday in front of a studio audience filled with family, friends and celebrities, as well as a nationwide TV viewership.
"Every morning, I'll think about this," he told co-host
Kelly Ripa
as they walked down the hallway to the studio for their final show together. "Thank you for everything," said a teary Ripa as they embraced before the show. "I love you."
Credit: Slaven Vlasic/Getty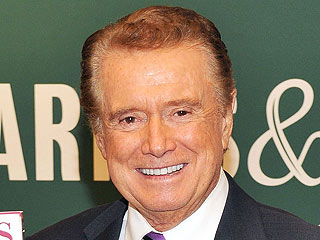 Originally posted 11/18/2011 07:00AM
After five decades on television, Regis Philbin has become the entertainment equivalent of comfort food.

Welcome in living rooms across the country in a way that viewers' own extended families could only hope to be, Philbin, 80, is leaving his post at Live! with Regis and Kelly Friday. But his tenure and pop culture influence go far beyond the standard "top moments" recognition.

Instead, PEOPLE.com compiled a Top 5 countdown of reasons we'll miss seeing "Reege" on TV each weekday morning.
Credit: Landov; PictureGroup; WireImage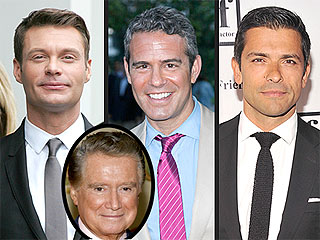 Originally posted 06/20/2011 04:00PM
Regis Philbin has greeted viewers nearly every weekday morning for the past 28 years, but with his final show only months away, the question still remains: Who will rise to the occasion and take over for TV's veteran talker?

American Idol and radio show host Ryan Seacrest, 36, Bravo personality and exec Andy Cohen, 43, and actor (oh, and Kelly Ripa's husband) Mark Consuelos, 40, are said to be Disney-ABC's top three picks to fill Philbin's shoes when he leaves Live! with Regis and Kelly in November, according to The Wall Street Journal.
Credit: AP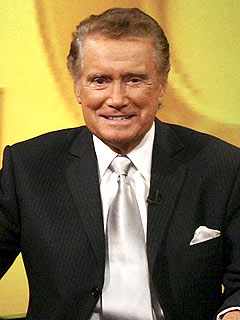 Originally posted 06/20/2011 07:00AM
Regis Philbin, who is leaving Live! with Regis & Kelly in November, picked up a Daytime Emmy Award for best talk-show host Sunday, an honor he shared with co-host Kelly Ripa and Dr. Mehmet Oz of The Dr. Oz Show.

It was the fifth Daytime Emmy for Philbin, 79, following two wins in 2001 (best game-show host and talk-show host), one in 2006, and a lifetime achievement award in 2008.

Philbin has never won for best talk show, and he and Ripa came up short again this year, as The Ellen Degeneres Show won that award for the sixth time.
Credit: Brian Zak/Sipa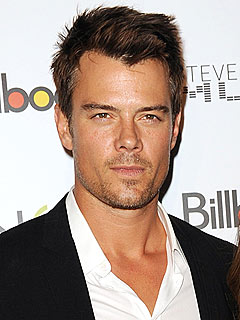 Originally posted 02/08/2011 03:10PM
Alas, Josh Duhamel will not be greeting viewers every weekday morning with Kelly Ripa.

Rumors had circled that the Transformers star was on the short-list of guys being considered to replace Regis Philbin when he retires from Live! with Regis and Kelly later this year.

But it's not to be, says Duhamel

"I wouldn't be very good at it," Duhamel told sports radio talk show host Dan Patrick on Monday, adding that the job requires "special skills" he doesn't have. "I can't tell you where that rumor came from."

But Duhamel does have an idea of who should get the job.

"My buddy Jerry O'Connell would be great and that's who I'm voting for," he said, adding, "but I don't know if he's up for it."
– Lorenzo Benet
Advertisement
The most buzzed about stars this minute!
Treat Yourself! 4 Preview Issues
Got a News Tip?
Send it to our People.com editors!