12:15 PM EDT 04/02/2015
Robin Roberts
Credit:

Nigel Parry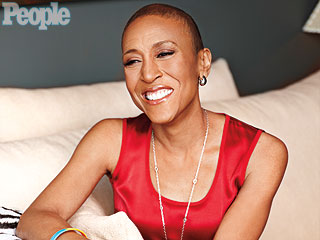 Originally posted 03/14/2013 07:05AM
Last year was certainly a whirlwind for Good Morning America's Robin Roberts.

The morning-show anchor received a bone marrow transplant to treat a rare blood disorder, and just five months later returned to the air.

Roberts, who opened up about her experience in a PEOPLE cover story, will now be honored by fashion icon Diane Von Furstenberg at the fourth annual DVF Awards at the United Nations on April 5.

Furstenberg, with co-host Tina Brown of Newsweek and The Daily Beast, will present Roberts with the Lifetime Leadership Award.
Credit: Matt Sayles/Invision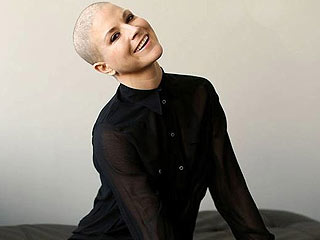 Originally posted 02/21/2013 03:45PM
In her PEOPLE.com blog, Diem Brown, the Real World/Road Rules Challenge contestant recently diagnosed with ovarian cancer for the second time, opens up about her desire for a child and the ups and downs of cancer and fertility procedures.

First and foremost, I feel so blessed to have been able to share my crazy journey and hear your personal experiences on this PEOPLE.com blog.

Although I won't be posting a blog as often going forward, I am so excited to be able to keep writing and posting blogs here when big things happen in my life and/or when I hear or see something that I think y'all would love to start a conversation about. Please Tweet me at @DiemBrown if you ever have any suggestions or think of a topic that you would like to throw out there!
Credit: Heidi Gutman/ABC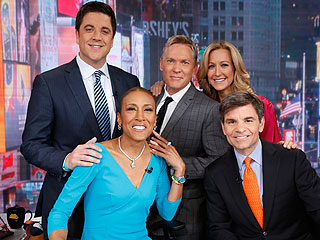 Originally posted 02/20/2013 07:50AM
A standing ovation from her crew greeted Robin Roberts at the door of the ABC Times Square studio of Good Morning America, even before the sun rose Wednesday – exactly five months after the anchor had a bone marrow transplant to treat myelodysplastic syndrome, or MDS, a rare blood disorder.

Outside, in the street, a crowd of fans had already gathered with placards, banners and even an ebullient fellow from Dallas waving what he called the world's largest wristband, hailing his heroine. It read, "Welcome Back Robin."

Once the show hit the air, Roberts, with her colleagues surrounding her, looked into the camera, broke into a great big smile, and announced: "Hi, it's Robin. I've been waiting 174 days to do this: Good Morning America!"
Credit: Nigel Parry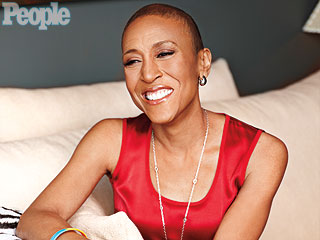 Originally posted 02/16/2013 09:00AM


Sitting in a white fluffy bathrobe in front of her bathroom mirror, Robin Roberts – still recuperating from a bone marrow transplant just five months earlier – seems at ease with her striking reflection. Just as she was after battling breast cancer in 2007, Roberts is once again bald, but this time she's skipping the wig.

"Whatever," the Good Morning America anchor says with a shrug. "I'm thankful I have a pretty-good-shaped head." And the 30 lbs. she's lost from her 5'10" frame during her month-long hospital stay? "It's been hard to put back on, a first in my life," she admits. "But I gained a pound last week in New Orleans. Woo-hoo!"

And when Charlie Gibson, an old friend and former GMA cohort, drops by her Manhattan apartment and asks how she is, she replies as if nothing eventful has happened: "I'm good. How are you?" she says casually. "No, I wasn't being polite," Gibson replies. "I really want to know, 'How are you?' "
Originally posted 02/13/2013 07:00AM
In an exclusive interview, Good Morning America's Robin Roberts reveals for the first time that there was a point after her September bone marrow transplant, "where I felt like I was dying."

It was a few days after Roberts, 52, underwent the transplant for a rare blood and bone marrow disorder called myelodysplastic syndrome. "I couldn't eat or drink," she says. "I couldn't even get out of bed."

Fading in and out of consciousness, Roberts recalls, "I was in a coma-like state. I truly felt I was slipping away … then I kept hearing my name."
Credit: Ida Mae Astute/ABC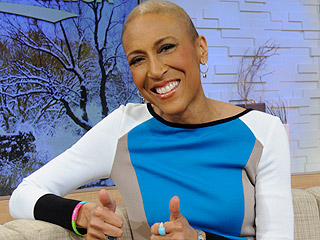 Originally posted 02/07/2013 08:10AM
Two more weeks, and her comeback will be complete.

Robin Roberts will return to the Good Morning America anchor desk on Feb. 20, exactly five months after she had a bone marrow transplant to treat myelodysplastic syndrome, or MDS, a rare blood disorder.

Those months have been a struggle for Roberts, 52, but the pain is about to turn to celebration.

"I cannot wait to return to my GMA family," Roberts told ABC News.
Credit: Ida Mae Astute/ABC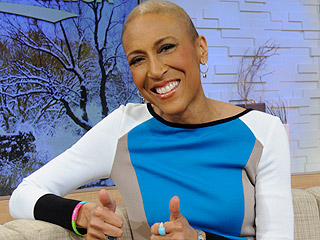 Originally posted 01/24/2013 09:50AM
Making good on her promise to practice a series of dry-runs at the Good Morning America studio in anticipation of returning to her anchoring chores sometime next month, Robin Roberts – and her alarm clock – got a healthy workout Thursday morning.

Roberts showed up at the studio at 5 a.m. after waking at 3:45 a.m., reports ABC, heralding the visit, which was Roberts's first since undergoing a bone marrow transplant Sept. 20.

Her last appearance at the anchors' desk had been Aug. 30, though she has appeared live from her hospital room and her New York City apartment since.
Originally posted 01/14/2013 09:25AM
She's healthy and coming back to television soon!

"It's a matter of weeks, not months," Good Morning America anchor Robin Roberts, speaking from her apartment, told viewers live on Monday's show. "I'm coming home."

Looking healthy and resplendent in purple, an emotional Roberts, 52, said she would be coming to work next week for what she described as a "dry run" – taking measure of where she goes on set, her stress level in the studio and her skin's reaction to the lights, all in preparation for a full return to the air.

"My last bone marrow aspiration showed no abnormalities – praise God," Roberts said to the delight of her GMA colleagues. "What all this means is, doctors were waiting for this information so that I can began the process of returning to the anchor chair."
Credit: Courtesy Robin Roberts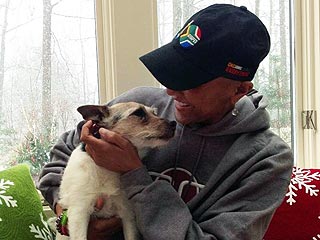 Originally posted 01/02/2013 03:30PM
This may have been the best New Year's yet for Robin Roberts.

Exactly 100 days after successfully undergoing a bone marrow transplant, the Good Morning America host was reunited with her beloved dog, KJ, just days before ringing in 2013.

"Look who made it back for my 100 day celebration," she Tweeted on Dec. 29, with a photo of herself and KJ in a cuddly embrace. "We just keep staring at each [other] ... can't believe she's finally home."
Credit: Courtesy Robin Roberts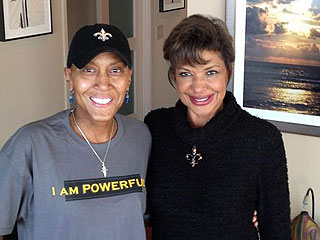 Originally posted 11/20/2012 09:40AM
A recent visit to the hospital for a "tune-up" took an emotional toll, but Good Morning America host Robin Roberts says she has a lot to be thankful for as she continues to recover from a Sept. 20 bone marrow transplant.

"It's a journey that kind of zigzags, and there are complications and things like that, but I feel good. I feel stronger every day," she told her sister and donor, Sally-Ann Roberts, in a segment that aired on WWL-TV Eyewitness News in New Orleans Monday and on GMA Tuesday.

Since being diagnosed with a rare blood disorder, myelodysplastic syndrome, Roberts says the love and support from friends, family and fans is very much appreciated.
Advertisement
The most buzzed about stars this minute!
Treat Yourself! 4 Preview Issues
Got a News Tip?
Send it to our People.com editors!