04:34 PM EDT 03/19/2015
Rupert Grint
Credit:

Warner Bros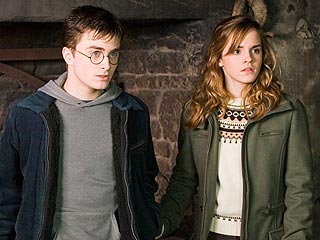 Originally posted 02/02/2014 12:20PM
Hold on to your Sorting Hats, Potterheads: J.K. Rowling has just rocked your world.

In a new interview, the Harry Potter author, 48, admits she regrets not having Harry and indispensable friend Hermione Granger get together at the end of the series, rather than Hermione and fellow BFF Ron Weasley.

Rowling's interviewer? None other than Hermione herself, AKA Emma Watson, who played the brainy heroine in all the Potter films.

"I wrote the Hermione/Ron relationship as a form of wish fulfillment," Rowling tells Watson for the latest issue of Wonderland, a UK magazine the actress guest edited this month. (Excerpts of the interview were just published in the UK Sunday Times.) "That's how it was conceived, really. For reasons that have very little to do with literature and far more to do with me clinging to the plot as I first imagined it, Hermione ended up with Ron."
Credit: Warner Bros.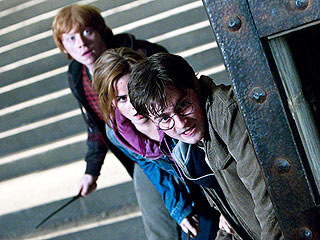 Originally posted 01/31/2012 10:00PM
There's no bad blood between Harry Potter costars Daniel Radcliffe and Rupert Grint.

Despite an interview that Radcliffe recently did that "was blown out of proportion," the Woman in Black star says he and Grint, 23, are "very, very good friends."

"It's just ridiculous," Radcliffe, 22, told On Air with Ryan Seacrest. "Someone said, 'Are you in contact with Rupert and Emma [Watson] at the moment?' And I said, 'Emma and I have been texting recently, but Rupert and I never text.' "
Credit: Warner Bros.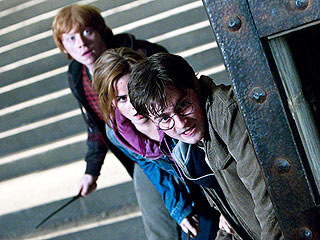 Update
Posted 07/15/2011 06:30AM
Originally posted 07/12/2011 02:00PM
Rating:




All seven previous films in the Harry Potter series faithfully executed the magical minutiae of J.K. Rowling's books.
Harry Potter and the Deathly Hallows: Part 2
is the first to re-create the feeling of reading them.
Grim, beautiful and unabashedly emotional, this is nearly as satisfying an end to the saga as a fan could wish for (even with some subtle deviations from the book) as Harry (
Daniel Radcliffe
) faces the evil Voldemort (Ralph Fiennes).
On their quest to find and destroy the Dark Lord, Harry, Ron (Rupert Grint) and Hermione (
Emma Watson
) take a thrilling detour through Gringotts's bank vaults (the best use of otherwise needless 3-D) before finding their way back to Hogwarts.
Credit: Lucas Jackson/Reuters/Landov
Originally posted 07/12/2011 11:35AM
Saying goodbye is never easy – especially for Muggles.



As hundreds of fans cheered them on, the Harry Potter trio of Daniel Radcliffe, Emma Watson and Rupert Grint walked the red carpet together for what may be the last time ever at the U.S. premiere of Harry Potter and the Deathly Hollows: Part 2 Monday night in New York City. 



"It's been the most amazing roller coaster ride," Watson, 21, donning a curve-hugging Bottega Veneta gown, told reporters. Admitting she was feeling "emotional," Watson wore some precautionary waterproof mascara. (At last week's London world premiere, she cried. Her eyes stayed dry on Monday.)

For Radcliffe, also 21, growing up on the Potter movie set "was the most fantastic thing. There are no places more fun for a 12-year-old kid to be than a film set. It's like the ultimate playground. … It's been an exciting, bizarre, wonderful 10 years."
Credit: B. Ach/INF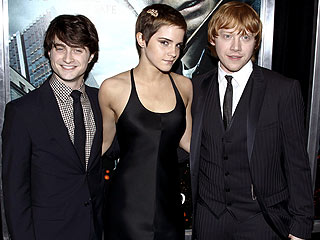 Originally posted 11/19/2010 04:30PM
Rupert Grint does not count himself among the massive number of males who probably want to smooch Emma Watson.

"It was actually okay," Grint, 22, said of his onscreen kiss with Watson in Harry Potter and the Deathly Hallows, which opened in theaters Friday. "It was just the anticipation. Neither of us were looking forward to it."

Grint does, however, acknowledge that may seem a bit unbelievable to most fans.
Credit: Flynet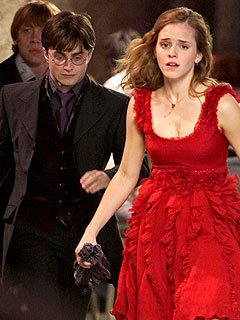 Originally posted 08/13/2010 11:15AM
Think of what it must be like to leave high school after 10 years: happy, yet melancholy.

That, at least, were the mixed emotions coming from Daniel Radcliffe, Emma Watson and Rupert Grint as deduced by Entertainment Weekly earlier this summer, as the acting trio wrapped up the final two Harry Potter adventures.

"I'm ready to kind of move on now, I think," Grint, 21, is quoted as saying in the latest cover story of the magazine, on sale Friday. "This film is a great way to finish the whole era, and it's going to be sad, because obviously all my friends are here, but 10 years is enough."
Credit: Scott Audette/Reuters/Landov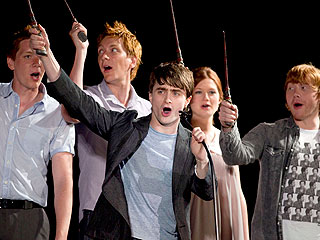 Originally posted 06/18/2010 09:30AM
Call it the Great Butterbeer Debate. In all the hoopla surrounding the grand opening of The Wizarding World of Harry Potter at Universal Orlando, one question has yet to be settled: Frozen butterbeer or regular?

"My preference is the frozen – it's slightly nicer, especially in this unbelievable heat," says Daniel Radcliffe, who plays Harry in the wildly popular film series. "It's very refreshing."

But the nonalcoholic butterbeer – which tastes like one part cream soda, one part butterscotch syrup and one part Nilla wafer – is just a drop of the detail-packed new park, which has its grand opening to the public today. We asked the stars of the Harry Potter films to share their own personal highlights:
Originally posted 04/22/2010 10:00AM
If only there were a magic spell to make yourself disappear.
Rupert Grint, who's played Harry Potter's devoted pal Ron Weasley onscreen for the past nine years, recently watched his first-ever sex scene in a movie – with his parents at his side.
"It was agonizing," the embarrassed English actor, 21, reveals to London's
Mirror
. "The scene's quite tastefully done, but it's not the sort of moment you really want to share with your mum and dad."
And the reaction of the folks'? "When the scene arrived we all sat there not really saying anything."
Credit: Barry Talesnick/Ipol/Globe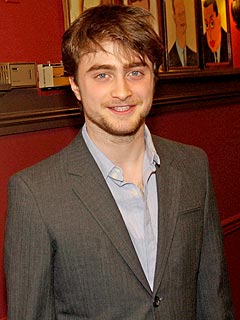 Originally posted 12/01/2009 09:00AM
Looks like Hogwarts should be prepared for a whole new generation of wizards.

Harry Potter star Daniel Radcliffe, 20, says that once the successful sorcerer's saga is over, his biggest project will be starting a family ... at some unspecified point in the future.

"No man, I've got kids to have yet!" he tells the BBC. "They're going to keep me busy if I do – which I hope I do at some point. I'm not planning on it soon – that's one of the things I'm really looking forward to doing."
Credit: Courtesy:Steven Fessey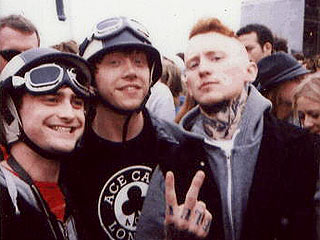 Originally posted 09/02/2009 06:00AM
• Daniel Radcliffe and Rupert Grint, arriving in "disguise" to the U.K.'s Reading Festival to check out the punk band Gallows. The Harry Potter stars sported matching helmets and goggles – think old-school biker style! – as they cheered from the side of the NME/Radio 1 stage. Earlier in the day, the costars met up with Frank Carter, the band's frontman, for a chat and some photos in an outdoor VIP area.
Advertisement
The most buzzed about stars this minute!
Treat Yourself! 4 Preview Issues
Got a News Tip?
Send it to our People.com editors!